>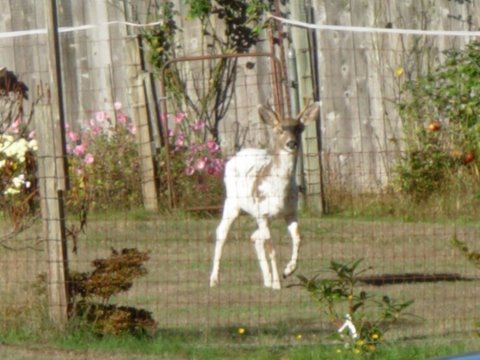 More Deer Photos. We received some more deer photos taken in the Gilberton area. Below is the text of the email.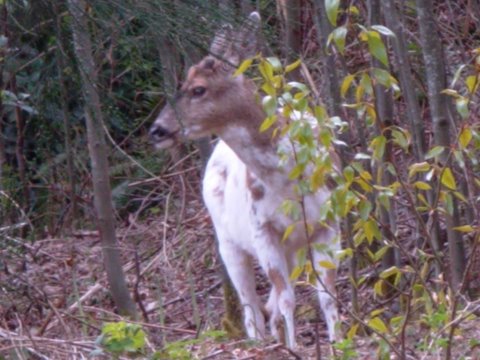 Continue to enjoy your updates and photos even though I don't live in Illahee. Attached are some photos of a mostly white buck that has been around for a while. The photos are a little "fuzzy" because I went to 20X digital zoom since my camera will only go to 5X optical. The DSC0260 photo is from late last summer and clearly shows his spike horns. The rest were taken last week and he has clearly grown larger. I wonder if this deer may be the result of a cross between a native Black Tail and one of the white deer that are grown at the Bed & Breakfast across from 3rd on Illahee. I know that these white deer have "escaped" before because the wife and I helped the owner herd them back onto his property. I'm sure there have been other sightings in the area?????????
Loon. We have had a loon around here that was first seen on April 2nd and again on April 24th. We usually see loons in the fall when they pass through and again in the spring. We are wondering if this is the same loon that was seen earlier this month and wonder if it is staying around, nesting, in the area.
Wigeon. Another strange bird sighting was a mated couple of wigeon that seemed to be hanging around in the area. We were hoping to get a photo and don't know if they are still around or decided to go north.
Timbers Edge Appeal Filed. We were able to get a pdf file of the appeal that was filed on Friday by the Illahee Community Club. It evidently was a collaborative effort that reads rather well considering there were a number of people working on it. Let us know your thoughts and we will pass them on. We were also reminded that the Club is collecting funds for the appeal and hope that by posting it to the community, that it may bring in additional funds. The pdf file is attached.