>
Update Frequency. The slower frequency of updates has brought some questions. We have been trying to do some extra projects and gardening including trying to keep the deer at bay with fencing only to have trouble with slugs and cutworms eating our new starts. We feel like parents trying to protect their young ones until they are old enough to be on their own.
Garden Tours? We have had a number of people mention that it would be nice to have a tour of some of the Illahee area gardens. They noticed the advertisements for the Bremerton Urban Garden Society (BUGS) edible gardening tour a couple of weeks ago and thought it would be good to try something of the sort for Illahee. Let us know your thoughts on this and if there is enough interest we will try to get the interested parties together. If you know of some interesting Illahee area gardens (flowers and or vegetable), let us know, and we will pass that on also. .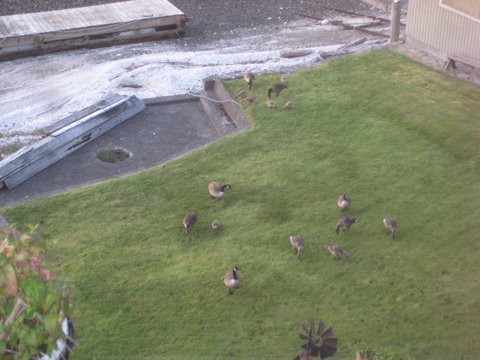 Canada Goose Gathering. Recently there was an early morning gathering of Canada geese along the beach that numbered 32. There were 4 goose families, one with four fairly good sized goslings, and the others smaller in size and numbering 5, 4, and 1 goslings. There were four mated pairs that had no offspring, and two that were without mates. We were able to get a picture of three of the families, which is attached at the end of the email.
Other Wildlife. The river otters have been active as have the ravens and the bald eagles.
Illahee Preserve. We went for a walk in the Illahee Preserve on Wednesday evening and were greeted with newly laid wood chip trails, courtesy of the East Bremerton Rotary. They evidently had a bunch of chips that were delivered to the new parking lot today (Wednesday) and decided to put them on some of the new trails they had blazed from the new parking lot. We were amazed at the amount of chips they put down in one evening. We have also impressed by the number of people using the Preserve.
Thanks to the Preserve Volunteers! Thanks to the Rotarian's, the Illahee Preserve Stewardship Group, and the Illahee Forest Preserve (the non-profit support group for the Preserve) for all their trail work and support of this forest treasure.