>

New Update Recipients. We have a number of new recipients of our Updates, with many being users of the Preserve. We want to let them know that the Illahee Preserve is a Kitsap County Heritage Park purchased in 2001. It is the result of a 25 year community campaign to preserve this former Department of Natural Resources (DNR) land and sections of the Illahee Creek watershed for future generations. The campaign and vision continues with community volunteers taking the lead in planning, supporting, and maintaining the Preserve. This is especially significant during tough economic times when some parks close because of strapped local budgets. The goal of the Preserve is to only ask for county support for major things like parking lots and restrooms, and we were happy to have the county park's build the new Almira parking lot in 2009.
Illahee Preserve – Almira Parking Lot. The main entrance to the Illahee Preserve is at the Almira parking lot where eventually there will be a restroom (the sewer line is already in), an anticipated shelter similar to the one at Anna Smith park, a play area for children consisting on natural features such as rocks and wood, and a large "dedication rock" that was unearthed when the parking lot was being constructed.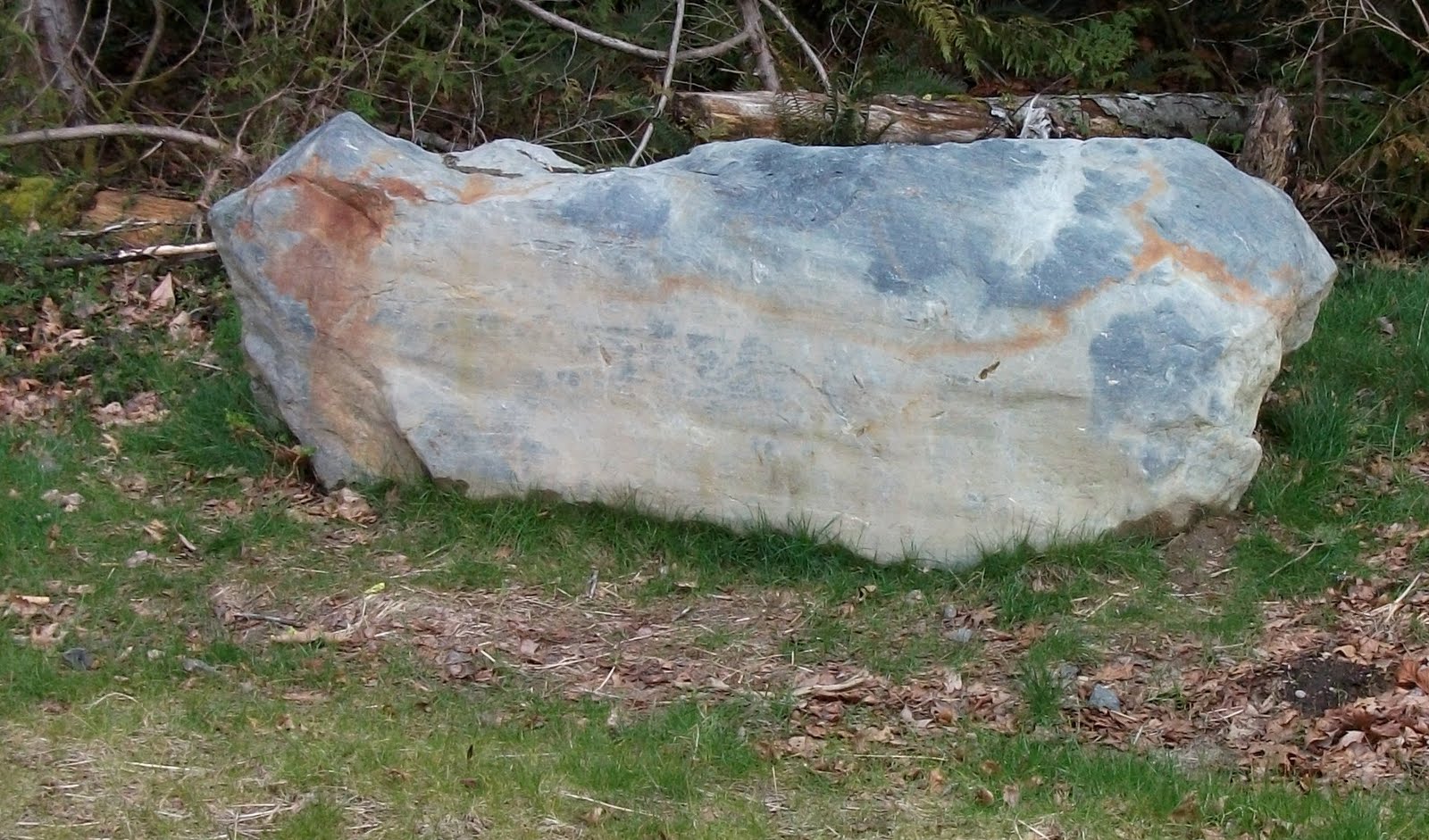 Dedication Rock. The large polymorphic erratic rock that was found during the parking lot construction was considered a convenient find. The construction team was considering burying it, which is what they usually do, but thought it so unique they asked if we wanted it left exposed. The first thought was to put it directly in the line of sight as cars entered the parking lot and thus its current placement. At an estimated 8 – 9 tons it did sink into the ground in its current location and when the maintenance gate for the detention pond was installed the anticipated "prominent" locating became more obscure, which then prompted the Stewardship Group and their Non-profit Support Group (the Illahee Forest Preserve Corporation) to find a better and more prominent location for the rock.
New Rock Location.
It took months of discussion and input from many to determine where best to place the dedication rock. Even at that it was decided to make the rock foundation semi-permanent in case a better location might be found when the future restroom, shelter, and play area were constructed. So the foundation for the rock consists of a dug out area roughly 3′ by 11′ in which a geo grid mesh was placed, which was filled with crushed rock, and a generous dressing of washed 3/4″ river rock. Some have said the rectangular site looks like a grave.
Moving the Rock.
The next step in the process is to get the rock moved from its current location to the new more prominent site described above. Chico Towing has volunteered to help with getting the rock moved and is currently researching how to make it happen. They can move the rock, but feel getting in properly situated at the new site may require some more sophisticated equipment, so they are currently working on those issues. We will be there with our cameras when the rock is moved into location.
Dedication Plaque and Art Work. A polymorphic erratic rock like this warrants some special attention and the Stewardship Group and the Non-profit support group are working together to determine what art work can be inscribed on the rock, and what a dedication plaque should say. We have heard they are talking with a talented rock artist about what might be done.
Future Restroom. In our discussions with Preserve people they say they are looking for a future restroom similar to the one the county put in at Old Mill Park in Silverdale. The sewer line for the restroom was installed when the parking lot was put in so only a water line would need to be required. We hope this is an item in the Park's Department budget in the near future.
Future Shelter. When some of the Preserve group noticed the relatively new shelter at Anna Smith Park near Silverdale, they said that something like this is what is needed at the Almira entrance site. Let member of the Preserve groups know if you agree.
Future Play Area. Long ago when the Stewardship Committee and the Park's Department were working on the Stewardship Plan for the newly acquired DNR land, it was decided the area should be a nature and wildlife preserve, and thus the name Illahee Preserve. The plan called for an emphasis on the natural features, and so when a play area was being discussed it was decided it should be one of primarily natural materials such as rocks and logs.
Demonstration Native Plant Rain Garden. The Demonstration Native Plant Rain Garden also fits the emphasis on natural features, in this case being native plants, which are more drought tolerant than may others. The key to the rain garden will be signage that will explain the rain garden concept to encourage all homeowners to consider residential rain gardens for their home sites.
Rain Garden Weeding & Mulching Party Scheduled for April 17th. Over a month ago, on March 6th, nearly 25 volunteers planted over 500 native plants in 5 rain garden plots. It is now time to weed those plots and mulch around the plants so we will be ready for a hopefully weed free summer and with a thick layer of mulch, a summer of minimal watering. Our volunteer botanist, Aimee Weber, will be on hand to make sure we are taking out only the weeds and not some recently planted or emerging native plants. The weeding and mulching party will begin at 9 am on Saturday, April 17th, and should finish by 11 am. We will need some extra wheel borrows to haul the wood chips we are using as mulch. If you have any questions call Aimee at 405-1613 or myself at 479-1049.
Related Item – Jim Trainer Recognition. The Illahee Preserve and the Illahee Community are fortunate to have a resident forester whose name is Jim Trainer who is always supportive of our natural resources and especially trees. Jim will be recognized for the planting of his millionth tree at the Central Kitsap Community Council Town Hall Meeting. It will be Wed 4/21 at 7pm at the Jenne Wright CKSD Admin Building on Silverdale way and Munson. Residents and Preserve users are invited.