>
Deer Pictures
. Below are some recent deer pictures and descriptions forwarded to us.
Mama doe was walking down Madrona Ave with her twins, mama & twin #1 scooted off into the field & #2 lost track of them. Eventually it found her scent & scampered off as well
.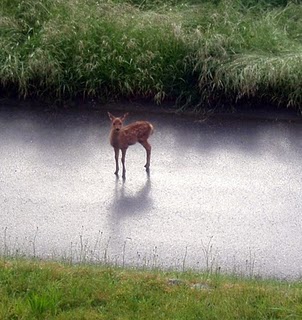 These two guys paid me a visit last Friday. Stayed in the back yard for a couple of hours.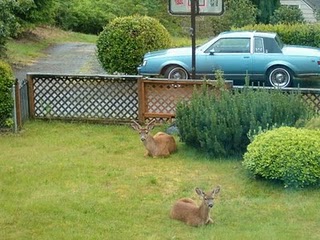 We also had someone report a beautiful 4 or 5 point buck that was reluctant to move out off of Illahee Road about 5 am on Tuesday morning.
Rain Garden Weeding and Mulching Progress.
About half of rain garden plot 4 was weeded and mulched on Tuesday, and we hope to finish it today, Thursday (6/10/10). Depending on our progress this evening and the availability of wood chips, we may have a work party on Saturday morning from 9-11 am. We will assess things this evening and send out
another Update if the Saturday session is a go. Those working asked us to report that they could use some more help.
Illahee Road Accident
. We talked with people who heard and responded to an accident on Illahee Road near Roosevelt very late Monday evening. The attached link is the report that was in the Kitsap Sun: