>Tide Photos. For the supposedly highest tides of the year on Saturday and Sunday, they weren't very exciting or very high. We did get up early on Friday, Saturday and Sunday mornings in hopes of catching 'an extreme high tide,' but they didn't appear. We even checked the barometer which had low readings of between 28.3 – 28.5 in Hg, which is considered a fairly low atmospheric pressure (standard is 29.92 in Hg). We did select a couple of photos to show that the tides were high, they just weren't extremely high.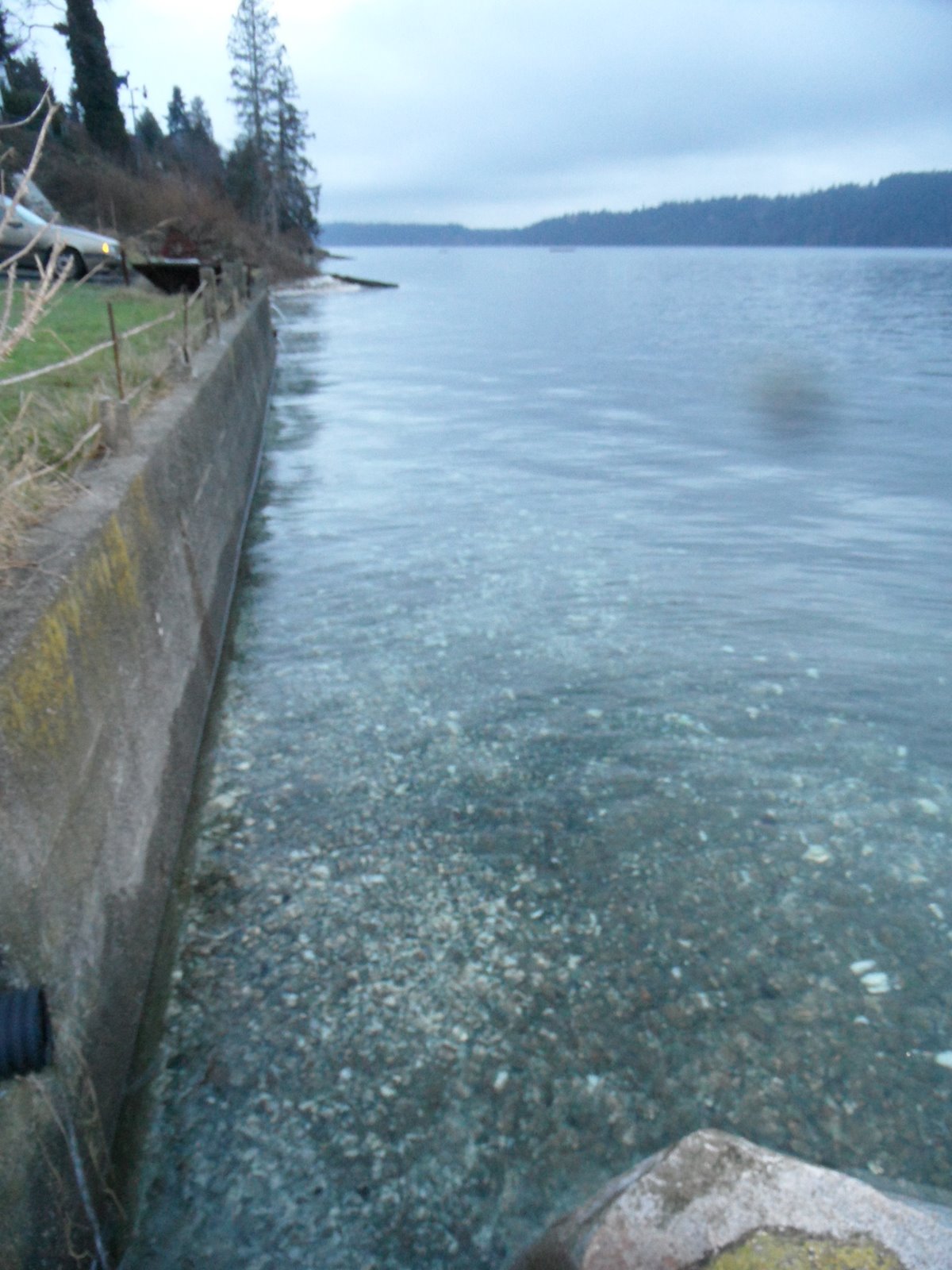 How High Do Tides Get Here? We have been asked at various times about what are the highest tides we have seen. We have lived on the waterfront for over 40 years, in various places, and somewhere have photos of extreme high tides. The extreme high tide (late 70's or early 80's) we saw at this residence was 18 inches higher than the tide we had on Sunday, which is why it wasn't very exciting for us.
Schutt's Point At High Tide. We took a couple of photos at Schutt's point on Sunday morning that show some low points inside the spit. The first photo shows the low area at the north end near the mouth. The second photo shows a low spot at the south end of the spit, where water drains from the low area, and where a branch of Illahee Creek flowed during the December 2007 storm. A number of years ago we paddled kayaks inside the spit area. We entered from the north and exited to the south, which would have put us in front of the house that has been built there. That was an instance when there was a more extreme high tide.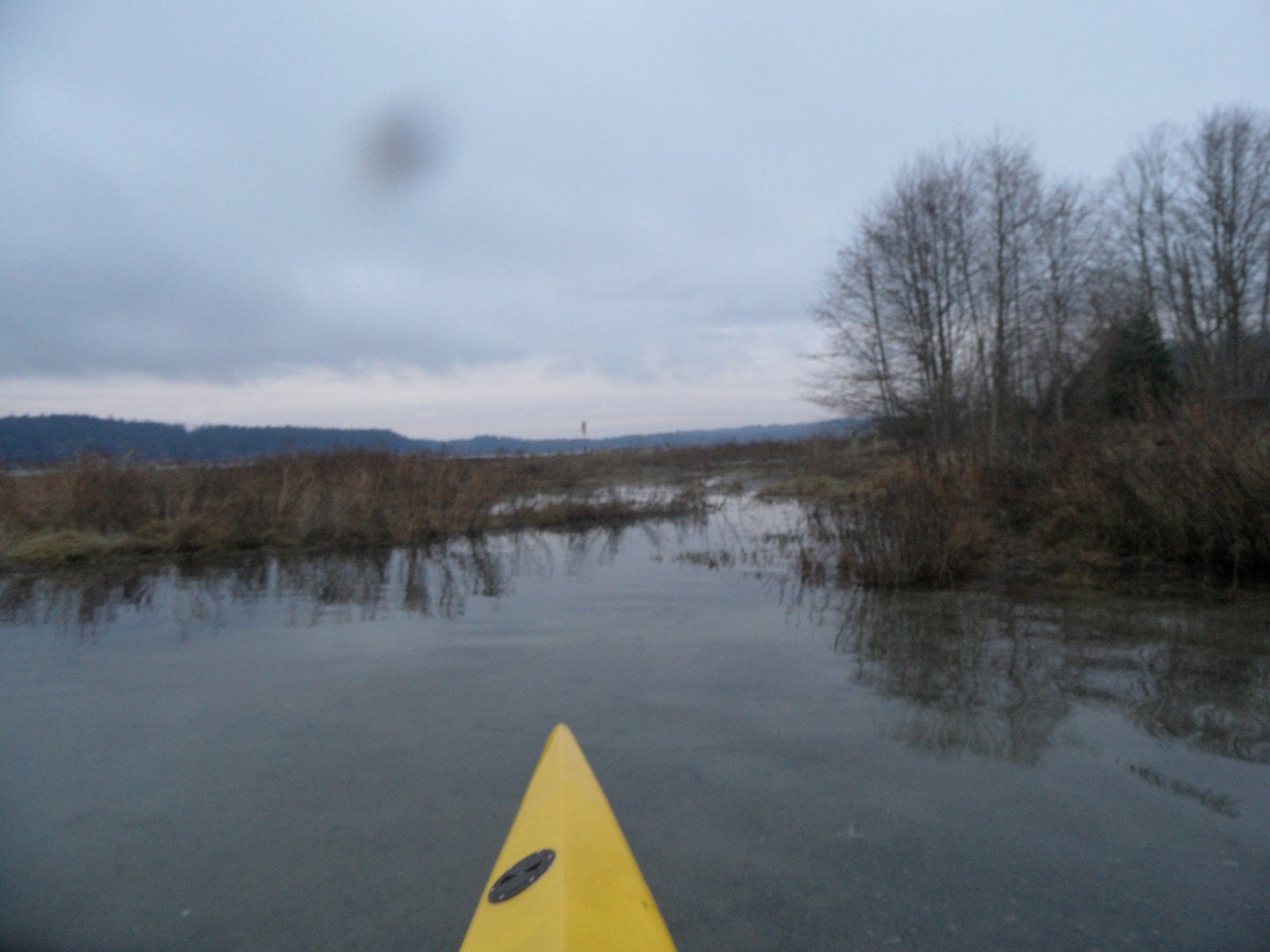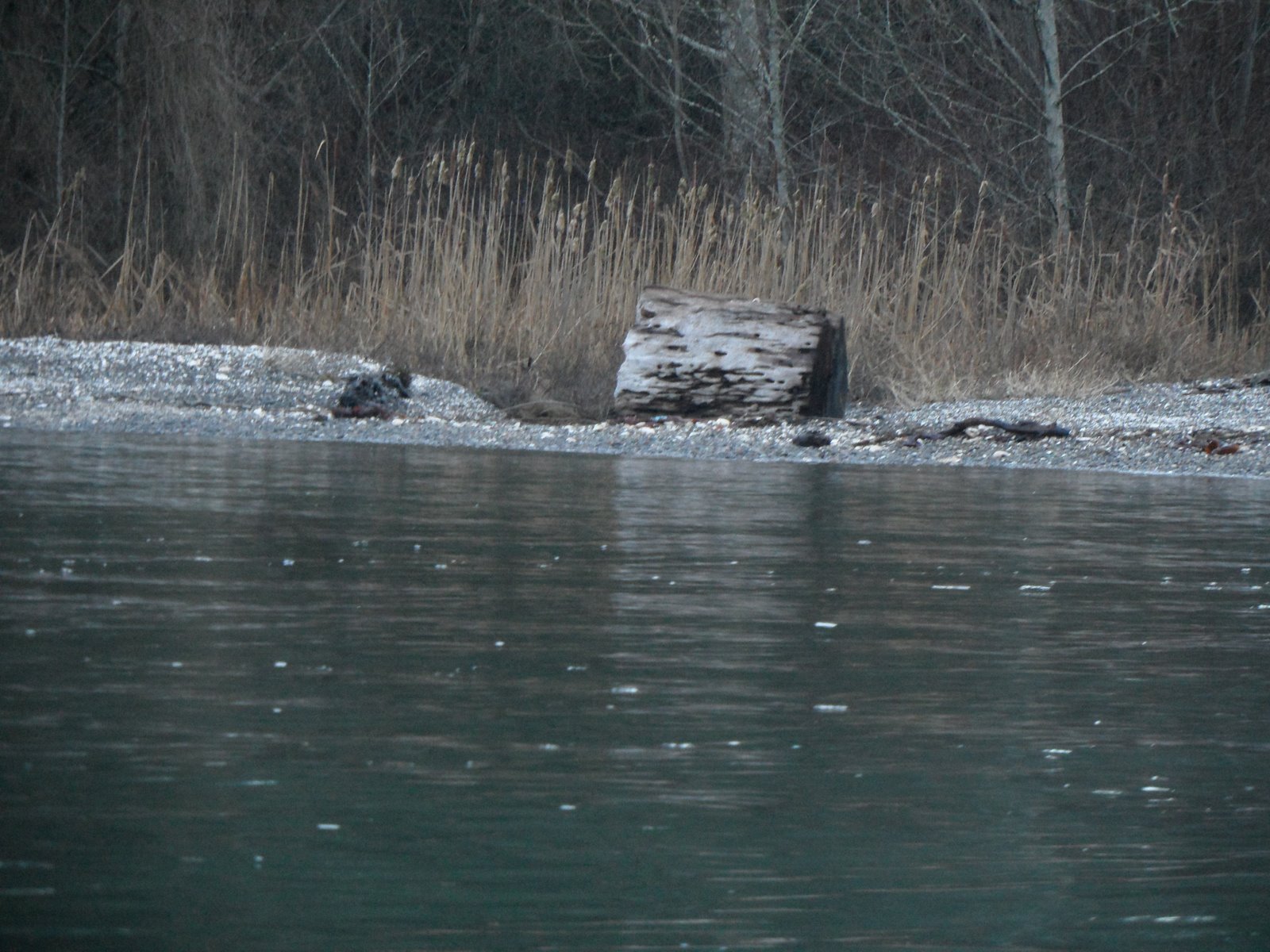 Eagle At Preserve Pond. We received the following email regarding an eagle that was seen in the detention pond at the Almira parking lot of the Illahee Preserve. Thanks to all who send these reports.
I wanted to let you know that I saw a bald eagle at the Preserve today. I drove into the Almira parking lot at about 1:45 and saw a bald eagle emerge from the stormwater retention area. The eagle took flight as soon as I pulled in so I don't know what it was doing in there, but it didn't have anything in its talons. My first thought was that it may be preying on waterfowl that use the area but if the eagle was hunting it didn't come up with anything. It was a really spectacle to witness as the eagle was so close and not the type of bird I was expecting to fly out of the stormwater area.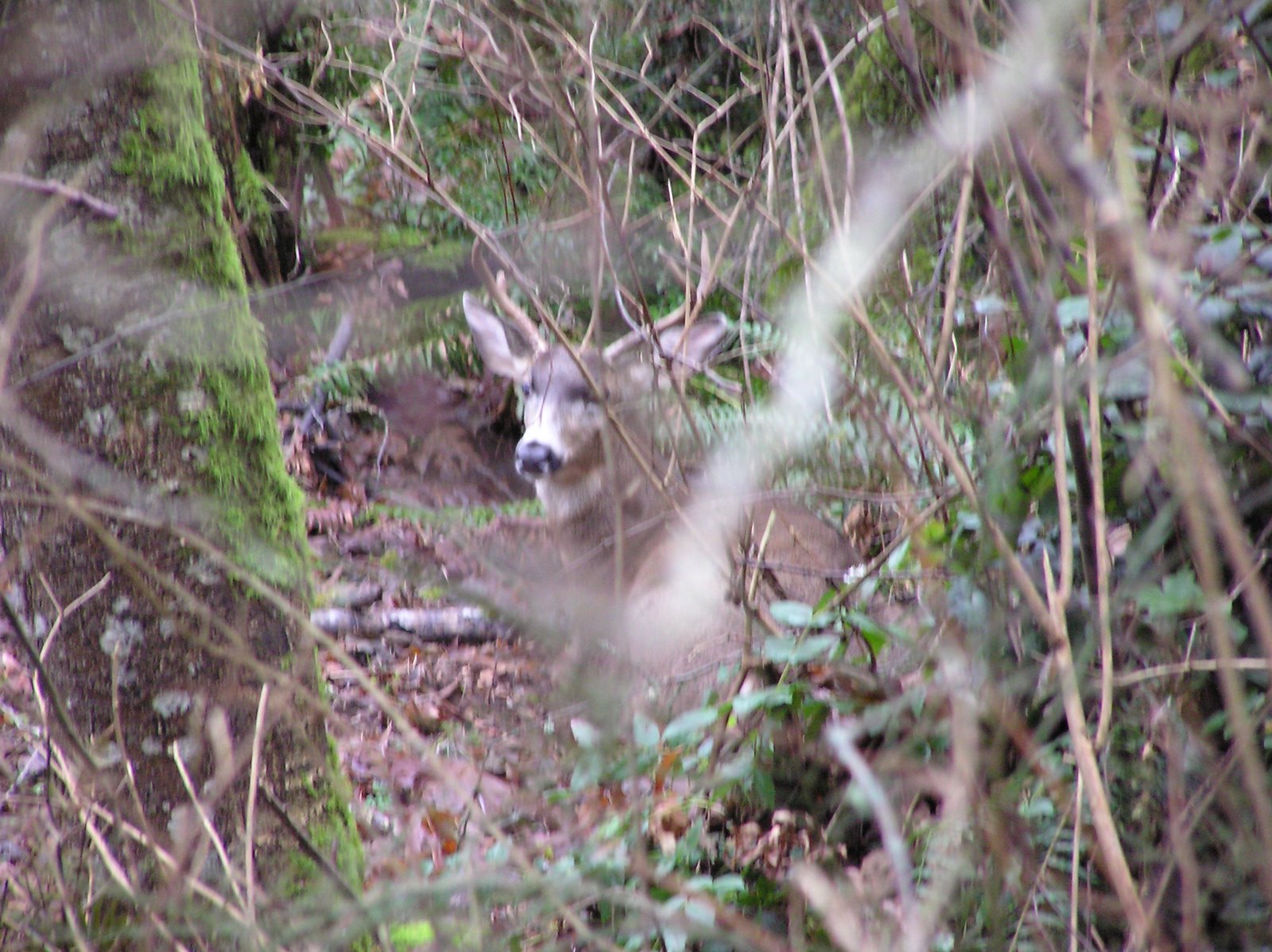 Deer Photo. There are a number of people who are regular walkers around the area. We talked with Tom the other day and he said he regularly saw deer on his walks including some big bucks. We asked if he would send us a photo, and the next day he did, with these comments.
Saw that big buck again. Exact same bed he was in before. In the wetlands on 3rd.
Port Articles in Kitsap Sun. It was hard to walk and read after I picked up the Kitsap Sun this morning as my interest was on the article on the Port districts, and what appears to be an effort to consolidate them. Two feature articles in the Sunday Sun were on the Ports and we have attached the links here.
Port Discussion Continues on Monday. On Monday, the discussion is supposed to continue and we will provide that link later. There are a number of residents who are snow birds and say they appreciate the Kitsap Sun links, along with others who do not receive the Sun.
Your Port Comments? After reading these articles we would be interested to hear your thoughts and comments with respect to the general issues and also with respect to the Port of Illahee.