Preserve Dumping.  It is disappointing to find trash dumped in the Preserve Almira's parking lot when volunteers work hard to keep every part of the park and trails picked up.  Volunteers take care of most of the trash, but when major dumping occurs we often ask for help from the Park's Department, and they have been very responsive and helpful.
Heart of the Park.  For some time the housing unit area at the end of Thompson Lane was referred to as the "heart of the park".  It is comprised of 14 parcels with a number of them being rentals.  Years ago, because of dumping problems in the Preserve along the half mile long Thompson Lane road that goes to the housing units, a gate was installed by Kitsap County.  The gate worked well to stop the dumping, but a number of years ago someone rammed the gate mechanism and it was considered too costly too repair.  Thankfully the extreme dumping along the road has basically ended, and we have one volunteer group that periodically cleans the trash along the Thompson Lane roadway, so there has been no big push to find the money to fix the gate.
Thompson Lane Road Reports.  We have had reports and also comments on our website of Preserve users being harassed while walking along Thompson Lane.  When Leadership Kitsap personnel were installing trail markers along the road they had their equipment stolen, when they broke for lunch.  Reports we received over the past year state they were told it is a private road and they shouldn't be there.  We didn't know if this was a big enough issue to bring up until we experienced an encounter on Wednesday evening.
Strange Encounter at Heart of the Park.  On Wednesday evening, while doing some GPS tracking in the Preserve for a couple of map corrections, I ventured into the Heart of the Park, after finding some 4 wheel vehicle tracks that came from the area (see photo).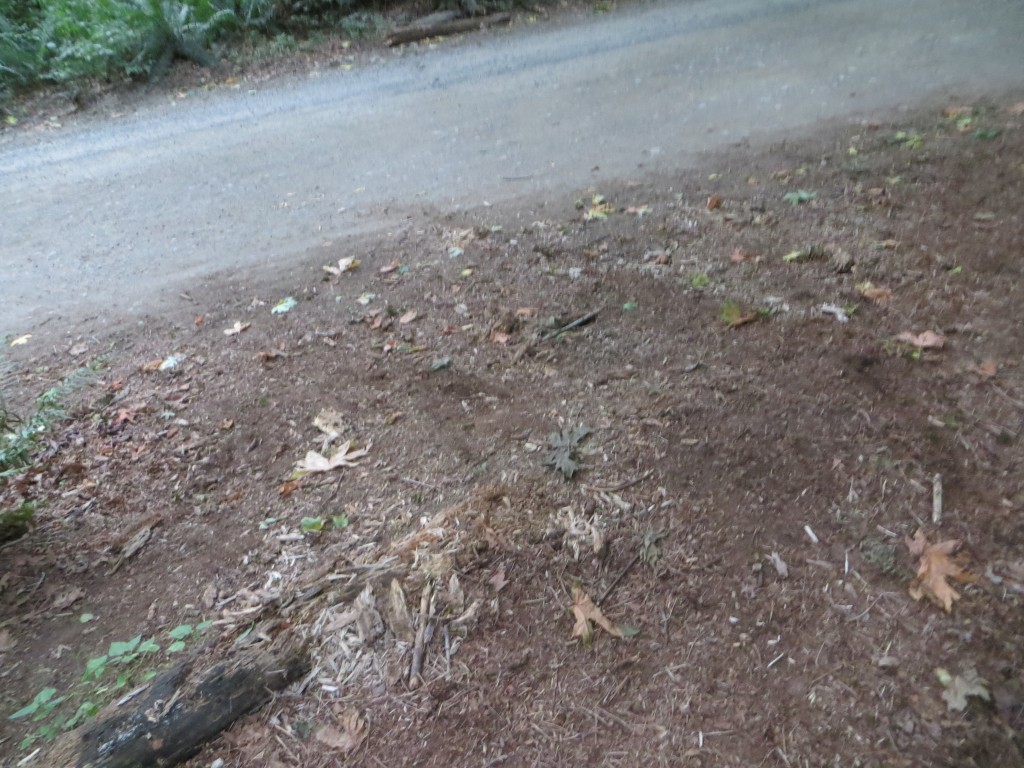 I walked down the road and didn't see any 4 wheel vehicles, but did notice the very large flat rock in the common field area of the housing units, so I took a picture of it from quite a distance (because it is flat it is hard to distinguish much from the photo).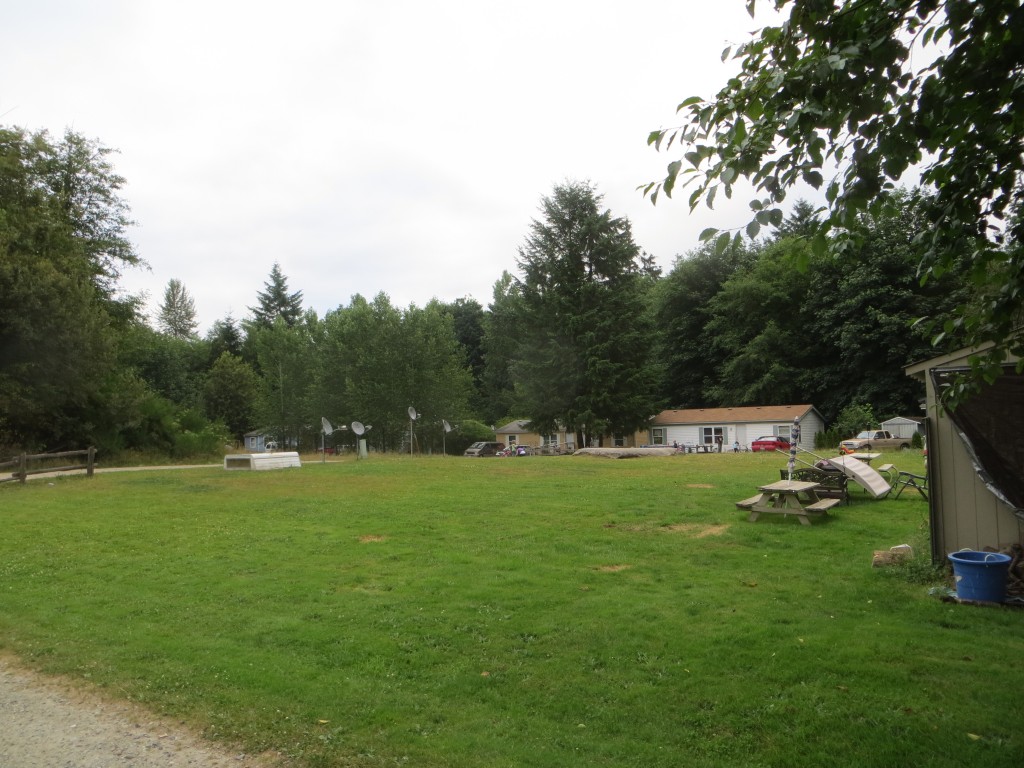 As I was leaving I was confronted by a man and woman who accused me of taking photos of their house and their kids.  They said they wanted me to delete the photos (and later said if I didn't they would smash my camera).  I said I didn't take any photos of their house or their kids, which didn't satisfy them, so they said they were going to call 911.  I said go ahead, and then I took some photos of them (in deference to their request that I delete my photos I decided to not to show my photos of them), and I left to continue on my GPS tracking mission.
Later on in my walk I realized the man who confronted me was following me, and continued to follow me as I was doing my GPS tracking and taking photos of the trail markers.  Eventually I ended up back at the Almira parking lot, with the guy still right behind me, and just as a Kitsap County Sheriff's deputy pulled in.  He asked me for my ID and asked why I was taking photos of the house and kids.  I again said I wasn't and showed the deputy, G. Westerfield #74, the photos I took.  I was never able to get the guys name and Deputy Westerfield gave me his card with a case number, K12-007491, and said I could get the information there.  The guy kept insisting that I be made to delete any photos I took of them and when the deputy said I didn't have to delete the photos, and the guy again said he would smash my camera, to which I replied that sounded like a threat.  Deputy Westerfield said things were escalating and that I needed to leave, which I did.  Today (Thursday) I called to get a copy of the case file, which they said will be mailed to me within 5 business days.  I still don't know the names of the people or exactly where they live.  We will try to share the case file in an update when it is received.
Thoughts?  My first thought about the encounter was hearing the lady trying to describe me as "some old guy".  Guess I haven't come to grips with the fact that I look old.  Another thought is that this is a good time to try and resolve harassment issues of Preserve users using the Thompson Lane roadway.  Also, the long range plans of the Illahee Preserve Stewardship Committee are to hopefully purchase the "Heart of the Park" properties, and maybe this is the impetus to start working harder on that goal.  And lastly I wonder about the size of the huge flat rock in the common area of the housing units.  It appears from a distance to be at least 20 feet in diameter.  It would be nice to do a story on the rock and the history of the Heart of the Park in a future update.
Salmon Fishing.  When salmon fisherman are seen in Illahee the first question some of us ask "are the salmon back already", and the second question is what are the regulations for what and how many can they catch.  Illahee is in Marine Area #10, which is shown below, and has its own subarea, 9, special regulations, including a special one for Illahee State Park where salmon can be fished year around.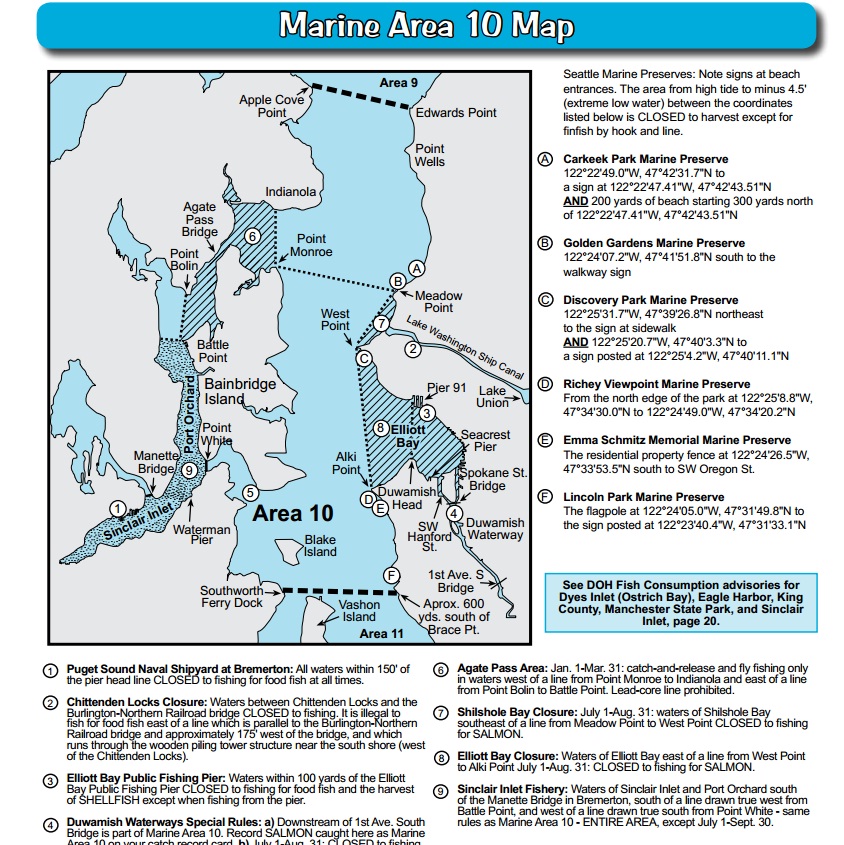 Salmon Regulations.  We copied the pertinent sections for subarea 9 and the one which follows it for fishing piers, which includes Illahee State Park.

Slugs?  We attended a "Slug" presentation the other day put on by the Master Gardener Foundation, and saw several other Illahee residents there.  The speaker has been studying slugs for 13 years and was a wealth of information on these slimy creatures.  Probably the single most interesting piece of information presented for us was that we have both native and non-native slugs, and the ones who attack our gardens are generally the non-natives since the native slugs are attracted primarily to native vegetation, which is mostly found in forests.
Banana Slugs?  Banana slugs are the best known native slug in the Northwest and are good ones as they prefer native plants to graze upon, though they are known to feed on gardens if we build in their habitat.  They can be up to 12 inches in length and can be white, yellow, tan or greenish, with some having black spots.  The photo below of two banana slugs courting is from the public domain of Wikipedia.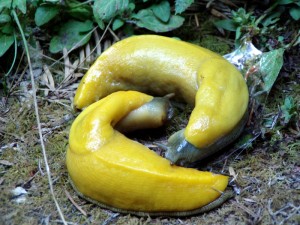 Leopard Slugs?  Leopard slugs, or great gray slugs, are non-natives and have voracious appetites and will eat their own.  Our instructor noted she personally discovered this when she collected two leopard slugs for a presentation, and by the time of the presentation there was only one.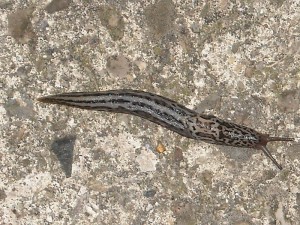 Thoughts?  We have been asked to include more human interest stories so let us know how we are doing.
Jim Aho