Stolen Car Pursuit Ends in Illahee.  There were at least 10 police and sheriff's cars in Illahee on Monday afternoon with many involved in pursuit of a suspect in a stolen car.  We don't know all the details, but from what we could gather the pursuit had been going on for several days, and involved several confrontations of the suspect with citizens.  From what it looks like in the photo below, the suspect must have turned up a side road off of Illahee Road and crashed, possibly from a patrol car coming at her.  Notice the shoes on the road from when the suspect took off running through the neighborhood, but from what we were told, was quickly apprehended and handcuffed.  We decided not to show her picture and have blurred the other pictures, not knowing what might be considered sensitive.
Website Hits Increase.  We were waiting to see if the above event was going to be reported in the Kitsap Sun, but we have had people curious as to what happened, and also noted the number of website hits dramatically increased before noon today, so we decided to send out this update.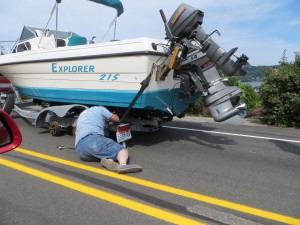 Thanks to Law Enforcement.  We have had a number of dealings recently with the Sheriff's Department and we need to thank them for their help and professionalism.  The other day a boat trailer lost its tires and they were there to help with traffic.  They have been helpful with a number of issues with the Illahee Preserve, and they have been responsive every time.  They are especially to be thanked for yesterday when deputies and Bremerton police apprehended the suspect in the neighborhood before she could do any more harm.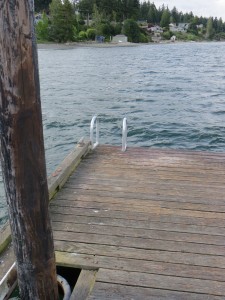 New Float Ladders.  Thanks to the Port of Illahee for installing new ladders on both floats of the Community Dock.  The old wooden ones had totally deteriorated and the swimmers and divers have lots of praise and thanks as they now have an easy way to get back up on the floats.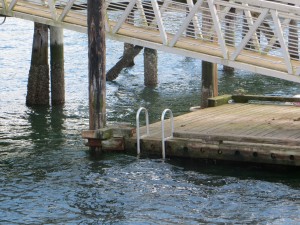 Banana Slugs.  We were reminded that our local banana slugs do not look like the ones we included a photo of in our last update.  The photo below shows a banana slug in the Illahee Preserve.
News Events?  Thanks to those that tell us news worthy events in the neighborhood, so we can get there in time with a camera.  Don't hesitate to call us.