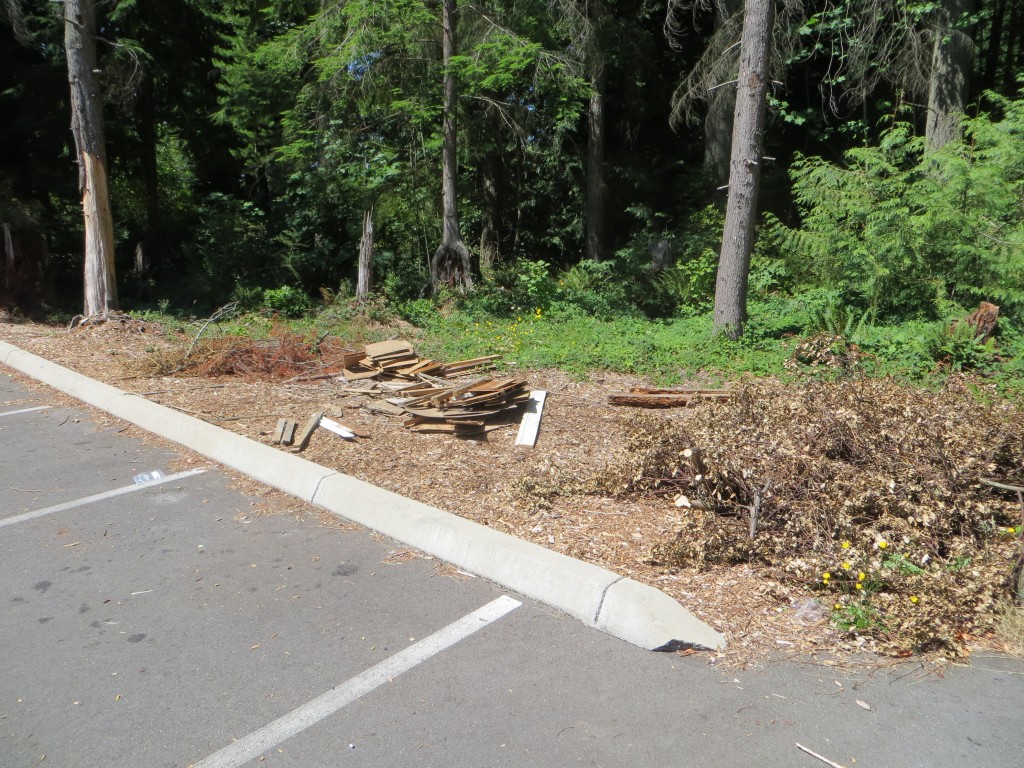 Preserve Helpers.  We have been amazed at how park users, volunteers, and the county have responded to the recent dumping of trash at the Illahee Preserve's Almira Parking Lot.  First of all someone reported they called 911 with the license plate number of the vehicle dumping the trash, but when someone else called the records section to get the number they couldn't find the record.  Shortly after the dumping park users started picking up the trash and filling their own trash containers, until the volume was about half of what it was.  And on Tuesday when we met with Park's staff on another issue they hauled some of the most offensive smelling stuff away in their pickup.  What remains is shown in the photo above.  Thanks to all these amazing people who are showing that park users and volunteers can help clean up messes and thanks to the Parks Dept for stepping in to help with the worst items.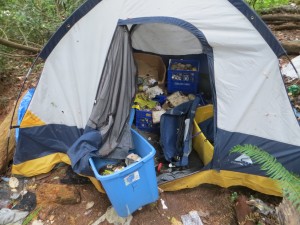 Homeless Camp Cleanup.  For some time vacated homeless camps were on the Stewardship list to take care of.  Volunteers moved camps and debris from the hillside to another vacated camp site next to Almira Road.  When they realized the magnitude of the project they requested help on Tuesday from the Parks Department.  We just received word that on next Wednesday, August 8th, Parks staff and a crew from Mission Creek will cleanup the debris and the vacated sites.  Thanks again to the Stewardship volunteers, and in advance to Kitsap County Parks, and the Mission Creek crew.  The photos above and below show some of the area needing cleanup.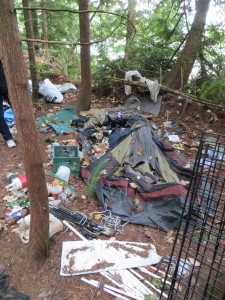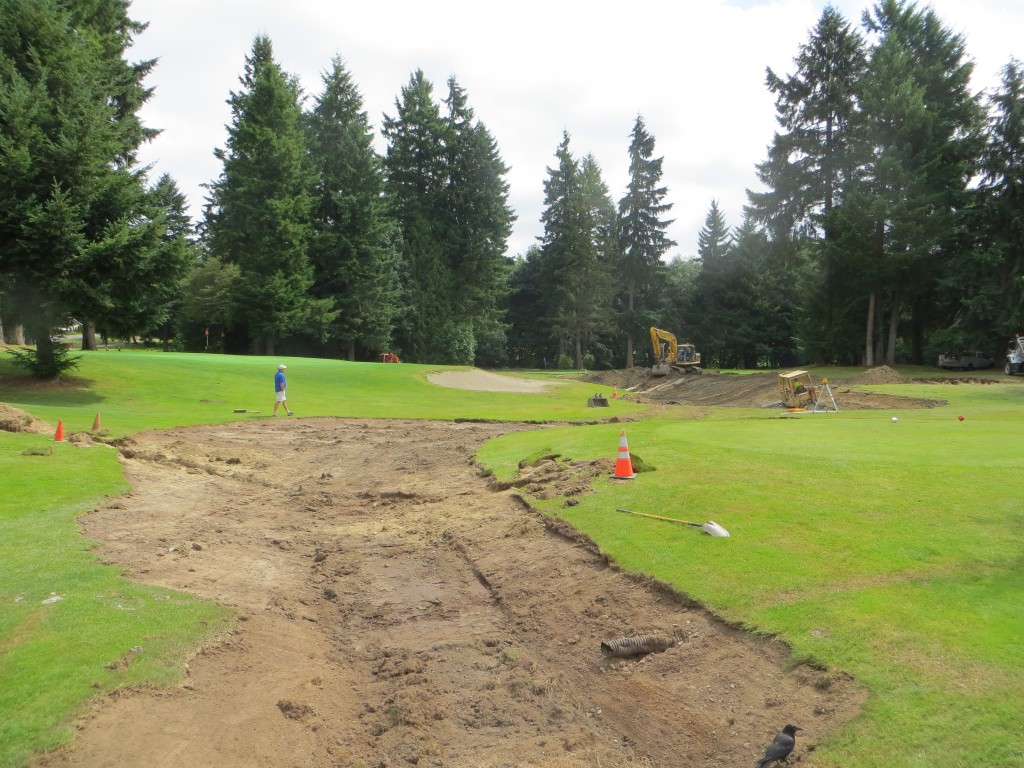 Golf Course Work.  Kitsap County Public Works personnel are working with Rolling Hills Golf Course on bio-retention projects designed to help mitigate the stormwater surges that plague Illahee Creek and result in sediment filling the culvert under Illahee Road.  Community members have requested the stormwater problems be solved upstream rather than continue cleaning out the culvert, and that is what the county is doing, and is planning to continue doing.  We will report on this in more depth in a subsequent update.  The photos above and below show some of the construction work.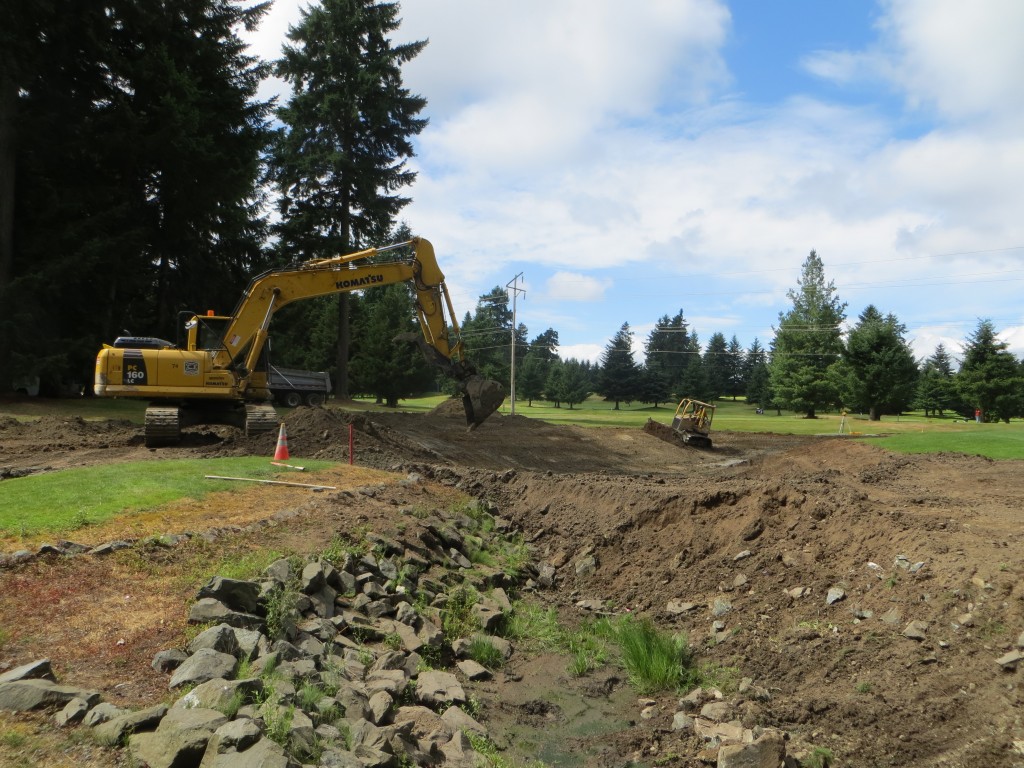 County's Forest Policy Plan.  Two thirds of the public attending the County's Forest Stewardship Policy presentation on Tuesday were from Illahee or members of the Illahee Preserve Stewardship Committee.  A Kitsap Sun reporter was also there and his article appeared in Thursday's Sun and can be accessed by clicking on the following link: http://www.kitsapsun.com/news/2012/aug/01/forest-stewardship-policy-discussed/
From what we got out of the meeting the Illahee Preserve does not have some of the issues of other parks.  It seemed to us, from what we heard, that the Illahee Preserve should be exempted from the Policy plan, but we will wait and see what the group's official response will be.
Bulkhead Removal Monitoring.  For those interested in the impact of bulkheads on shorelines, there is a good opportunity to be involved in as the bulkhead is going to be removed soon at Anna Smith Park.  A pre-bulkhead removal monitoring project is being headed up by Jeff Adams of SeaGrant.  Below is Jeff's email request for help.  He especially needs help on Friday (8/3) and Saturday (8/4) at the times shown in the email.  
> From: Jeff Adams <jaws@u.washington.edu>
> Date: July 27, 2012 3:41:56 PM PDT
> To: kbw-kbn <kbw-kbn@uw.edu>
> Subject: shoreline profiles in Dye's Inlet, Anna Smith Park
>
> Greetings All- Hope you each get a chance to enjoy the upcoming low tides (last strong minus tides of the summer start tomorrow).
>
> As we did on a private property on Bainbridge, we'll be doing pre-bulkhead removal monitoring at Anna Smith Park near the Kitsap County Fairgrounds. Help would be greatly appreciated on…
>
> Friday 8/3, -1.1@1:10P (11:00A-3:00P)
> Saturday 8/4, -0.2@1:52P (12:00P-4:00P)
> Tuesday 8/14, -0.1@9:22A (8:00A-12:00P)
> Wednesday 8/15, -0.4@10:03A (9:00A-1:00P)
>
> Please let me know if you're interested and available and for which dates. No experience necessary. Anna Smith Park:  7601 Tracyton Blvd., Bremerton
> http://www.kitsapgov.com/parks/parks/pages/communityparks/anna_smith_park.htm
>
> Cheers! JEff
August 11th Opportunities.  There are two upcoming opportunities next Saturday, August 11th, one in Illahee and another in Brownsville, that we will be describing in our next update, which will probably be on August 3rd.  We just ran out of space and time on this one.