Owl.  Some great owl photos came in this morning.  We are trying to begin our updates with photos, preferably of wildlife, so we especially appreciate those who forward their wildlife pictures.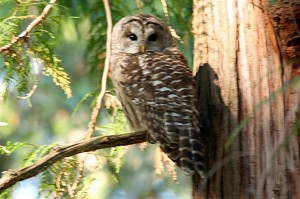 …..for about an hour and a half today it was quite a racket. I figured at first that a baby crow had fallen down so I just clapped my hands sounding like a gunshot and the crows flew away. They were just up the hill from Oscar's cabin and I was working in the shop. Really, about an hour later I began to tune into the crows still making a lot of noise, so I walked up and found this in a tree. I ran down to the house and got my camera and hoped that I wasn't too late. As you can see I made it. About only 20 feet up an old cedar.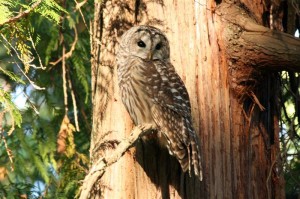 Coyote Reports.  Coyote photos are hard to come by, but we were copied on an email regarding coyote concerns that we want to pass on, along with a response and a new report from early Thursday morning.
Thought I would drop you a note to warn you that the coyotes are in full force in the canyon area by your home and if you have neighbors with small pets they may want to watch their cats and small dogs very carefully.  I would appreciate it if you would get the word out.  ……… it appears that the Sunset pack has either grown and separated or a new group has moved down this way.
RESPONSE:  We lost our cat in July and I assume it was the coyotes. You probably got my flyer in your mail box.
Last evening at 3 am I was outside checking on things and heard what sounded like a pack of coyotes howling in response to faint siren sound.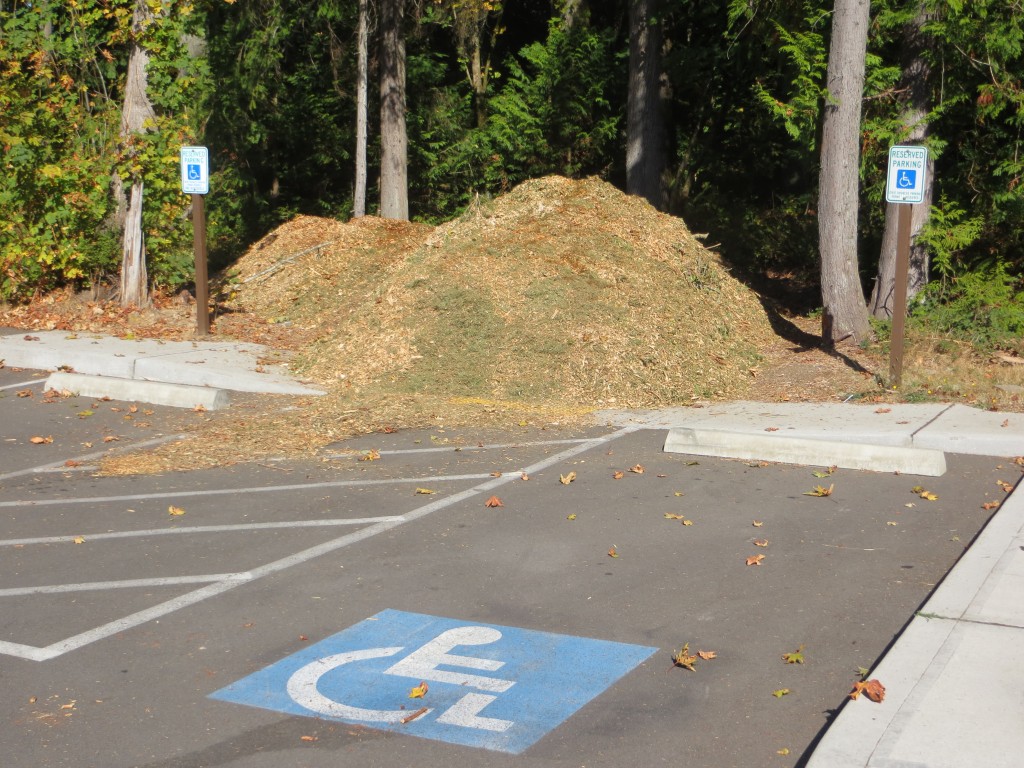 Wood Chips.  A few weeks ago we depleted the wood chip pile at the Almira parking lot, and were hoping to deplete the one at the end of Petersville, resulting in the Rotary putting out a call for more chips.  As you can see from the photos above and below, they were quite successful.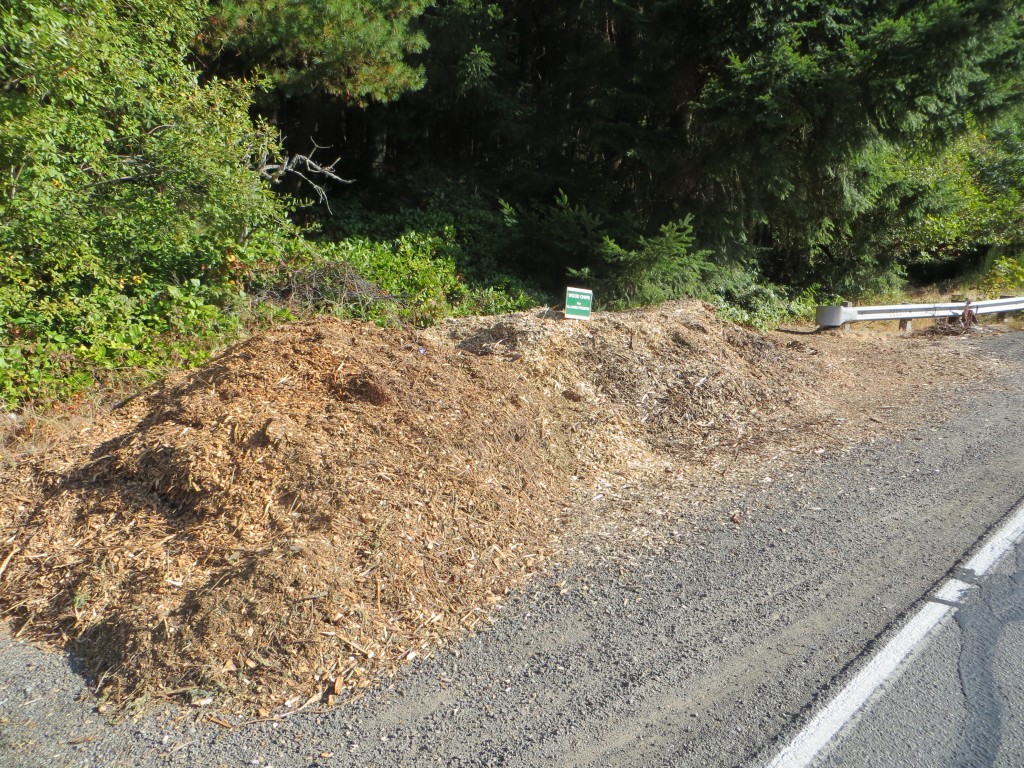 Clean Trails.  After being out of town for awhile, we decided to take a walk in the Preserve and pick up trash.  To our surprise, all we could find were only very small pieces of paper and plastic, along with a few discarded tissues.  We didn't even find any evidence of dog droppings or discarded bags.  Thanks to all the Preserve users who keep the Preserve amazingly clean!!!
Forest Policy Hearing.  There will be a public hearing before the Kitsap County Commissioners this coming Monday (10/8/12) to hear testimony regarding the Forest Stewardship Policy document that is being presented for adoption.  We are attaching the notice on the Park's website, followed by the link to the document.  We have talked to several who have read it and found it hard to review because of the grammatical errors in the revised draft.  Preserve users and supporters are encouraged to attend, or forward your comments and we will pass them on to the Preserve Stewardship Committee.
Film Event.  We found the cost to attend the environmental film showing of the Elwha film and Illahee film will be $10 ($9 plus $1 handling fee).  We heard the films may be reviewed by local newspapers prior to the showing, and if so we will provide links to any articles.  Copies of the films will be available for purchase at the Admiral showing.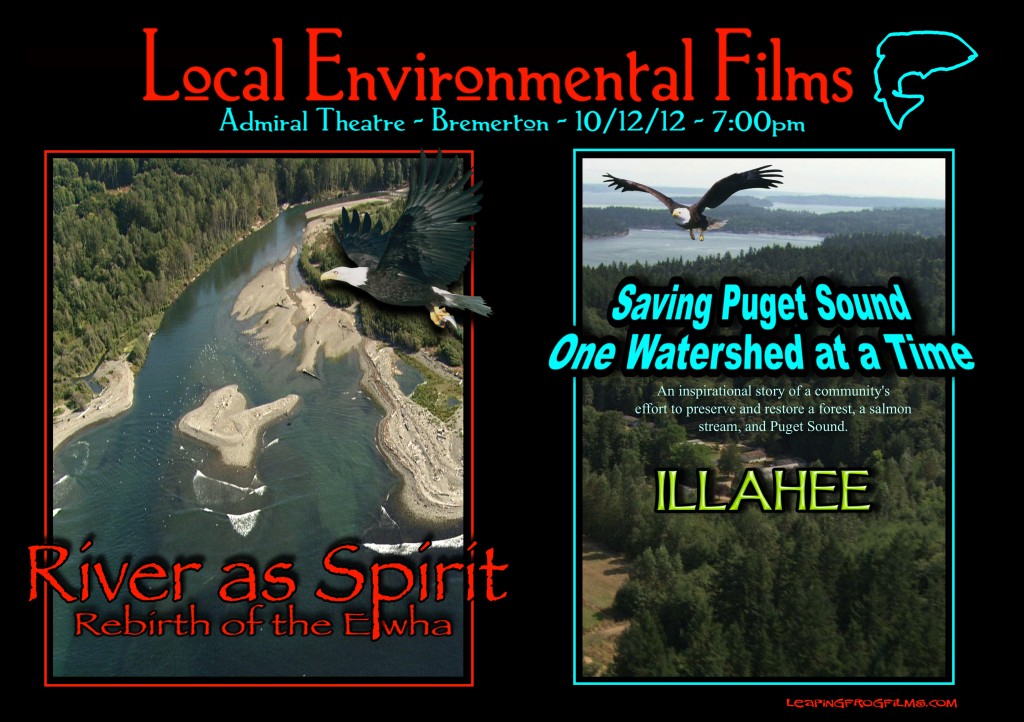 Lounge Chair.  The other day a floating lawn chair washed up on a nearby beach.  If you are missing one, please let us know.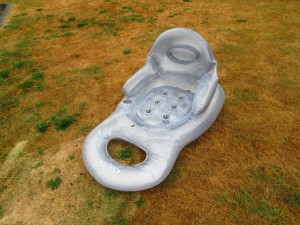 Crime Reports.  We have been forwarded copies of summary electronic crime reports in our area, but they don't seem to cover all the thefts in the Illahee area.  We presume others are aware of these kinds of reports that can be accessed on the internet.  Let us know more so we can pass the information on.