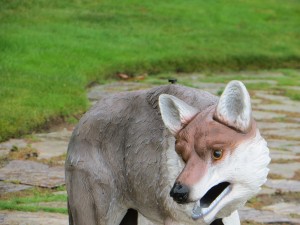 Waterfowl Discourager.  Shoreline residents with lawns are frequented by Canada geese all year long, and by wigeon ducks in the winter.  We have noticed various attempts to discourage their presence on lawns, but this is definitely one of the most creative.  It will be interesting to see whether it will be effective as other decoys, such as owl decoys, seem to only work until it is realized they aren't real.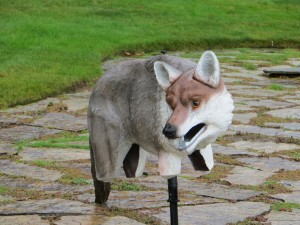 Timbers Edge Legal Notice.  We noticed Timbers Edge made the legal section of today's Kitsap Sun (11/1/12) with a "Notice of Trustee's Sale" by November 30th, with satisfaction being required by November 19th.  The last information we had was the developer had filed for a Chapter 11 bankruptcy.  We have no other information but it looks like the Illahee Community is going to have to decide quickly what it wants to do about this high density development along the steep bluffs of Illahee Creek.  This development wwill affect Illahee as it will bring additional sewers and likely higher densities to an area that is already at water balance with its aquifers, a reality that hadn't been established when the development was approved by the county and the hearing examiner.  
TE Task Force Forming.  A number of months ago the Illahee Forest Preserve group was looking at forming a task force to investigate what could be done with some wishing to decrease the density of the development, and others looking at a possible outright purchase of the property.  We noticed on the IFP website the following statement:
Timbers Edge is an ultra high density development approved by Kitsap County for construction near Illahee Creek. Past efforts resulted in the most sensitive areas of the property being gifted to the Port of Illahee. The development has suffered financial difficulties and we are exploring whether the community could somehow step in to reduce the development footprint and impact on the area (eliminating the need to bring in sewers, for example)….
If anyone is interested in being on the Timbers Edge task force, let us know and we will pass your contact information on.
Illahee Film Showing in Olympia.  On Saturday the Illahee film will be showing in Olympia, along with some other films produced by Shelly Solomon of Leaping Frog Films.  The notice of the film showing we received is:
Friendly last minute reminder for Salmon Stories showing at the Capitol Theater in Olympia 11/3/12 6:30pm.  DOE, Lower Elwha Klallam Tribe and the Salmon Recovery Board will be sending representatives to the event to have a discussion. Buy your tickets early because this event has sold out in the past.
River As Spirit – Rebirth of the Elwha

This film is a meditation on the soul of the Elwha River and the people and salmon who have been a part of it for thousands of years. This past summer, just a week before the historic dam removal work officially began; filmmakers flew and filmed the length of the river, from its source high in the Olympic Mountains to the mouth at the Strait of Juan De Fuca in slow motion.  The weather was perfect, and resulting footage stunning.  Set to Native American music,  poetry,  and narrated in the native Klallam language with English subtitles. This simple and profoundly beautiful film has proven mesmerizing to both Tribal and non-tribal audiences alike.

Buried in Sawdust for 50 Years
This film chronicles a salmon recovery project that took place in Discovery Bay WA. The story begins in the 60's with a small milling operation and the dumping of their wood waste to 60' high into the adjacent estuary.   Scientists discuss the vital role estuaries play in making healthy, sustainable salmon runs possible, as well as the broader environmental implications of what was not an uncommon practice in the North West at the time. You will also witness the rebirth of Salmon Creek Estuary.

Illahee – Saving Puget Sound One Watershed at a Time
This film is an inspirational story of a community's effort to preserve and restore a forest, a salmon stream, and Puget Sound. Started modestly by forward-looking residents of the past, and carried on by succeeding generations, this extraordinary and sustained effort insures that Illahee's natural treasures will be its legacy to the future of Puget Sound.  
Film Distribution Opportunity Available.  We also noticed on the Illahee Preserve website the following statement indicating they need help with distributing the Illahee film to the community: 
IFP funded the artwork, packaging and duplication costs for nearly 200 copies of the film "Illahee – Saving Puget Sound One Watershed at a Time". Approximately 50 copies of the film have been distributed or sold for a suggested contribution of $20 (or 3 for $45). In addition to recouping of the funding for the copies of the film, any extra funding is being targeted for seed money for a sequel film to continue with footage that was not used in the initial film. Door to door sales have been proposed to youth groups interested in a fund raising activity, but without any success to date. Help is needed to further this project along.
If you know of a youth group that could help with distribution, let us know.
Knotweed Infestations.  There are a number of Japanese knotweed infestations along the Illahee shoreline.  We took a picture of this one among the native vegetation since it stood out so distinctively with its yellow leaves.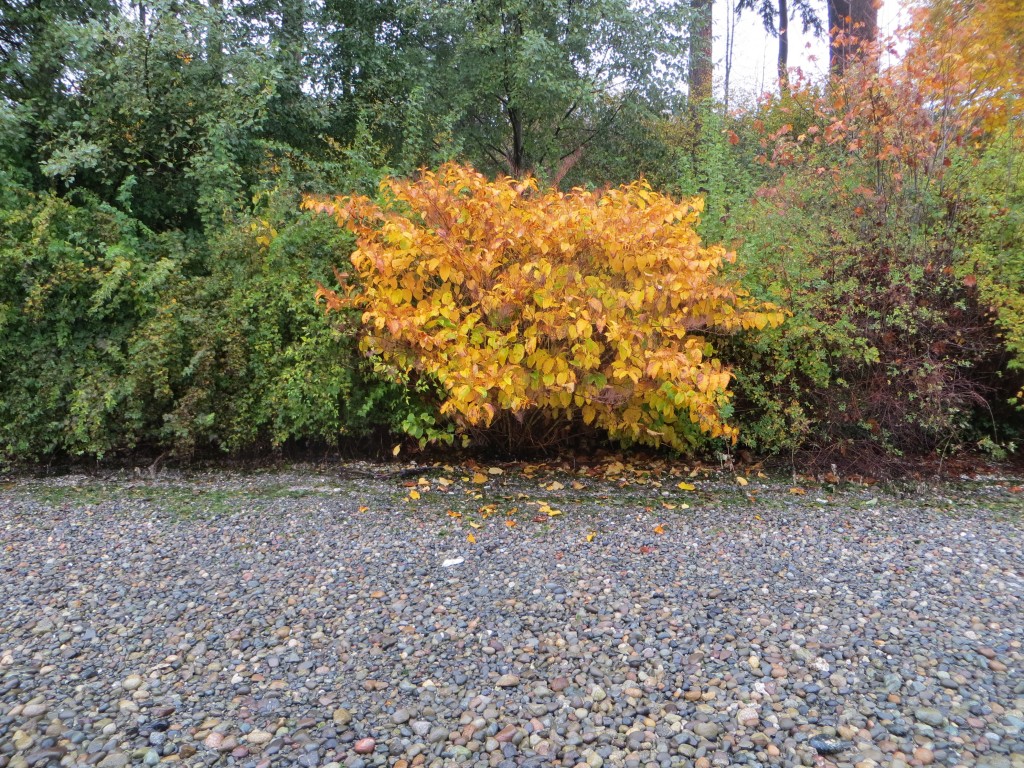 Health District Monitoring in Illahee.  It seems like off and on this past year there have been Health Department officials walking the shoreline and contacting shoreline residents as part of a Dept of Ecology study.  Early this fall we talked with one of the officials as he was investigating a "hot spot" and he said he would send us some information on the project, which we received recently.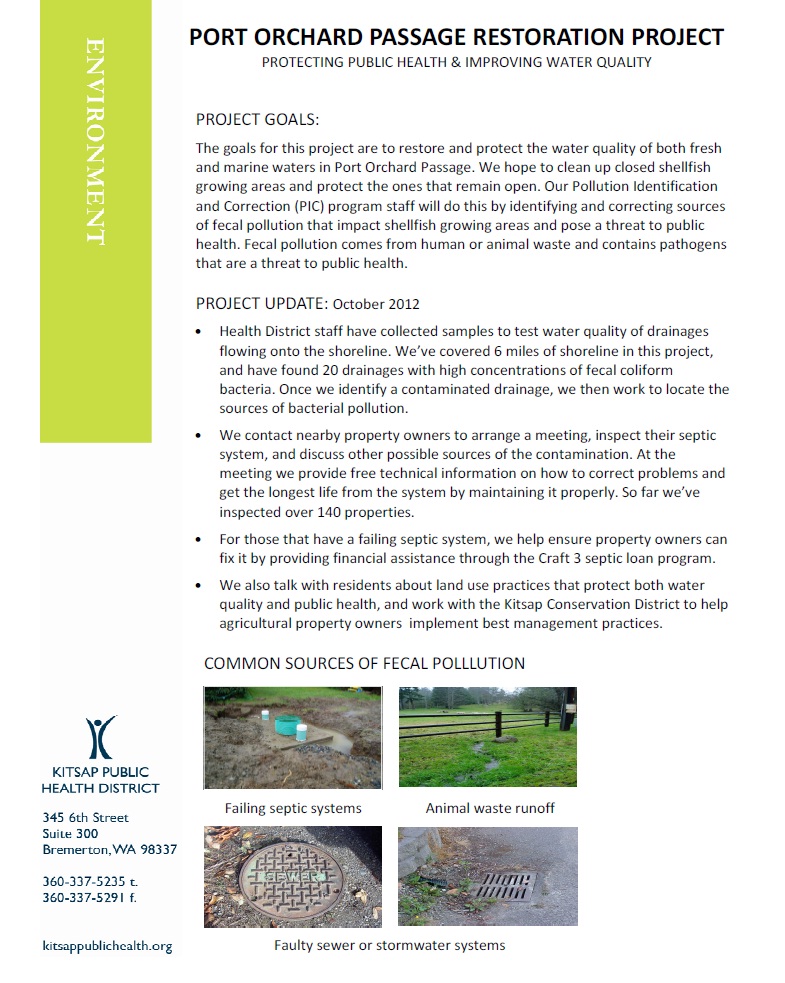 From the map he sent it appears the main concern is on Bainbridge Island.