Preserve Cleanup Volunteers.  We couldn't find any of the Illahee Preserve cleanup volunteers who would pose for a picture so we took a picture of their orange vest, their pickup tool, and trash bag after a trip through the Preserve.  They reported only a small amount of trash was found, most of it around the Thompson Lane parking lot.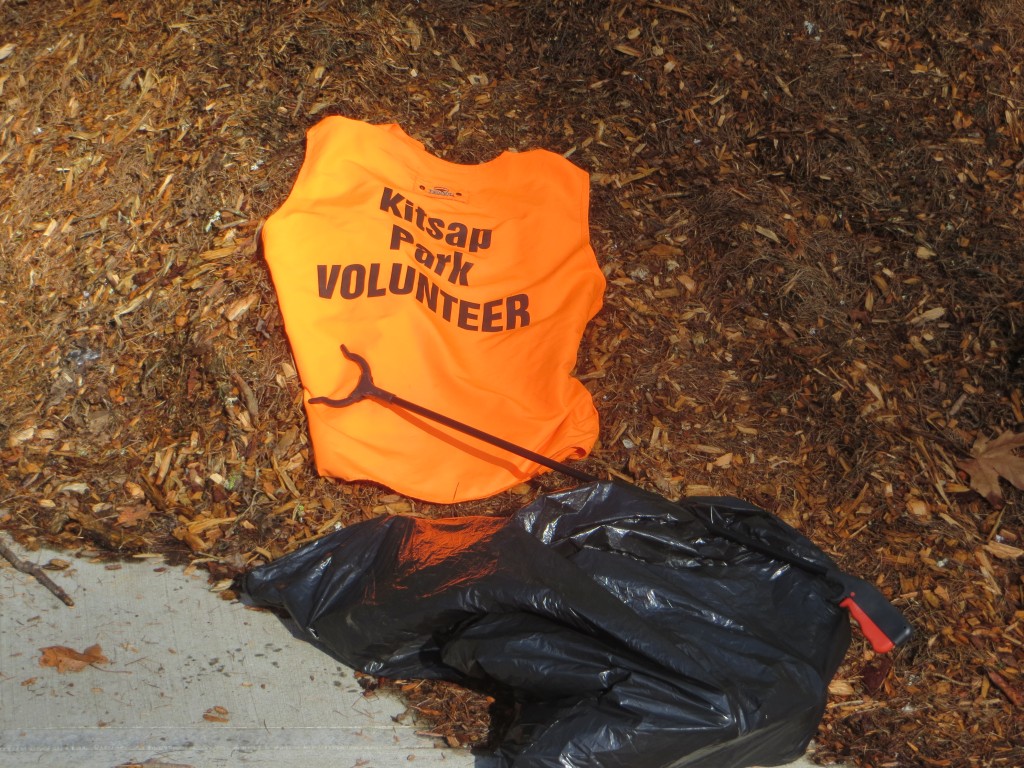 Illegal Dumping.  Another instance of illegal dumping occurred on Sunday evening or Monday.  Anyone recognize this red rocker?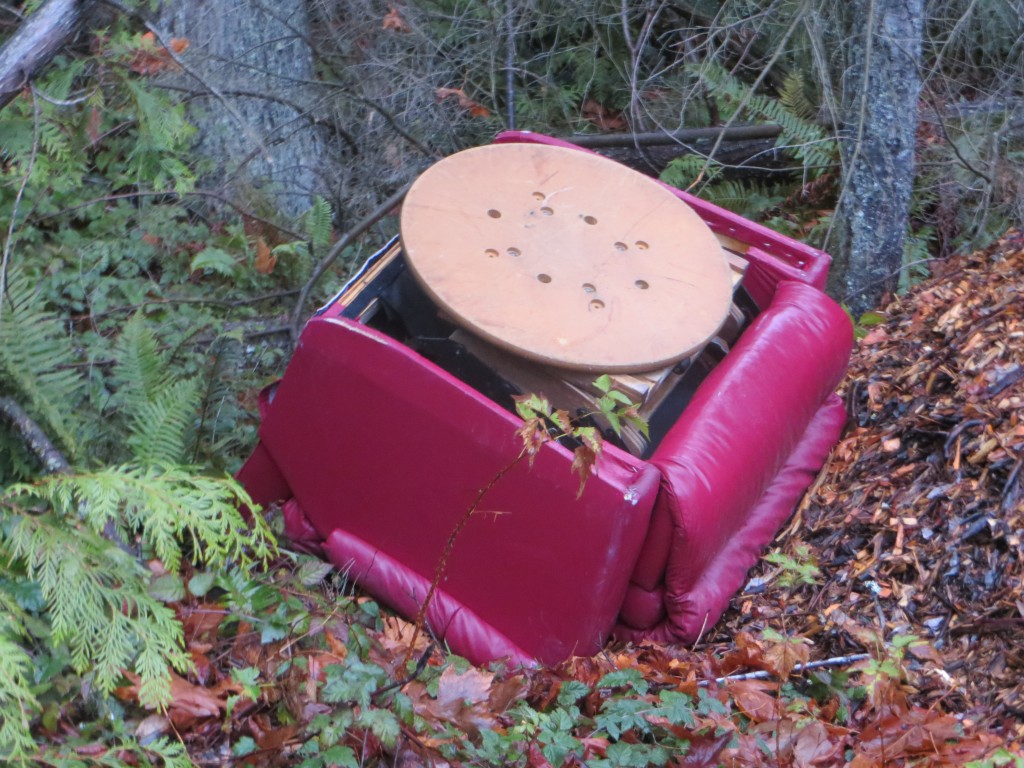 Port of Illahee Meeting.  The Port of Illahee commissioners meet the second Wednesday of the month at 5 pm at the Port meeting room at 5500 Illahee Road.  Their November meeting is when they look at their budget for the next year, in this case for 2013.  We went on their website and then copied their draft budget in case community members can't make it to the meeting.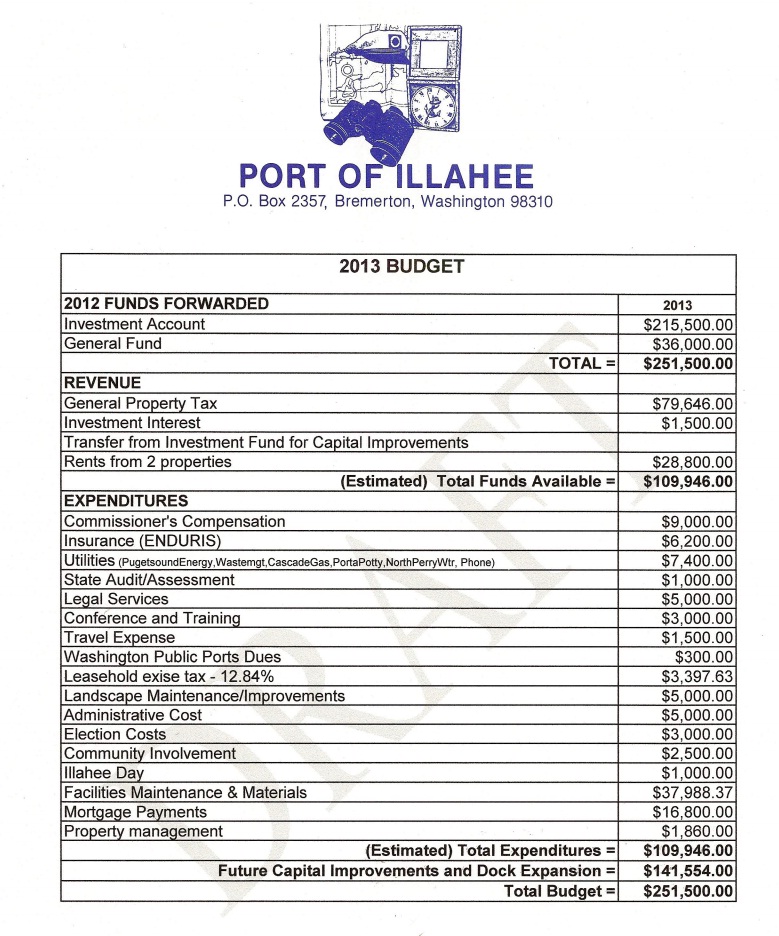 Timbers Edge.  We are still trying to figure out what is happening regarding the Timbers Edge (TE) project.  First there were notices in the Kitsap Sun about Trustee Sales, which were later cancelled.  And then there was a Chapter 11 bankruptcy.  Now we are back to a Trustee Sale slated for the end of November.  In the legal notices of the paper it appeared that only one of the three TE properties was going to be the subject of the auction, but then today we heard all three properties were going to be auctioned.
The Three Properties?  We saw one TE options paper that noted three properties that must be what everyone is considering.  We took the liberty to copy what it said.
A check with the Kitsap County assessor indicated that the original five properties have been combined into three properties following the gifting of the riparian properties (21 acres) to the Port of Illahee.  The remaining parcels are:
a.  012401-1-001-2003, 4.54 acres, current assessed value $45,180 (the west end/remaining Garrison)
b.  062402-2-014-2000, 5.42 acres, current assessed value $143,500 (the center plus small north piece)
c.  062402-2-013-2001, 5.3 acres, current assessed value $141,390 (the Avery Homestead piece)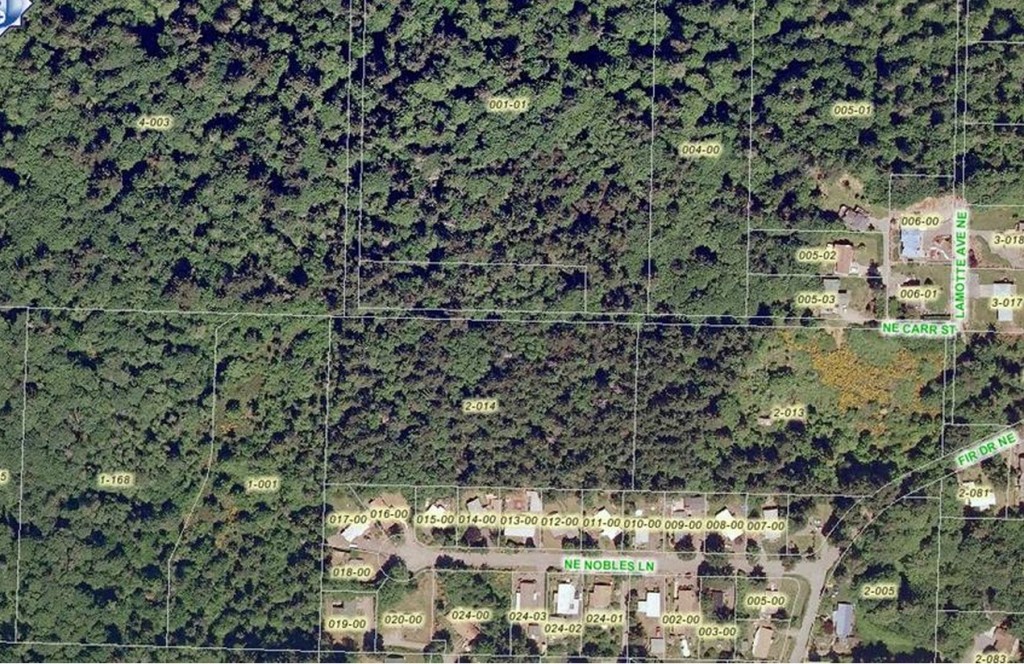 Note that the assessed values are for raw land, and should not be confused with what could be much higher values for an approved development, more likely in the $1 Million dollar range.
Timbers Edge Working Group.  We also know there is a Timbers Edge working group trying to figure out what is happening, and if there will be an opportunity for the community to purchase at least one of the properties, providing they are auctioned off as separate parcels.  One of the items in another discussion paper mentioned "TE investment shares" whereby residents would purchase shares to purchase the property most advantageous to the Illahee Preserve so eventually grants could be obtained to add it to the Preserve.  That way they would protect the property from development until the necessary funding could be secured and hopefully they would be reimbursed and recoup their investment, but there would be no guarantee   
Illahee Community Meeting 11/28.  There will be an Illahee community meeting on Wednesday evening November 28, 2012 at 6:30 pm.  We heard there are a number of agenda items on the list for this meeting and we will pass the information on when things are finalized.
Cormorants.  Not as many wildlife photos coming in, but wanted to share this one of a cormorant.