Second Culvert Clean-out.  We reported the first clean-out of the Illahee Creek culvert was stopped after a mechanical failure of the excavator.  The second clean-out event occurred on December 5th with another 7 dump truck loads of sediment being removed.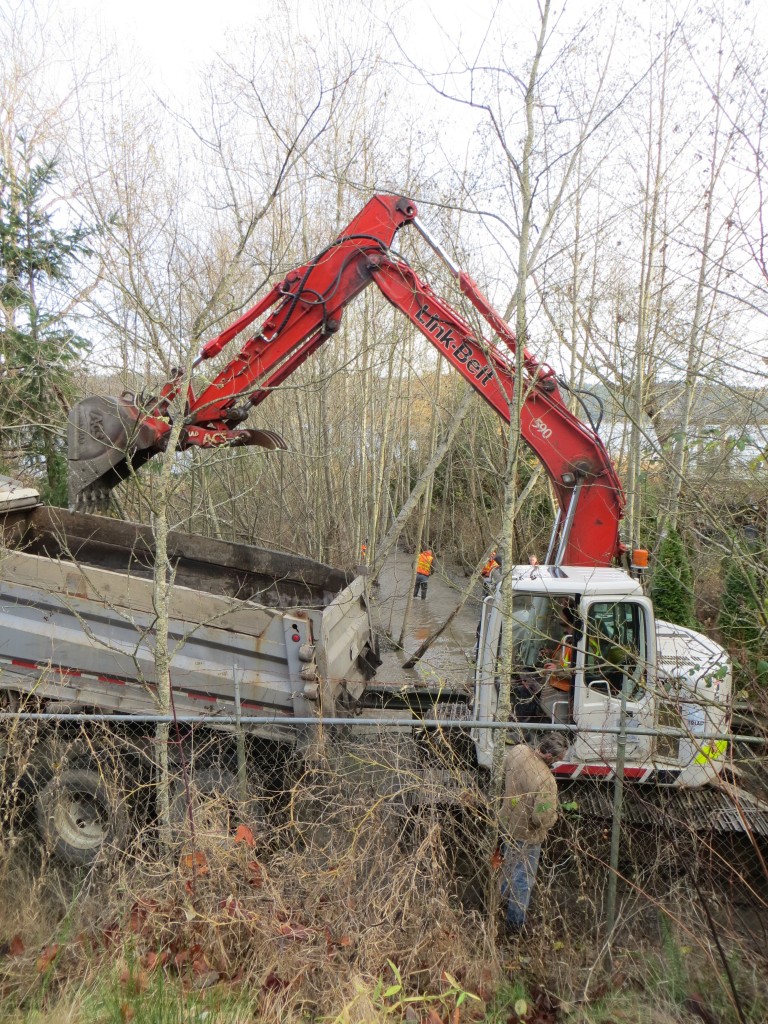 Sediment Piles at Preserve.  It took awhile to arrange for the sediment removed from the culvert to be deposited at the Illahee Preserve, but it was well worth the effort because it is like bank run washed gravel and sand, which if purchased would run at least $12 a cubic yard.  With approximately 100 cubic yards of sediment the cost would be $1200.  This amounts to a significant amount of structural material being available in Illahee at a place where it is truly needed for a future picnic shelter.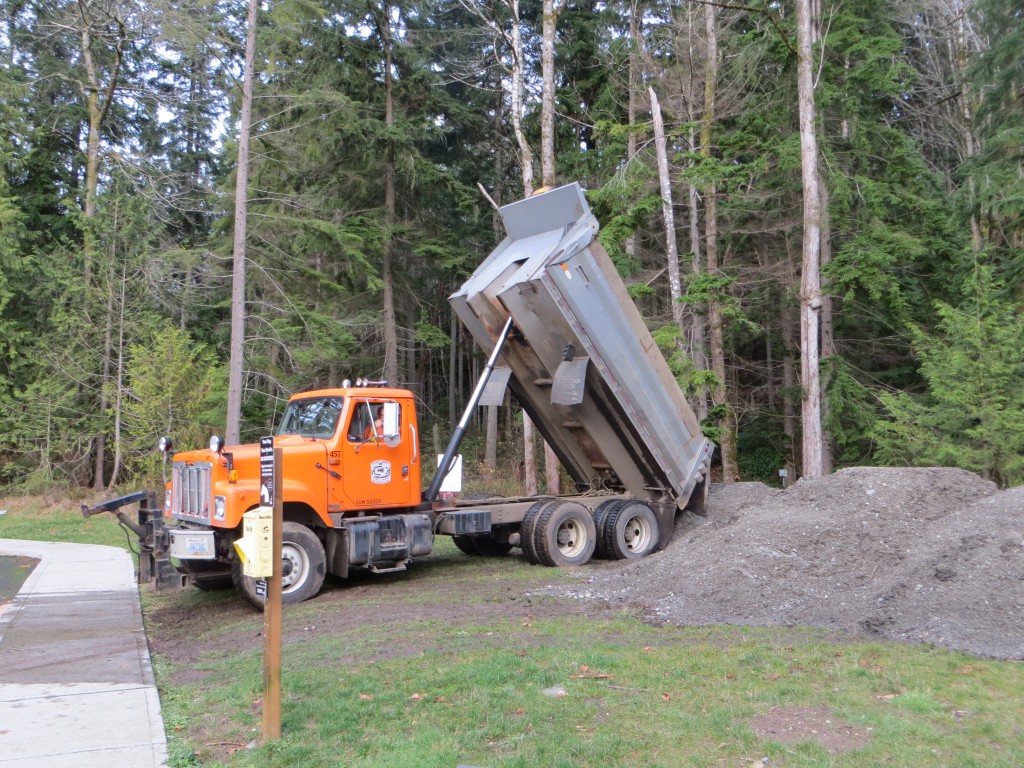 Piles Moved!  So how do you move 100 cubic yards of gravel and sand sediment into place?  Our local Rotary representatives realized this was more than their volunteer's equipment could easily move, and the local rental places weren't much help either.  So for a few days they were left scratching their heads until someone realized the equipment needed was close by at The Soil Factory behind the Goodwill Store.  Contact with Marty Goit, owner, and Greg Busch found them more than willing to help and two days later the work was done.  Thanks to Marty and Greg for volunteering to make this happen at no cost to the Illahee Forest Preserve group!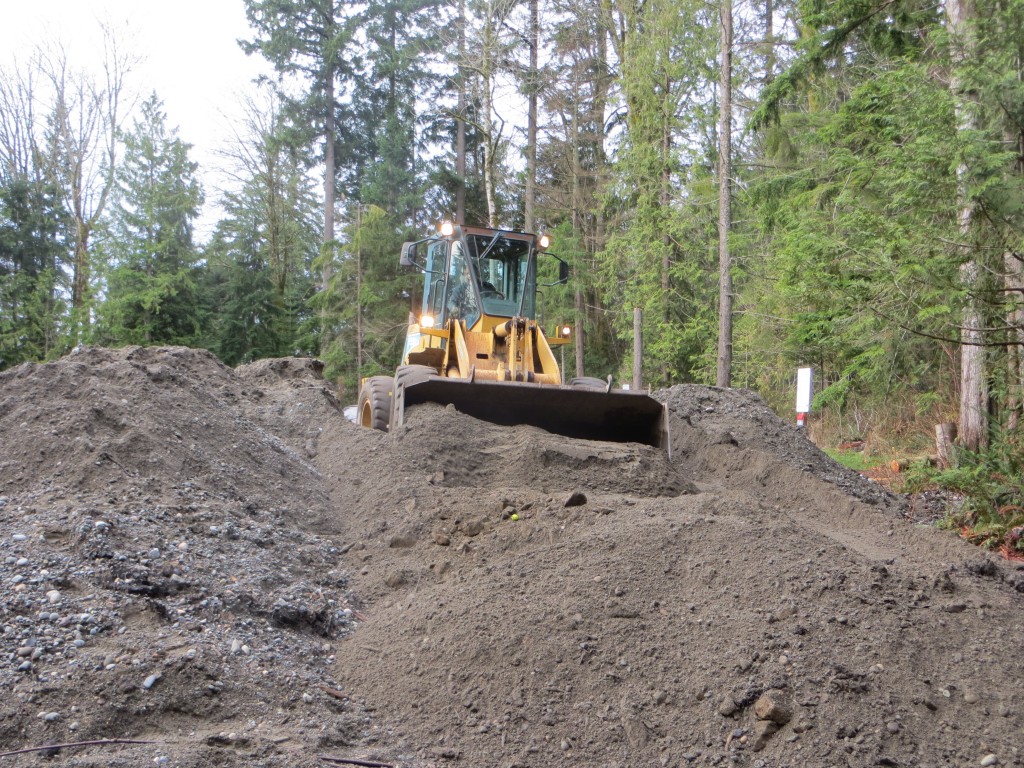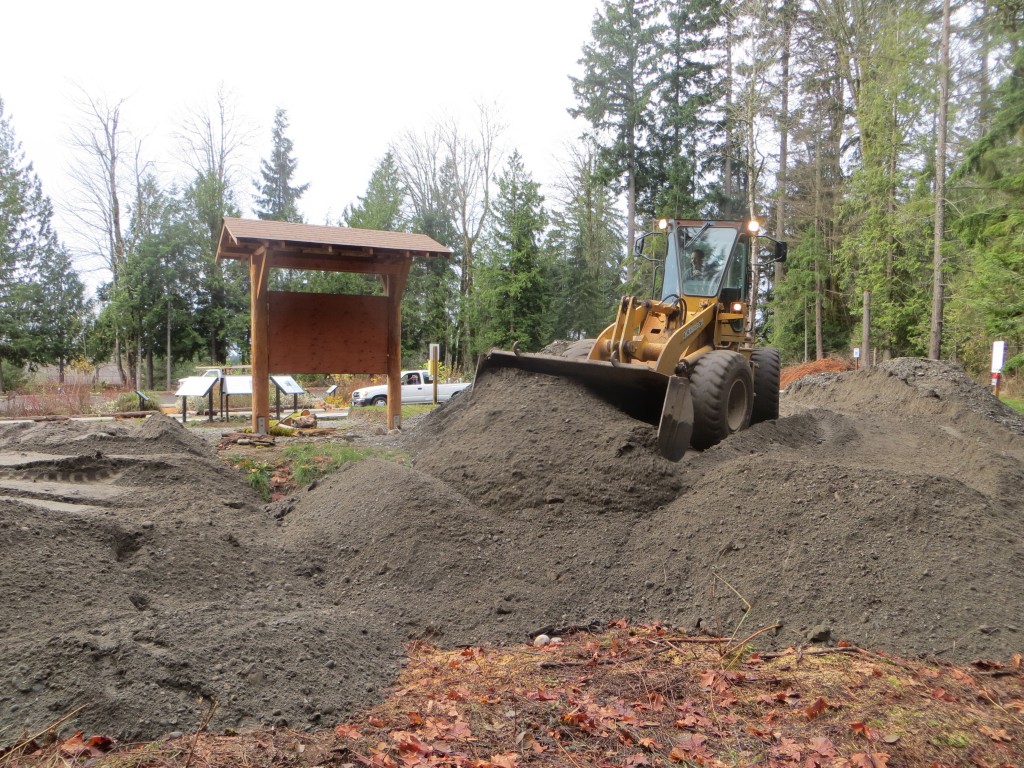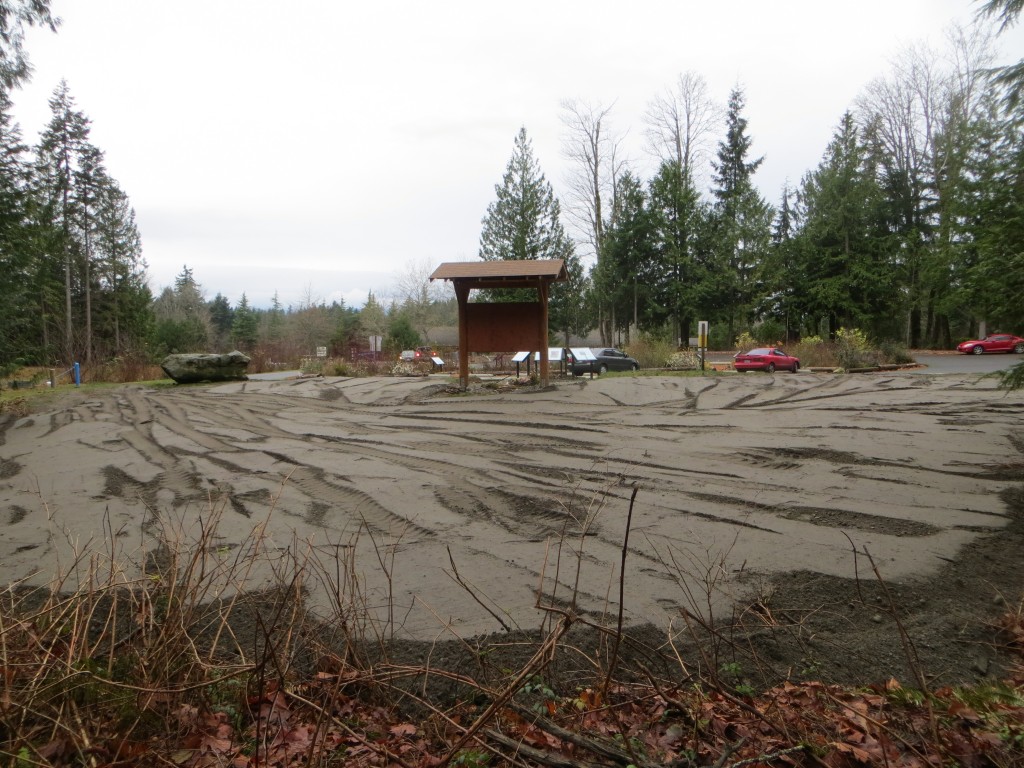 Clean-up Person?  Another great story is we think we found out who is cleaning up much of the dumping that goes on at the Almira parking lot.  Word on the street is this person receives these updates as an email and when we report a dumping incident, they go and clean it up.   We thank you for your care and concern for the Preserve!
Illahee Film Delivered!  There were a number of residents, and some who have moved away, who requested copies of the Illahee film.  We keep hearing good reviews of the film, which was shown last weekend in Port Townsend.  We were sent of photo taken at the theater during the section of the film when Audrey Boyer was being interviewed.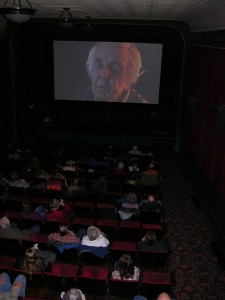 A number of copies were being purchased for Christmas gifts, one going to a former exchange student in Germany.  Call 360-479-1049 if you would like the film delivered.  The cost for one DVD is $20, or 3 for $45.  The rest of the Blu-ray copies were just finished and should be delivered soon.  Blu-ray DVDs are $25.
European Wigeon.  Last year we reported an European male wigeon among the flock of wigeon in the area as it has a red head and a tan marking at the top of its head.  They appeared again this year and we were able to distinguish the female in the group, as it has a reddish head rather than a grey head.  Otherwise the female wigeon are almost indistinguishable.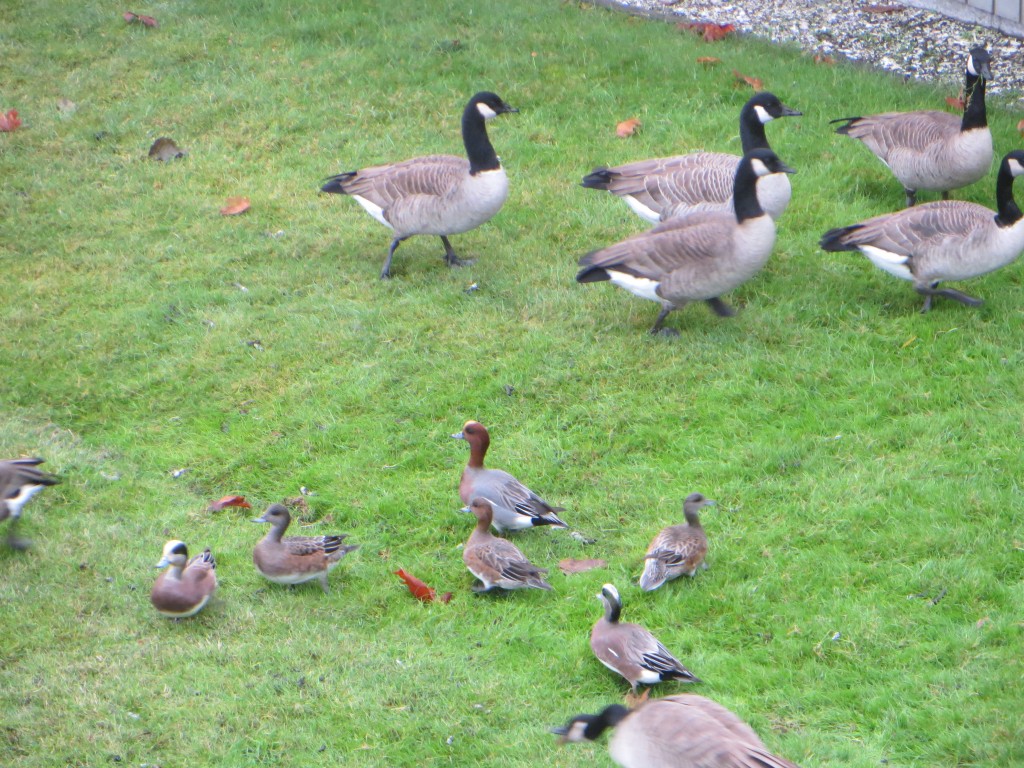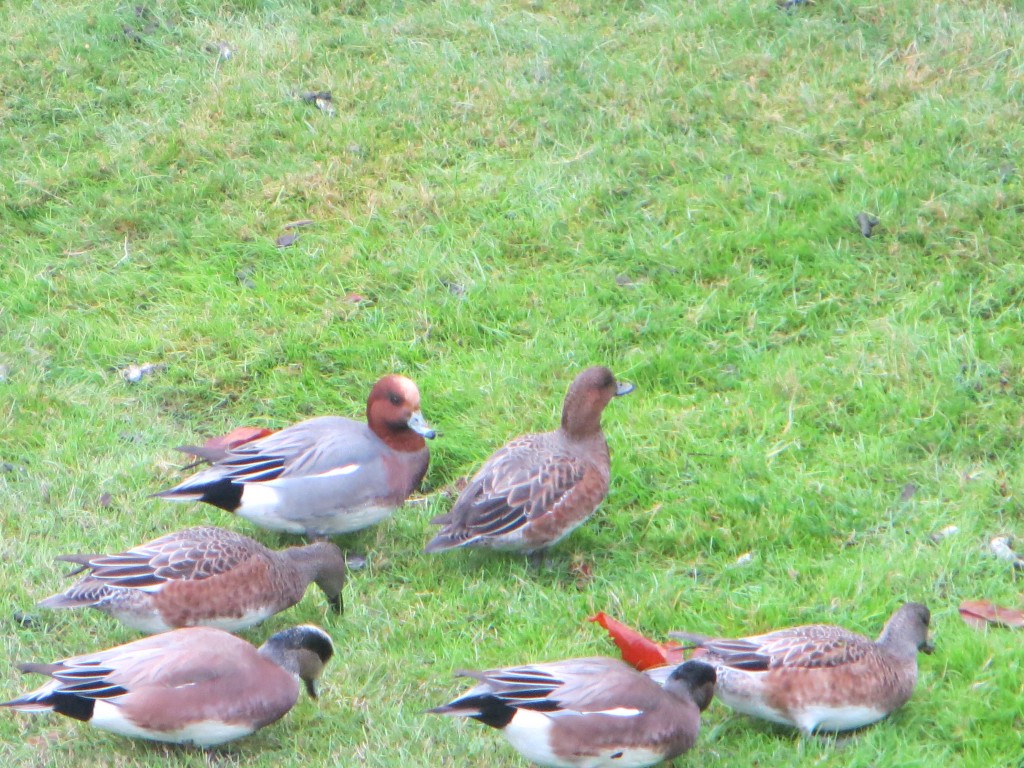 Illahee Story.  In our last update we asked residents to help uncover local stories and received the following:
At 7:00AM on Sunday morning as I was looking out my kitchen window, out of the corner of my eye, a elderly woman appeared walking up my driveway in a bright red coat. As I was still in my pajamas, I asked my husband to please answer the door. After they had a brief conversation, the woman left and I could see that she handed him something. 
How was it that this elderly woman walking with a brisk walk so early in the morning would wander to our home only to leave something which she wanted shared with the Illahee Community?
That something was of utmost importance to her. Low and behold, it was a childs book, entitled "Where Once There Was a Wood" by Denise Fleming. It is a story for children about how we must protect the earth so that wildlife will have a chance to roam and that through our actions we can treat the earth gently. This Illahee resident has asked that this book be shared with the community.
If you would like to check it out, or feel like you would love to read it to your child, please feel free to call Judith or Irwin Krigsman at 792-6934. We would be happy to deliver it to you.
Now, I know why I live in Illahee, people care and people share!