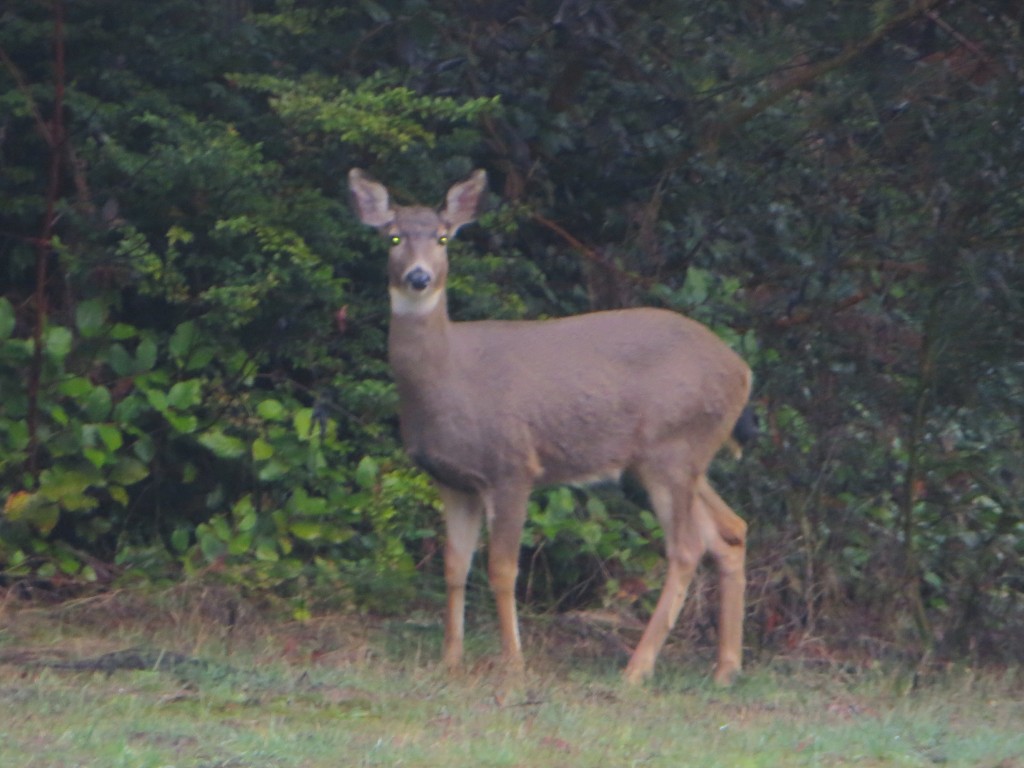 Deer.  Some pictures of local deer.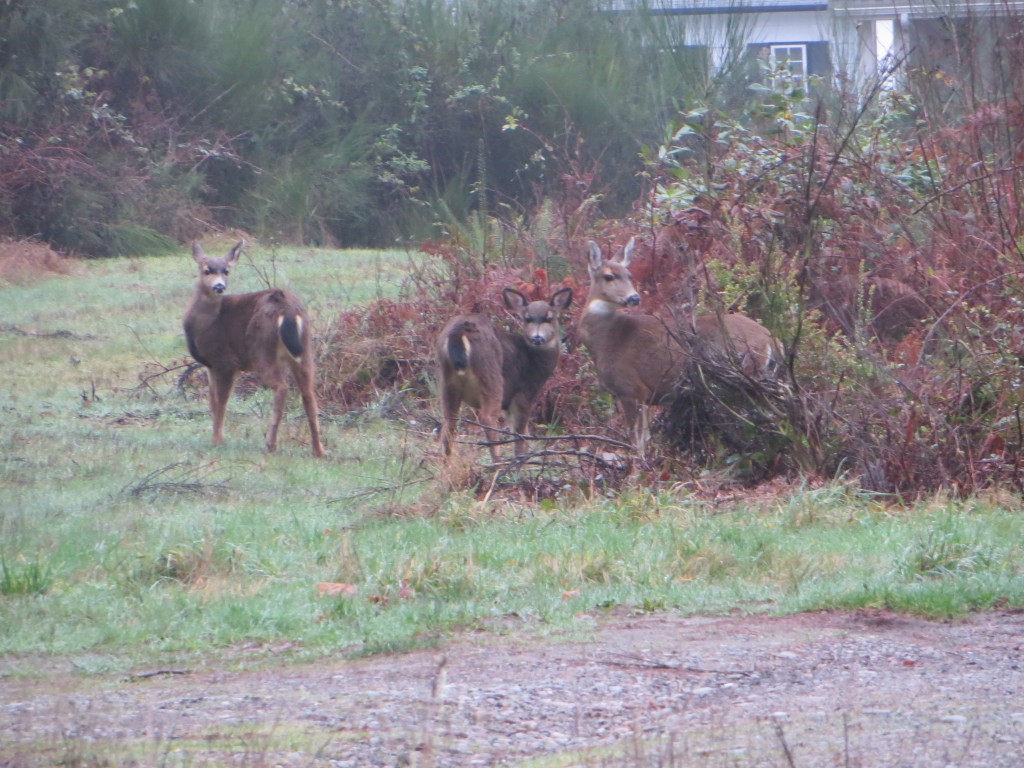 Trustee Sale.  We have been inundated with questions about what happened at the Trustee Sale on Friday (1/11/13) of the remaining Timbers Edge properties.  Our report is a little deficient because we were waiting to see Attorney Michael Smith.  Instead the firm sent two others as 'criers' (the term for those making public announcements).  We took a photo of other 'criers' and purposely excluded the two we didn't know from our photo, thinking they were not 'criers'.  Our mistake for not checking it out and for not taking photos of the two we didn't know.  We felt pretty dumb when we called and figured out what happened, but by then it was too late for photographing and covering the event.  It appeared, from our memory, that there were no others around the criers and therefore no bids for the remaining TE properties, which was confirmed by a later call to the law firm and one of the criers handling the Trustee Sale.
Timbers Edge Development Status?  We aren't sure what the status of the Timbers Edge Development is now that the properties appear to have gone to Talmo, Inc.  There are several in the community who will be contacting others to see if the development will continue to move forward by another developer, or if there will be an opportunity to purchase portions of the property for the Illahee Preserve.
Preserve Work Party.  It was a cold Saturday morning when a five member work party began trail clearing and maintenance, in fact so cold one chain saw refused to start.  There were a number of trees that came down after the snow a few weeks ago, and the wind last week.  We were amazed at how well the crew continues to take care of the trails year after year.  These are all volunteers, so if you see them out working, don't forget to thank them.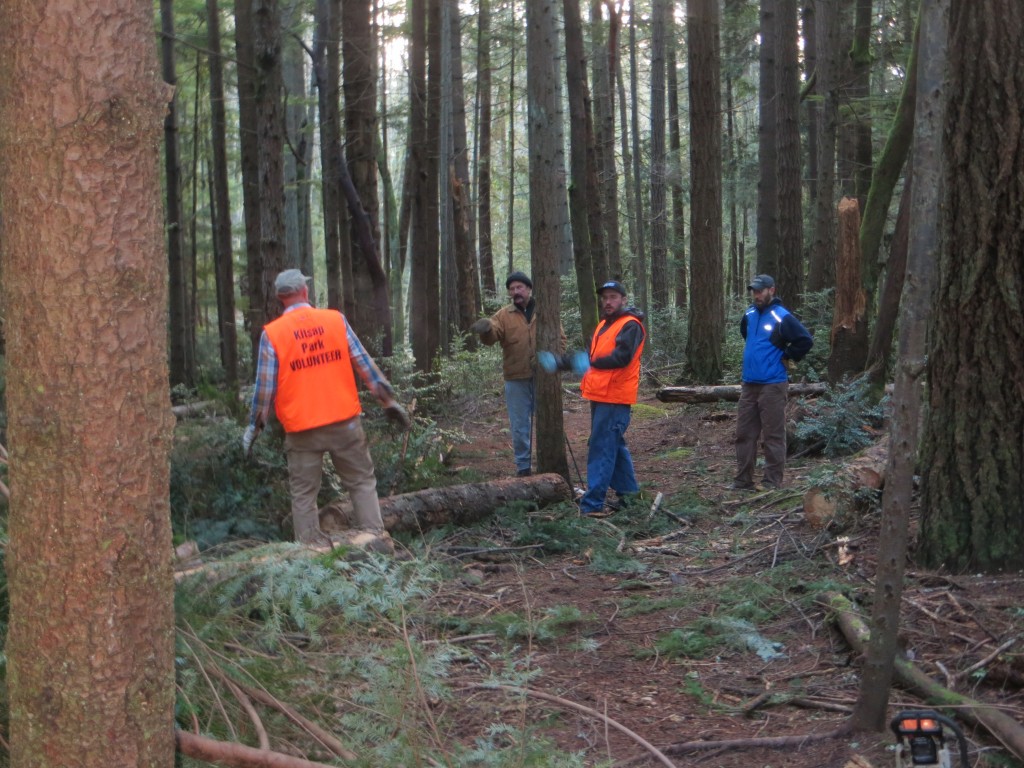 Strange Mold?  As we followed the Preserve volunteer maintenance crew we noticed several instances of mold that looked like white feathers.  This probably has a name, so if you can help us, please let us know.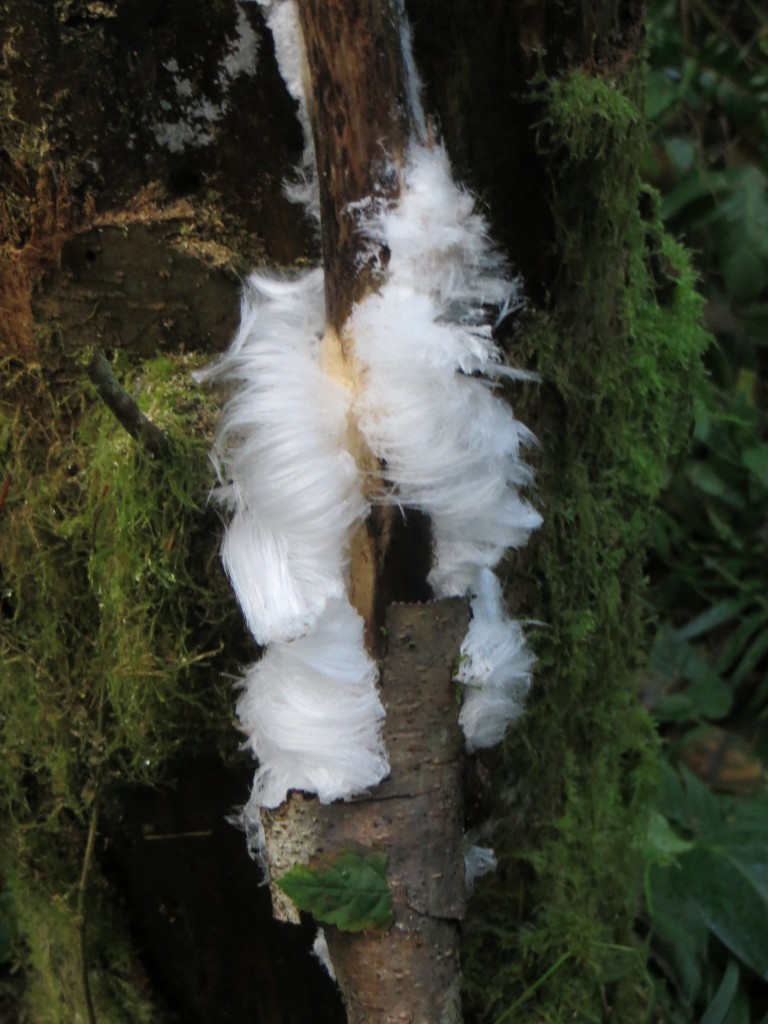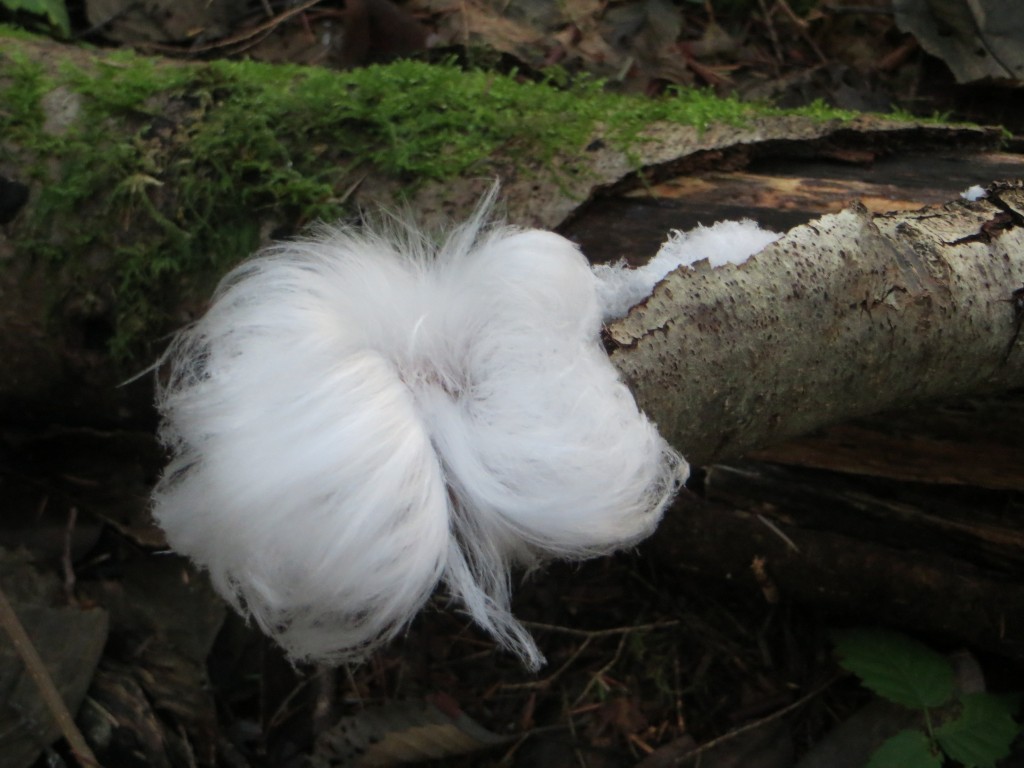 Burglaries.  There appear to be more and more burglaries in the area.  We received the following notice of one the other day:
A burglary took place on Thursday, (January 10, 2013) either late Thursday night or before 8AM Friday morning.
This burglary was on the corner of Illahee Road and Roosevelt NE.  The thief entered from Roosevelt and came behind our barn and broke through the barn door.  Stolen items included 2 Poulan chainsaws, 2 Craftsman yard blowers, a string trimmer Craftsman make, and various misc items.  A police report was filed.  Be alert!!  Many burglaries county-wide.
Culvert Photos.  After nearly every rain event we are asked about how the Illahee Creek culvert is holding up, and by those who live close to the stream the comments are about how the entire flood plain keeps rising as the sediment keeps moving downstream.  And so we try to take periodic photos of Illahee Creek and the culvert, which when viewed over a period of years shows the increasing sediment levels, and the culvert clearances diminishing.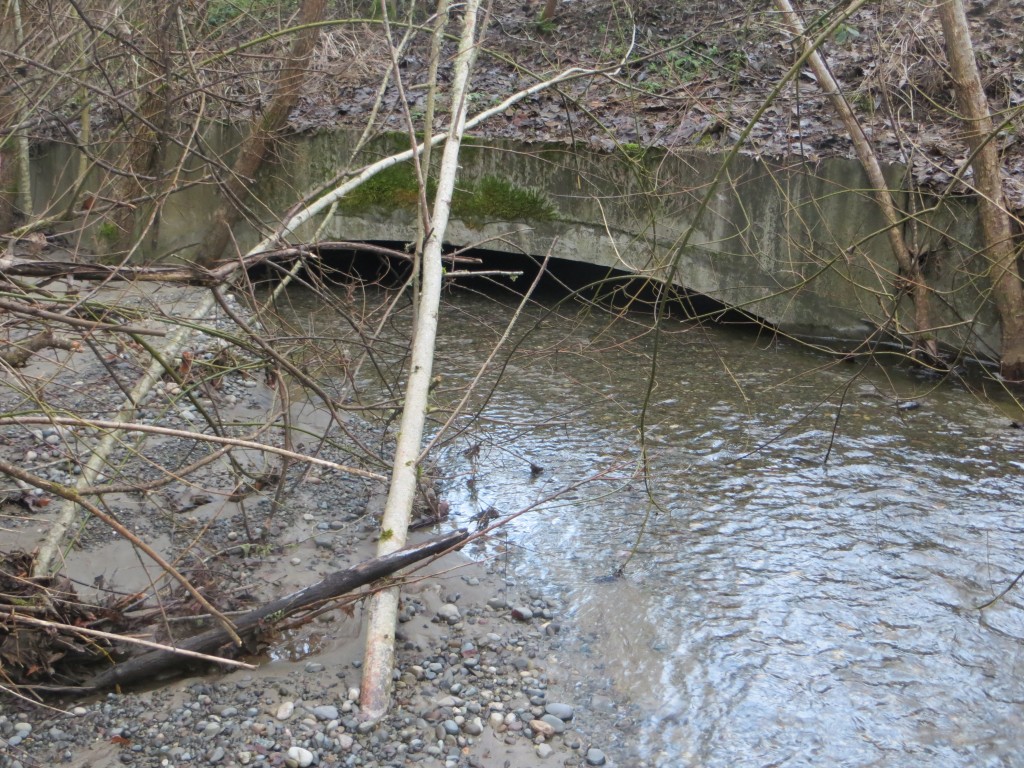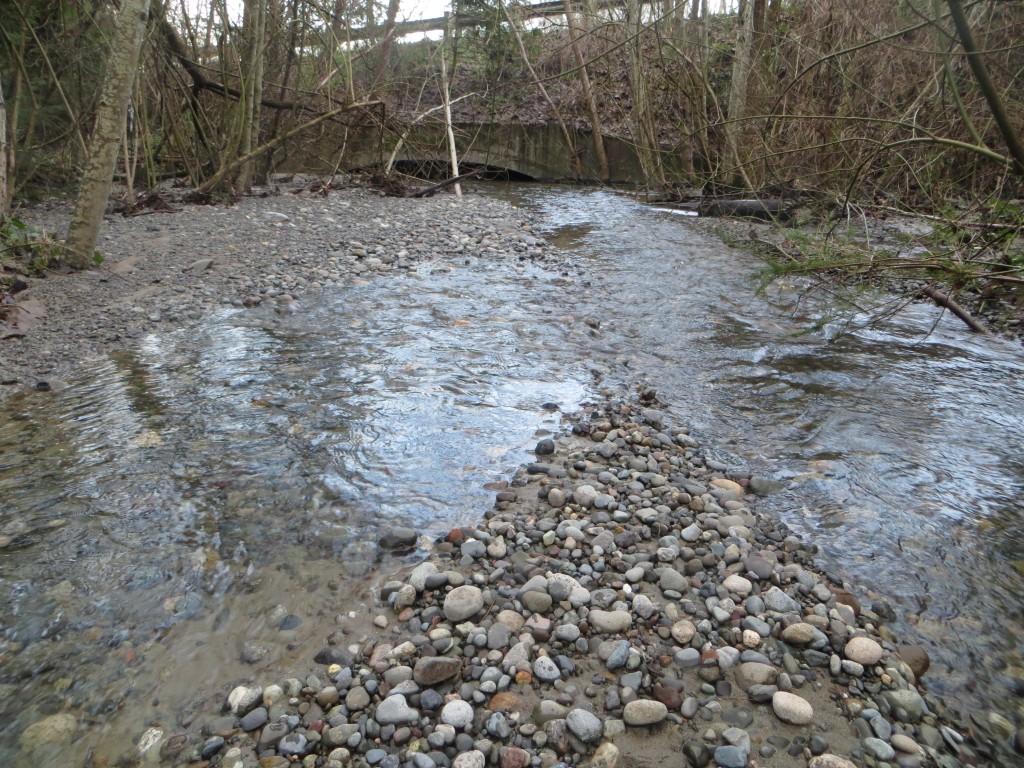 Mussel Cage Retrieved.  This past Tuesday in the rain and wind the Illahee mussel cage was retrieved and the mussels loaded into a cooler for transport to a lab, where they will be analyzed to see if pollution enters Puget Sound from the Illahee area.  We heard it will probably take a year before the results will be released.  The Department of Fish and Wildlife notes "Findings from this research will help ecosystem managers track how pollution enters our marine waters and inform future decisions on reducing pollution entering the Sound."