Monday's Meeting Report.  We forgot to pick up a handout from Monday's Illahee meeting where the Health District presented the findings of their recently completed study.  Lucas Jordon of the Health District gave an informative presentation which was followed by an hour of answering questions.  One of the interesting findings was their testing of a hot spot for fecal coliform pollution along the shoreline of a Bainbridge Island residence where they were daily feeding a bunch of raccoons (estimated to be between 35 and 60, if we heard right).  They also uncovered a number of failing septic systems that have been corrected with a few still in process.  We will provide the  link the final report when we get it.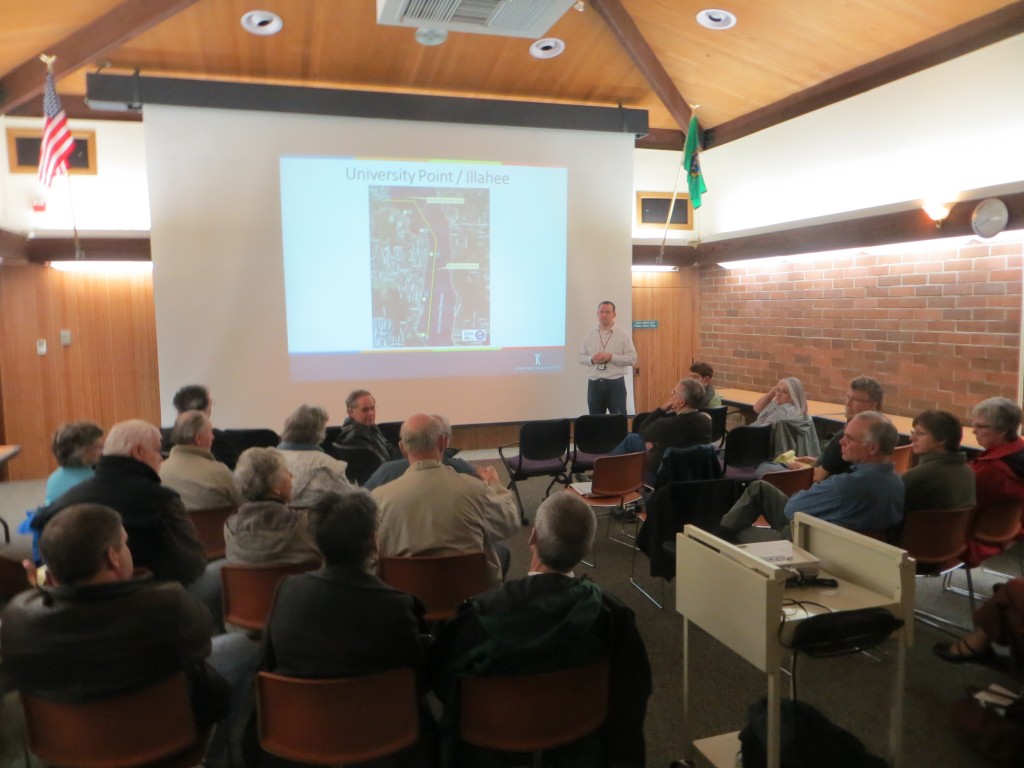 Questions.  We found the question time most interesting and asked some of the questions from those who couldn't attend.  We picked five from the list, but we didn't get a chance to ask all of them nor did all of them get answered.  We thought the first one below was the most interesting, and some of the ones that follow were a little confronting.  Overall, we think the Health District is doing a great job, but there are still questions for some.  
The cormorants and seals seem to always be on nearby floats, and if the wind is in the right direction, the stench is overpowering.  Additionally, there are lots of geese and ducks in the area.  I heard that they can be a major source of fecal contamination.  Can you tell us what the research tells us about the percentage they contribute, since their droppings aren't required to go through a septic system?
Several years ago the Illahee North detention pond was posted for fecal contamination, as was the outfall at the Illahee dock.  What was the problem, and how was it resolved?
How does the pollution here compare to that next to the county's sewer outfall north of Brownsville?
There is a concern by some in this community and other nearby communities that the Health District is like a big regulatory agency bully pushing for higher and higher standards, even though just a few years earlier residents complied with all the legal requirements at the time.  So what are the new higher standards going to accomplish and secondly, how much is it going to cost us?
What options or avenues does the average homeowner have if he feels the Health District is being unreasonable?  Has anyone ever successfully challenged the Health District?
White Pigeons.  It has been awhile since we have seen the flock of white pigeons that sometimes frequent the area.  This flock was taking advantage of the low tide to take a quick bath.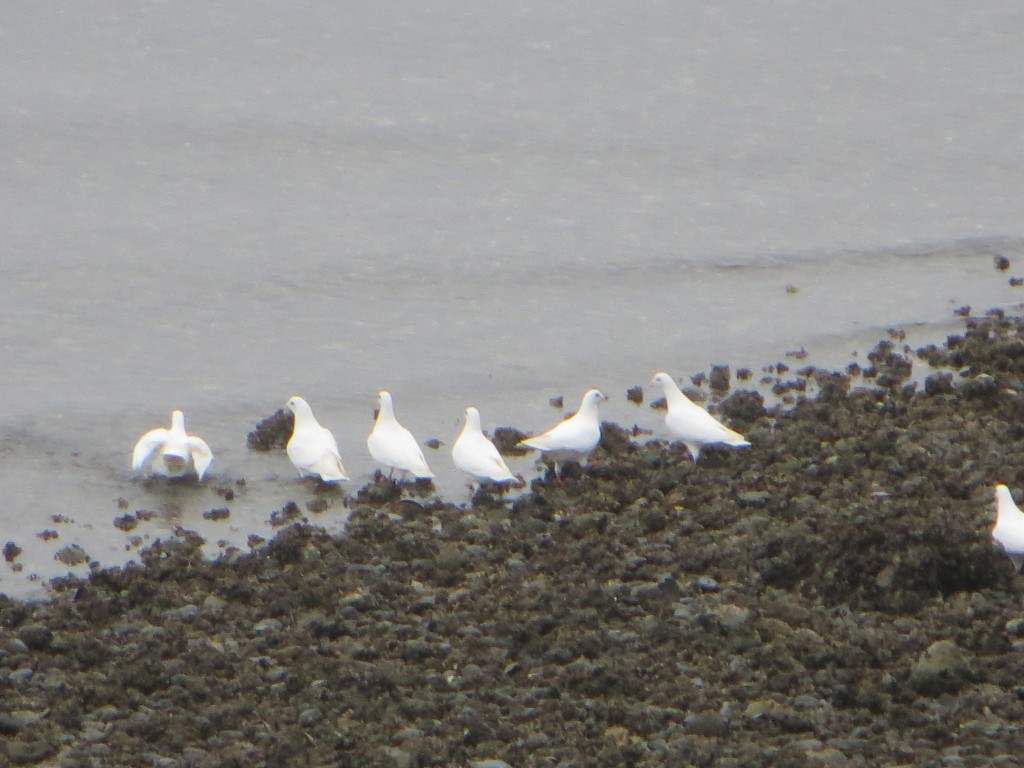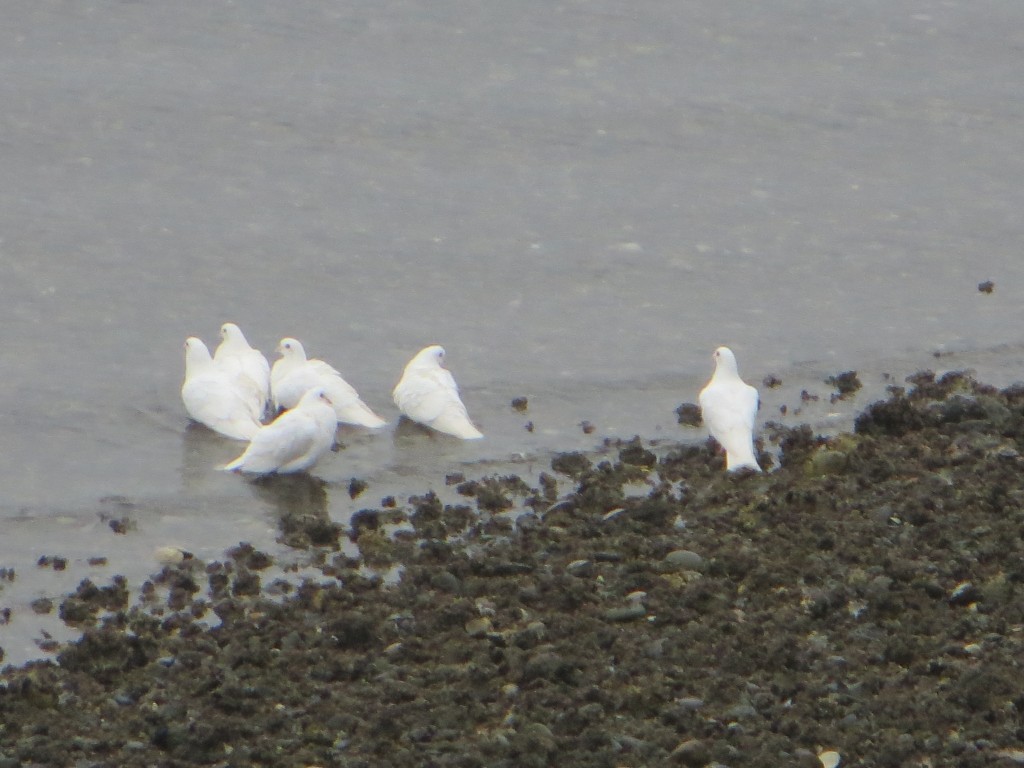 Eagle.  There are so many eagles in the area that pictures seem repetitive, but we do have one to share, and just missed one of an eagle getting a fish yesterday.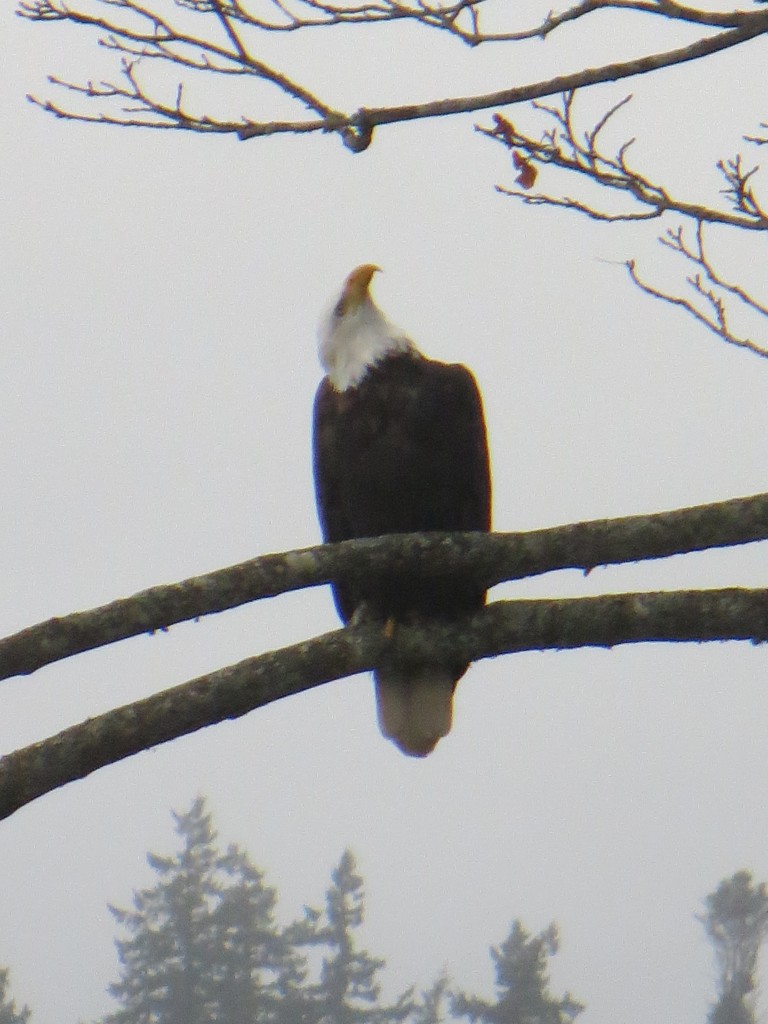 Preserve Tree Work.  If you traveled McWilliams Road just east of SR 303, you likely had to stop for trimming work of the overhanging branches protruding from the Illahee Preserve forest into the right-of-way.  It is nice to have a proactive road crew keeping some of these big tree branches from falling on the road.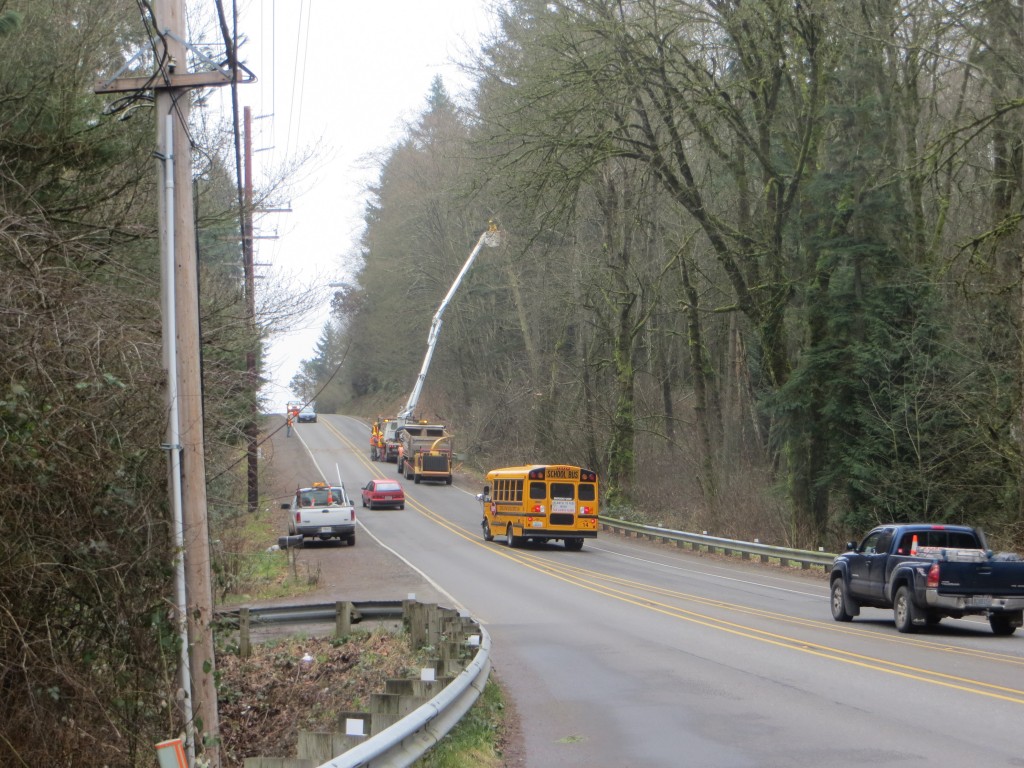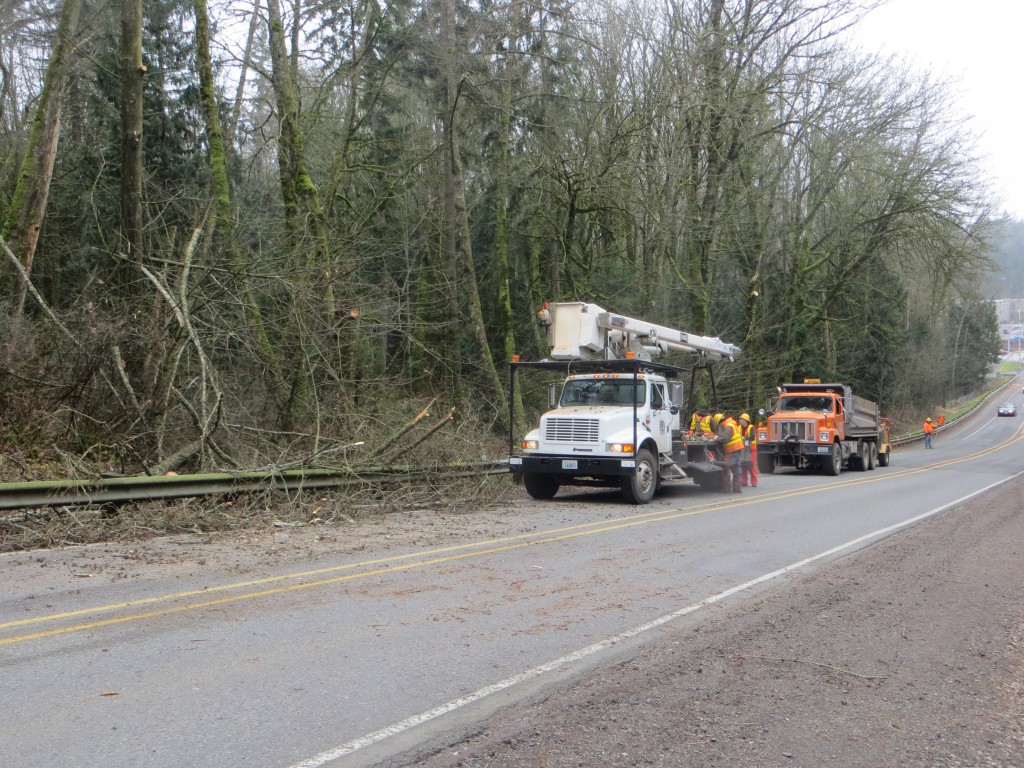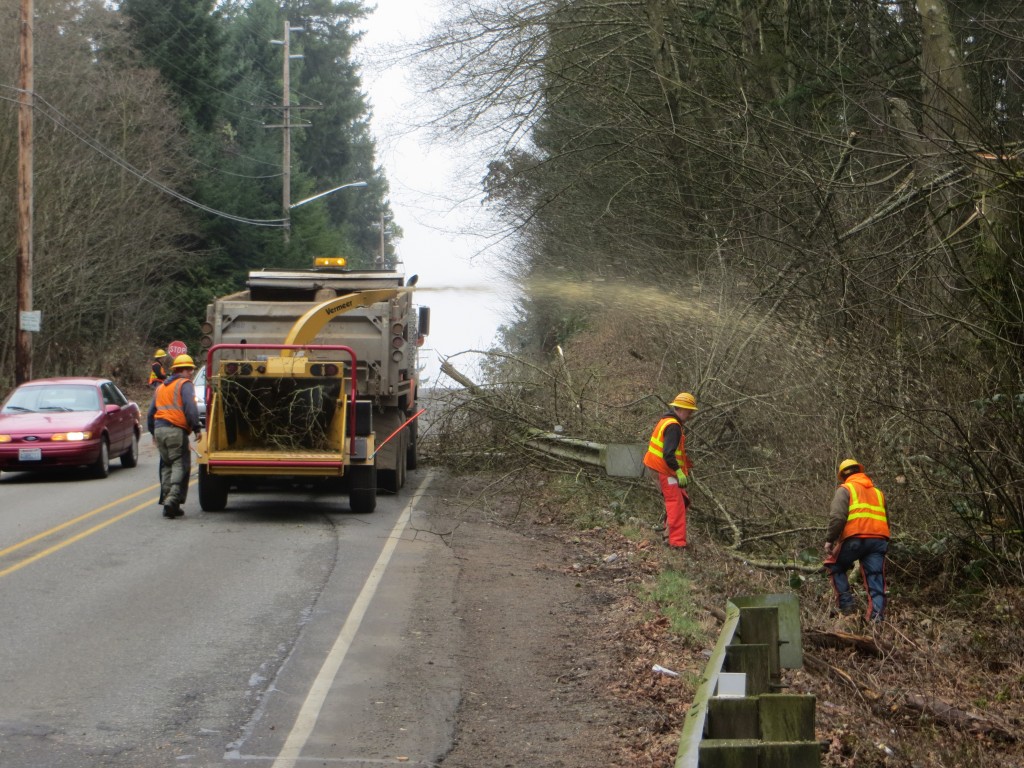 Questionnaire.  At Monday's Illahee meeting a questionnaire was passed out to determine what residents would like to see briefed at the community quarterly meetings.  We said we would pass on the questions to email recipients.  Please feel free to pass on your choices for briefings by selecting your choices beginning with number one for your first choice, etc, and we will pass them on. 
(1) (2) (3) (4) (5)  Briefing by the Sherriff's Department re home and personal crime prevention as a result of a big increase of crime in Illahee.
(1) (2) (3) (4) (5)  Briefing on a walkway and trail along the unmaintained Rest Place right-of-way, by Kitsap County Public Works and the Park's Department.
(1) (2) (3) (4) (5)  Briefing on community restoration opportunities to improve Illahee's shoreline habitat.
(1) (2) (3) (4) (5)  Briefing by the Port of Illahee regarding their plans for the former Deitch property, the possible purchase of the Illahee Store, and the possible relocation of the flag pole.
(1) (2) (3) (4) (5)  Other possible presentations desired? _____________________________
Jim Aho