Hellebore – Not Marijuana.  When some older people look at a strange plant with 7-9 leaflets in an area in the woods, they can come up with some interesting speculations.  Thankfully the photo tells us the plant is a hellebore, and not marijuana.  One of the common names for a hellebore is a "Lenten Rose" because it blooms during the Lenten/Easter season.  Some varieties are poisonous  and they are animal/deer resistant, which is probably why it was still growing in an area with a big deer population.  Thank you to all who responded with the correct name for the plant.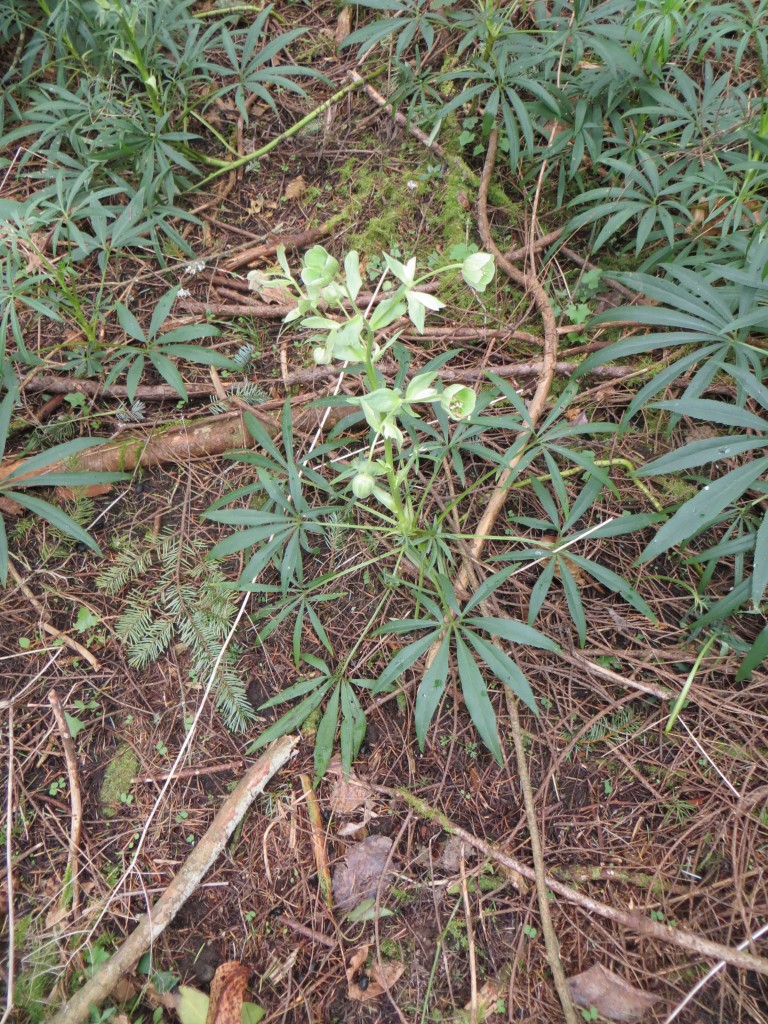 Wintering Ducks Departing.  Soon the wide variety of seasonal waterfowl seen along the Illahee waterfront will be leaving.  We've already noticed the decrease in numbers, and hopefully not because of some hungry bald eagles, though we counted seven of them the other day flying near a local float, and a rather nervous Canada goose that happened to be swimming by.  The ducks in the photo below are Barrow's Goldeneye.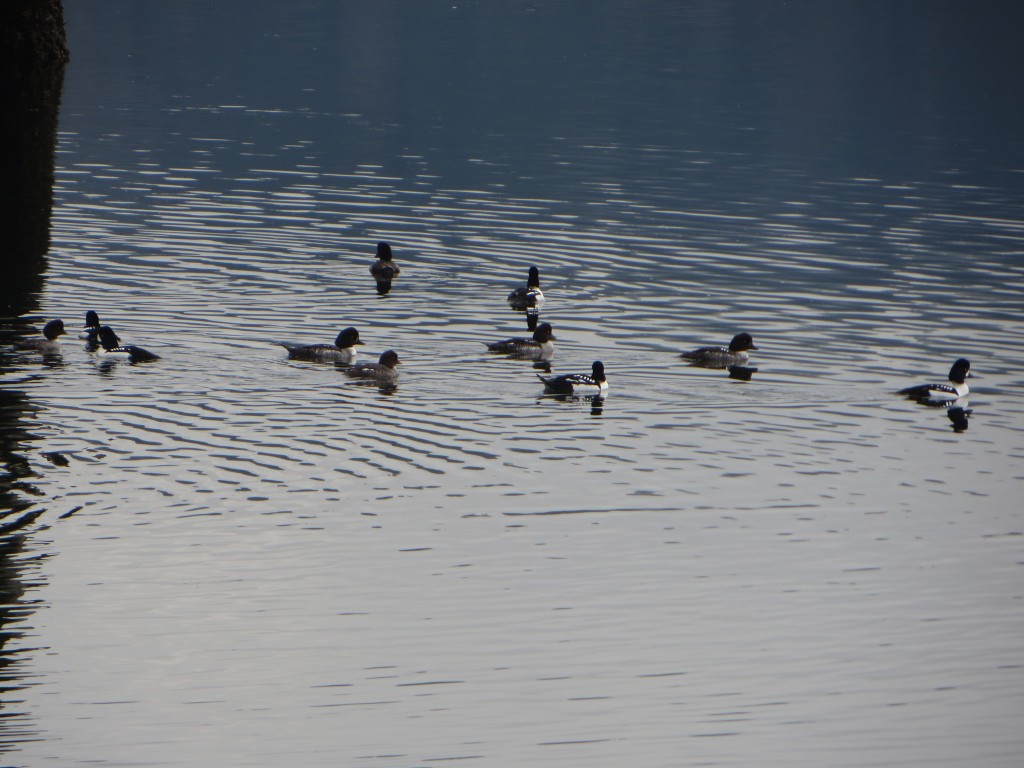 Illahee Weather Station Hits.  In a recent post we mentioned the new Illahee weather station that Tom Brittell had purchased for the community, and the real time weather information that appears on the illaheecommunity.com website.  In the three days after that update went out more than 250 checked out the weather site, the highest number of daily hits ever.
WebCam for Illahee?  We are looking for a dedicated small laptop or netbook to connect with the weather station.  It was suggested it would also be good to set up a webcam (camera) that would be on 24/7 and  that could take time lapsed photos.  We experimented with a GoPro camera and think we would have a winner webcam system that would look toward the Illahee dock, and with timelapsed coverage would show the daily tide movement along with the weather and cloud movements.  Let us know if you would like to help with this project.
Rain Garden Changes.  For those who access the Illahee Preserve via the Almira parking lot, you have probably noticed shrubs have been removed from several of the rain garden plots and new smaller plants have been planted.  The shrubs grew taller than we wanted and have been moved to the Compass Circle meadow area for additional wildlife habitat.  We are rethinking the presentation of plants as the rain garden is a native plant demonstration rain garden.  It has already influenced people to put in native plants, and hopefully rain gardens. 
Shoreline Water Quality Monitoring.  While walking the shoreline this morning doing a COASST survey, we noticed two persons collecting water samples.  One was a Health District employee and the other from the University of Washington.  They were collecting samples in hot areas where they want to be able to determine if the fecal coliform is coming from animals or humans.  In order to do so, samples will be tested at the UW where they can check for human indicators, such as caffeine or medicines.  This was somewhat explained in a front page article in the Kitsap Sun this morning whose link is: