Humming Birds.   With about 6-8 humming birds flying around, these two seemed to be patiently waiting for the sweetened liquid to thaw out this morning.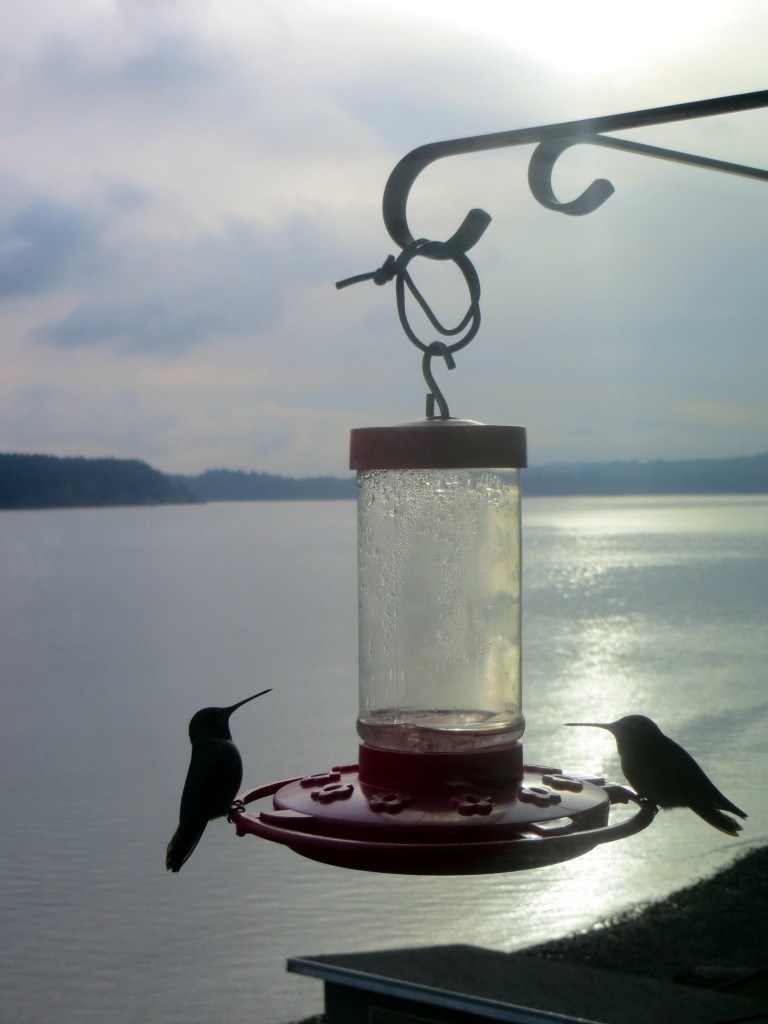 Preserve Work Party.   An Illahee Preserve work party is scheduled for early Sunday (12/8/13) morning as they want to get some wood chips down on a new trail section before the rains begin.  Volunteers who can push a wheelbarrow are needed, and new wheelbarrows have been purchased and will be available on Sunday.  See the notice below regarding the details:
We will have a small work party starting 8AM this Sunday morning, December 8th at Illahee Preserve.  Focus is moving some wood chips with wheelbarrows a short distance over relatively level ground for dumping onto a new trail section.  Target time for completion is 10:30AM.  Any hearty souls wishing to participate should arrive at the Almira parking lot of Illahee Preserve (near Fuson & Almira) by 8AM this Sunday.  Your own work gloves are the only tools needed. 
Illahee Good Samaritan.   There was a thankful letter in Sunday's Kitsap Sun regarding the call from an Illahee resident that resulted in the rescue of the two teenagers a couple of weeks ago.  A photo of the letter is shown below: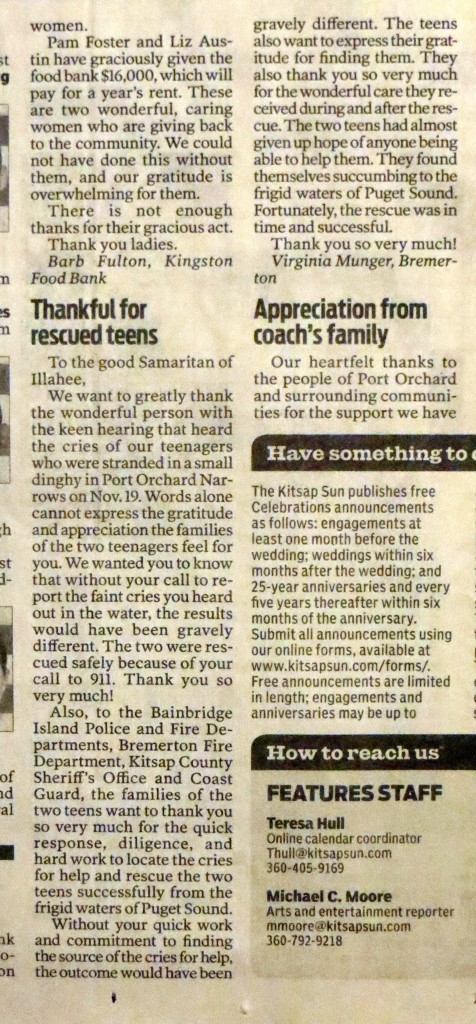 Port Meeting.   The Port of Illahee's regular second Wednesday of the month meeting is this coming Wednesday (12/11/13) at 5 pm at the Port's meeting room, lower level of 5500 Illahee Road.  Below is the map of the port boundaries on their website.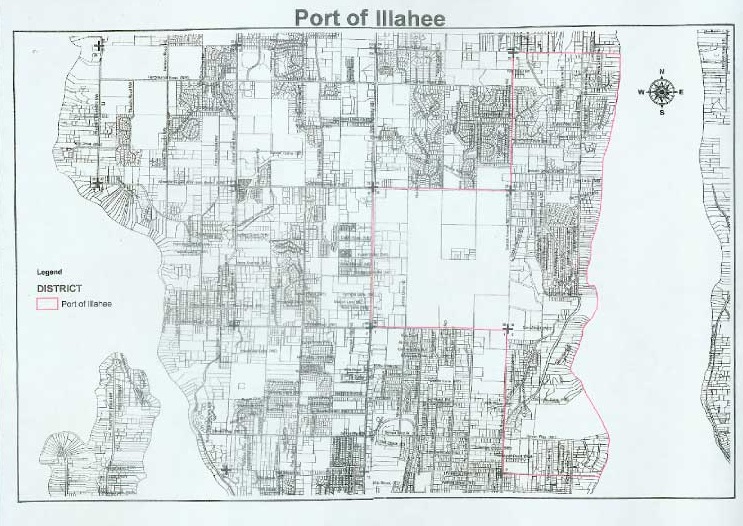 Port Districts.   A number of Illahee residents during the recent election agreed that having three separate districts didn't make a lot of sense.  We decided to repost a report on the subject that went out in an update on April 20, 2013 that noted that other small Ports had eliminated internal districts.  Based on the turnout of this past election 10% of those voting would probably be about 130 to get it on a ballot.  However, the port commissioners could also approve it with a simple majority vote.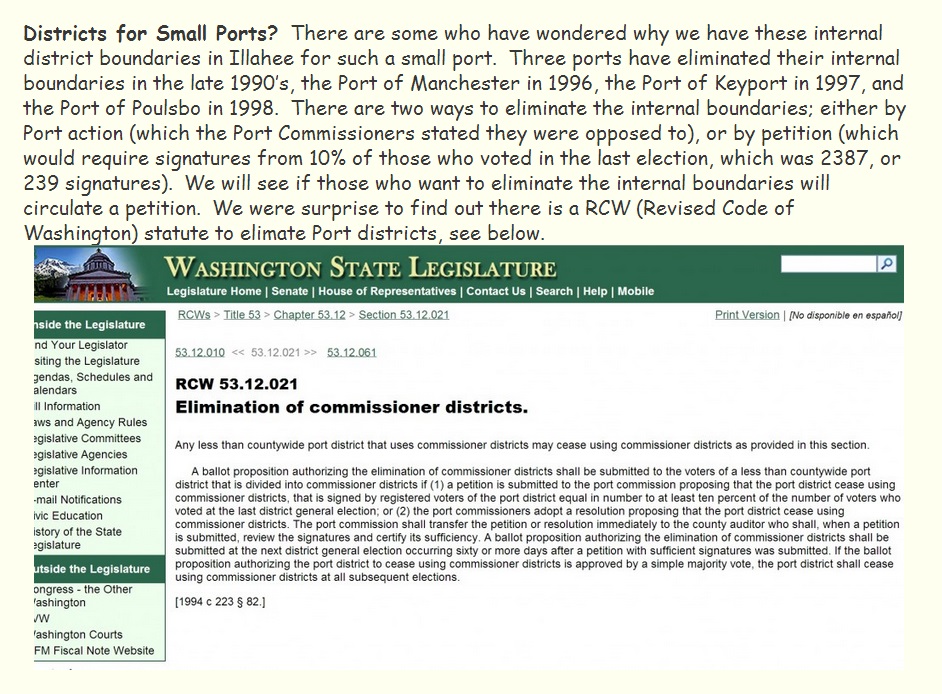 The current district boundaries are roughly as shown on the map below, with the Illahee Road addresses shown below coming from the county's website.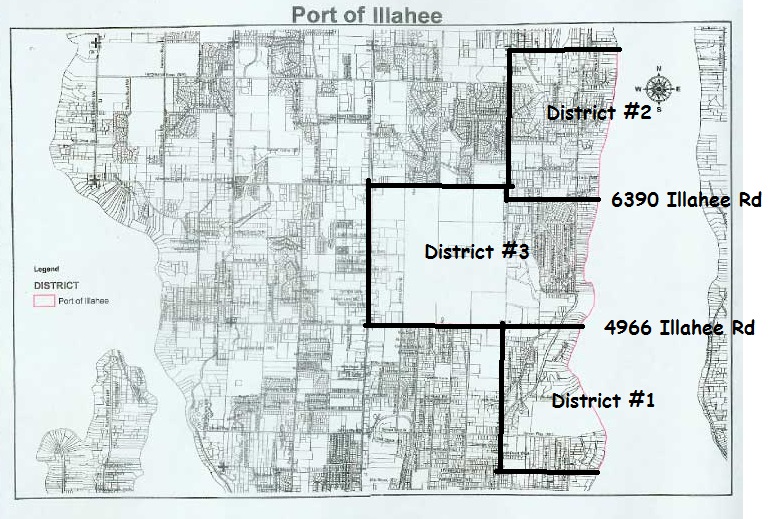 A Compromise?   Another alternative has been suggested for two districts, a north and south district, with the dock and Ocean View being the dividing line, and the other position being at-large from anywhere within the Port boundaries. Again, this is something the commissioners could approve or it could be put on the ballot with a petition signed by 10% of those voting in the last election. What this might look like is shown on the map below.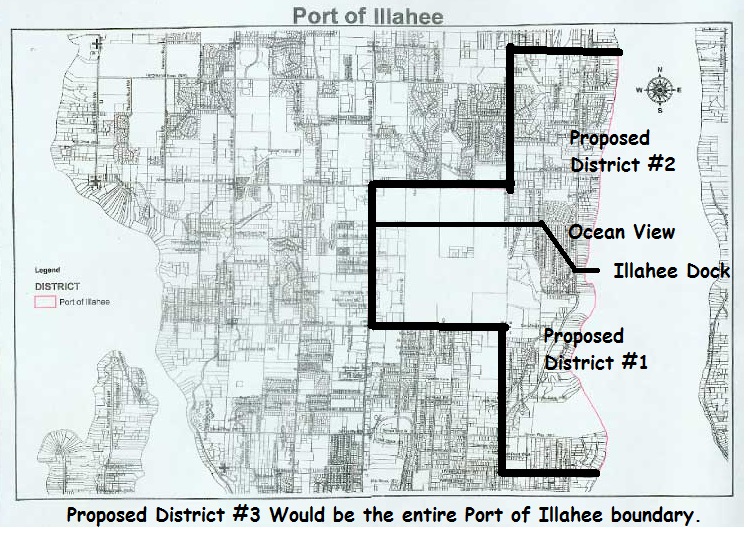 Disaster Preparedness Comments.   We did get a report regarding the Big Buddy heater (shown below) that was recommended at the community disaster preparedness meeting in November.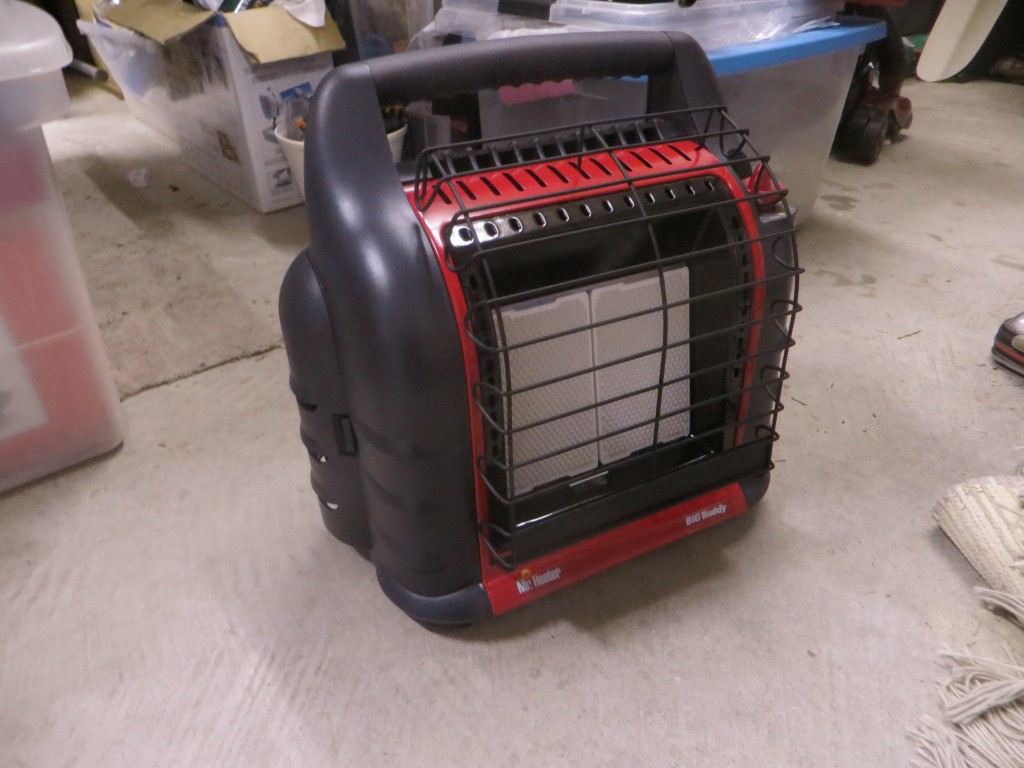 Just wanted to let you know the Big Buddy heaters you showed in your newsletter are available at lots of local stores, including Fred Meyer and Walmart.  The best price for the heater is at Walmart (better than Amazon) and the best prices we've seen for the propane cannisters is Fred Meyers (3 for $9).  The heater is small and easy to carry around, and it does put out lots of heat.  We will let you know more about its use if we end up needing to use it for a long period.