New Power Pole.  Traffic was slowed somewhat along Illahee Road on Tuesday (1/7/14) when a new power pole was installed to replace an old one, see the photos below.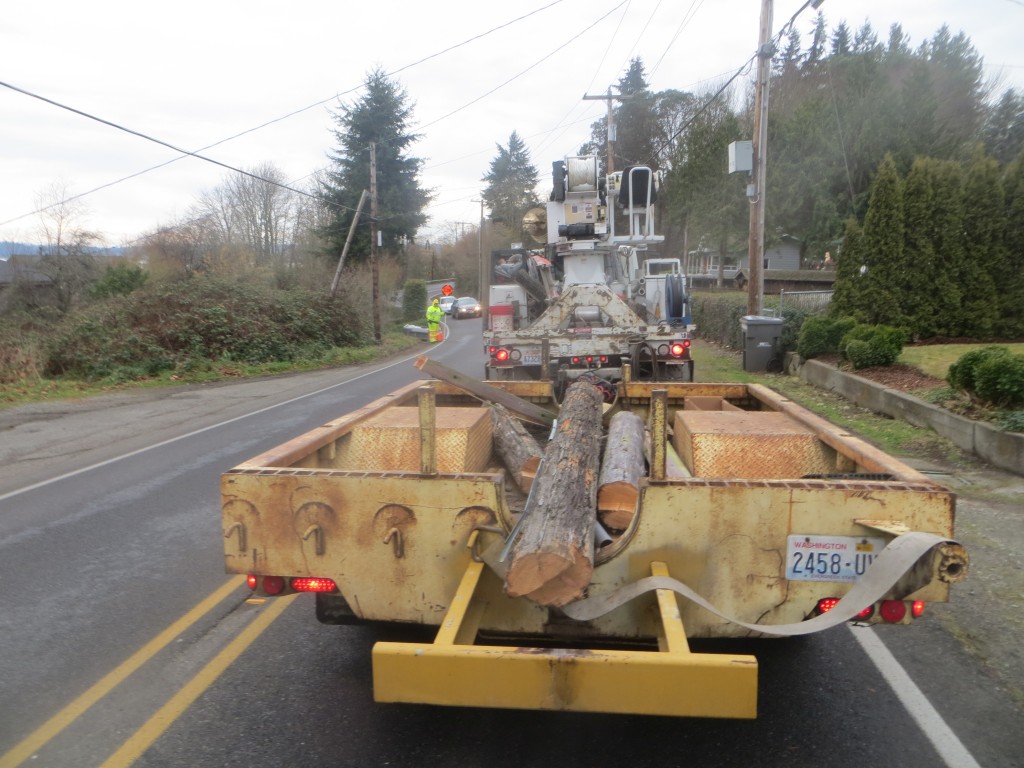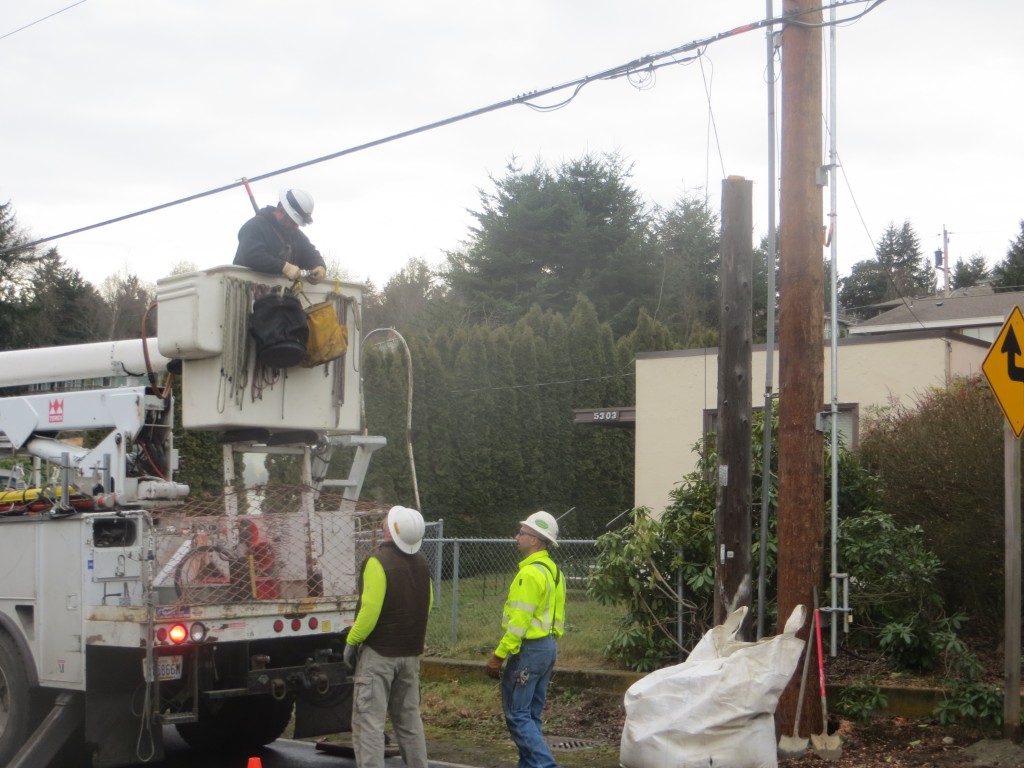 Sewer/Water Work.  Also along Illahee Road new private water lines and a new sewer hookup are being put in.  There have been a number of hookups to the stretch of sewer line that runs under Illahee Road from the Ambleside development to the Illahee North development.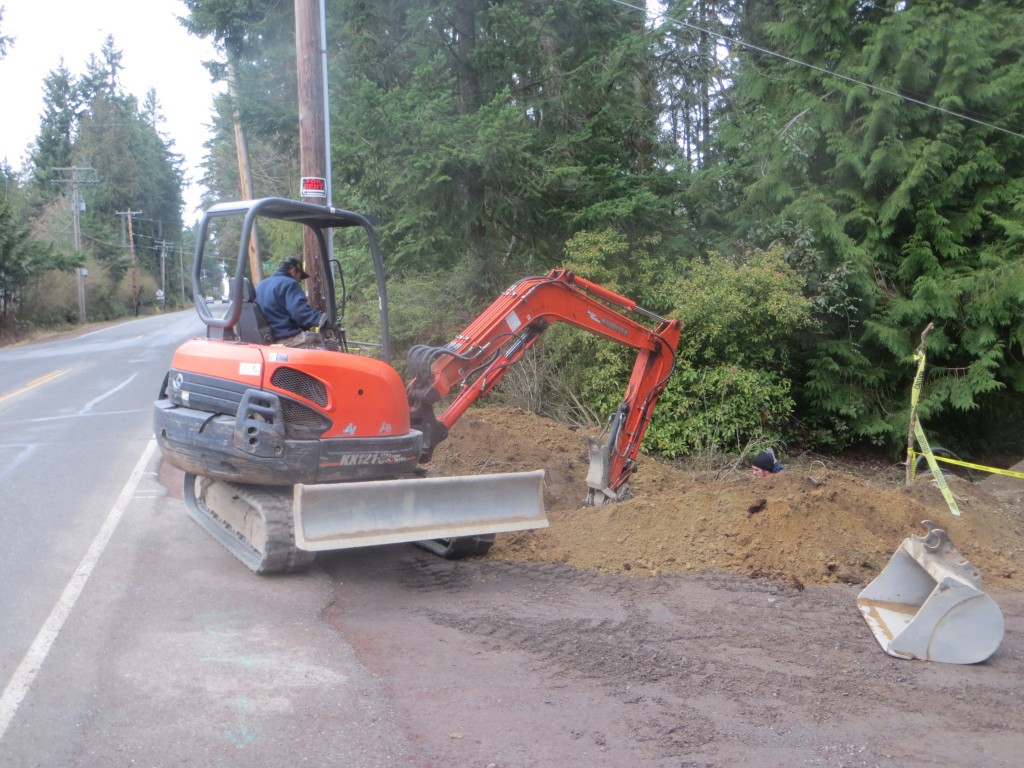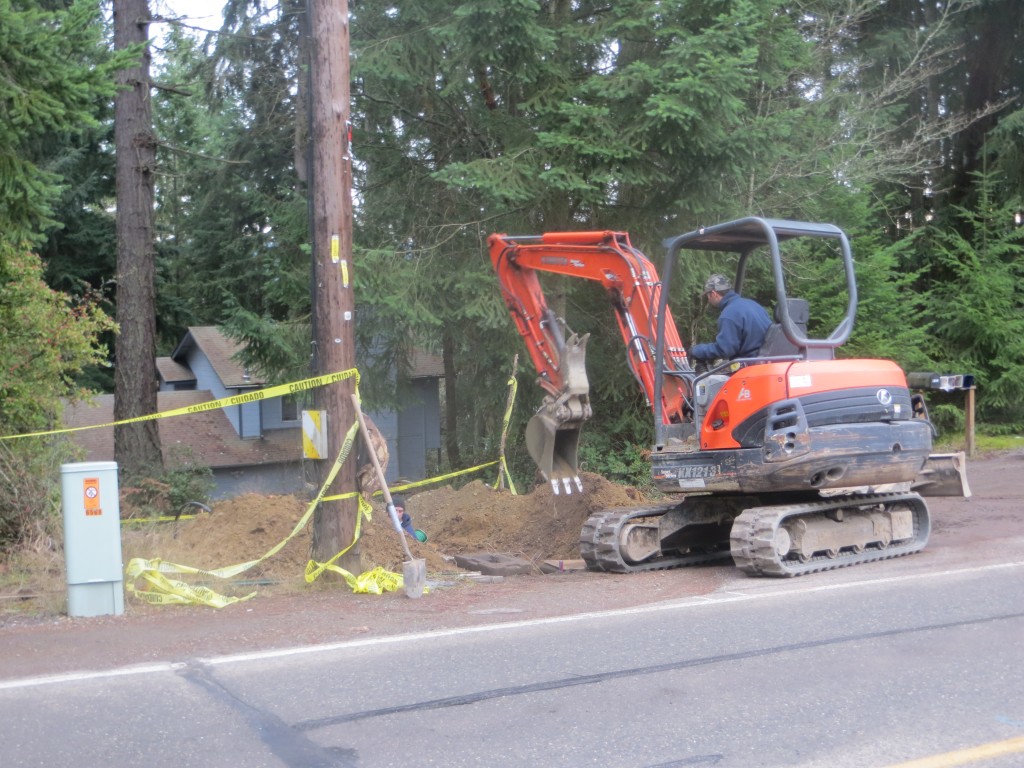 Owl Report.  Thanks to Paul for the following information regarding the aggressive owl attack report in the previous update.
            Regarding the "Owl Problems" item from the newsletter:  There are several species of owls living in this area.  An owl that "dive bombs" a human is doing so in defense of its nest or territory.  The solution to the "problem" is for the human to avoid the area at night for a few weeks until uber-protective owl parents lighten up.  Unlike most other birds, some owl species will nest at any time of the year that sufficient prey is available.
            Here is a passage from the "Owl" section of the Seattle Audubon Society's website:
Dive-bombing Owls
Most aggressive behavior from owls (barred owls and great horned owls are the most often reported) is motivated by defense of their territory or young, or their search for handouts.
In winter owls establish territories, build nests, and rear young. During this period, adult birds may engage in belligerent behavior, such as attacking creatures many times their size. In this case, the owls are simply trying to protect their homes, their mates, or their young.
When possible, stay away from nesting areas with aggressive birds until the young are flying (three to four weeks after eggs hatch) and the parents are no longer so protective. If you must walk past a nest, wave your arms slowly overhead to keep the birds at a distance. Other protective actions include wearing a hat or helmet, or carrying an umbrella.
http://www.seattleaudubon.org/sas/LearnAboutBirds/SeasonalFacts/Owls.aspx
Film Report.  There has been slow but steady sales of the Illahee film, with 5 DVDs sold this past week.  Also selling the film is the filmmaker, from whom we received the following note:
Someone from VA bought the illahee film and called me. She was so inspired
by your story and wants it to inspire their community to do the same…
So your efforts are being appreciated all the way to Virginia…

Septic Meeting Jan 22.  We have been asked to pass the following information on which is followed by a copy of a post card that is being mailed out:
We've continued our PIC work in the Port Orchard Passage area, now focusing on Enetai Creek, Steele Creek, and shoreline areas that have concerns about high bacteria that effects shellfish growing areas. We'll be having a meeting on Wednesday, January 22. This will include talks on septic systems, and Q&A on storm water drainages, rain gardens, improving backyard habitat, and farm/livestock management. If I send you a meeting summary and PDF, would you be willing to forward it to your contacts in the Illahee community?

King Tides.  While we have had some high tides recently (which are referred to as king tides) they haven't seemed excessive, primarily because the atmospheric pressure has been high, and no rain or winds.  It seems to take a combination of those factors to make a high tide a king tide.
Downy Woodpecker.  A good photo of a downy woodpecker.  The red spot in back of the head indicates it is a male.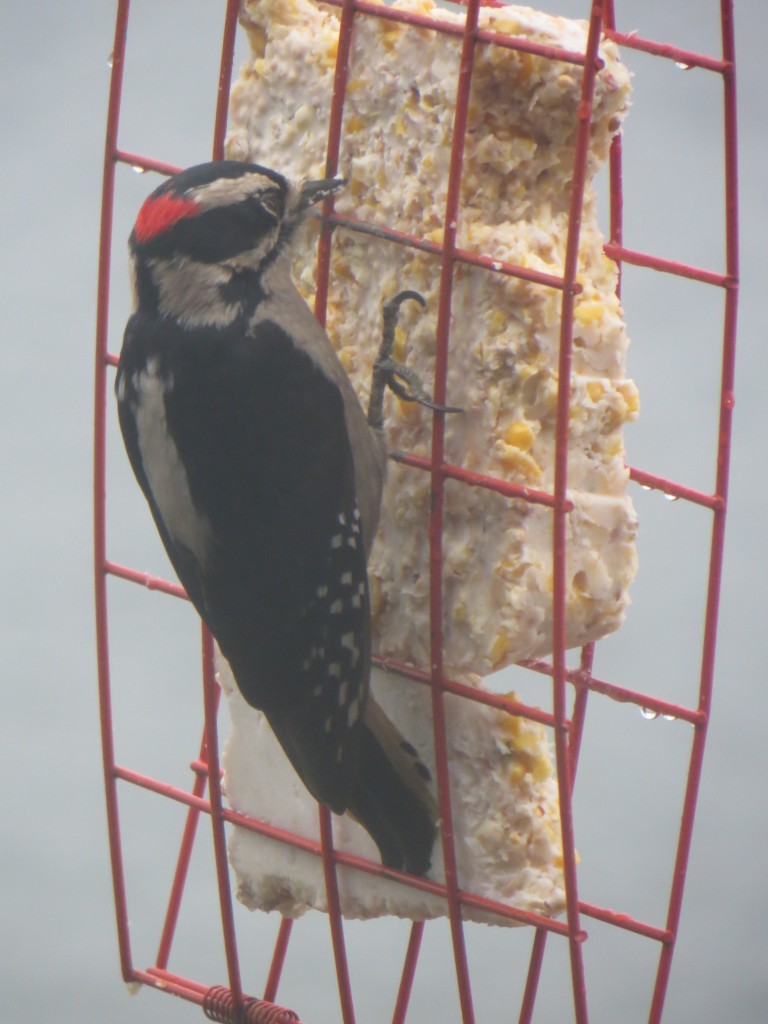 Local Free Piano Concert.  We have been asked to pass the following information on:
There will be a free Piano Concert by John Nilsen at the Brownsville United Methodist Church.  The concert is on Friday Jan 10 at 7 PM.  It will feature a varied selection of music.  

HTTP://www.johnnilsen.com 

  I have heard him before and he is fabulous.  Could you please announce it in the News Letter?