Spring Flowers.  Not only do these add color to our neighborhoods, but also to updates.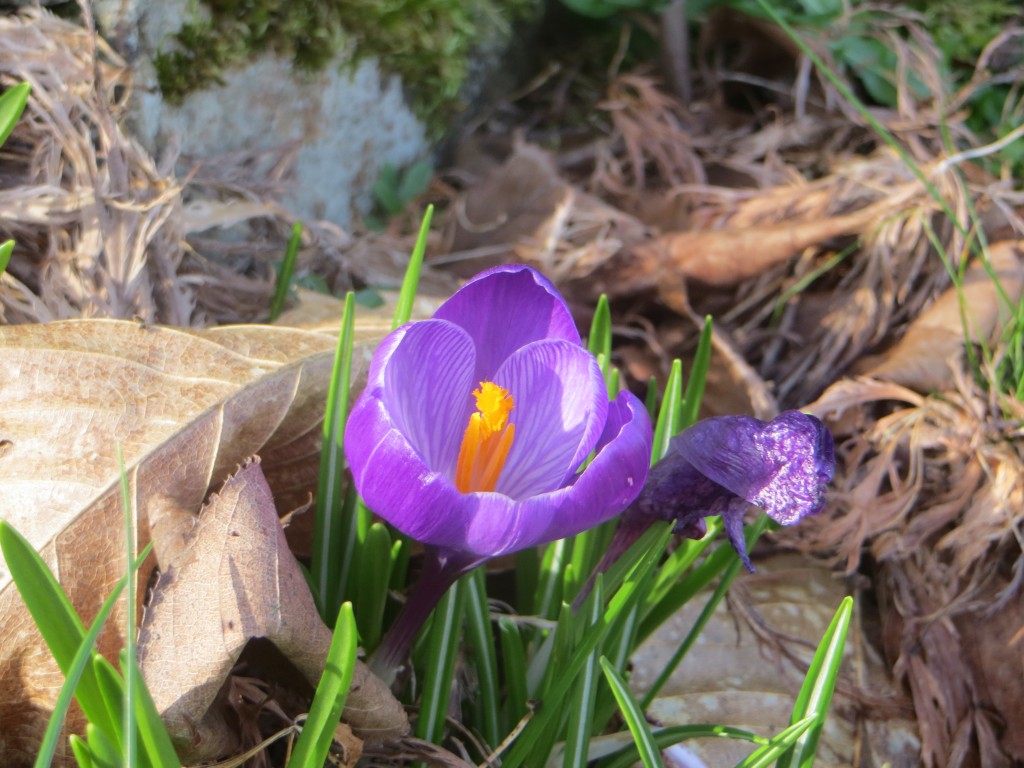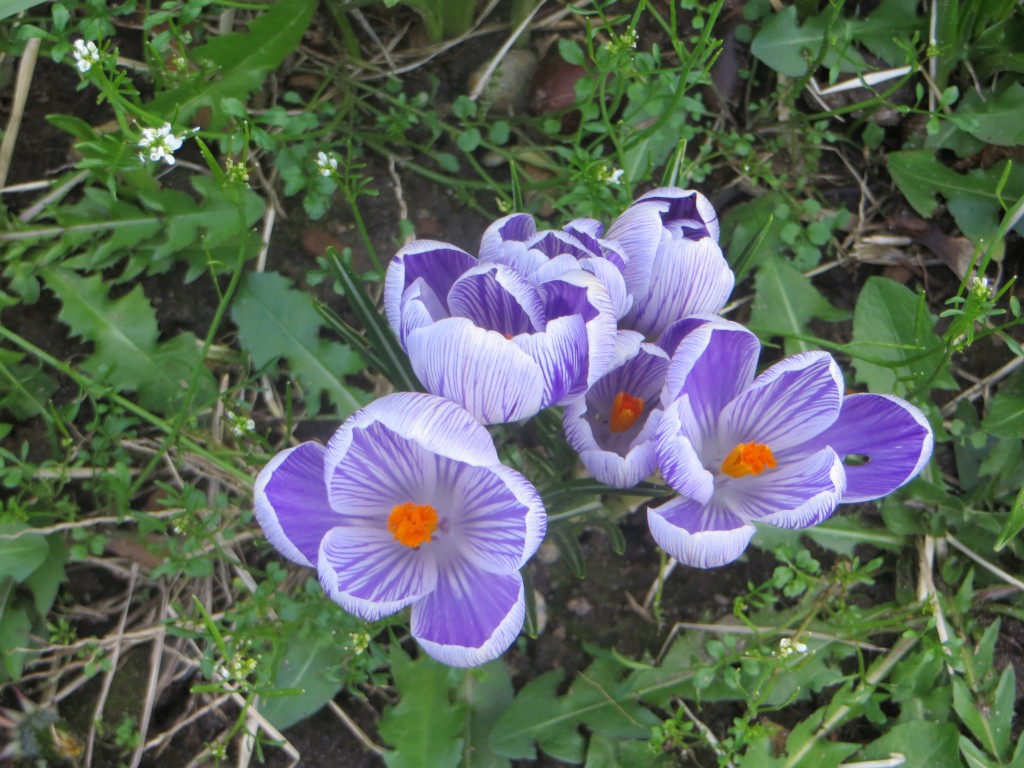 Fruit Tree Suggestions.  Thanks for all the responses regarding what kind of fruit trees to plant.  Below are the recommendations:
For the fruit growers….  There is a local group that meets called the Peninsula Fruit Club.  They may be best to ask.  The stores around town tend to sell fruit trees that do well across the nation, but not here in the Puget Sound.    Here is a link to the Facebook page.  https://www.facebook.com/pages/Peninsula-Fruit-Club/346615198711387
The fruit club is holding a grafting show on March 14th.   They can purchase their trees and rootstock at the grafting show that will do well in Illahee.
I would not recommend Cherry unless you can plant many of them.  One tree will be a raccoon's home base in May/June when there are no other fruit trees available. They will start eating when they are very green and you will have very little left to pick for the 4th of July.
Encourage your fruit tree seeking young couple to investigate old varieties of plum, Apple, cherry and peach.  Even taking cuttings and starting them from scratch.  I so mistrust Gmo infiltration in to everything we might invest.  Have them seek out older homesteads and older homes with old trees.

In regard to fruit trees, about 5 years ago we planted bare root Graven stein apple, Bartlett pear, cherry, and frost peach.  I would not do another cherry due to the birds.  The pear in this area gets a brown scab, but grows well and is good tasting.  Apple does well.  Frost peach is our favorite.  Very good fruit.
pass along to those wanting fruit trees (I was just thinking about this last night) Asian (or Korean) Pears grow VERY well in the Candy cane lane zone to the south of the park. I don't know where you would find this tree, but the fruit is a bit like a pear and very very sweet. I have a plum tree which really produces too, as well as a Rainier cherry tree. Alas the birds usually beat me to the cherries! Apples don't do well for me because we are infested with bugs and I don't want to spray (being organic around here)

http://wcfs.org/wp-content/uploads/2015-PFC-Grafting-Flyer-Rev4.jpg
Jim, this is a flyer for the Peninsula Fruit Club's Spring Grafting show.  Please forward it to the person wanting to plant some fruit trees.  Our 'experts' will be glad to help in any regard … and we will have lots of fruit trees for much, much less than any of the box stores.
Hey, Jim. Enjoy your posts. For that young couple, there was a legendary Bing cherry tree one house up from the store to the south (maybe still there) that had a rich yield every year. My mom's fig and pear trees always did well.

My suggestion is an Italian plum.  They don't get real big which is nice around a garden.  They grow quickly and produce lots of plums.  We have found they can be dried easily and eaten all year long.
Preserve Camp.  These are what we don't like to see in the Preserve.  A camp with needles!  It was posted and we need to check back to see if it is vacated, but even then they never clean them up.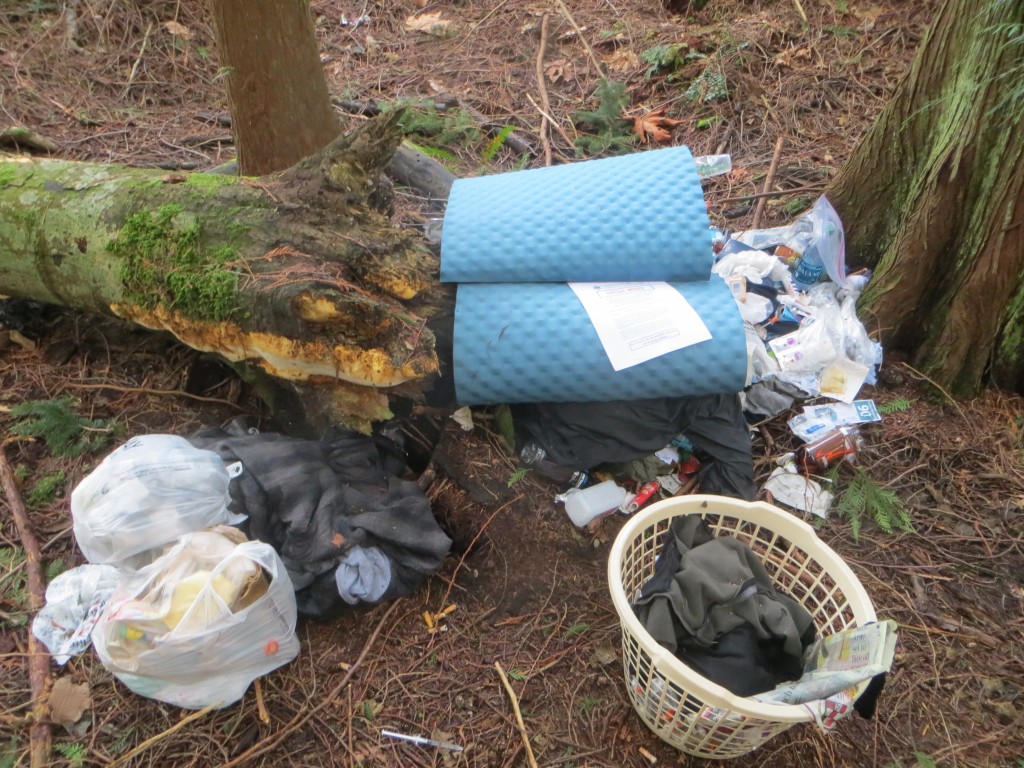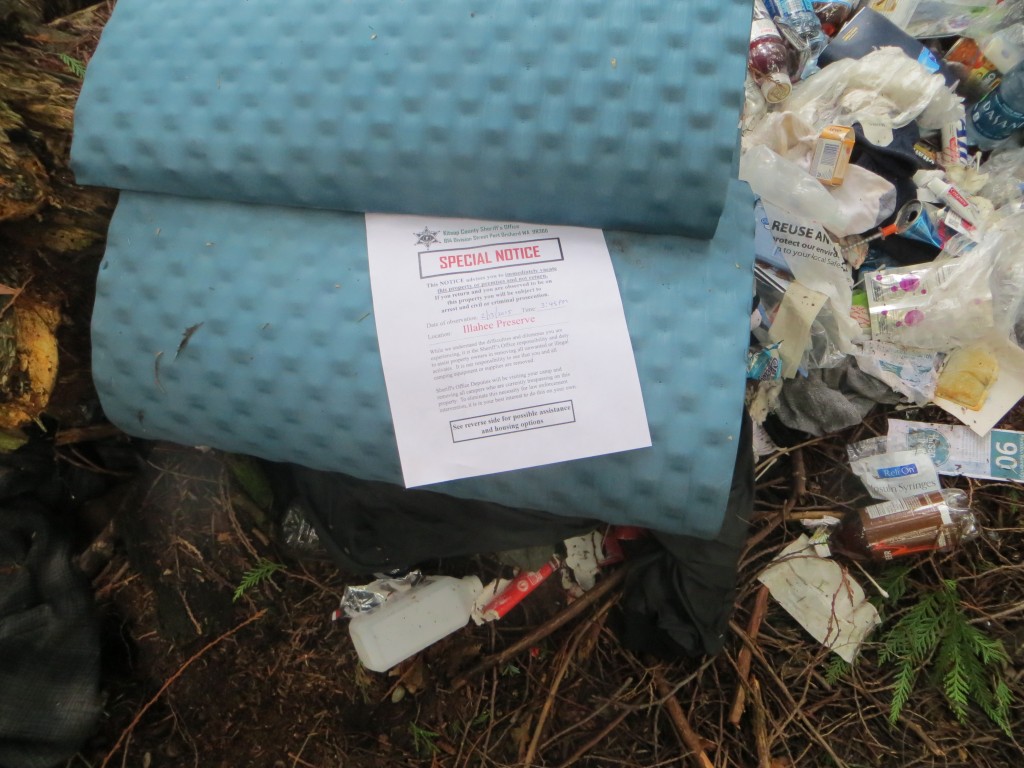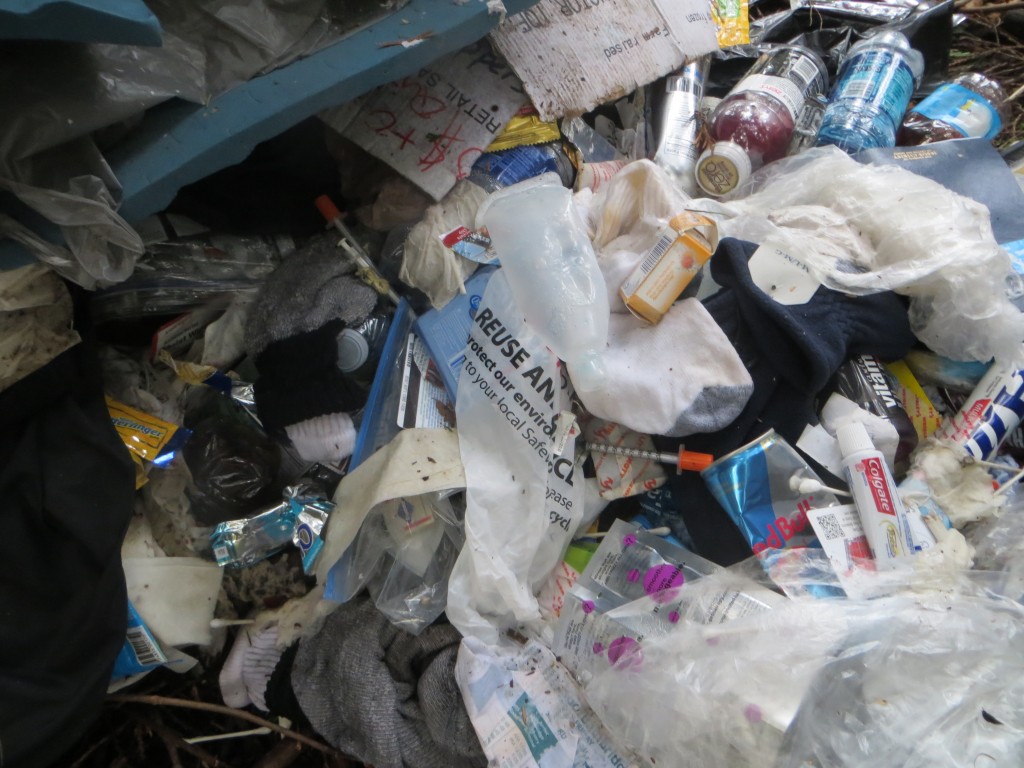 ICC Meeting Minutes.  Attached are the draft minutes from the Community meeting held last week.  Note the costs associated with a pressurized sewer line going through historic Illahee, which the Illahee Preserve group hopes will motivate residents to help purchase the Timbers Edge development.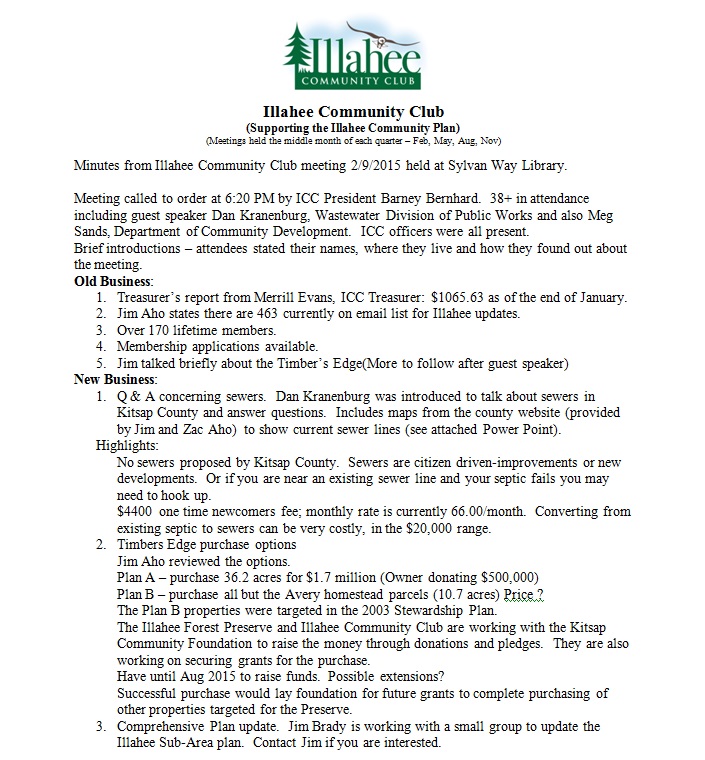 Quote for the Timbers Edge Purchase Campaign.  We just saw this come through on an email and think it applies to the community trying to raise money to purchase Timbers Edge.
"Leaders are visionaries with a poorly developed sense of fear and no concept of the odds against them."  
Robert Jarvik
TE Pledge Form.  Below is the new pledge form for those who would like to see how things are progressing before contributing.  It does two things (1) it allows the giver an opportunity to indicate financial support and hold on to their money until a purchase is eminent, and (2) it allows the Preserve non-profit group to track the funding support to make sure the purchase will take place.  It has been said this is truly a once-in-a-life-time opportunity, to help complete and establish a 'Forested Central Park', and a Wildlife Preserve, all surrounding a salmon stream.