Wildlife Photos.  A couple of deer and pheasant photos, with one catching a pheasant walking by a couple of deer.  
Work Party.  If you haven't walked the trails lately in the Illahee Preserve, now is a good time to see all the work that has been done recently putting wood chips on the trails.  The effort is labor intensive but when you realize the chips keep the trails looking nice for years it is worth the extra work.  Thanks to the Washington Youth Academy for all their help and the East Bremerton Rotary for coordinating the work parties.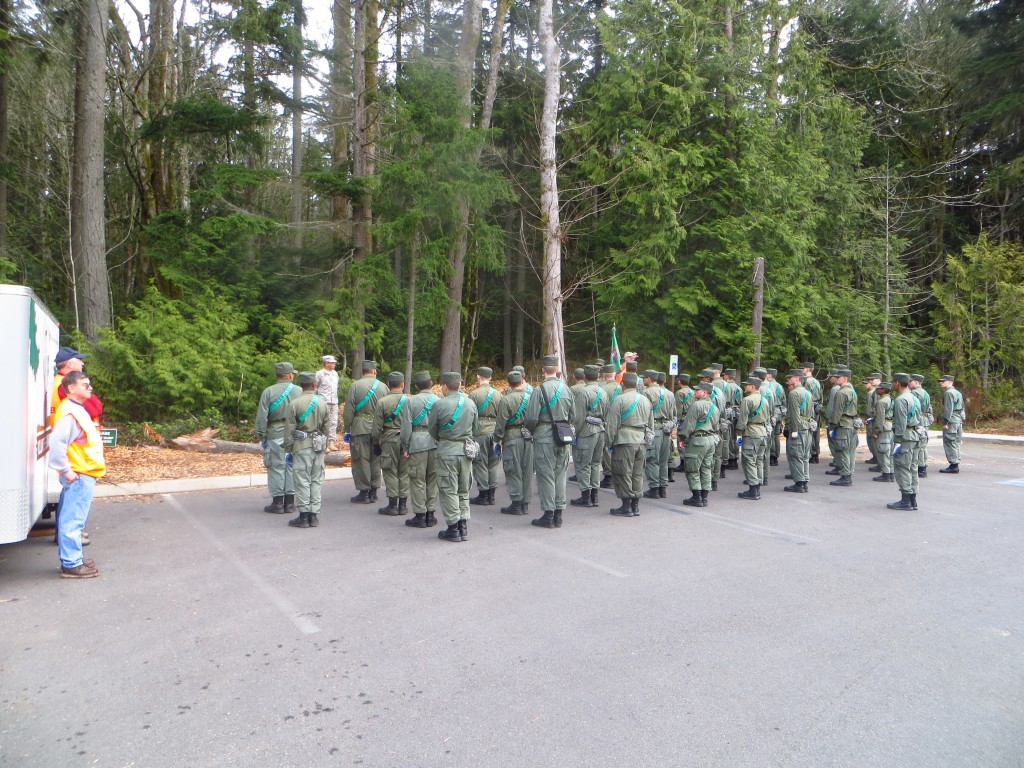 Timbers Edge (TE) Progress.  Another success story is a signed Revised MOU (Memorandum of Understanding) outlining the details of purchase agreement for 25-36 acres of the Timbers Edge properties.  It was signed on 3/8 and delivered on 3/9 by the Illahee representatives, and then signed by the property owner and developer on 3/12, with two date changes, that were quickly accepted and delivered back on 3/13.  This allowed a major grant application to the Birkenfeld Trust to be submitted on 3/16, followed by a briefing to the Illahee Preserve Stewardship Committee on 3/17 and to the KC Parks Advisory Board on 3/18/15.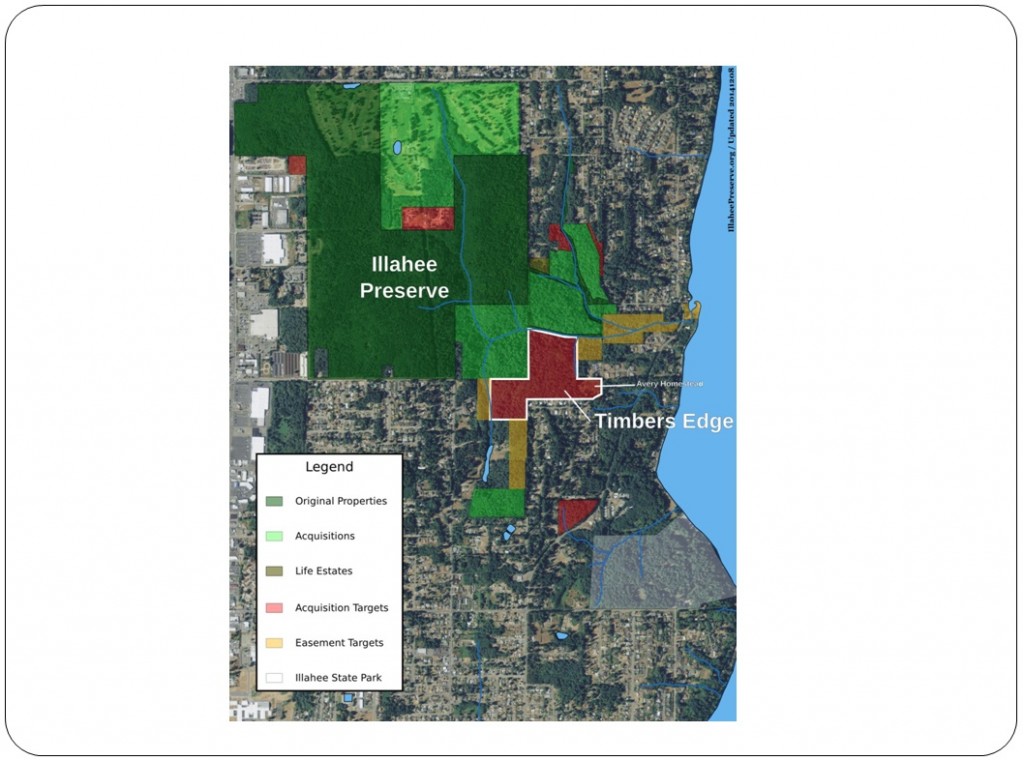 TE Purchase Campaign Meeting.  With all the preparatory work completed, it is time to begin planning for a Capital Campaign to raise the money.  This will take a community effort and more and they are soliciting help from any and everyone who thinks they can help.  The first planning meeting is Thursday (3/19) at 5 pm at the Planetarium, 817 Pacific Ave, Bremerton.  If you have questions about the meeting please call 479-1049.
Pledge Form,  Below is a copy of the pledge form being used to raise the money.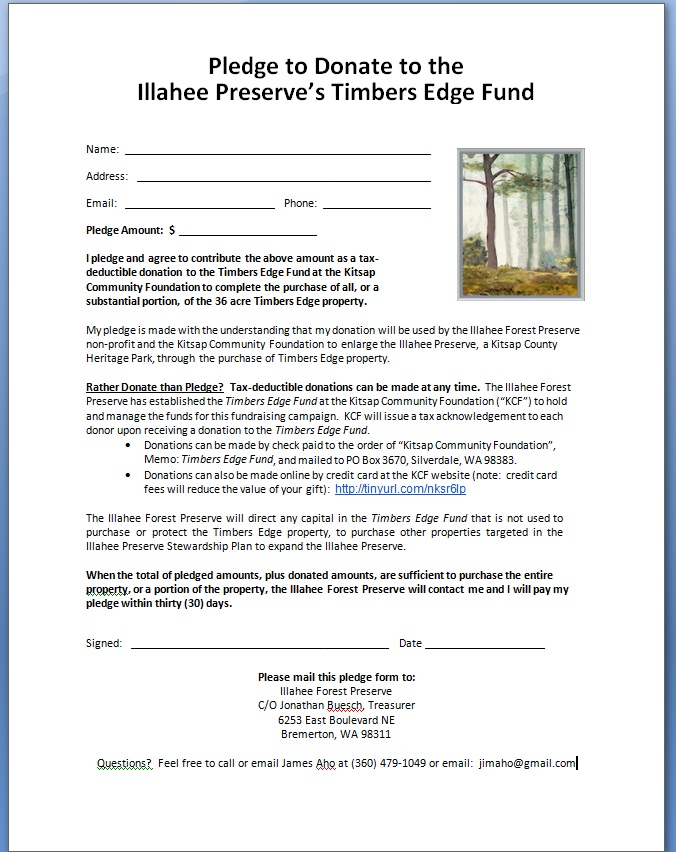 More TE Details Later.  This is a fast moving target as the funds need to be raised within 5 months for the 25 acres and 7 months for the 36 acres.  More details after we attend the planning meeting on Thursday.
Wood Chips Now Needed.  Several months ago we reported there were too many wood chips, and then we found out they were being dumped in the wrong places.  This pile was dumped less than 24 hours after the previous pile had been cleaned up.  But with the help of the Washington Youth Academy cadets it was placed on Preserve trails on Friday 3/13/15.  With another work party scheduled for March 27th more wood chips are needed, but only at specified locations.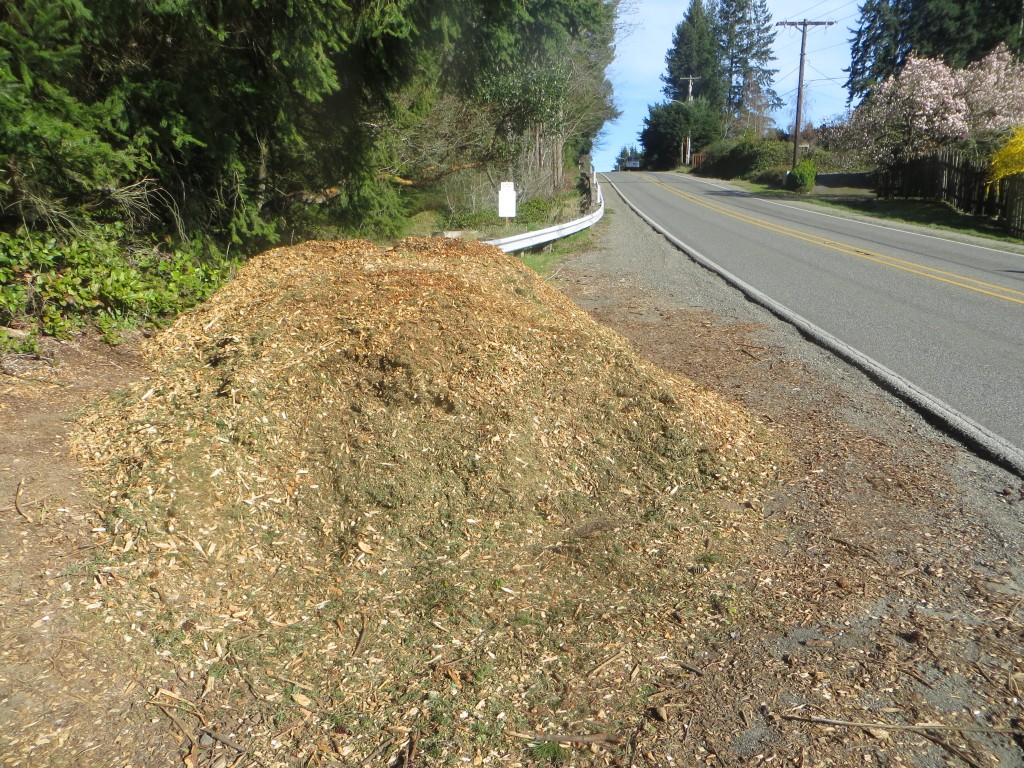 Tree Service Watch Help Needed.  If you see a tree service with a wood chipper, please let them know the Illahee Preserve needs chips at Trail Heads #12 and #1 along Thompson Lane.  If they have any questions have them call 479-1049 or 649-1049.