Blossoms.  The first photo is several weeks old and is of an apricot tree.
Thursday Planning Meeting.  Help is needed to figure out how to plan and run a Capital Campaign.  Last Thursday we began brainstorming on what we need to do to accomplish a very big task, i.e. figure out how we can raise enough funds to purchase the Timbers Edge development properties.  We will be meeting every Thursday (until further notice) at 5 pm at the Pacific Planetarium at 817 Pacific Ave in downtown Bremerton and can use any ideas or help anyone can provide.  If you can't attend, maybe you have some ideas — please let us know as the clock is counting down and soon our 5 months to raise the funds will be 4 months as the start date was 3/8/15.
Tuesday Developer Meeting.  On Tuesday (3/31/15) the community will have an opportunity to meet with John Johnson, the developer who has been given the task to either sell the property to the community or develop it.  John would rather the community purchase the property, but he also needs to be ready to develop it if they fail to raise the funds to purchase it.  He will share the plans they have to develop it at its approved density or at a reduced density should the community purchase all but the Avery Homestead.  Of course the goal for the community is to purchase all the properties so there would be no development.  The meeting is at 6:15 pm on Tuesday at the Sylvan Way Library. (The map below has been presented before but new people access our website and have been added to the email list so it is shown again.)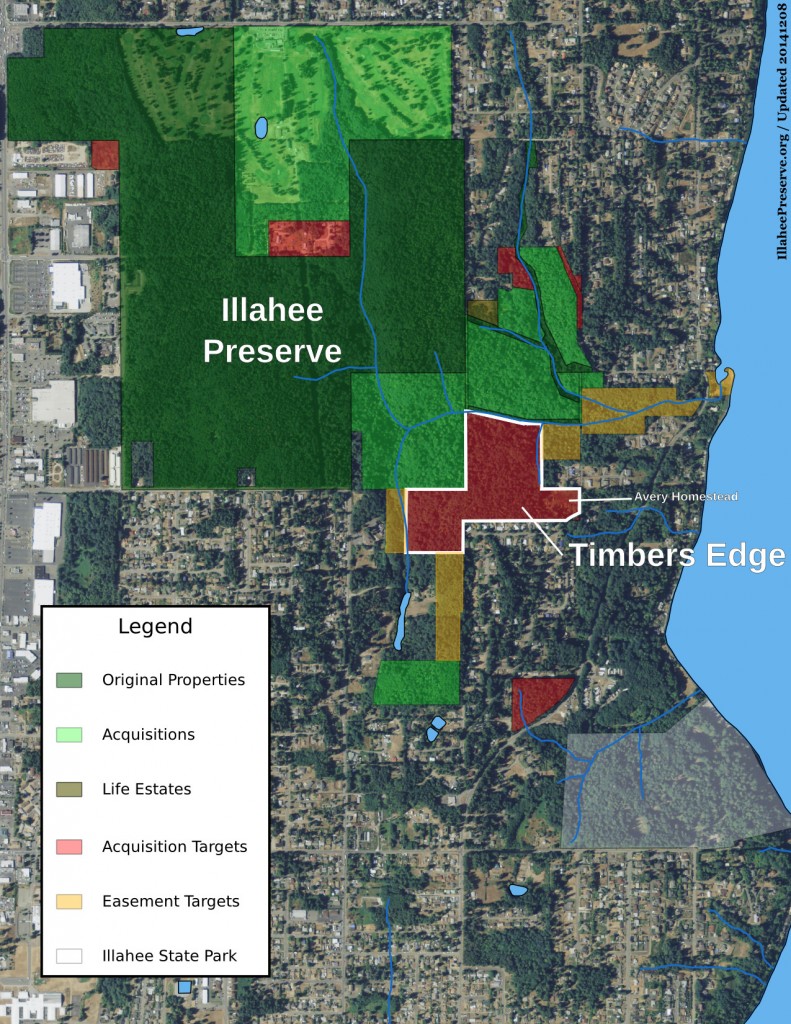 Friday Work Party.  Another large work party is planned for Friday (3/27) with the Washington Youth Academy.  This is an all day event that should take care of all the remaining wood chip piles, plus lots of other tasks as we get ready for another year of growing popularity of the Illahee Preserve.  Below is a photo of a new batch of chips at Trail Marker #12, just where they are needed.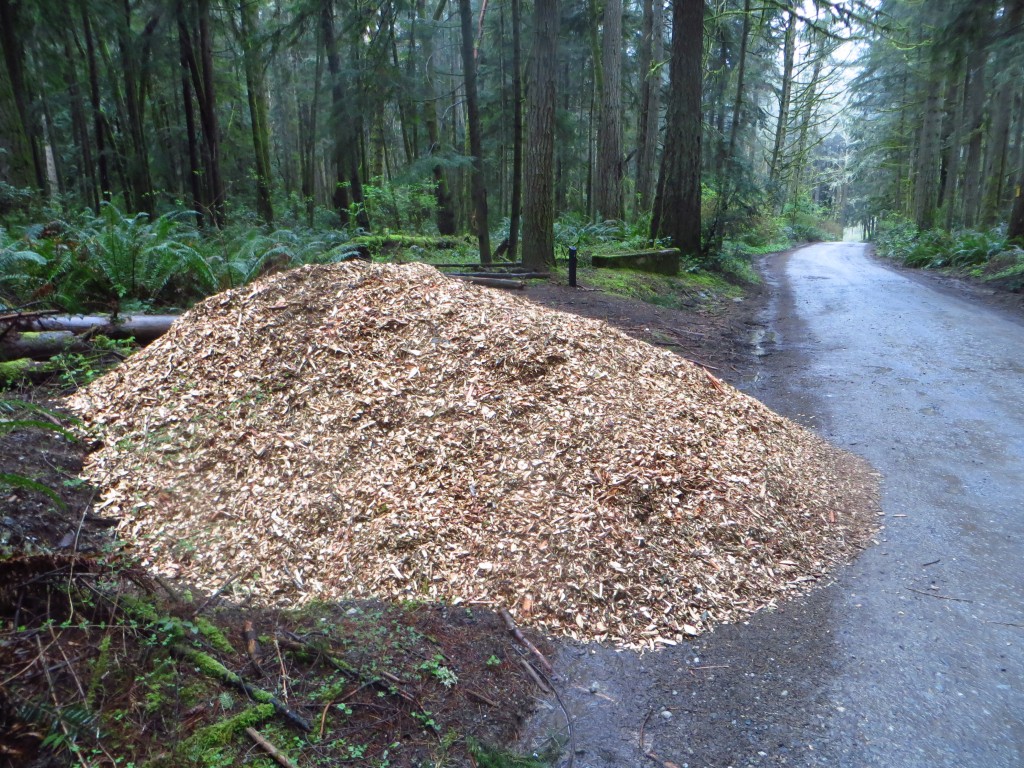 Rotary Club Appreciation.  Thanks again to the Rotary Club of East Bremerton for coordinating these events and for helping make the Preserve such a great attraction for so many people!!!!
Beach Education Classes.  One of the best classes around is the Beach Naturalist Class that is offered only once a year and it begins on April 9th.  Illahee has over 3 miles of some great shorelines and access points to get to them.  Details of the class are:
Explore the Wonders of Puget Sound with Kitsap Beach Naturalists 
 WSU Kitsap Extension and UW SeaGrant proudly present the 2015 Beach Naturalist training, which is open to the public. If you want to learn more about marine life and local water issues while exploring beaches, then this is the class for you!
 When: Thursday evenings April 9 through May 14 from 6:00 pm to 9:00 pm
Where:  Poulsbo Marine Science Center
Who: Adults and teens are welcome to attend. Children under 14 must be accompanied by an adult.
Cost: Cost for 6 weeks is $65. Scholarships are available.
 Surrounded by water, the Kitsap Peninsula is an amazing place to learn about and enjoy sea life. Over the course of six evening classes and a variety of field trips, we'll learn about sea stars, clams, crabs, and other cool critters as well as seaweeds and plants that live on our beaches. We'll also discuss Salish Sea oceanography and shoreline living, conservation, and restoration.
 After the training, trainees can choose to volunteer in exciting service projects, which include beach explorations, local community events and service projects that help protect and enhance Kitsap shorelines. 
 For more information visit WSU's website at http//kitsap.wsu.edu or register online at http://www.brownpapertickets.com/event/935697.