Updates.  A request was made that these Updates cover only one subject, rather than so many.  This update is why the request isn't feasible.  There are too many important issues and we don't cover all that are requested.
TE Update.  With the count down now less than 2 months, actually 55 days, to being able to purchase the Timbers Edge 25 acres for $767,000, some are getting worried as the donations are only trickling in. One person on limited Social Security pledged $1000, and another from Bainbridge Island pledged $10,000.  That together with just over $6,000 from the Great Give brings us to about $70,000 received or pledged.  We don't know if we will be successful with the Birkenfeld Trust grant we applied for.  If we are it could be for $300,000 or $250,000, which would be added to the owners contribution of $350,000, but still leaves us $47,000 or $97,000 short.  That means we need to average about $1,000 or $2,000 a day from now until July 6, when the closing documents need to be started in order to close on August 5, 2015.  Thanks to all who have already donated!  Tours of the property to be purchased will be given upon request and we will try to answer any questions.  Call (360) 479-1049.
Community Mtg 5/18.  We received the following notice of the quarterly meeting of the Illahee Community Group on Monday evening (5/18/15). 
The 2nd Quarter Illahee Community Meeting, is officially scheduled for 18 May 2015, at 6:30 PM, in the meeting room at the Kitsap Regional Library, on Sylvan Way in East Bremerton. We have guest Speaker Michelle Keeton, from Kitsap County DCD, who will be answering questions regarding our Subarea Plan Review.  Other agenda items include: Fund raising for Timbers Edge and the Birkenfeld Trust, and the Illahee Outfall Settlement Agreement.
There have been a number of questions regarding the outcome of the outfall installation that was reported on in earlier updates.  We hope the county will be able to send someone to answer the questions Illahee residents have as the installation doesn't appear to meet the conditions the community agreed to.
Port Mtg 5/13.   On Wednesday at 5 pm the Port of Illahee Commissioners hold their monthly meeting at the Port meeting room at the lower level of 5500 Illahee Road.
Pollution Mtg 5/12.   In our last update we noted the Tuesday meeting "Pollution Detectives – Partners in Pollution Prevention" at the Brownsville Marina at 6 pm.  We checked the Health District sign at the Illahee Community Dock which has been there now for years and without a date on it, see the photo below.  We will likely be attending another meeting on Tuesday (see the next meeting notice) and hope someone can cover the meeting and possible get a photo or two of it?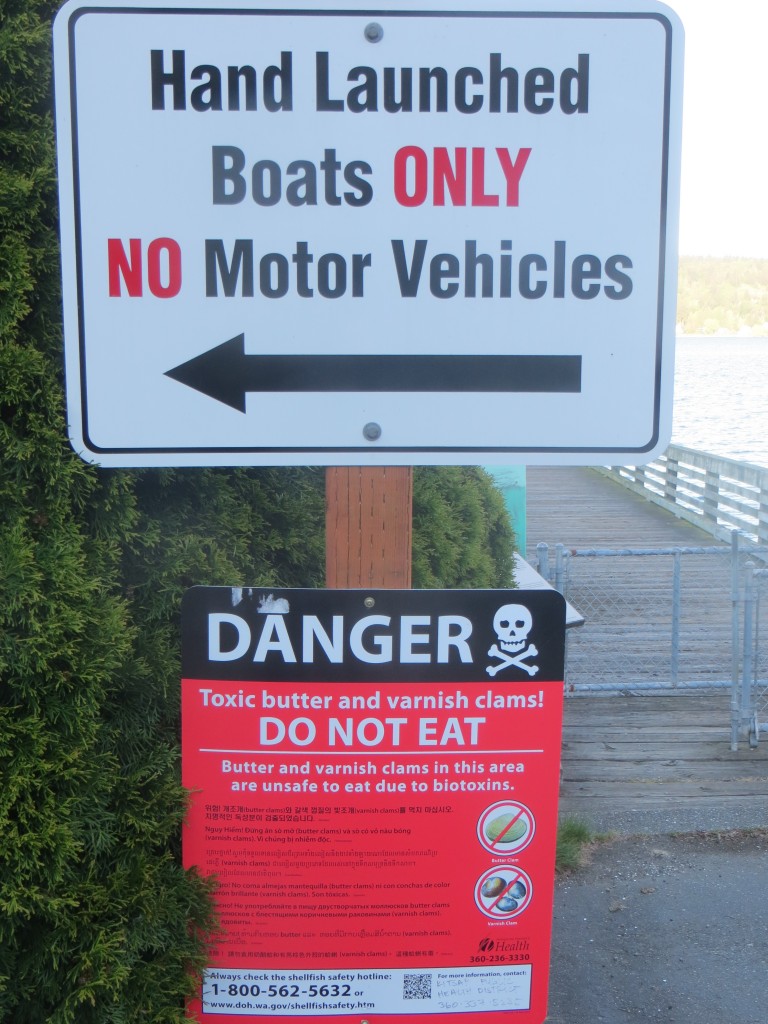 FEMA  Mtg 5/12.   A number of waterfront homeowners received post cards telling them there was a change in the Flood Hazard maps and more information would be available at meetings in Port Orchard and Suquamish.  Below is a photo of the post card that was received.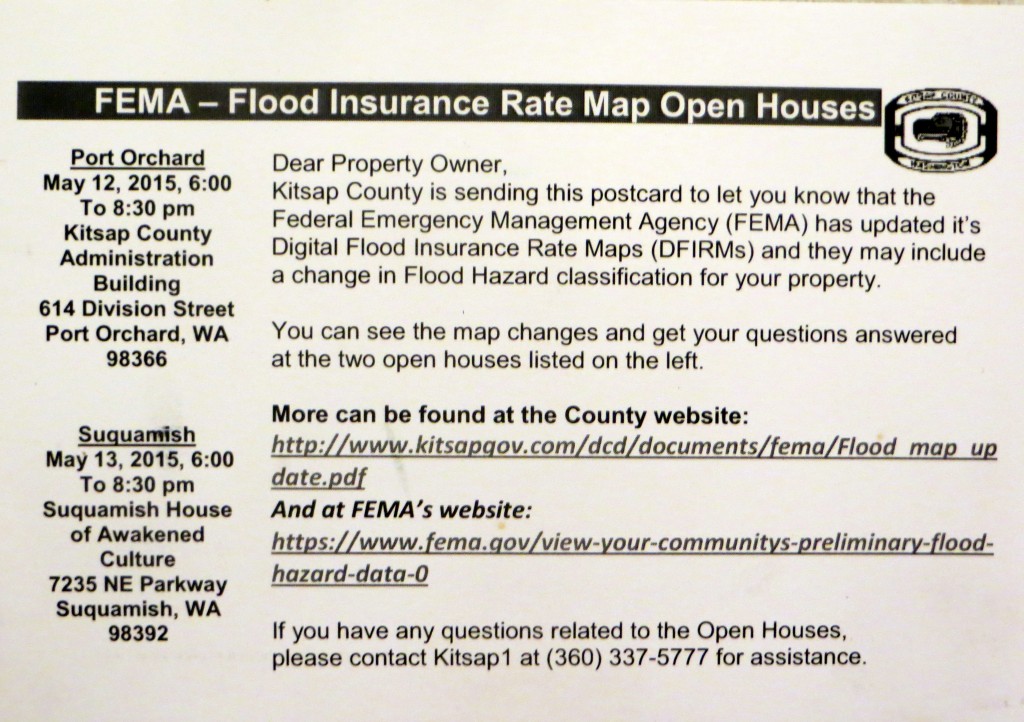 Wildlife Reports.   Thanks to those who capture photos and information such as was received recently!
This might be interesting for your next update.

I was outside at dusk last night and got photos of what looked at first like a half-sized hummingbird hovering near some verbena.
It turned out to be an enormous moth called a White-lined sphinx (Hyles lineata), commonly known as the hummingbird moth:
http://en.wikipedia.org/wiki/Hyles_lineata
Photos attached.  You can't even see the wings while it hovers but the flash caught them.

Also, Karrie saw a coyote in the back yard last week.