Rhododendron Blossoms.  So many great colorful rhododendrons in the area.  Thanks to Cliff for sharing those in his yard, which we are inserting in this update.  FYI, Rhododendron (from Ancient Greek ῥόδον rhódon "rose" and δένδρον déndron "tree") which would mean we could also think of them as the rose tree.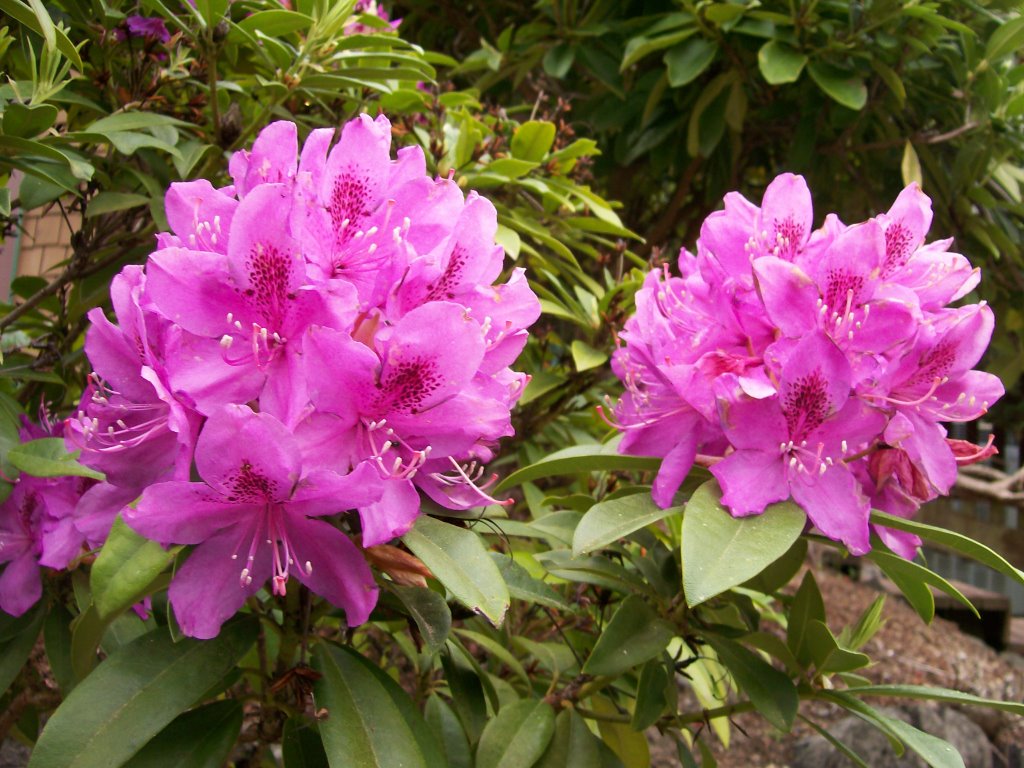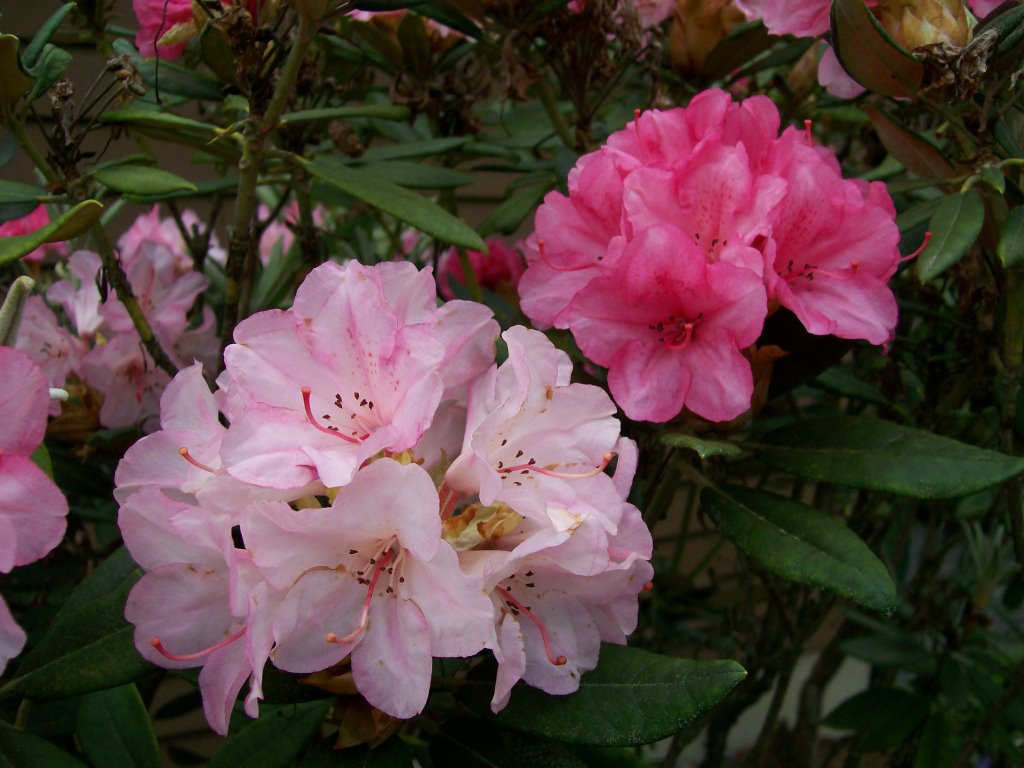 Getting Out the Word.  Seems like many people are still unaware of the urgent need to purchase the Timbers Edge properties, so volunteers are trying to figure out how to let people know.  The photo below was taken at last Thursday's Bremerton Farmers Market, and they should be there this eveing with more information.  Thanks to all those who are helping!!!!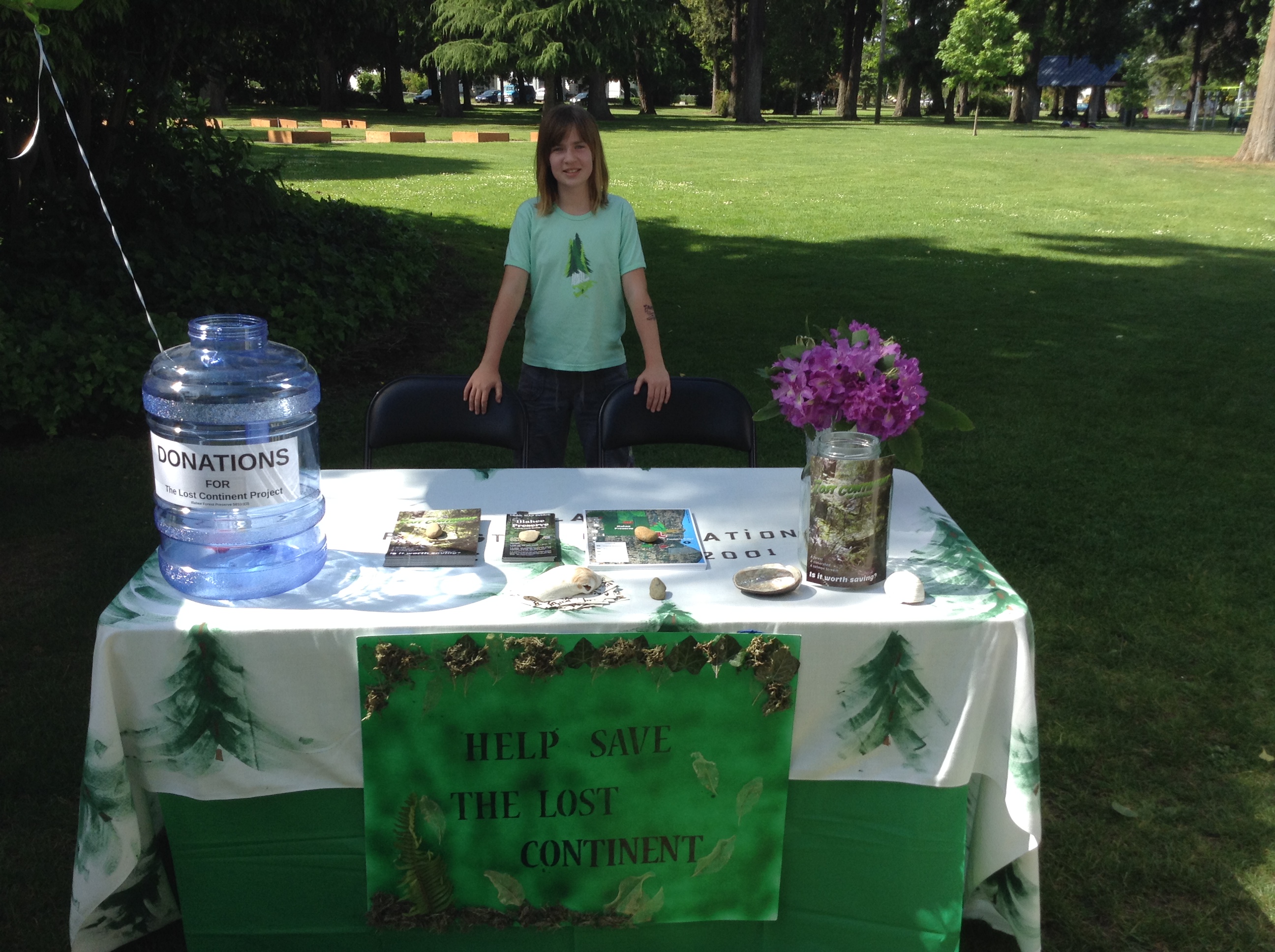 Guard Rail Damage.  At the top of Illahee Hill someone appeared to hit the energy absorbing guard rail head on, which hopefully helped mitigate any injuries.  We would be nice to know what happened, so please let us know if you know.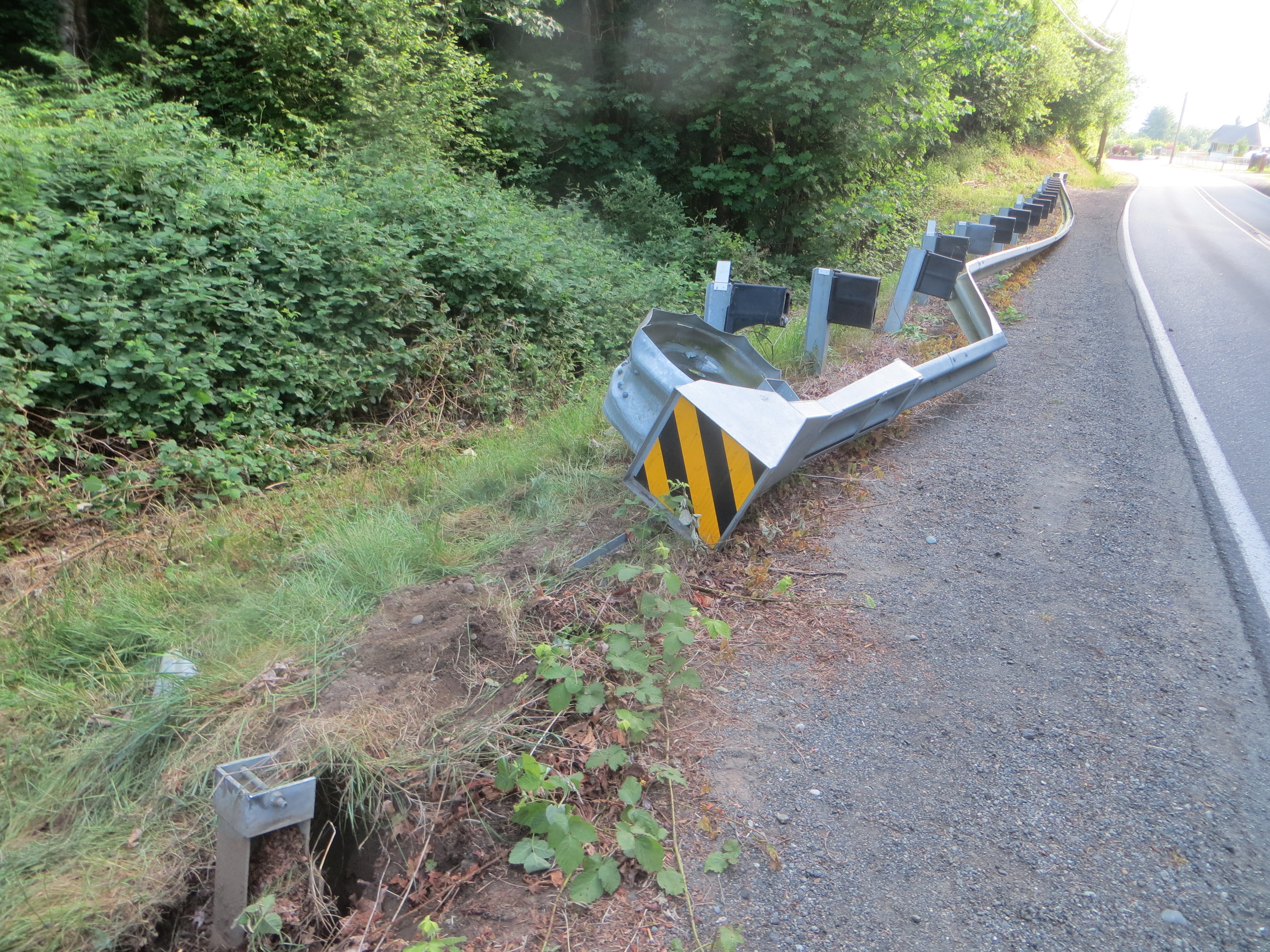 Garbage Dumped.  Someone dumped a toilet at the Illahee store that has a name on it so if anyone knows how this might be traced back to a person, please contact the local authorities.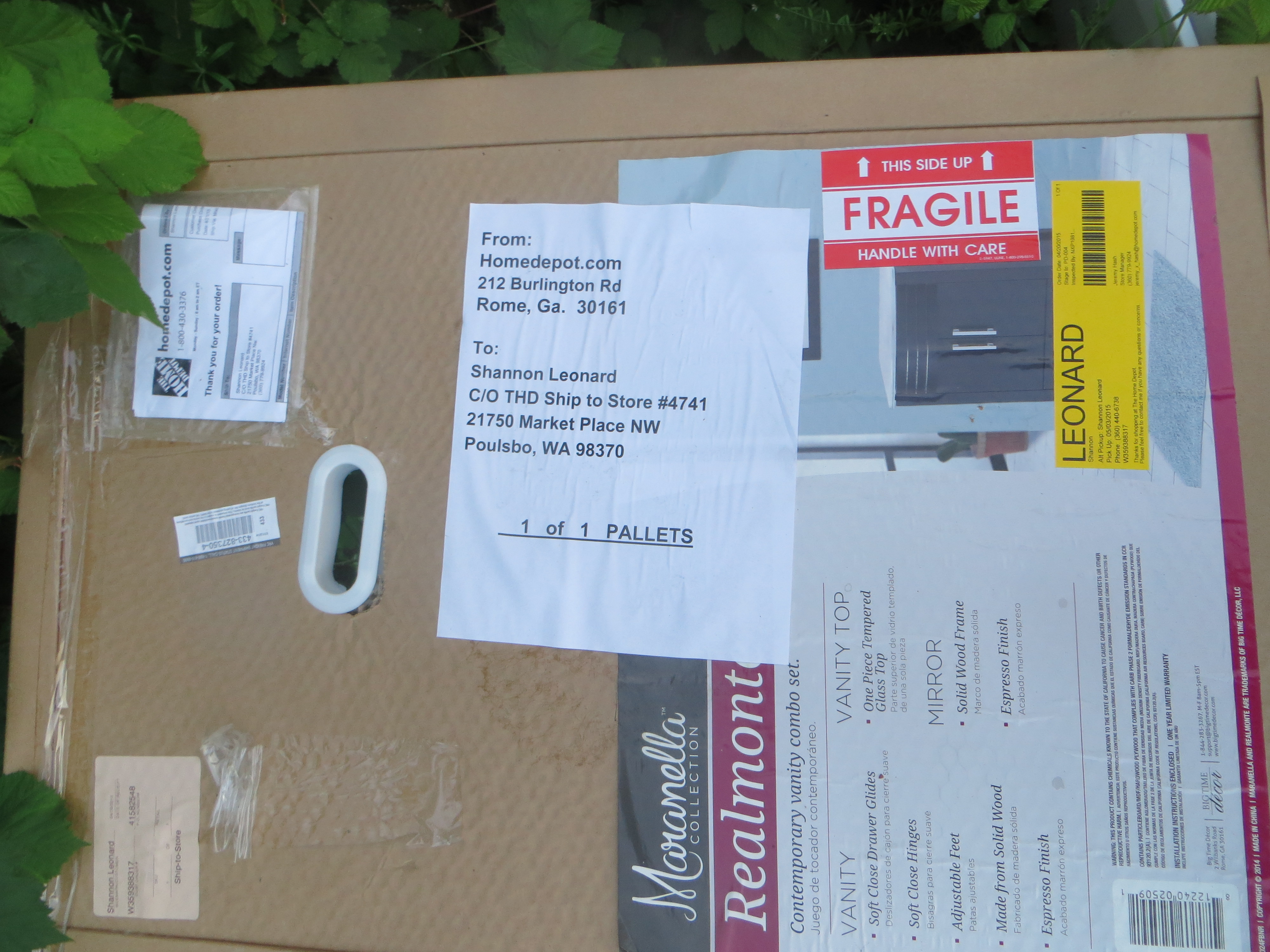 Tagged Property.  Seems like this uninhabited house along the waterfront got tagged and if it isn't taken care of within the time frame given the fine, if we understand it right, is $225 a day.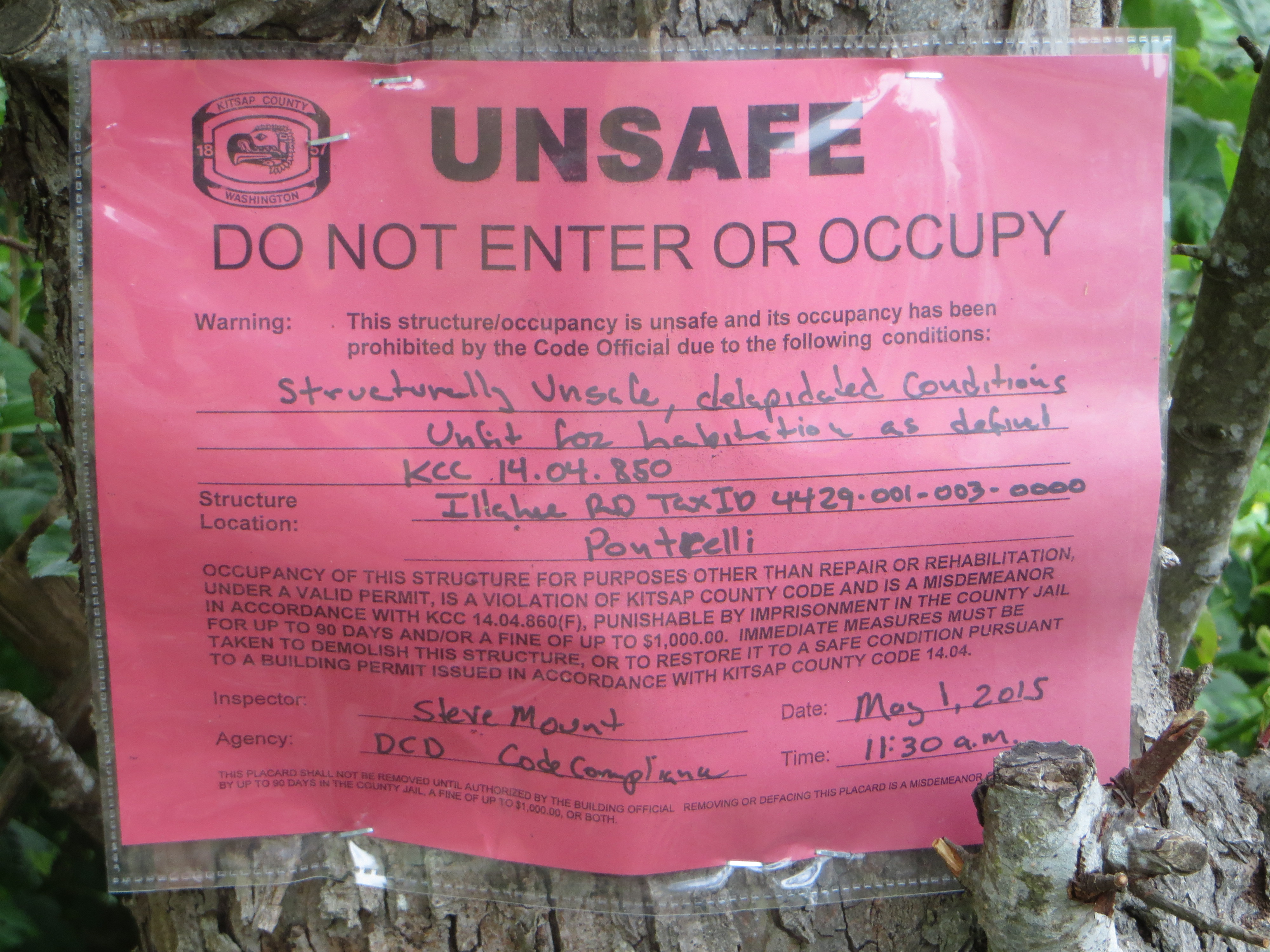 Community Meeting Minutes.  It is always nice to see meeting minutes published shortly after a meeting.
Illahee Community Club
(Supporting the Illahee Community Plan)
(Meetings held the middle month of each quarter – Feb, May, Aug, Nov)
Minutes for the Illahee Community Club meeting held on May 18, 2015 held at the Sylvan Way Library.
Meeting called to order at 6:35 PM by ICC President Barney Bernhard.  26 in attendance,  Guest speakers from Kitsap County & West Sound Cycling.  Brief introductions:  attendees stated their names, address (street name) and how they heard about the meeting.
Old Business:
None
New Business:
1.        Barney introduced Michelle Keeton, Kitsap County Department of Community Development.  Michelle talked about upcoming deadlines for the Comprehensive Plan review.  She has been working with the ICC committee (Jim Brady, Zac Aho, and Judy Krigsman*) that is reviewing the Illahee sub-area plans.  No major changes are planned to the Illahee sub-area plan.   Maps of the area were shown.  Questions and answers.  David Greetham also from KC was in attendance and also answered some questions.  ICC committee hopes to present to the group at next meeting.
*This ICC committee meets at the Sylvan Way library every Tuesday.   ICC wants to maintain an open dialogue with County; we currently are under the Central Kitsap Community Council which is the group on record that deals directly with the County.
2.        Transportation.  Greg Cioc, Kitsap County Public Works/Transportation and Traffic. Talked about the TIPP process – points are assigned to a project as well as costs.  Judy Krigsman talked about several accidents in the driveway area of her home.  Greg said to submit these as safety concerns.  Safety issues are looked at more quickly.   Also discussion about bicyclists riding up/down Illahee Road.  Safety concerns on the hill.  A bike path up the hill on Illahee Road would cost about $3-1/2 million dollars. Questions about Oceanview-oblique angles for adjoining roads.  Would be very costly.  Bridge replacement over a culvert would cost $1 million.  Concerns about the amount of traffic Illahee Road has during rush hour; drivers avoiding the Wheaton Way corridor come down Illahee Road and then up Oceanview to get back to the Wheaton Way to avoid traffic lights/congestion.
3.       Rick Feeney, West Sound Cycling talked about bike paths.  Possible multiuse path (walker, bicycle riders, ADA) from Albertson's (off Sheridan Rd) to the Sylvan Way Library.
4.       Jim Aho reviewed the Timbers Edge purchase campaign.  Still looking for some large donors to help us reach the total.
5.       Outfall pipe.  Jim Aho showed the agreement and pictures of the pipe which in its current state is an eyesore.  Pipe was put in with no notification to all the parties involved.  Rather than start costly legal action it was suggested that all parties get together and see if they could resolve the issue.
Meeting was adjourned by President Barney Bernhard at 7:51PM.
Respectfully submitted:  Gwen Detweiler, Interim Secretary
Settlement Outfall.  We heard the Department of Community Development was checking with legal to see if the Illahee Settlement Outfall agreement has been signed by everyone.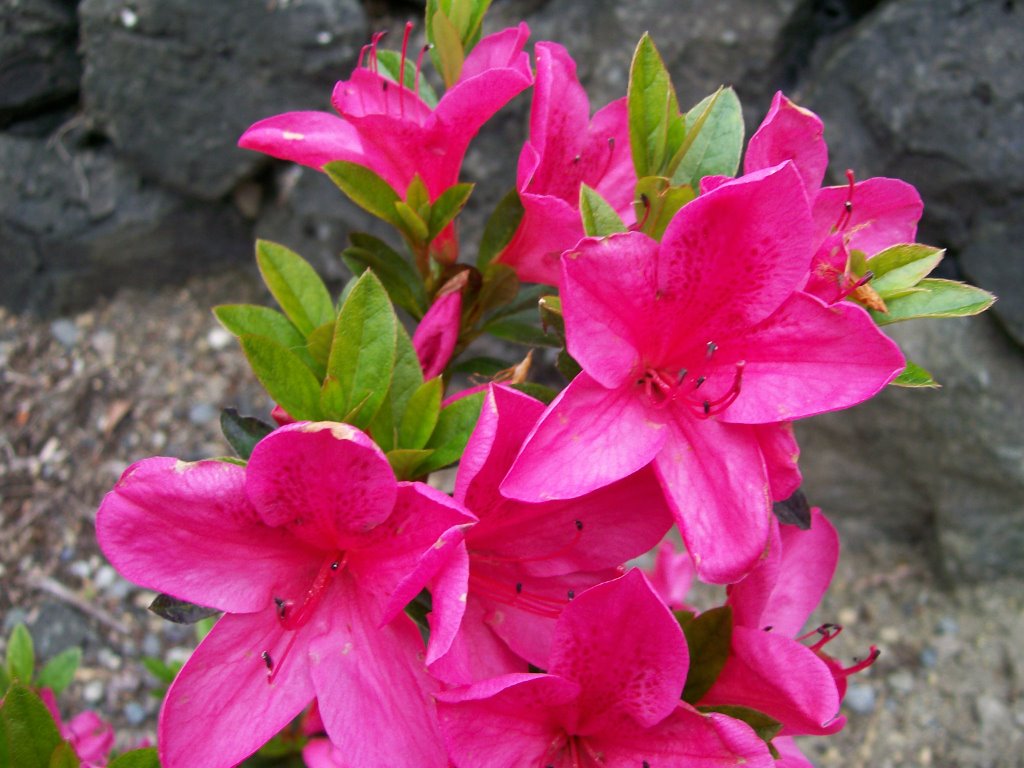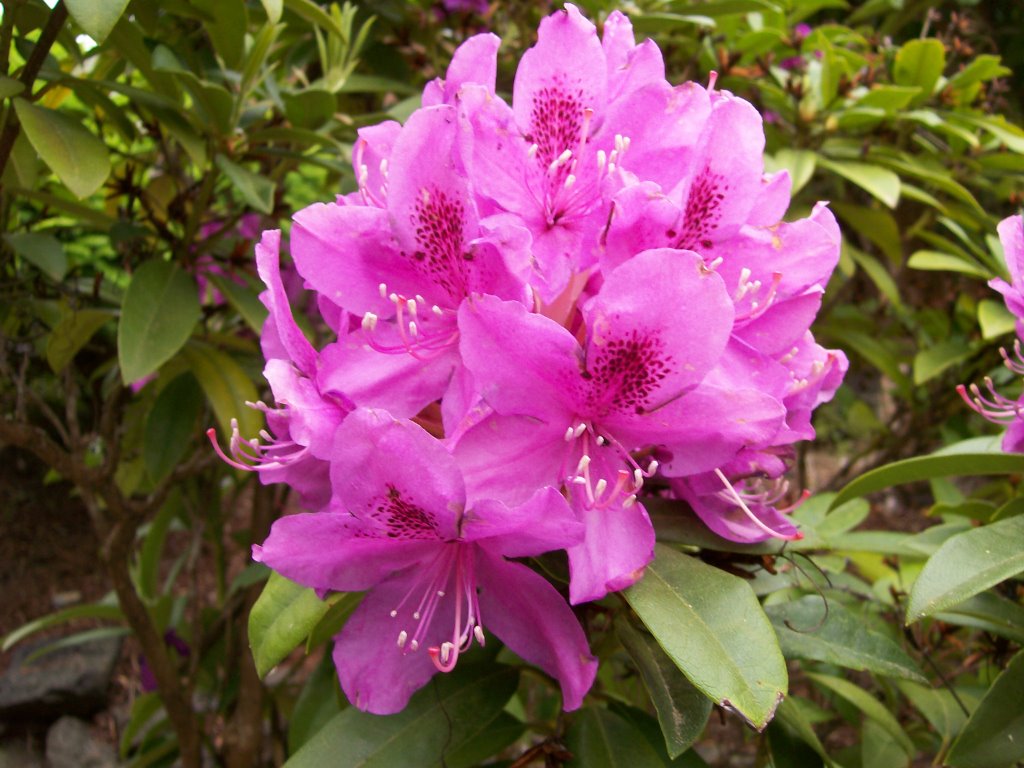 Shoreline Theft.   A Danforth anchor and 30 feet of chain were taken recently from an Illahee boat house.  A few years ago a series of thefts occurred that included 3 kayaks being stolen, with the thieves coming back repeatedly to take more.