Birkenfeld Grant Rejected.  We thought we were a good fit for a Birkenfeld Trust grant, which was the only quick turn-around grant that fit our tight schedule.  We learned today that the grant committee did not select us, which is a major disappointment. 
Major Donations Urgently Needed.  We are now $340,000 short of what is needed to purchase the Phase 1 properties (25.5 acre) and will need some major donations to come in.
Can It Be Done?  We have been asked if it is at all possible for the purchase to happen?  We are working several angles and think it is still possible, but it will take some outside help from those with significant resources.
Current Status.  Over $77,000 (10%) has been received so far in pledges and donations!  While there were several $10,000 pledges, most of the others range from $5,000 to $200  and we have classified this as a grass roots effort so far by mostly local citizens to support saving the forest, stream, and watershed.  Some of those who are older have mentioned this as their "legacy" donation for future generations. 
Great Give Funds Received.  On Saturday a check came in from the Kitsap Community Foundation's Great Give Campaign for just under $7,000 (from 31 contributors).  We had received $6515 in donations on May 5th, and KCF added $748.60 (11%) from their matching pool, but then they subtracted credit card and other fees, which brought the total to $6,939.08.  Not bad for a one day event!
Who Contributes?  The other day a student who wrote a report on Illahee Creek donated $20 cash, and an elderly person living on Social Security pledged $1,000 and said their roof repair could wait.  A $10,000 contribution/pledge combination came in from a cashed-out annuity.  While the big contributions are absolutely necessary for a successful purchase, it is heartwarming to see so much coming from those who aren't wealthy and yet are willing to make substantial contributions.
Successful Phase 1 To Help Phase 2?  We would like to think that being successful with Phase 1 will help inspire larger donations for Phase 2.  However, with the failure to secure a Birkenfeld grant, we are now looking to major donors to help with Phase 1.
$340,000 Must Still Be Raised.  This past week a total of $2,000 came in in pledges, which helps, but still leaves us $340,000 still to be raised is a short time frame.
Three Weeks Till Escrow Start.  In order to close by the August 5, 2015 deadline, escrow must start 30 days in advance, which is July 6th, which means we have only 3 weeks to raise the remaining funds.
Kitsap Sun Article.  What a great article in the Kitpsap Sun on Friday by Rob Woutat!  Rob used to live in Illahee and so he knows the people and the issues.  His article helped explain where the term "The Lost Continent" came from and the name on the many signs throughout the area advertising TheLostContinent.org.  We have had several calls from the Sun article and a $500 pledge.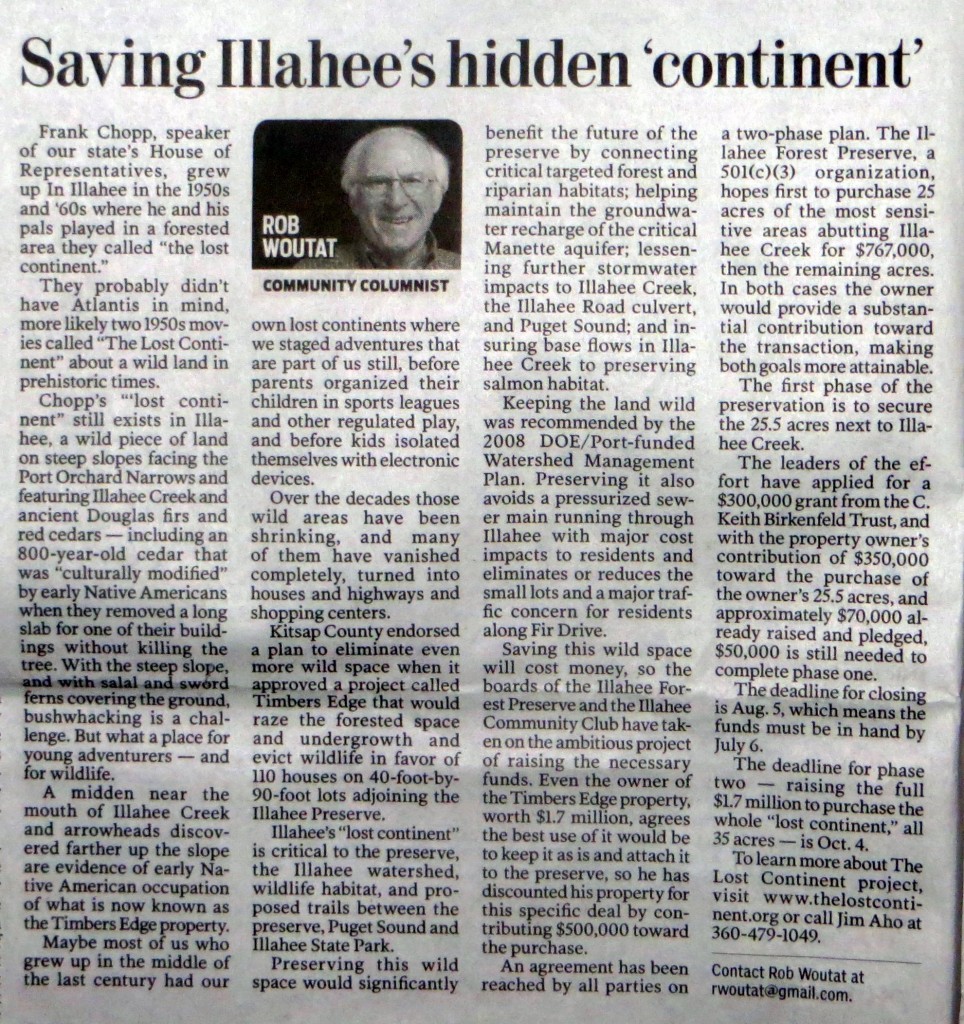 Help Urgently Needed!  We do need help from many to raise the last 45% or $340,000 of the funds for this first purchase.  We need to complete Phase 1 (25 acres) before we can even think about Phase 2 (the remaining 10.7 acres).   Below is the document we plan to distribute far and wide to garner support and the remaining funds.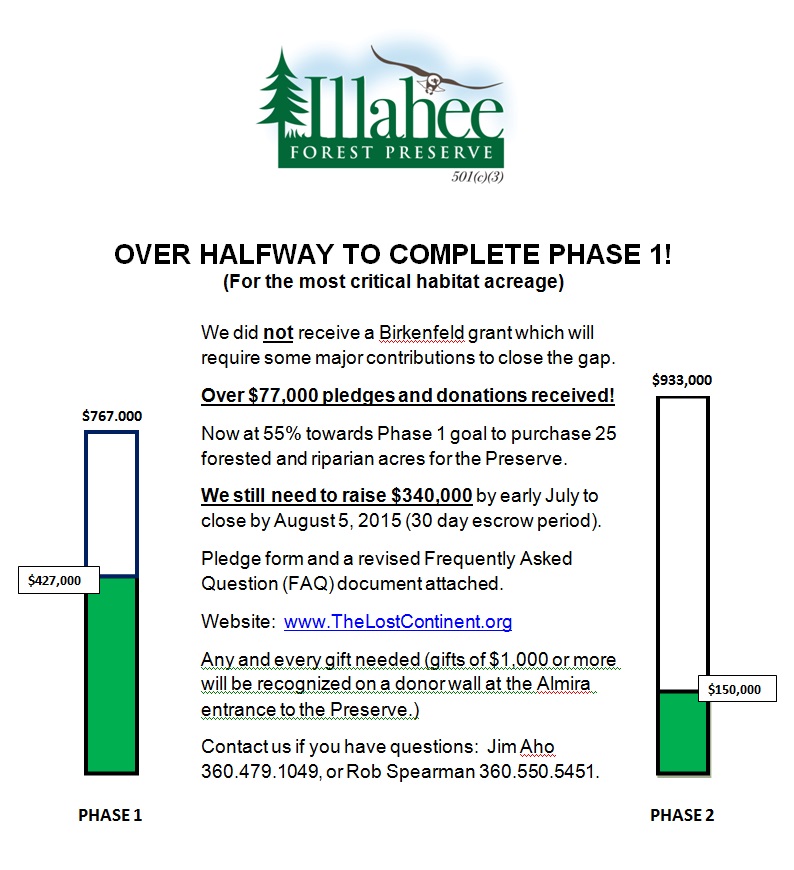 Jim Aho  

(I need to let readers know that I am not an impartial reporter of information regarding the TE purchase campaign.  I, along with others, have a considerable amount of time and money invested to see if we can make these purchases happen.)