Police Activity In Illahee?  Anyone going through Illahee on Wednesday evening found police cars almost lining Illahee Road.  We think nearly all of Bremerton's police cars, including unmarked ones were parked along Illahee Road from the community dock north.  We have tried to piece together what happened and this is our unofficial understanding.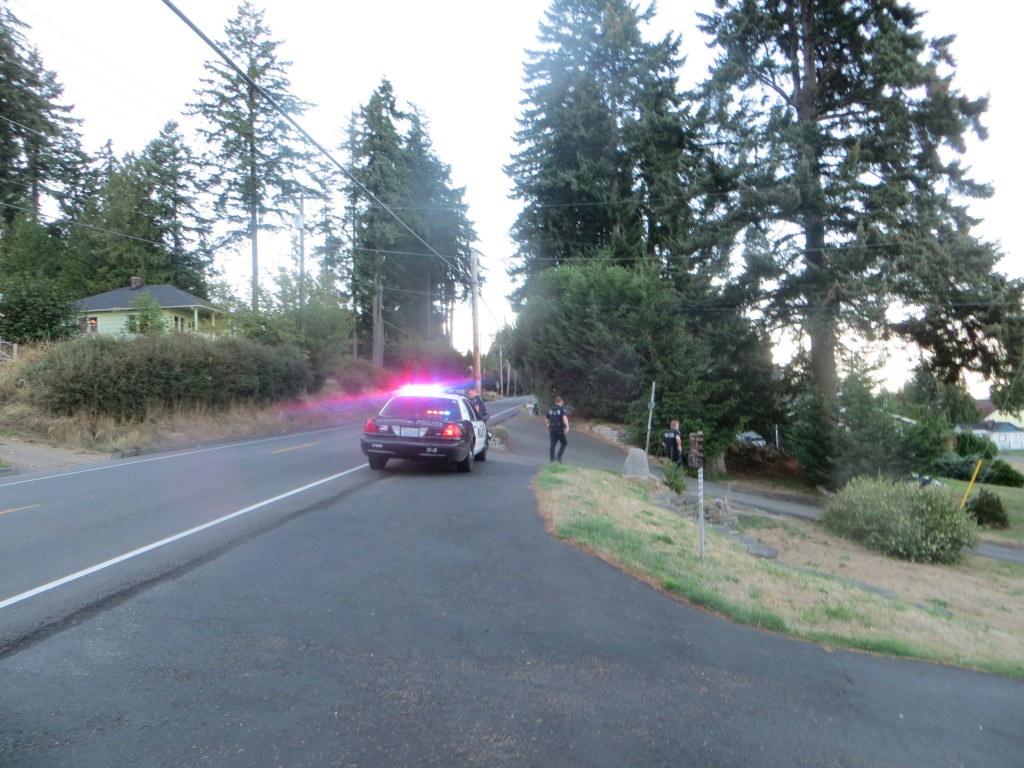 This is the only photo we got before being told to go inside.  Hopefully someone was able to get some photos and will forward them on for us to share. 
Police Chase.  Evidently a known drug dealer with several felonies, was being pursued by Bremerton police in the area of Sunset and then ended up on Illahee Road about two tenths of a mile north of the dock, where he abandoned his car.  We don't know where or what kind of car, or if it was stolen.

Suspect Flees On Foot.  What we did hear is he fled on foot and it appeared the police officers set up a perimeter containment area which is probably why there were so many officers involved.  They  told us a police dog was being brought in and we were told to go inside our house.
Police Dog Joins Search. It wasn't much longer when we heard the dog barking and shouting which we presume was the capture of the suspect.  
Suspect Hid Under House.  After things quieted down and the flashing lights were turned off we went out to see what information we could gather.  Seems the suspect was found hiding in an area under a yellow house when he was captured.  We know the house and it was a good hiding place that would have been difficult to find if it wasn't for the dog.
Thanks To Bremerton Police!  Thanks to the Bremerton Police Department for such a great presence and dedication to capturing the suspect.  We were impressed!
Thanks To Police Dog!  We also came away with a great appreciation for what a police dog can do in locating someone on the run and hiding in a very secluded and difficult area to search.
A Young Couple's Welcome To Illahee.  What a way to welcome a young couple who just moved here from Seattle to get away from the big city?  Luckily Pete had gone to pick up his wife at the ferry when all this happened so neither of them were home at the time.  We will get some photos of the hiding place on Thursday.  Wanted to get this out tonight as we have had phone calls already asking what was going on.