THE LOST CONTINENT – PHASE 2.  The following information was just printed up on Thursday (2/18/16) with the map on one side and the verbiage below on the other side.   We heard the TheLostContinent.org website was going to be updated over the weekend with this new information, but evidently they are having problems.  We decided this new information was too important to hold so here it is.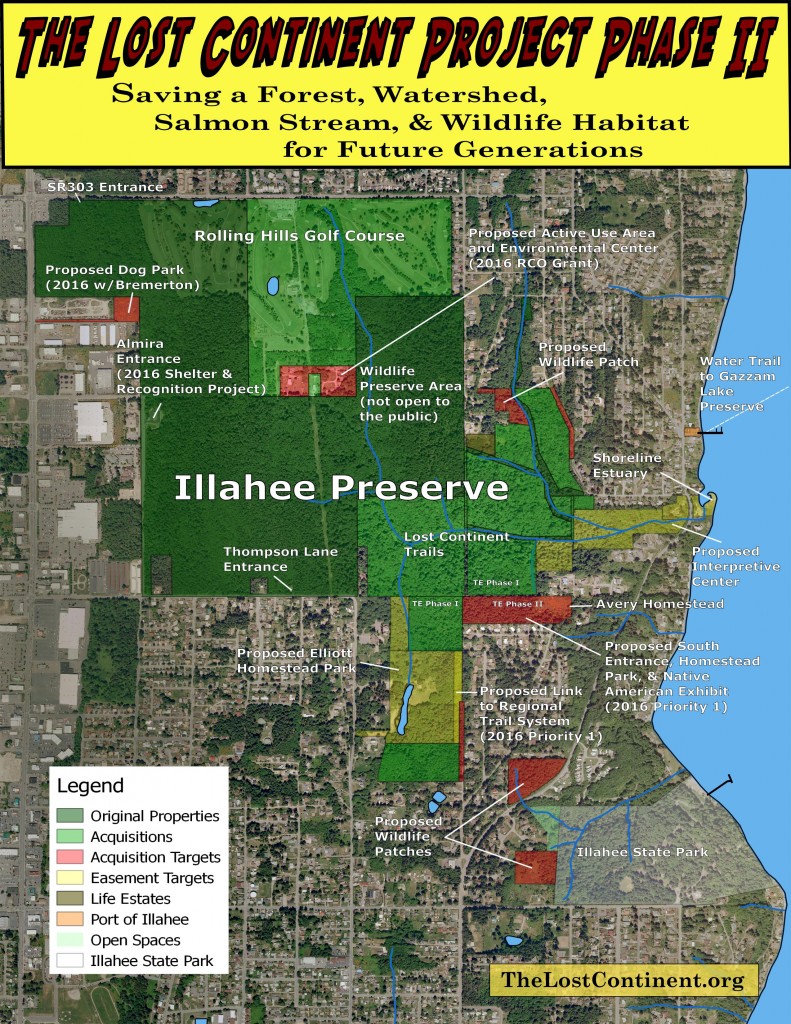 25.5 ACRES SAVED IN 2015!!!  25.5 acres of prime forest and salmon stream habitat were added to the Illahee Preserve in 2015.  Thanks to the donors who understood the importance of preserving an area so pristine and wild it has been called "The Lost Continent".
MORE PROPERTY TO BE ADDED IN 2016?   Acquisitions and associated plans are continuing:
2016   TE Phase 2 & Regional Trail Link (proposed donor, appropriation, capital campaign project)
2016  Central Active Use Area and Environmental Exhibit (proposed 2016 RCO grant)
2016  Wetland Buffer/Dog Park  (proposed Kitsap County/City of Bremerton project)
2016  Almira Shelter/Recognition Project (Rotary Club/Illahee Preserve project)
BEYOND 2016.  Contiguous estuary, stream, forested, park type properties, along with wildlife patches are being targeted for acquisition and/or conservation easements as funding becomes available.
The DREAM – MAJOR BENEFACTOR/S!!   The dream is for a ~ $5M to $7M benefactor/'s gift (with possible naming rights).  Since the 2001 purchase of ~ $4M, ~ $1M in 2004/5, $4M in 2011 (Rolling Hills), and ~ .5M in 2015, the Preserve's acquisitions/conservation easements goals are roughly two-thirds complete (see the green on the map).    Until a benefactor/s is found, properties like TE need to be acquired when they become available for purchase.
PRIORITY #1 – Finish TE Purchases and Regional Trail Link.  An options agreement to purchase the remaining 10.7 acres of the Timbers Edge development has been signed.  The purchase price is $933K with the property owner contributing $150K for a purchase price of $783K plus an $11,745 extension fee, which is under the appraised value of $870K. The deadline for purchase is May 15, 2016.  This is an ambitious task and will require help — major benefactor/s, an appropriation, and large gifts, or combination thereof.
$50,000 MINIMUM NEEDED FOR TE.  At a bare minimum, should requested funding come through for Timbers Edge, $50,000 needs to be raised by April 15, 2016 (to meet the May 15 closing), and even more for the other 2016 acquisitions.  (Note last year's successful TE purchase resulted in $265K of matching funds towards a 2016 State Recreation and Conservation Office (RCO) grant.)
HOW TO CONTRIBUTE.  Contributions, large or small, can be made to the Kitsap Community Foundation's (KCF) Lost Continent fund and mailed to: PO Box 3670, Silverdale, WA 98383, or online by credit card at the KCF website (credit card fees are applied):  http://tinyurl.com/nksr6lp
PLEDGES.   Pledges of $500 or more can be sent to:  Illahee Forest Preserve (IFP), 6253 East Blvd NE, Bremerton, WA 98311.  Both KCF and IFP are 501(c)3 nonprofits and donations may be tax deductible as allowed by law.  For more information visit: TheLostContinent.org or call (360) 479-1049.
Community Meeting Reminder.  Next Monday (2/29/16) at 6:30 pm there will be a community meeting at the Sylvan Way library to discuss what can be done about the sad state of the Illahee Store.
Jim Aho