State Park Dock.  We saw the boat hauling a long dock passing through Illahee and wondered where it was going.  Seems it was going the Illahee State Park, thanks to Dennis who sent us the following photos: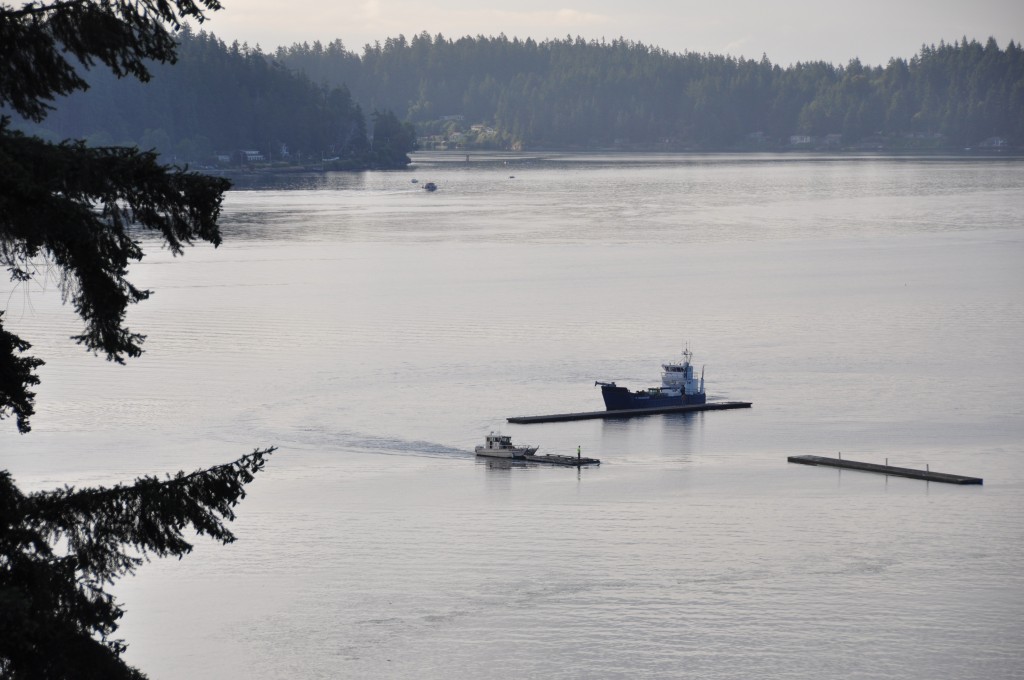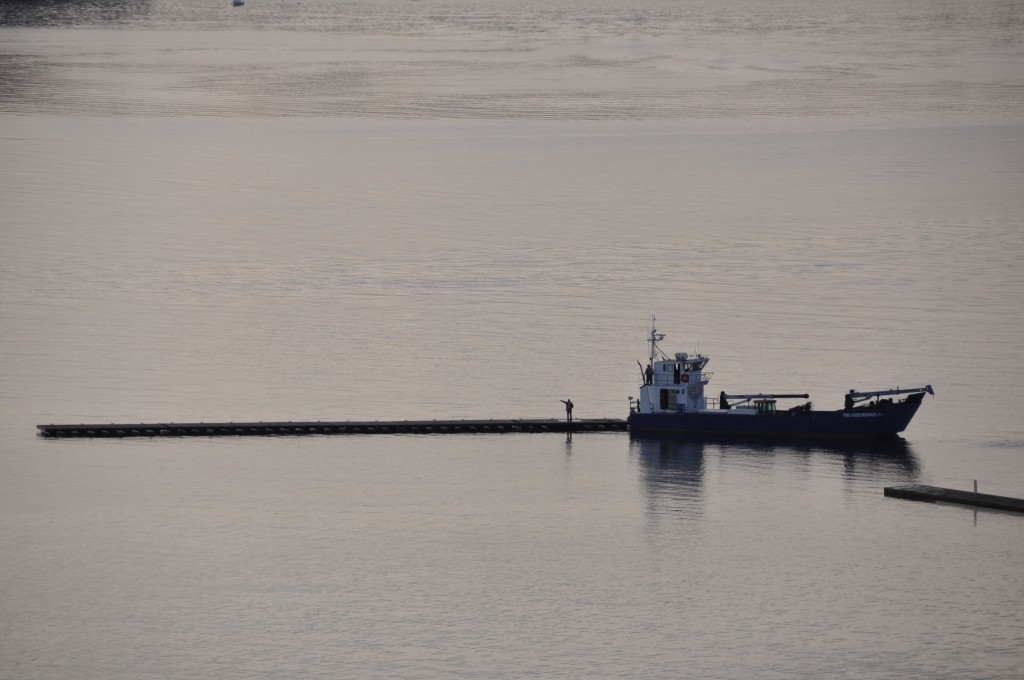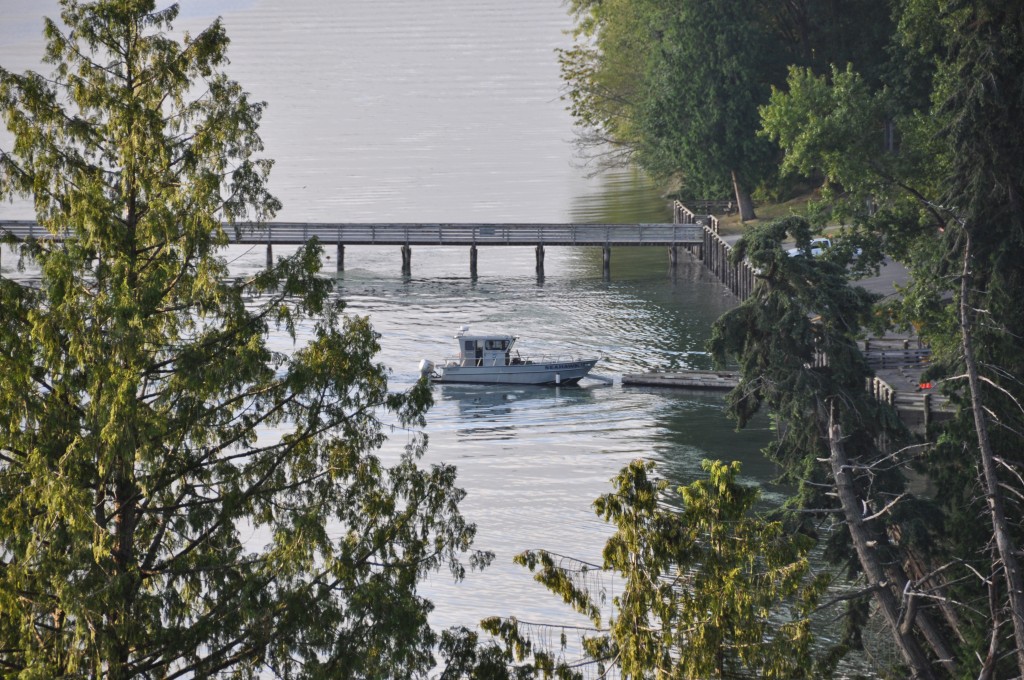 Rabbit.  This is the first rabbit we've seen in Illahee.  Thanks to George for passing the photo on.  When we lived in Seaford, Virginia we needed a 2 foot high fence around the garden to keep the rabbits out.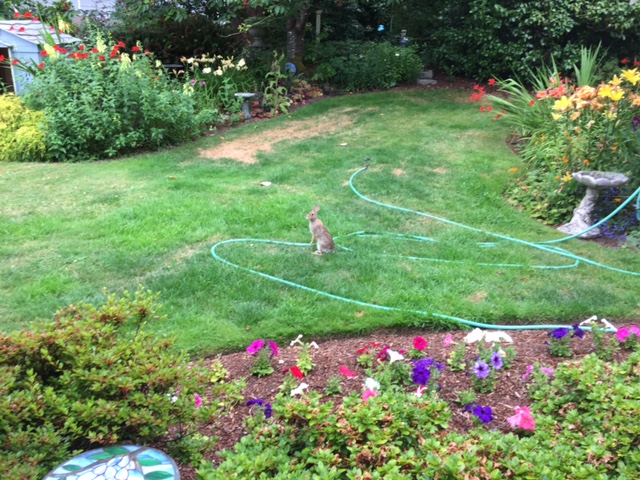 Illahee Facebook Page.  We forgot there was an Illahee Community Facebook page until we received the following: 
One of our members on the Illahee Community Facebook page reported that there were some vehicle break-ins in the vicinity of Rest Pl and Wise St.  There also have been reports of what appears to homeless in the area seen coming from and going into the woods (Preserve) off both Sunset and Rest.  Not sure if they are camping out there or not.
Sunset Homeless Check.  Whenever a homeless report is received it is responded to quickly and all that was discovered were some trails with some read painted markings and some great scenery.  Homeless are not allowed in the Preserve for a number of reason with fire being the main one as local fire departments are not equipped to fight a forest fire.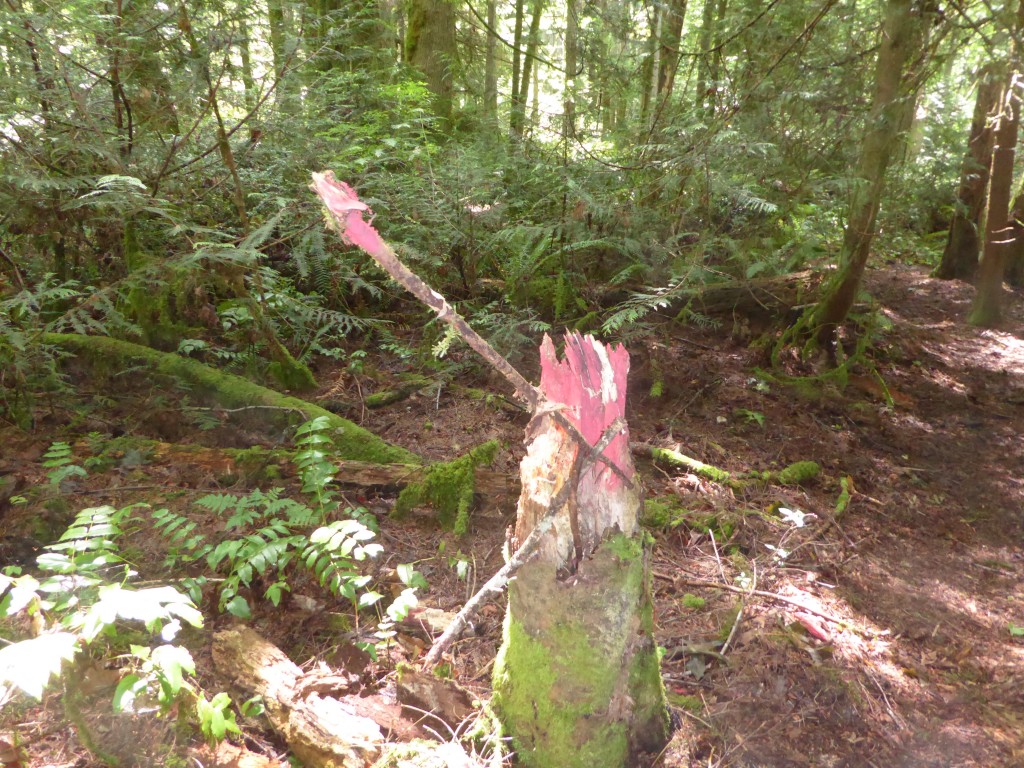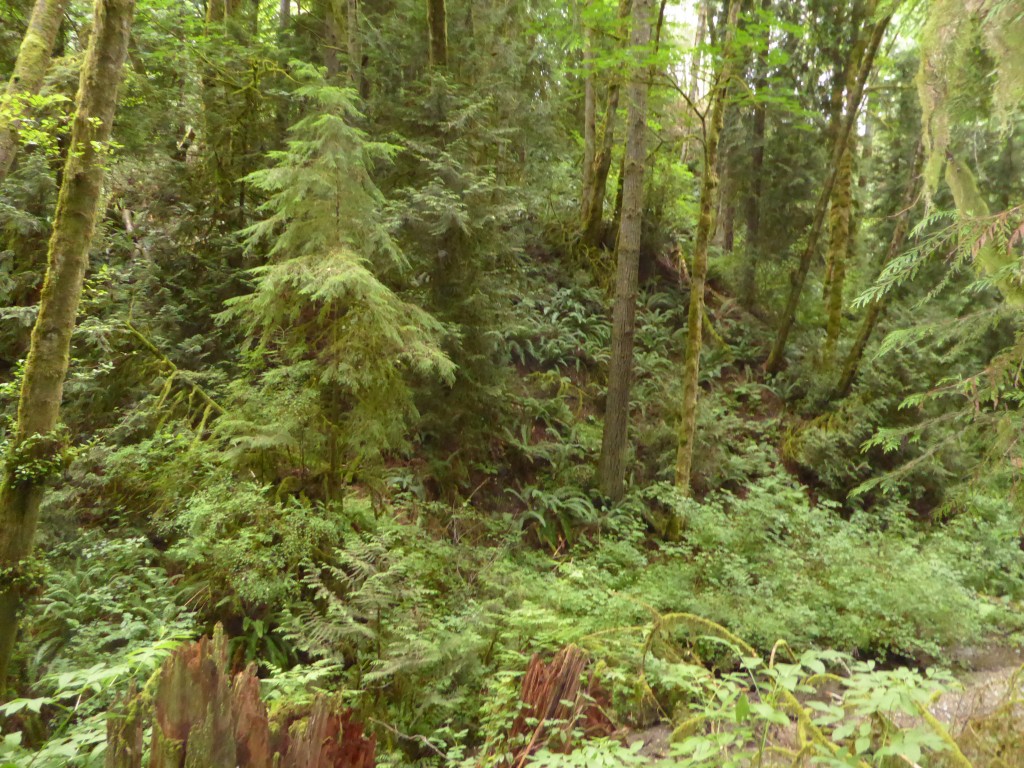 Opossum Article.  Most people who receive the Kitsap Sun remember the front page photo of the opossums on June 30th.  What they don't know is that they first wanted to release them in the Illahee Preserve.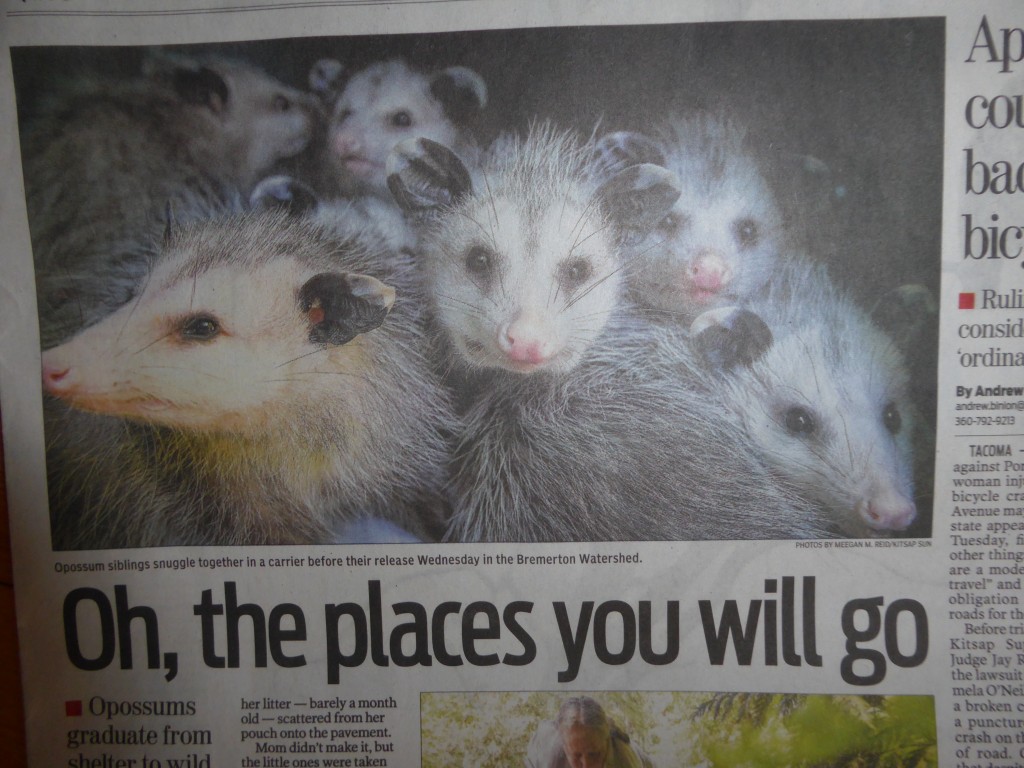 Preserve Response.  The response from the Illahee Preserve was opossums should not be released in a nature preserve.  Opossums are not native to the area and according to wildlife biologists out compete other mammals for food and are also impacting ground nesting birds.  Just like non-native plants, non-native species are not wanted in the Preserve, which is a designated wildlife habitat conservation area.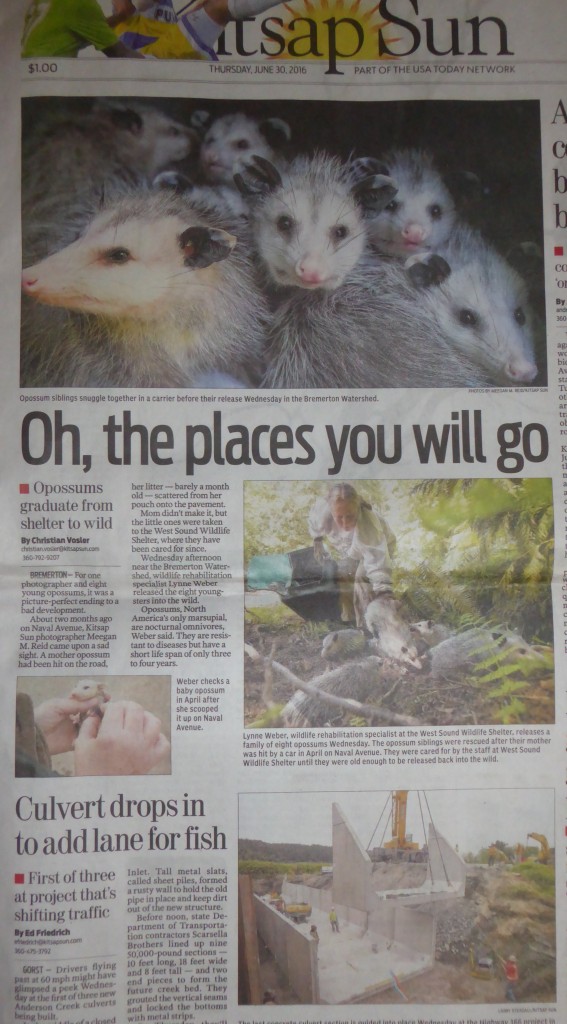 Similar Response.  The Preserve opossum responders were happy to see the following letter to the editor that appeared in the Kitsap Sun on Friday (7/8/16):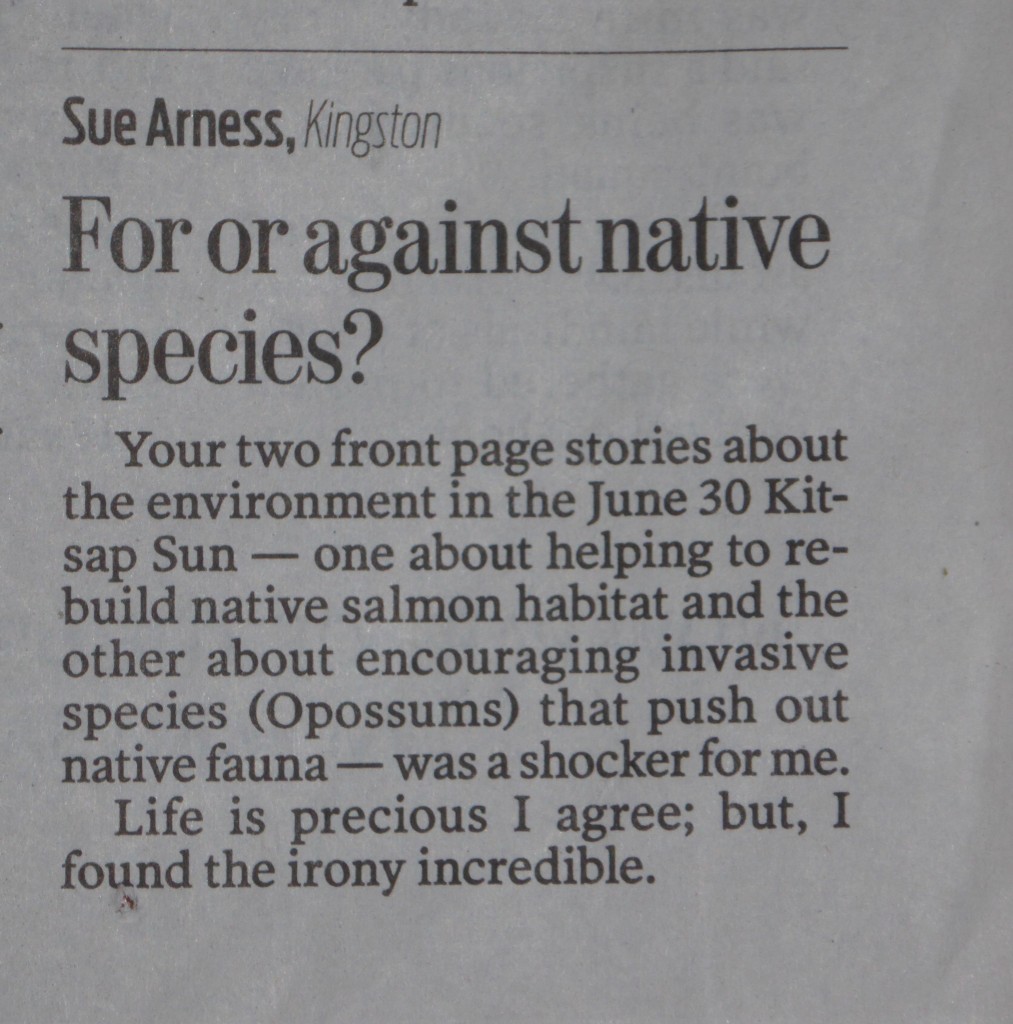 Illahee Store.  Thanks to those who responded to be part of a group advocating for the purchase of the Illahee Store.  We heard a local grant trust was contacted last week about the possibility of submitting a grant to help purchase and renovate the store to a community center, but found it wasn't a good fit and nothing happened.  The group is looking for someone to help look for other grants.  Below are some excepts from the grant request letter.
The Illahee Community is looking to obtain a building, that may soon be available, for a Community Center.  
Illahee is a long time recognized community in Kitsap County and is celebrating its 100 year anniversary this year.
We just found out the former quick stop food store, located in the center of the community, that has been vacant for years, may be going up for auction at a sheriff's sale at a date yet to be determined.
The location is ideal for a community center as is the size of the building.  Because of this we are looking into what it would take to purchase it.  
Since the building has been vacant it will need some work, but not that much since it was built in the 1970's and is primarily concrete block construction.  The biggest issue currently is a hole in the roof where someone removed an air conditioner unit, likely for salvage of the metal.
Port Meeting on Wednesday.  A reminder that the Port of Illahee meets at 5 pm on Wednesday (7/13/16).  Port information is available at their website:  portofillahee.com