Preserve/Storage Facility Questions.  In the previous update wetland and SEPA appeal issues were discussed but evidently nothing about the Storage Facility that is planned for the site which is bordered by the Illahee Preserve on two sides (north and east).  Plans call for three (3 story) storage buildings, an office and residence on the 3 acre parcel.  More information is available in the Staff Report:   http://www.kitsapgov.com/dcd/lu_env/he/reports/cy2016/he-sr-05-27232.pdf.  We have copied the front page of it below.
Location.  Also copied from the Staff Report is the location.

Plans.  Again from the Staff Report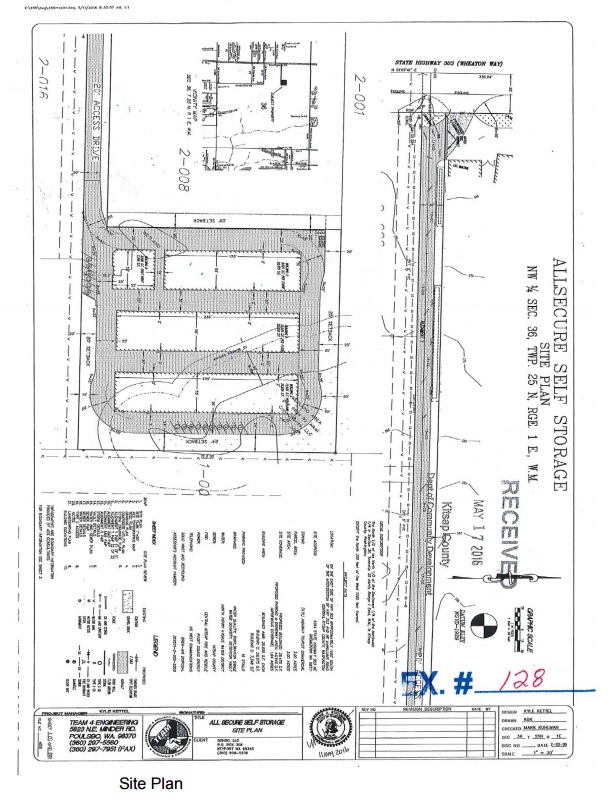 Wetlands.  And lastly from the Staff Report, is a wetland diagram, which shows a "Hydrologic Break" that the Illahee Preserve folks dispute.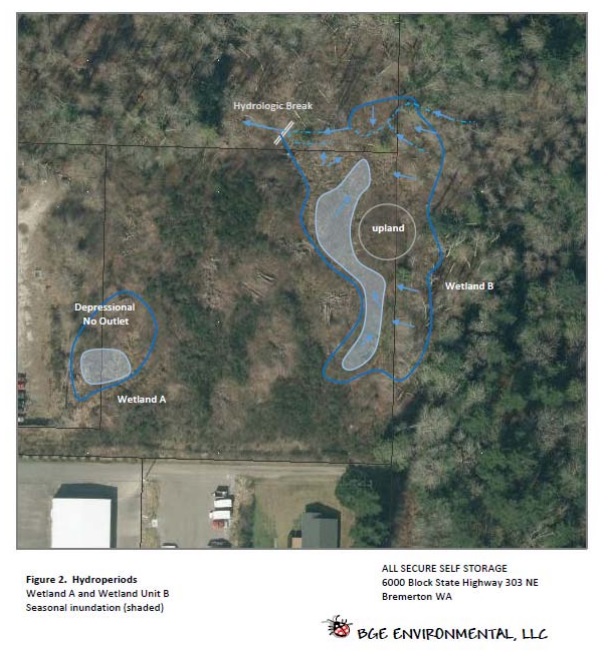 Tuesday Site Visit.  On Tuesday (9/6/16) eleven people toured the project site and the wetlands that continued on in the Illahee Preserve.  Those attending included:  Representing Kitsap County (Heacock & Smith); the applicant's attorney, wetland expert, and engineer (Hansen, Myers, & Kuhlman); DFW (Gordon); Suquamish Tribe (O'Sullivan); the Illahee Forest Preserve's attorney and wetland specialist's (Vancil, Cooke, & Stricklin), and Illahee Preserve (Aho).
Wednesday Exhibit List.  Following the site visit was another deadline as hearing exhibits need to be in by 2 pm on Wednesday (9/7/16).
Thursday Hearing.  The hearing is scheduled for 11 am on Thursday (9/8/16) for the SEPA appeal and the Site Plan Review of the Storage Facility.
7 Day Open Record.  Notice of the hearing arrived Tuesday (9/6/16) in the mail boxes of those who filed the SEPA appeal and as interested parties.  The notice stated the record of the hearing will remain open for 7 days following the hearing for those who want to comment.  We presume both written and verbal comments can also be presented at the hearing.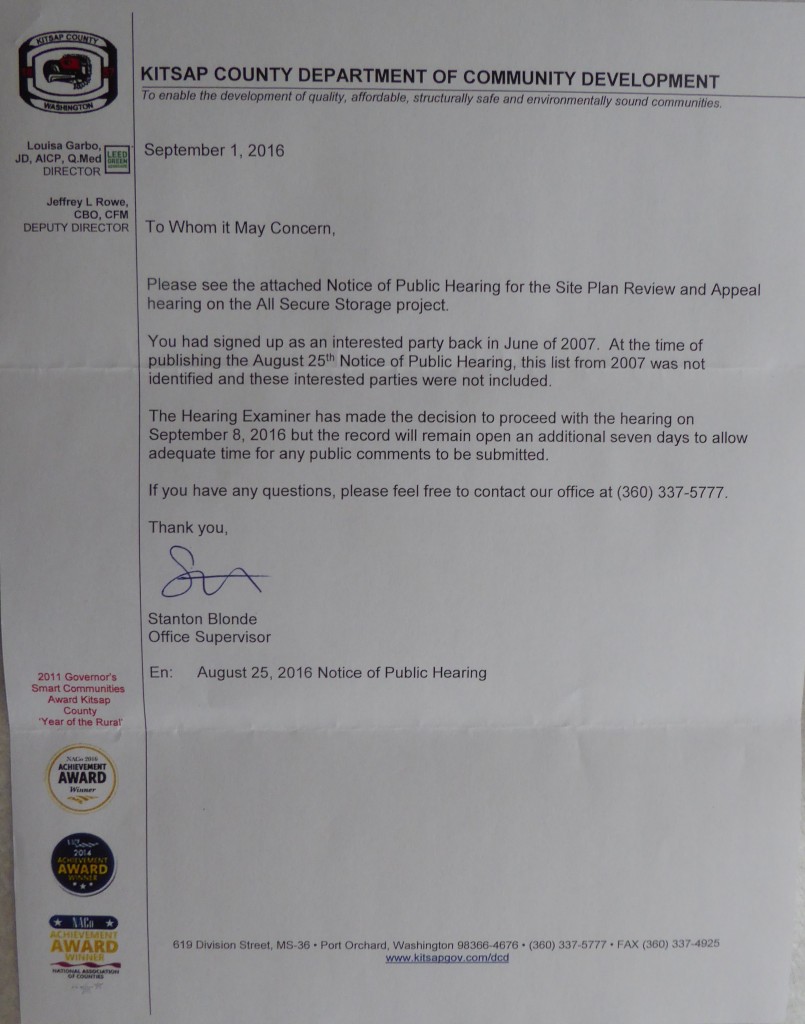 More Questions Than Answers.  Even as we try to follow this closely we have more questions than answers, so if that is your situation, we understand.
Hearing Attendance.  We would encourage attendance at the hearing and hope some of those questions will be answered.