Friday Work Party.  Another major work party at the Illahee Preserve with about 65 participants happened on Friday, March 17, with volunteers showing up from 7 am and departing after 4 pm.  For all day events with the Washington Youth Academy (WYA) require a Port-a-Potty which is provided for by Jim Fox of Cool Car Classics.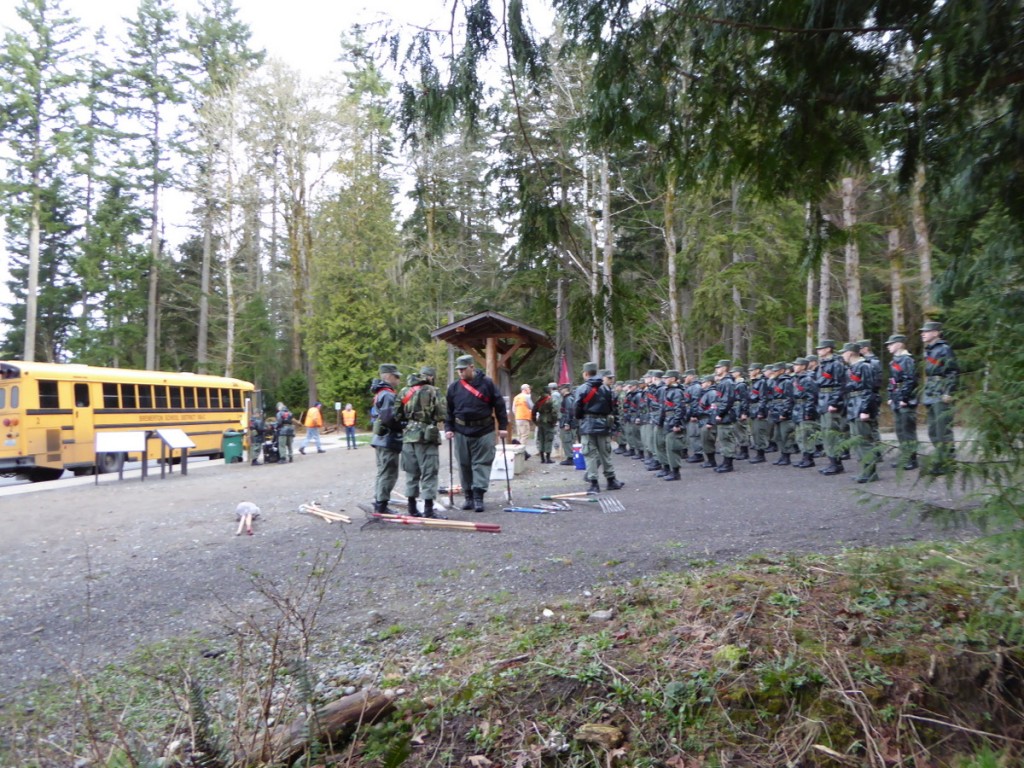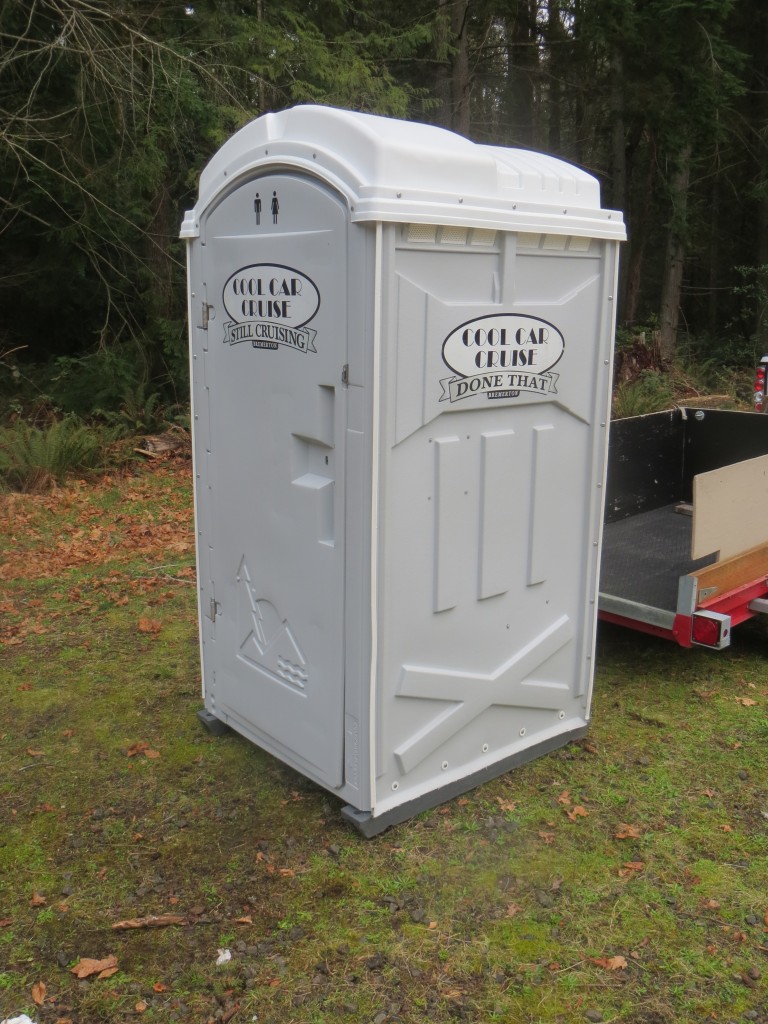 Rotary Sponsored.  Work parties with the WYA are sponsored by the Rotary Club of East Bremerton, who has adopted the Illahee Preserve as one of its service projects and coordinates major events like these.  We decided to cover this work party 'by the numbers'.

45 Wheelbarrows.  Wheelbarrows are a logistical item that has been solved by the Rotary and United Storage, with a Go-Mini Container holding about 30 wheelbarrows and tools.  These are complimented by 8 more from the Park's Department's Volunteer Coordinator and her trailer, and another like amount from Rotary members who drop them off the day of the work party, as shown in the photo.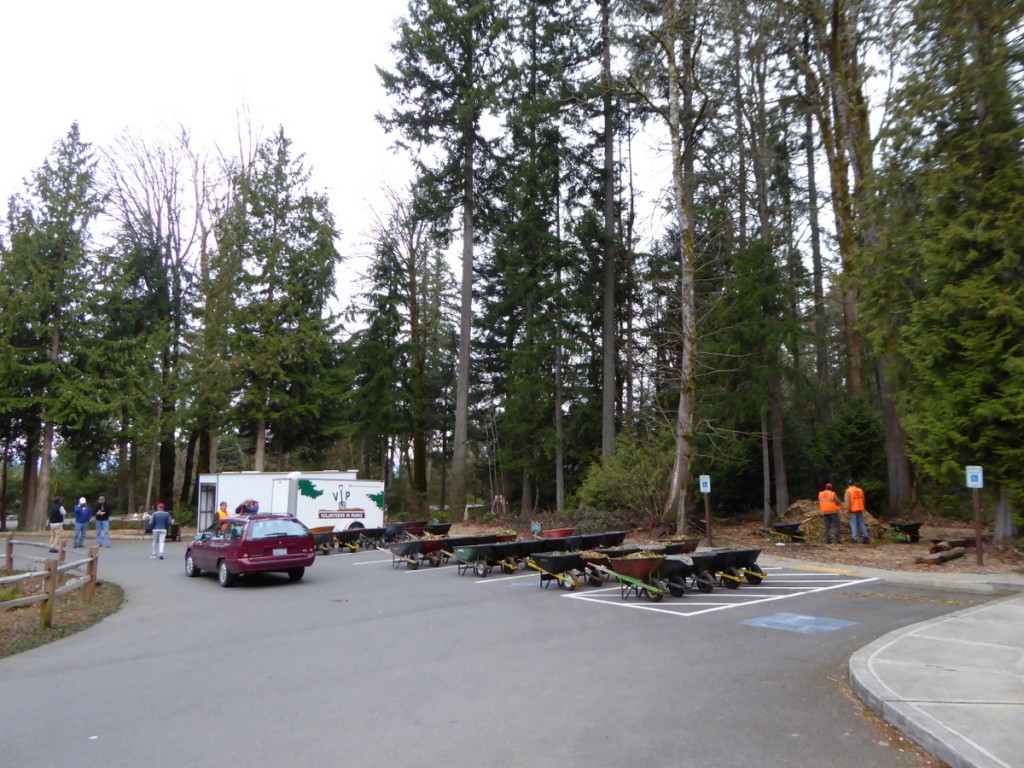 50 WYA Cadets.  Around 8:45 am the bus shows up with between 50-55 cadets.  Friday there were 50 cadets plus their supervisors.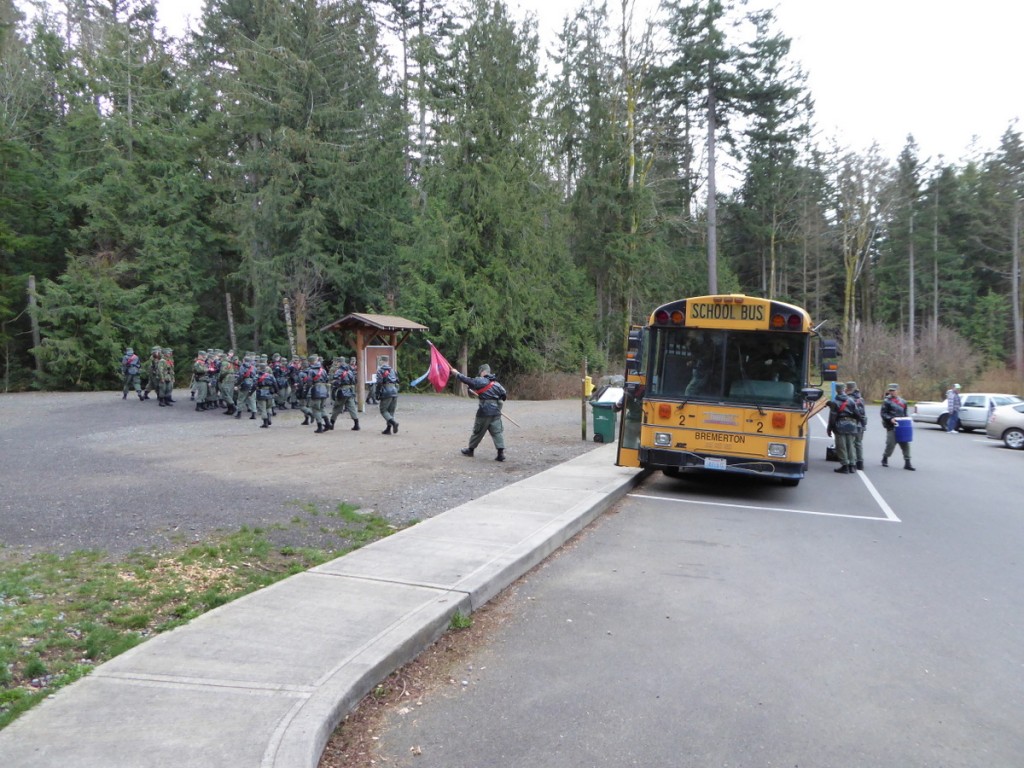 8 Wood Chip Piles on Trails.  There were roughly 8 large wood chip piles located at various spots around the Preserve, that were dispersed to the trails, primarily along the trails west of Thompson Lane.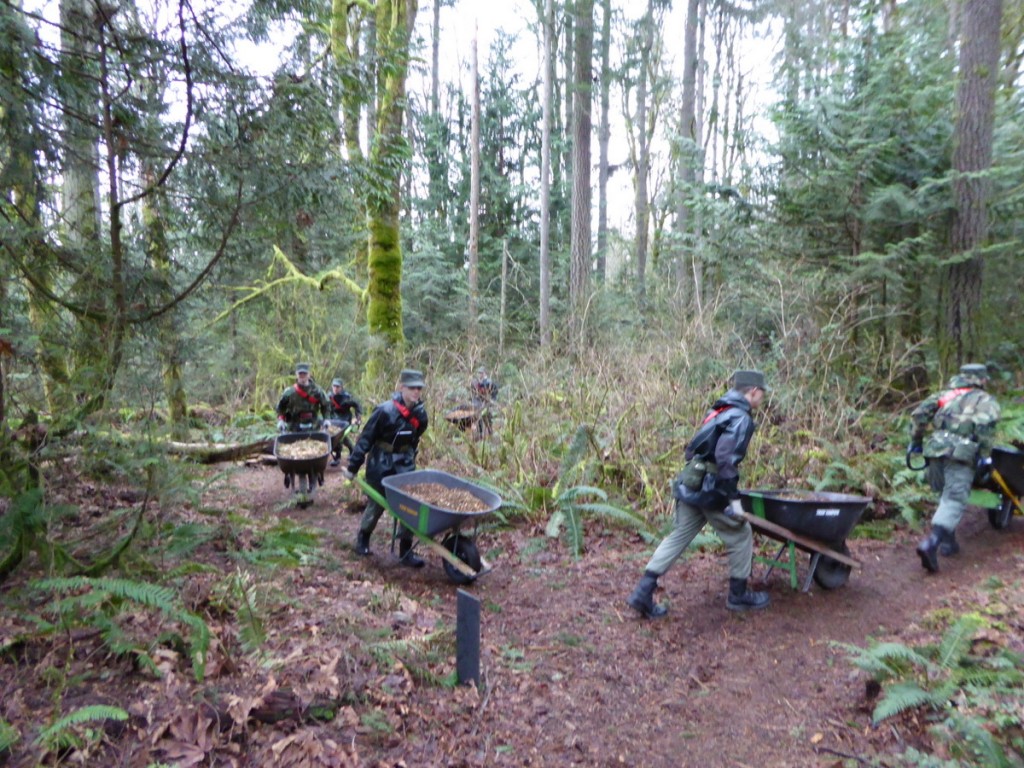 30 Minute Lunch.  After parking their wheelbarrows it was time for short lunch break for the cadets and for those guiding the work.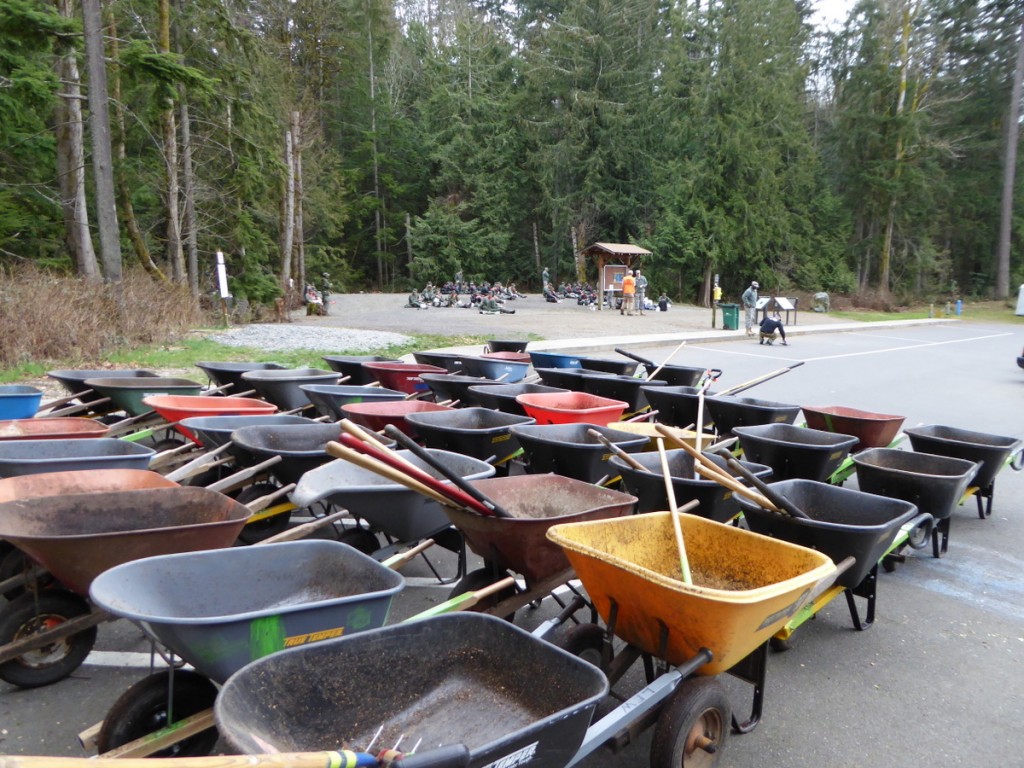 1 Drone Coverage.  We had drone coverage of the work party and an opportunity to view the drone during lunch.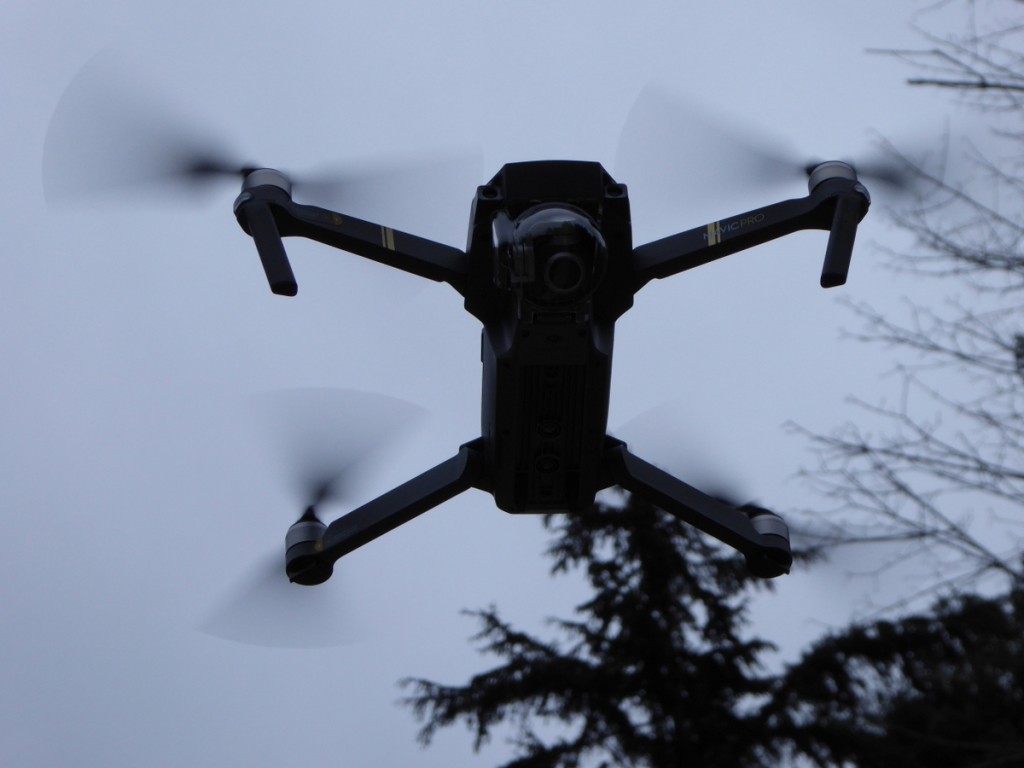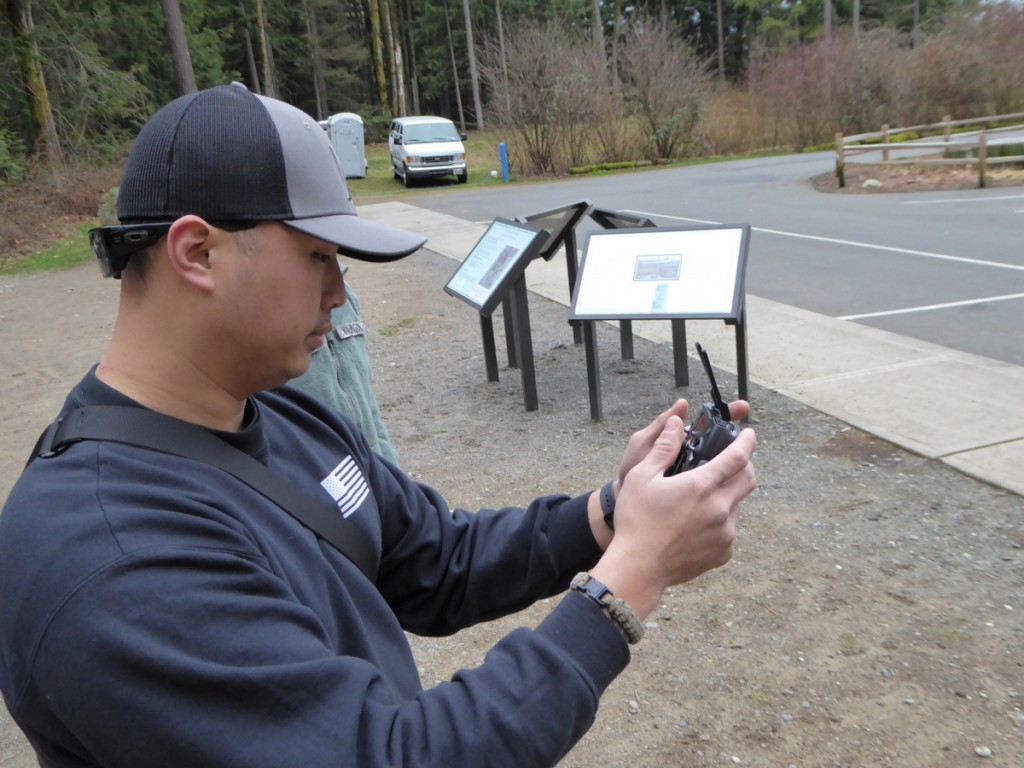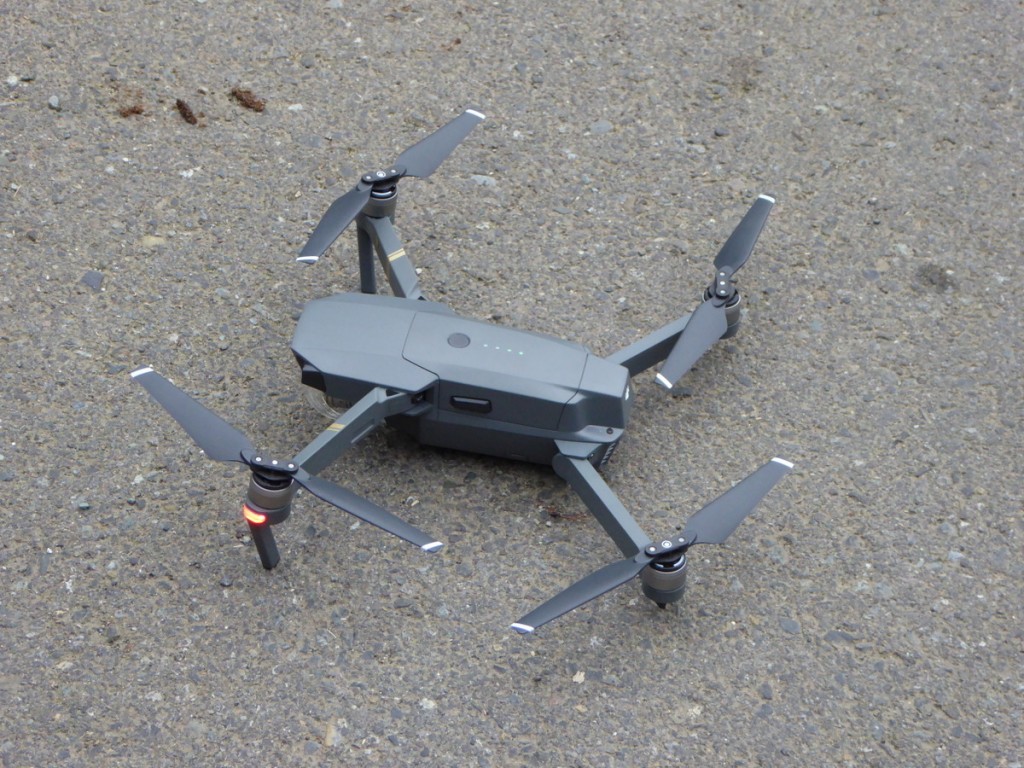 9 Volunteer Supervisors.  Thanks to Ceci for making sandwiches for the guys in the orange vests!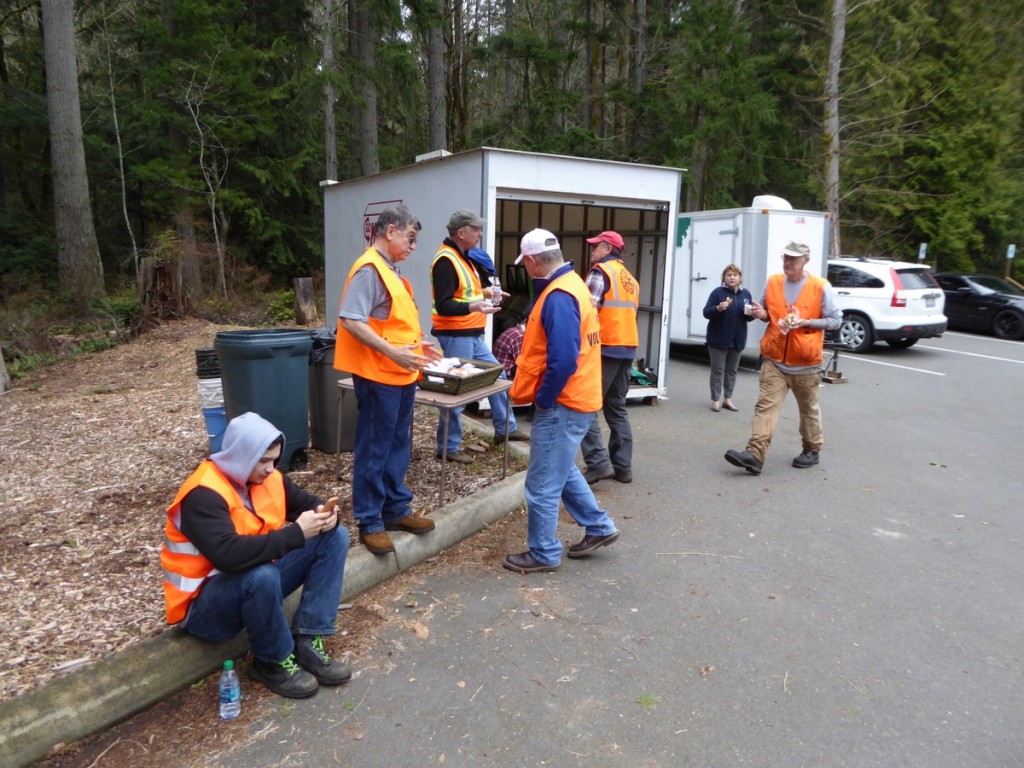 10 Cadet Scotch Broom Detail.  When the chips were distributed other tasks were assigned and this group went after the Scotch broom (a noxious invasive plant in WA) in Compass Circle.  With so many deer in the Preserve a meadow area has been maintained.  There was evidence the deer had been eating the Scotch broom, but still the plants were gaining on the area, so it was time to remove them.  Some of the cadets decided to go after the larger and more difficult to remove plants, and in every case succeeded, as in this situation.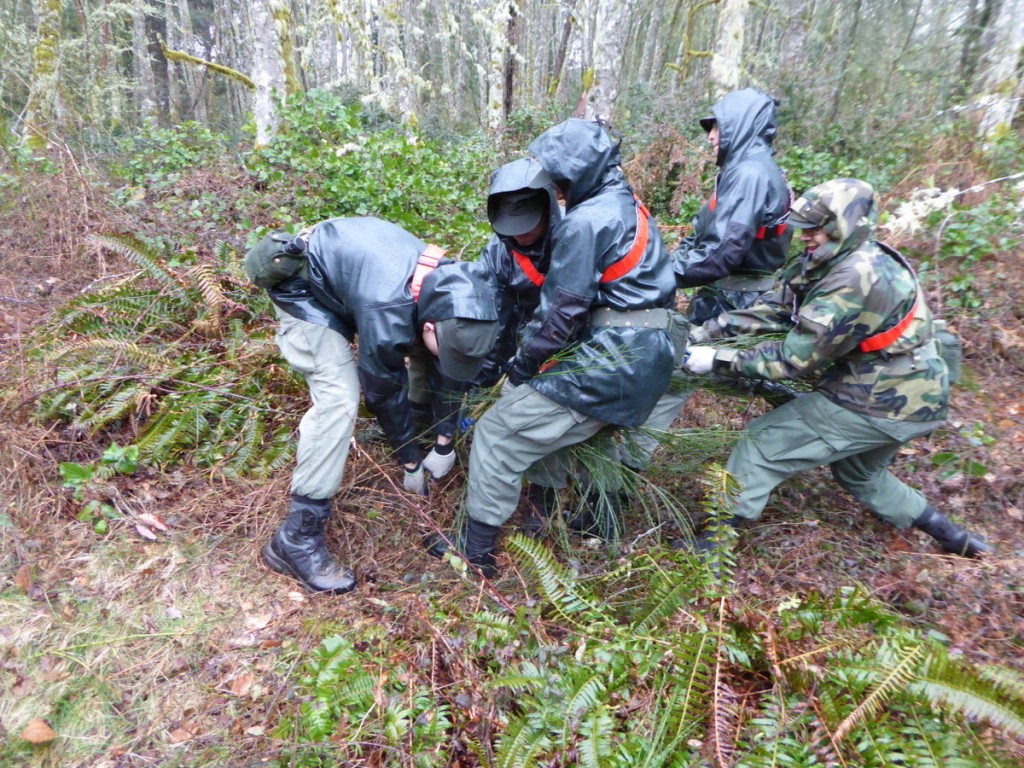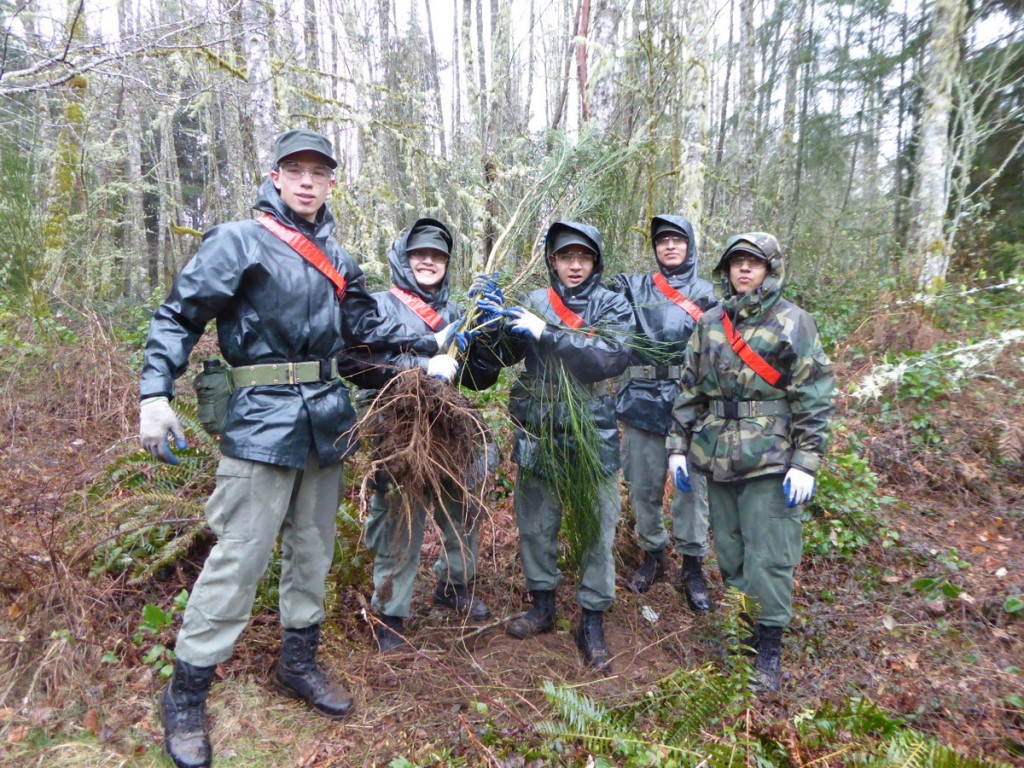 10 Wheelbarrows Loaded.  The task was well estimated as the cadets filled 10 wheelbarrows with the broom.  Without these 10 cadets and the other 40 cadets working on other projects, the Preserve would not be the treasure it is.  Thanks to the WYA, the Rotary Club of East Bremerton, and the Park Stewards!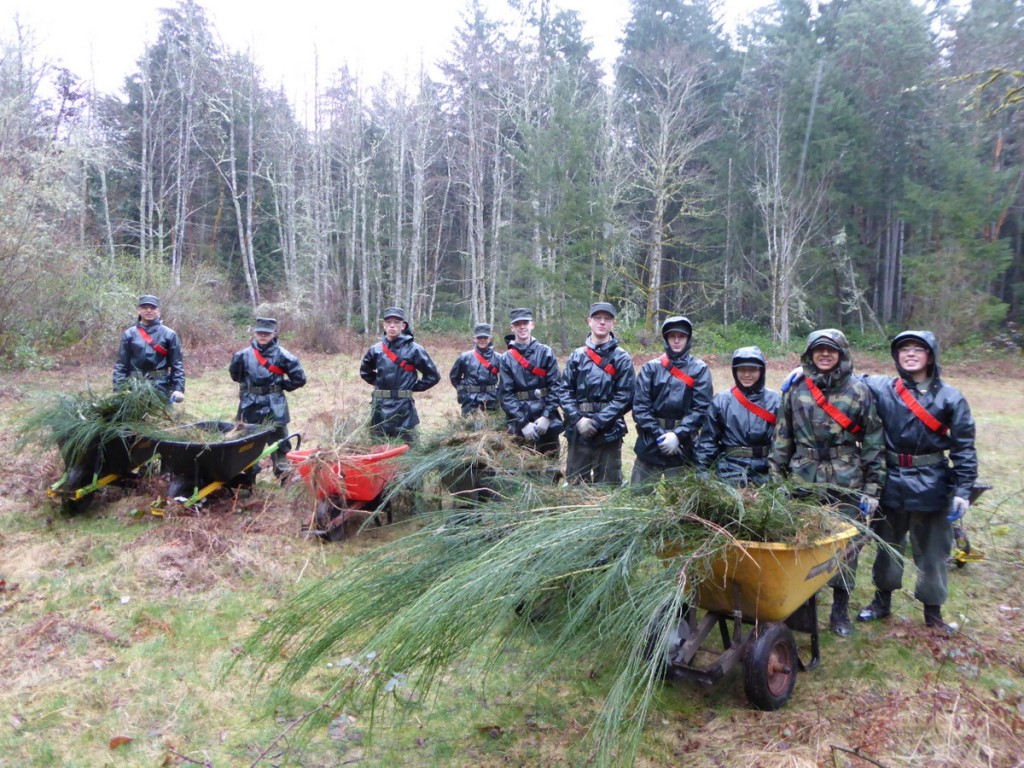 5 Trails Enhanced.  Below are two photos taken on Saturday to show what the enhanced trails looked like.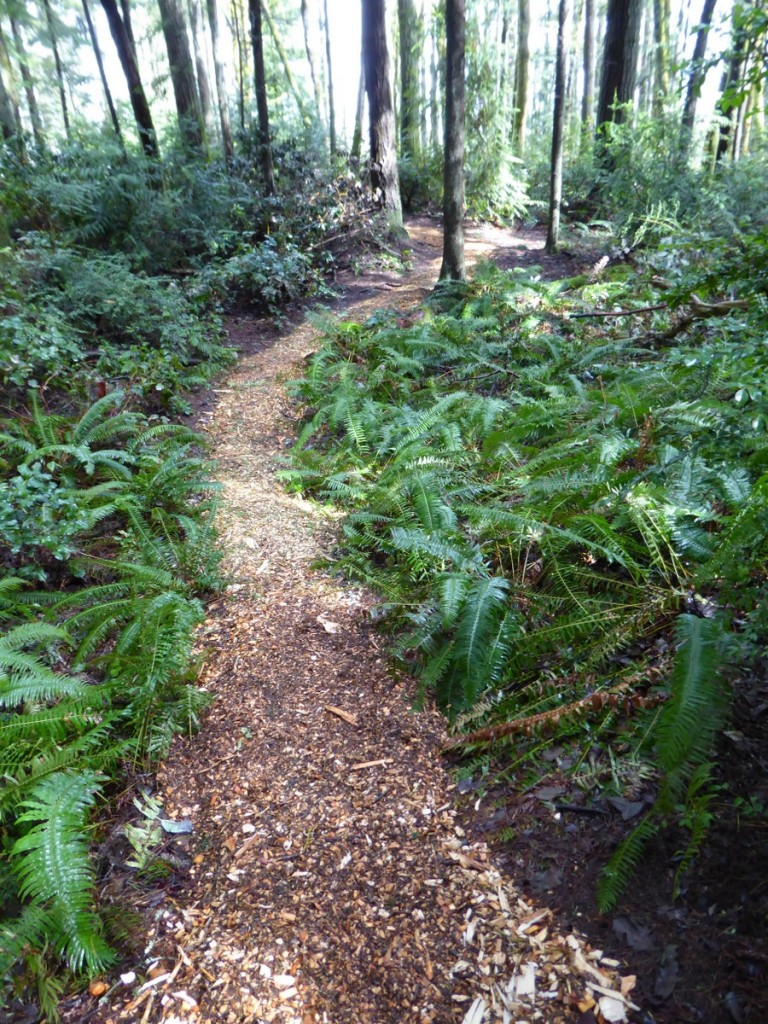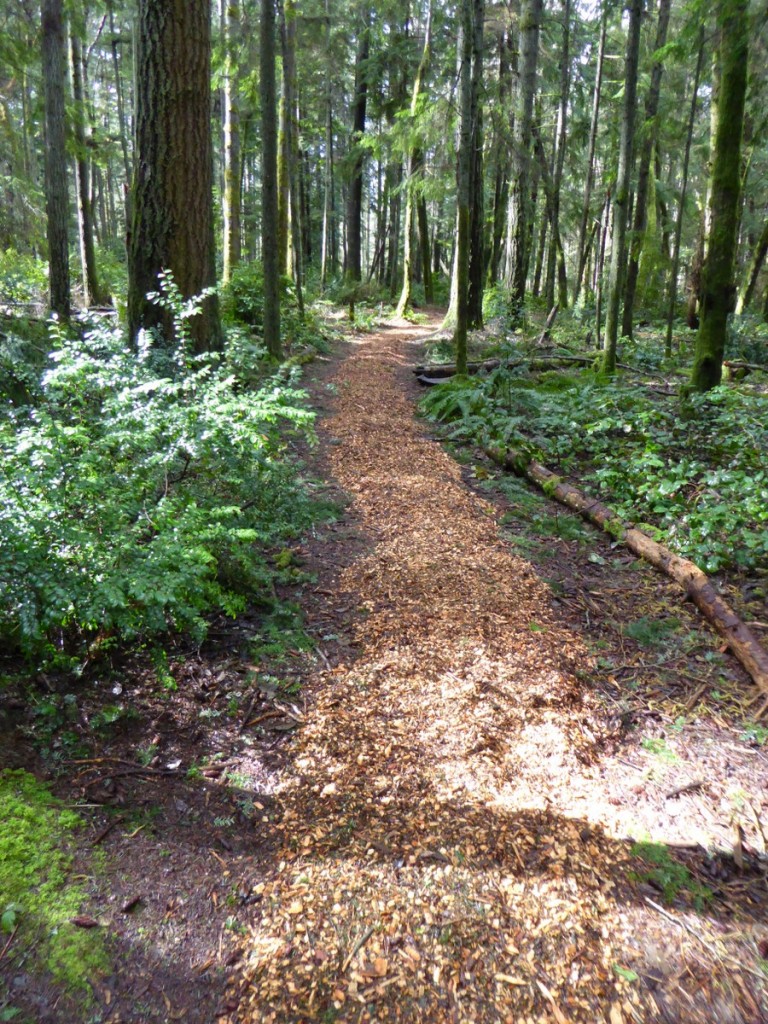 400 Hours Expended.  Over 400 volunteer hours were expended on Friday by all concerned, not to mention all the preparation time getting ready, which is why the Illahee Preserve is reported to have some of the best forest trails in the county.