Work Party Report.  Last Friday (8/25) Washington Youth Academy (WYA) cadets, 54 of them, descended on the Illahee Preserve to assist Rotary and Stewardship volunteers, 9 of them, with a variety of tasks.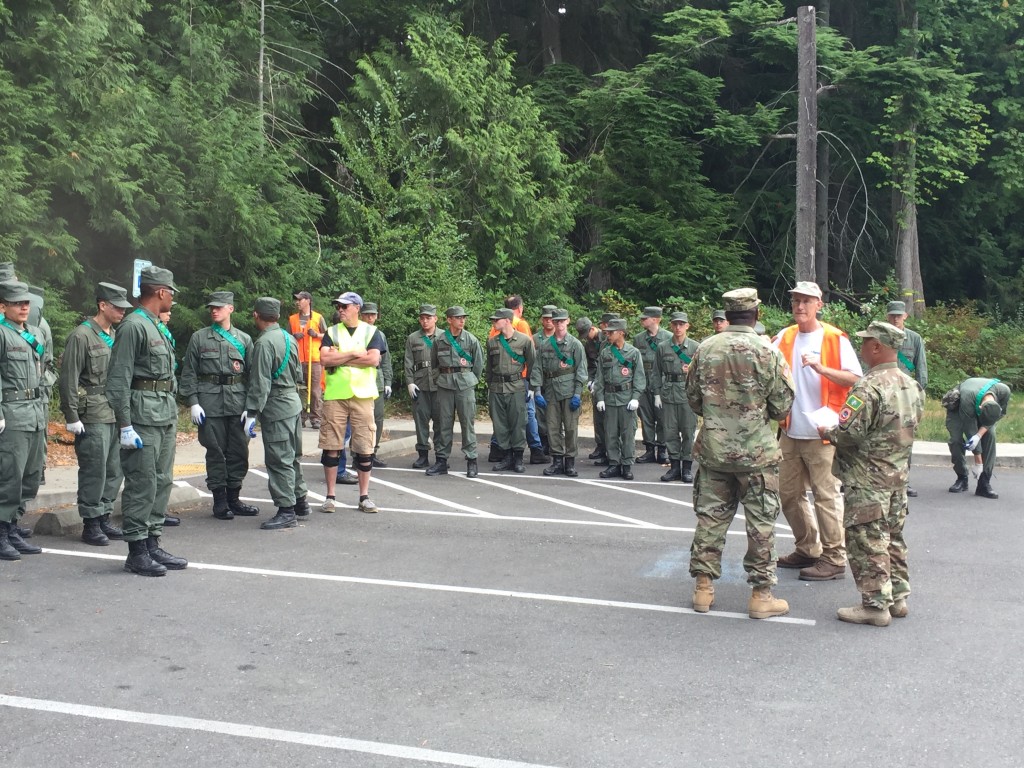 Trails.  Trail work, consisting mainly of keeping 30 wheelbarrows loaded with chips moving a half mile to the Hall of Cedar's trail.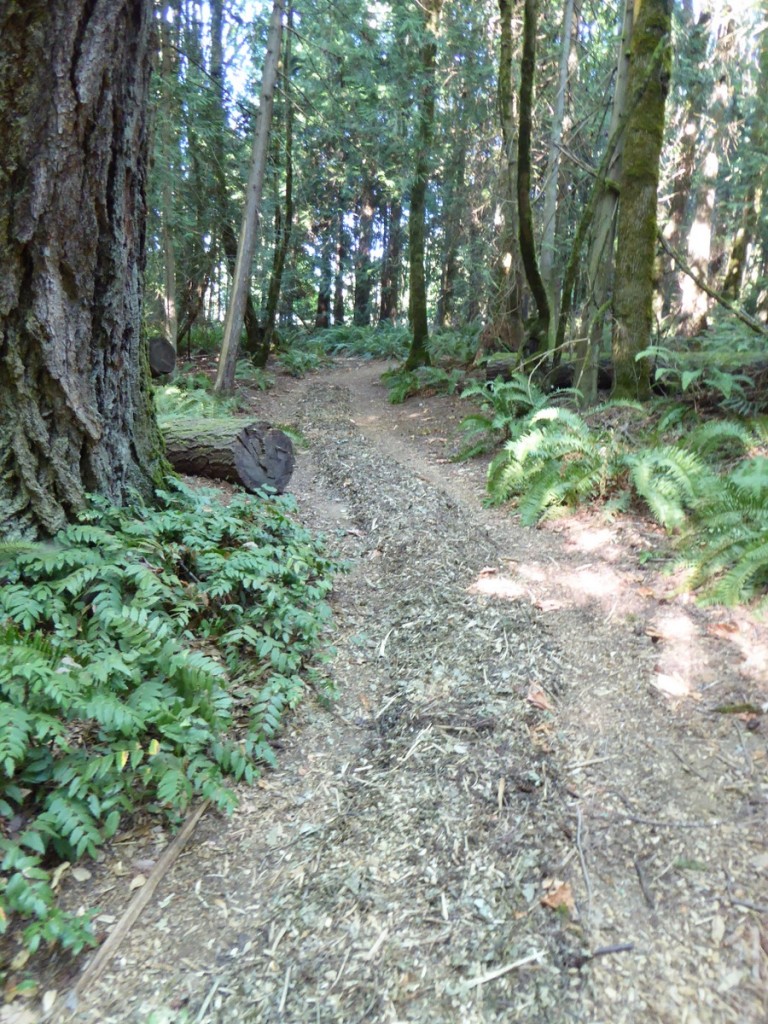 Noxious Weeds.  Noxious weeds in the Preserve are unwelcome and every attempt is made to remove them. Scotch broom was removed from the Compass Circle meadow area, along with Himalayan blackberries.  Thistle is a particularly nasty weed and while a small patch was removed at the end of Thompson Lane, the powerline has a large infestration that will need to be controlled in 2018.  Tansy Ragwort is more of a pasture type of plant that was found on recently aquired property at the end of Thompson Lane.  If cattle or horses ingest it it causes irreversible liver damage.  Tansy was bagged and will be brought to a landfill.  Knotweed is another nasty weed under the powerline that needs to be controlled and will require more attention. 
English Holly.  English holly, is not a noxious weed but rather a weed or bush of concern, that grows amongst the forest canopy and is particularly troublesome in that cutting those too large to pull up results in new shoots coming from all around the stump, sometimes in a radius as far a 20 feet away, creating a bigger problem than a single plant.  The goal is to find them when they are small and can be pulled up and hung by their roots so they will die, as can be seen in this photo.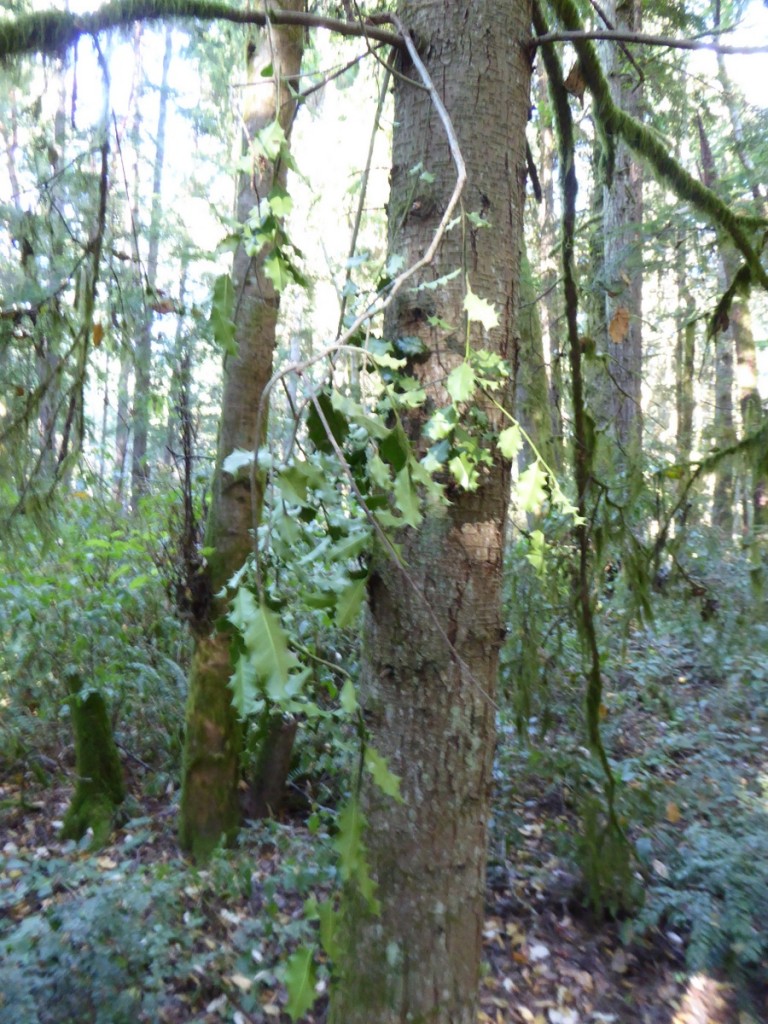 Another use of English holly is for blockage of rogue trails and paths to illegal homeless camps, which is what is being done with these that were pulled along Almira to a recently removed camp site.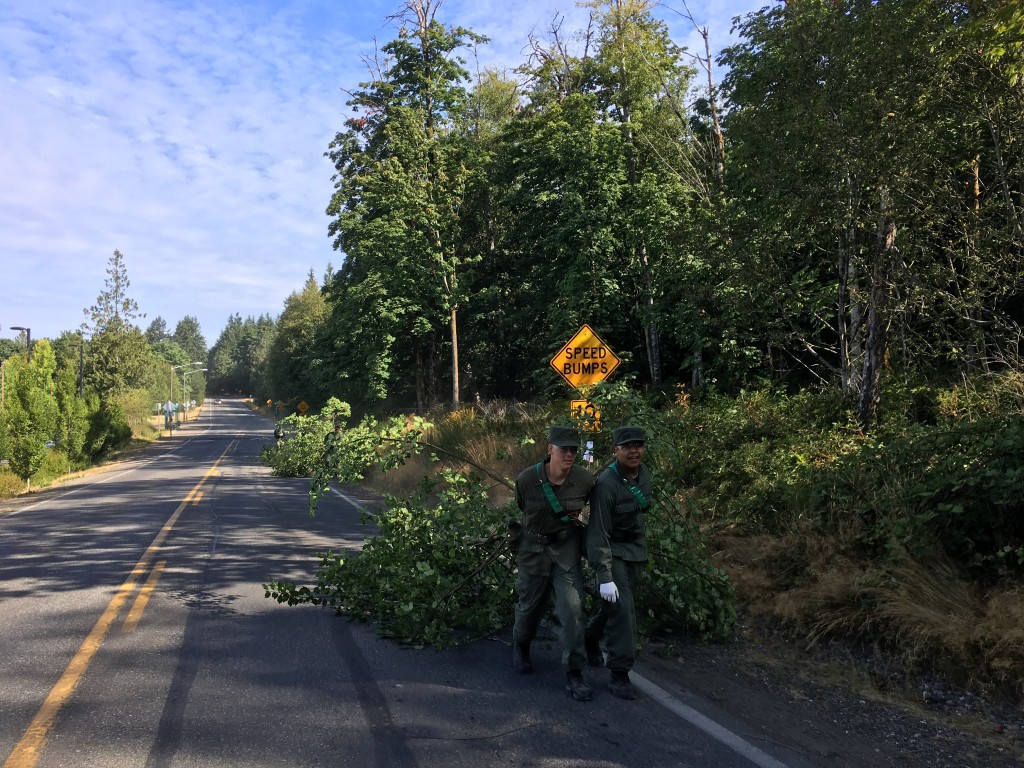 How Many Hours Worked?  Over 400 hours between the cadets and the Rotary and Stewardship supervisors.  No wonder the Preserve has the reputation for the best maintained trails, along with the fewest noxious weeds.
Car in Ditch.  We couldn't see what the problem was until we got closer.  Don't get too far off the shoulder on McWilliams road as the ditch is a drop off in certain areas.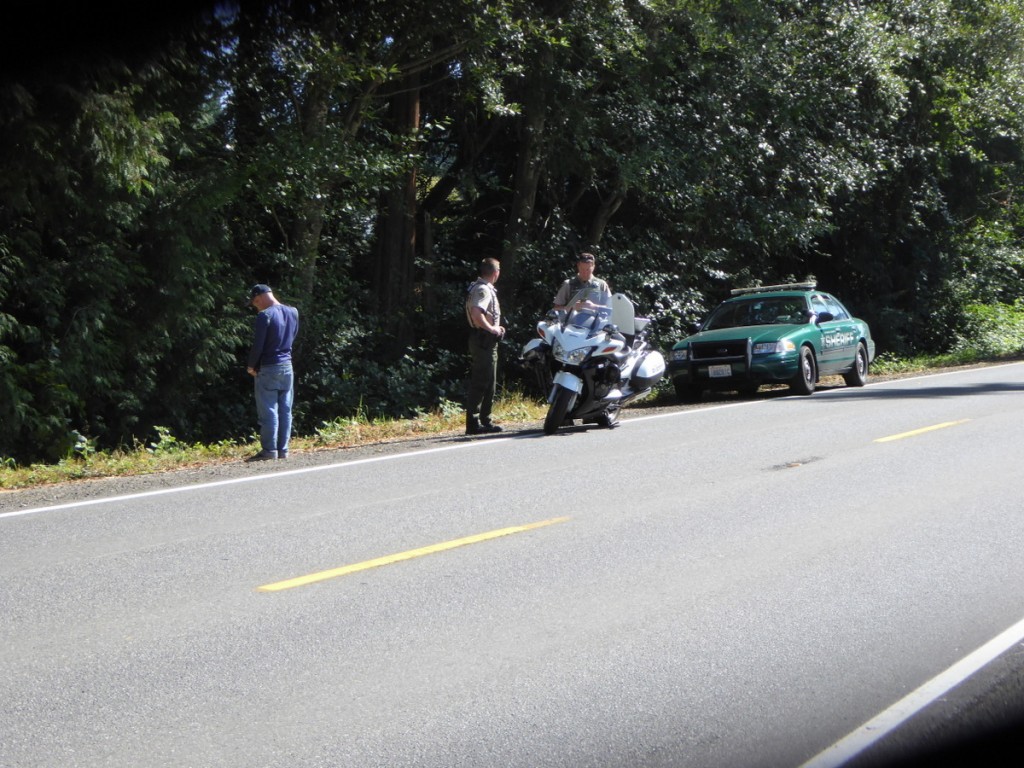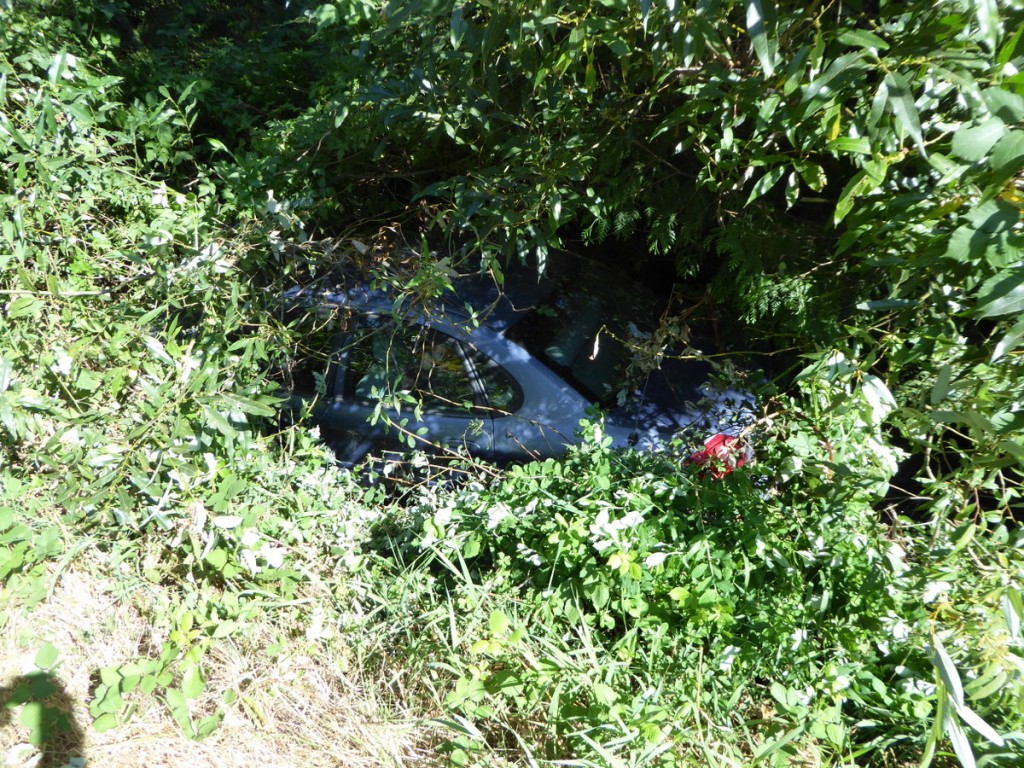 Illahee Creek Restoration Project.  The following is from a paper entitled "Illahee Creek Watershed Preservation & Restoration Project" summarizing the results of a 2008 Port of Illahee/Department of Ecology Centennial Clean Water grant.  These are some noble and necessary goals and need to be noted, and earlier Port Commissioners need to recognized for their proactive concerns many years ago when they applied for the grant.
The purposes (goals) of the Illahee Creek Watershed Preservation & Restoration Project are:  
(1) to acquire adjacent Illahee Preserve properties and Illahee Creek riparian corridor properties, including those that constitute prime salmonid spawning and rearing habitat; 
(2) to restore forested areas for recreation and wildlife; 
(3) to restore salmonid use to near historic levels; 
(4) to restore the natural ecological processes of the forest, riparian corridor, and the watershed; 
(5) to control the storm water surges and excessive sedimentation that plagues Illahee Creek and Puget Sound (through retention/detention and bio-retention facilities); 
(6) to advocate for raising the height of the Illahee Creek culvert to compensate for the raised flood plain in the lower reaches of the stream and to prevent the possible washout of the culvert and Illahee Road;  
(7) to eliminate fecal coliform sources that pollute Illahee Creek; 
(8) to ensure sufficient aquifer recharge of the base flows in Illahee Creek necessary for salmonid use and survival; 
(9) to inform and educate the local community and the public at large regarding the above issues and involve them in the restoration processes, and 
(10) to facilitate public use and enjoyment of the natural features and ecological processes of the Illahee Preserve and Illahee Creek Watershed. 
While Illahee Creek is only a small salmonid producer in the West Sound Watershed area, with only small runs of chum and Coho in a good year and intermittent use by steelhead and cutthroat, it is a major polluter of Puget Sound with excessive amounts of sedimentation being deposited into the Sound during storm events.  And although much of its stream corridor and watershed consists of prime habitat (65% undeveloped with most of that protected), a relatively small area of development on the outer perimeter of the watershed, constructed before storm water mitigation regulations went into effect, has resulted in over 40 years of excessive sediment pollution of Illahee Creek and Puget Sound.  Additionally, Illahee Creek is impacted by diminishing low base flows during times of low precipitation, along with the presence of fecal coliform pollution in the stream. 
Significant progress has been made over the last few years to begin to document the issues and accomplish both property acquisitions and some restoration, primarily through earlier grants from the Recreation and Conservation Office (RCO), National Fish & Wildlife Foundation (NFWF), Coastal Protection Fund (CPF), and Department of Ecology (DOE)/Port of Illahee; along with the recent generosity of the owner of the Rolling Hills Golf Course (104 acres) and the Timbers Edge owner and developer (25.5 acres). The property acquisition and easement phase is now ~85% complete (with the remaining 15% consisting of ~30 acres of conservation easements and ~50 acres of acquisitions).
The Port of Illahee, the Illahee Forest Preserve Non-Profit Corporation, the East Bremerton Rotary, the Illahee Preserve Stewardship Committee, and Kitsap County have committed resources and are working collaboratively to accomplish the purposes and goals of the restoration project, with financial support, volunteer labor, inter-local agreements, etc.  Integral to the success of the remaining acquisitions and conservation easements will be the continuing quest for gifts and grant support to secure the properties. 

Port Comprehensive Plan.  The Port of Illahee has done a great job of leveraging their limited annual tax funding ($79,646) with grants, and will be presenting their next 6 year Comprehensive Plan on Sept 11th at 5 pm at the Sylvan Way library at a public meeting for residents to provide comments and input.