Photos.  Thanks to Cliff for this photo taken two weeks ago (12/13/17) from his back yard near Illahee State Park.  A similar photo was on the front page of the Kitsap Sun (12/15/17) with the caption "A fallstreak hole, also known as a hole punch cloud, appeared over East Bremerton on Wednesday afternoon.  The cloud formation can occur when water droplets in certain clouds freeze suddenly and fall, leaving a hole."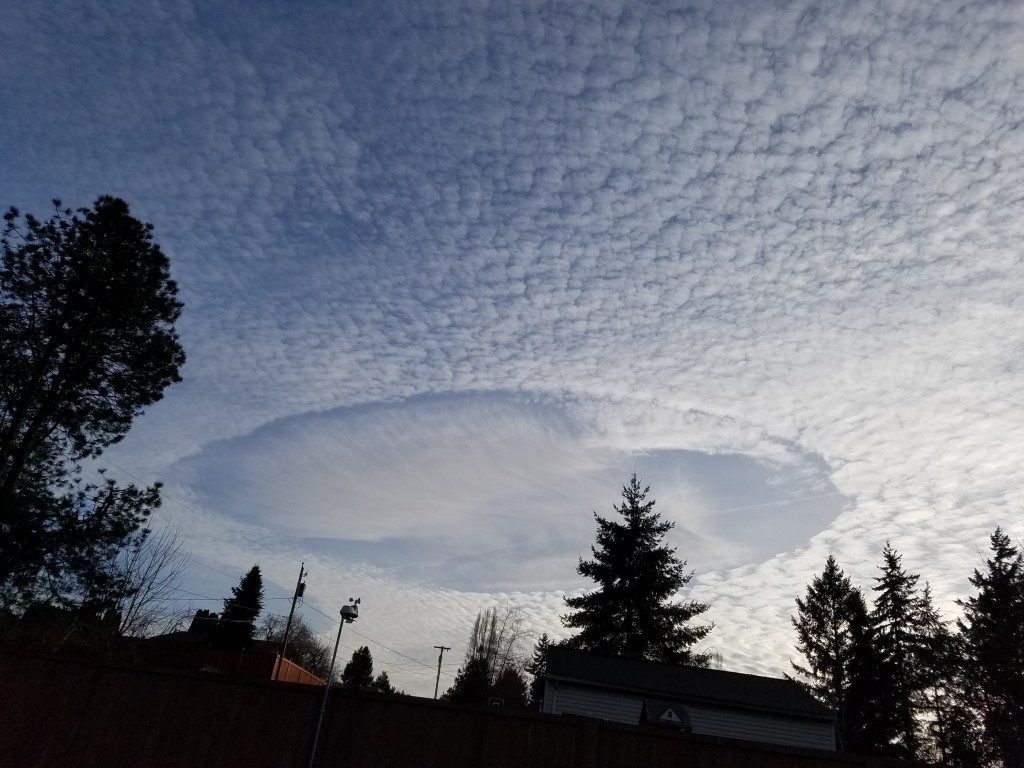 Another front page article (http://www.kitsapdailynews.com/news/1-day-3-hospitals-1500-toys-zacharys-kidzz-helping-kidzz-delivers-toys-to-hospitalized-children/) in today's CK Reporter (12/29/17) was about Zachary Darner who with his family walks in the Illahee Preserve nearly daily.  Thanks to Zachary for his toy donation successes!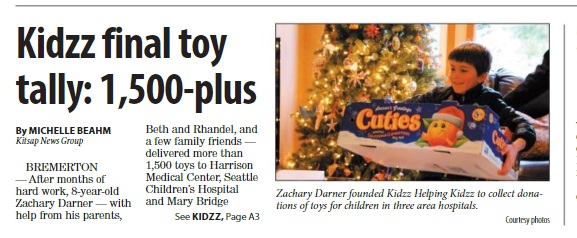 Preserve 2018 Plans.  This map shows the ambitious plans for the Preserve this upcoming year.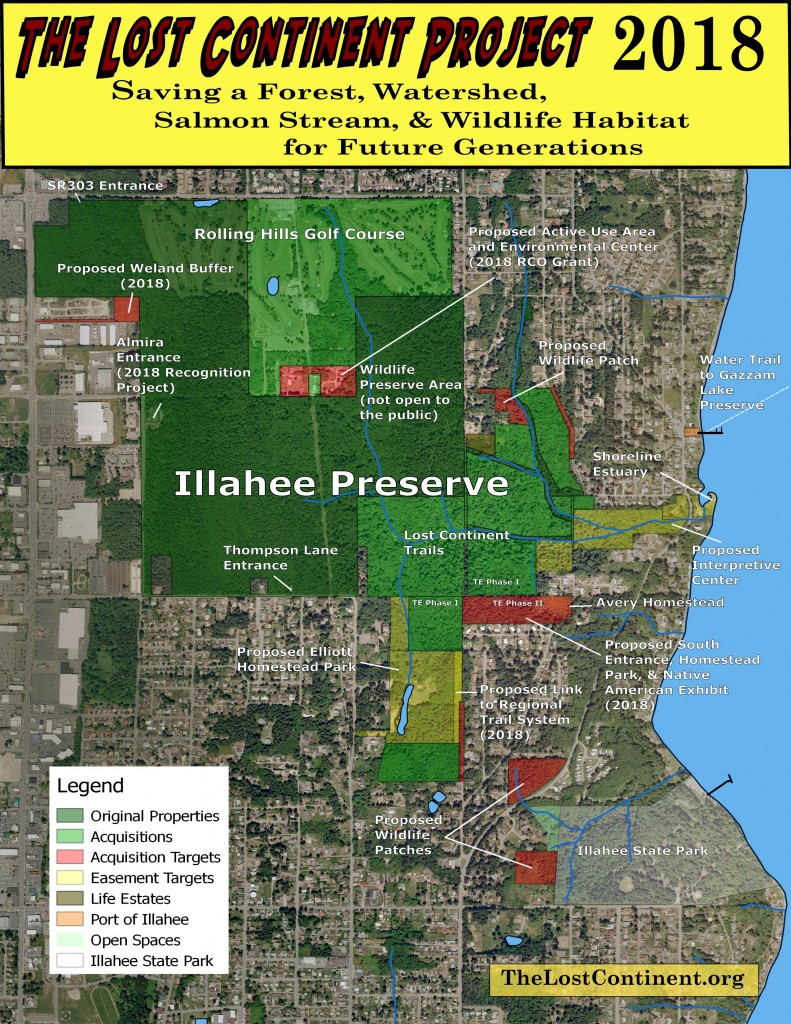 Community Leading Efforts.  These are local community efforts with help and support from the Kitsap County Commissioners and the Parks Department.
Donations and Grant Support Required.  Donations are required in addition to grants as state RCO grants require 50% matches, which is why the Illahee Forest Preserve non-profit is asking for financial support.  With the Timbers Edge II project failing to obtain a RCO grant in 2017, Kitsap County is reportedly looking to provide half of the $870,000 purchase price through the Conservation Futures account to help secure the purchase.
RMD Donations Received.  This past week two Required Minimum Distribution (RMD) checks for $950 and $1,000 were received to help, with hopefully more coming in.
New Tax Law Impact on Donations.  The new tax law that goes into effect in 2018 will lower tax rates and doubles the standard deduction amount to $24,000 (up from $12,700) which means there will be less of a tax incentive to donate in 2018.
CPA Advice – Donate in 2017.  We checked with a CPA who concurred it will be best for most to donate anticipated 2018 donations in 2017.  That means they need to either be post marked by 12/31/17 if mailed, or delivered by 12/31/17.
Other Reported Donations.  The Illahee Forest Preserve (IFP) treasurer noted in addition to the RMDs a $500 donation came in this week.  And this afternoon a call was received by a donor who noted his company would double his gift of $400 that he wants to give through the Kitsap Community Foundation.  His gift would then turn into $800 for the IFP.  And later another donation of $4,000 was reported coming in on Saturday.  Thanks to all those who have caught the vision!
Questions?  We have been asked to provide the above financial information and realize that not everyone is able to help.  But for those who want to help, now is the time if your tax situation warrants.  Respond to this email if you would like more information or information on how to get checks in before the end of 2017.