>
Blue Parrot Update. We were hoping the lost blue parrot notice that we sent out Monday evening (8/24/09) would have resulted in some success, but the parrot did not return and no one reported seeing it.
Fish in Illahee Creek. The last four years we have been walking up Illahee Creek to do upstream water quality monitoring. This past year, moreso than other years, we have been concerned about the low flows in the creek and not seeing fish. However, on Tuesday, September 1, 2009, during our water quality trek up the stream, some fish were finally seen, though not nearly as many as in past years.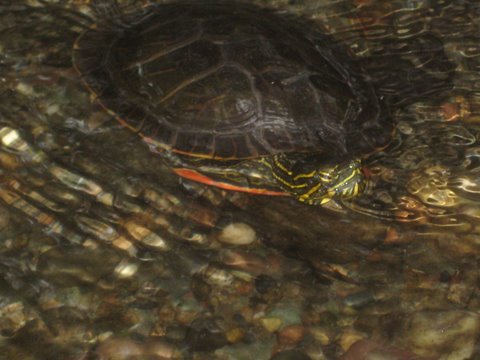 Turtle in Illahee Creek. Also on Tuesday's trip up the creek, we saw a turtle in the stream, a first for us. Someone said it must be a Western Pond Turtle, since they are what would normally be around the area. We have attached a photo that may help with any identification.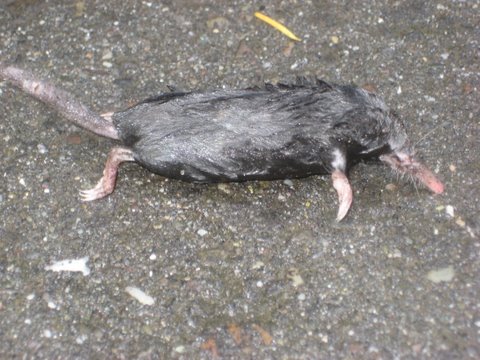 Moles. Lots of mole activity has been seen recently, including a baby dead mole on the pavement along Sunset. We have attached the photo.
Illahee Preserve Fair Info. It was nice to see information on the Illahee Preserve at the Kitsap County Fair last week. One of the most picked up items was a map of the Preserve. Many people have gone into the Preserve, which is forested, and have gotten lost and have been requesting maps. The architectural firm of Rice, Fergus, Miller designed the map and brochure. Let us know if you need a copy. Attached is a photo of the information that was available at the Fair.
Monday Get-Together Invite. Iris Friday, who lives next to the area where the Timbers Edge project is planned to go in and next to the Illahee Preserve, has invited residents to see the area and share some food. Her email invite is below:
As a resident of Illahee and one of the families most affected by the Timber's Edge project, I am once again vehemently stating my opposition to the Timber's Edge project that stands to drastically impact our day to day routine here at 4829 Charmont Lane NE. Where, you say, is Charmont Lane NE? Well, imagine for one moment that you and your family found yourself tucked at the end of a Cul de sac with neighbors to your south and east. To the west, you found nothing but old growth and blackberry brambles. imagine again, that your only exist consisted of a primitive two lane street with no sidewalks, but treacherous hills (think Dec 2007) storm. But, first, you must exit off a single dirt road up a very treacherous hill. And, then imagine your precious six year old daughter walking up a hill with no sidewalks which now has 200 vehicles exiting above her exit street (with no lights) on their way to work. The lots in our neighborhood far exceed those proposed by the developer and we don't have sidewalks.
This labor day weekend, I invite you to come and join us at 4829 Charmont Lane Ne on Sept 7th so that you can see for yourself the unrealistic plans proposed for Timber's Edge. Please mark your calendar for Monday, September 7th at 1:00 P.M. Please feel free to share a salad or just hang out.
Thanks! Thanks for all your input to these Updates.