>Problems In Previous Update (12/5/10). The previous update had a comment regarding horses in the Illahee Preserve, along with a picture of two horses that were in the Preserve on Sunday. The comment read as follows:
Horses. While motorized vehicles are not allowed, horses are, and there were two horses using the Preserve trails on Sunday (see photo). There has been some discussion amongst the Stewardship Committee that with the increasing use of the Preserve by those walking, biking, and jogging; that horse back riding might not be appropriate at some point. Those are the kind of issues discussed at Stewardship Committee meetings, which are open to the public, so if you have issues or would like to attend, please let us know and we will pass the info on.
Early Morning Phone Calls. The morning after putting out the Update with the above statement on horses, I received calls and comments from members of the Illahee Stewardship Committee, including my own daughter, that according to the approved Stewardship Plan for the Illahee Preserve, horses are not allowed. I checked the Plan and they are correct per Section IV.b.4.iii (page 24) which states: "The following uses are deemed not to be appropriate: (a) Camping, (b) Horses, (c) Motorized vehicles, (d) Paintball." I was informed that if I am going to report on policy issues, such as horses being allowed, my comments need to be approved by the Stewardship Committee, so as a 'sort of reporter' I had to eat some humble pie today.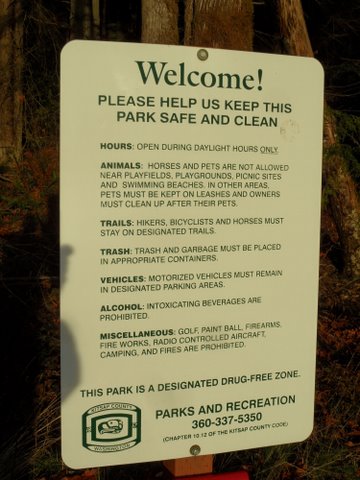 Park Signs Say Otherwise. The problem is that the Parks Department signs that surround the Preserve (there are 5 of them), each mention horses in several places and state that they, like hikers and bicyclists, are to stay on designated trails. The exact statement is under the Trails heading and reads as follows: HIKERS, BICYCLISTS AND HORSES MUST STAY ON DESIGNATED TRAILS. We have attached a photo of the sign for those who would like to see all the rules.
Previous Discussions with the Parks Dept. Evidently there has been previous discussions on this topic and the reported response from the Parks Department has been there are no designated 'equestrian trails' in the Preserve. This doesn't make sense to us since we don't designate between other types of trails such as bicycle and pedestrian trails in the Preserve.
Confusion on the Rules. Some on the Stewardship Committee admit to this being confusing and especially to those horse owners who currently use the Preserve. We agree that it is confusing and think the Parks Department's signs and regulations should match the Stewardship Plan.
Parks Department Notified. We were told the Parks Department has been notified and they are aware of the issue and are looking into it again.