>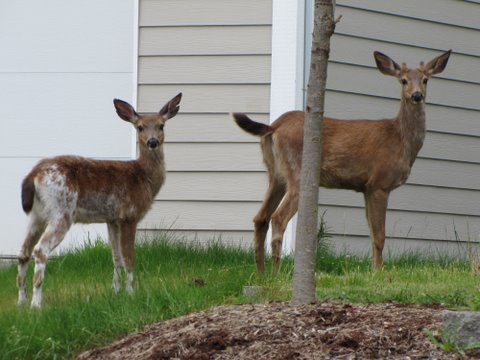 Deer Report. Lots of deer reports including a doe with twin fawns at Illahee North. Lots a raspberry eating and young apple tree grazing in one area along with a report of what they think must be one big deer because of the size of the droppings. The attached picture was sent in from Ambleside along with the following note:


These two have been feasting on shrubs and rose bushes here in Amblesidesfor the past several months. I chase them out of our yard about once aweek.
Mountain Beaver Captured. Not many people ever see mountain beavers because they are nocturnal and very timid. They captured this one using watermelon rinds. We received the following report along with the attached photos. These are really quite nice looking animals and their fur is very soft. We found out they let the mountain beaver loose the next day.
(So . . . have you heard of Snipe hunts? Well then, have you heard of mountain beavers? One of our neighbors claims to have captured one and sends these photos to prove it. What do you think?)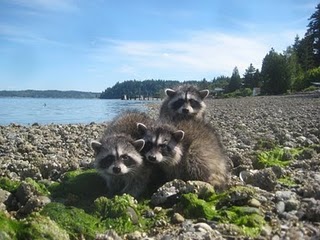 Young Raccoons at the Beach. We have seen more raccoons at the beach this year than ever before, but finding three young ones at the beach was a first. At first they tried to get down low and hide and then just starred as we took their pictures.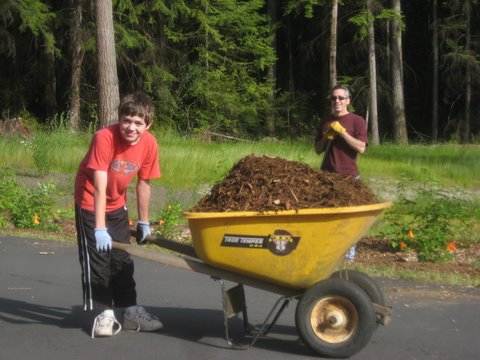 Another Rain Garden Plot Mulched. When we put out an Update about a volunteer work party we never know how many people will show up. It has ranged from two to over 20 and no matter how many are present we still get the job done. On Wednesday we had a young man who, though only 12 years old, set the pace for the other four workers. Corey Hamilton turned out to be one strong and energetic young worker who kept the rest of working as he loaded wheel borrow after wheel borrow and then brought the heaping loads for us to spread. We never would have completed the plot if hadn't been for his hard work. The other person in the photo is his dad Edward and the last photo shows the plot completely mulched.
Plot #4 Still Remains To Be Mulched. We have one plot yet to mulch and we have a big pile of mulch right close by. We will let you know when the next work party will be held. This is the last plot that needs mulching and it should be the easiest. Let us know if you would like to help.