Illahee has just more than 2,000 residential dwellings. If your home is within the boundaries of Illahee, you are an Illahee resident and a member of the Illahee Community.  See the official boundary (figure 2.1 or page 2-4) on the web page below:
http://www.kitsapgov.com/dcd/community_plan/subareas/Illahee/Final%20Plan/Final%20Chapter%202%20GROWTH%20MANAGEMENT%20AND%20ILLAHEE.pdf
A graphic depiction of the Illahee Community boundary is also presented below.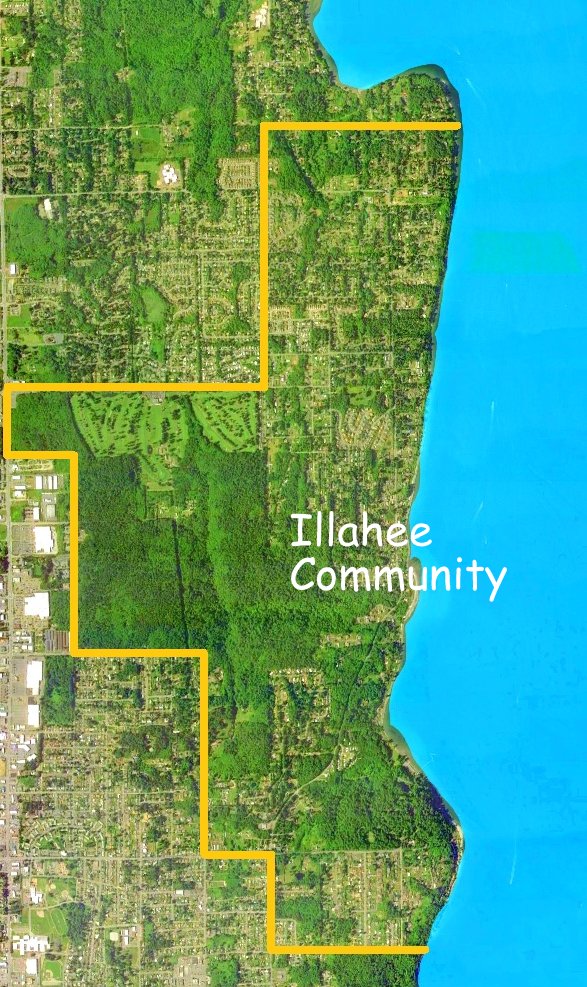 Also note that if you are in the Port of Illahee boundary you are an Illahee resident (see the map below).  Note that the community boundaries and the port boundaries are nearly the same with a couple of small inclusions and exceptions.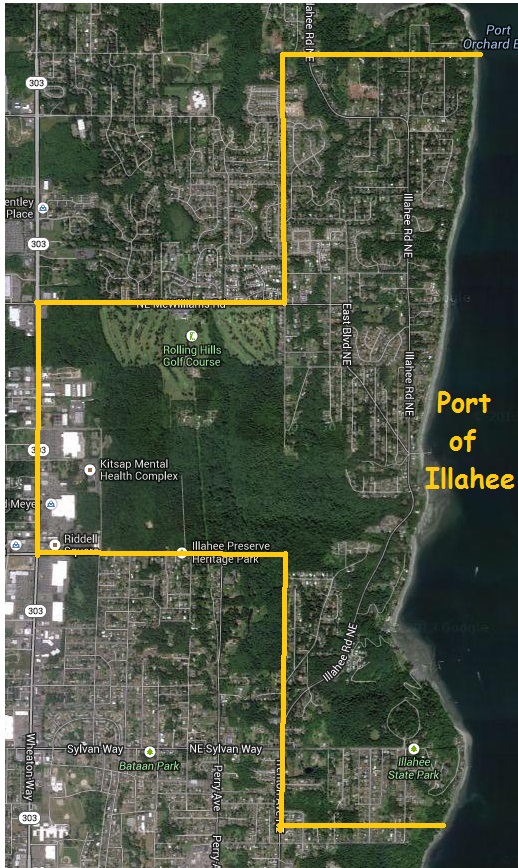 The illaheecommunity.com website part of a non-profit organization for the benefit of our community, which has two type of members. There are those who have identified themselves by name, email and postal address, which can be done from this web page. They are recorded members. There are also those who desire to support our community and have taken on a small financial commitment of $10 or more for the calendar year to be an active member of Illahee Community.  Life membership is also available for those who wish to donate a larger amount as specified by the Board of Directors.  Dues and donations may be sent to:Illahee Community Treasurer, 3107 NE 40th Place, Bremerton, WA 98310.  Note that only active members can vote at the quarterly community meetings.
Recorded and active members are updated via email, when there are items of interest to our community. These items of interest are also posted on the Illahee Community web site for all members and the general public to read.
If your home is within the boundary of Illahee Community and you are interested in receiving email updates, you should take action to become a recorded member of Illahee Community.  Copy into your Email the following red colored text and provide your personal information.  Email this to:
jimaho@gmail.com
Name:  
Email address:  
Illahee address:  
Your address information may be seen only by the officers and board members of Illahee Community.  The information is not posted or shared with anyone else.
If you have moved away from Illahee and no longer wish to receive the updates, email this information to jimaho@gmail.com and you will be removed from the email update list.
If you do not live in Illahee but wish to be included on the email update list, simply send an email requesting addition to jimaho@gmail.com.