Three Bucks Reports.  Thank you for the reports of three bucks hanging out together.  It is not easy to get three active bucks to pose for a photo, but we have two attempts, followed by another who took individual photos of the three.  The first photo that came in was blurry.  The second one has all three in it but you need to look at two noses and the eye of the middle buck to realize the photo captured all three.  We received individual photos of the three this morning but weren't able copy them into this update, but we did copy the note that went with them.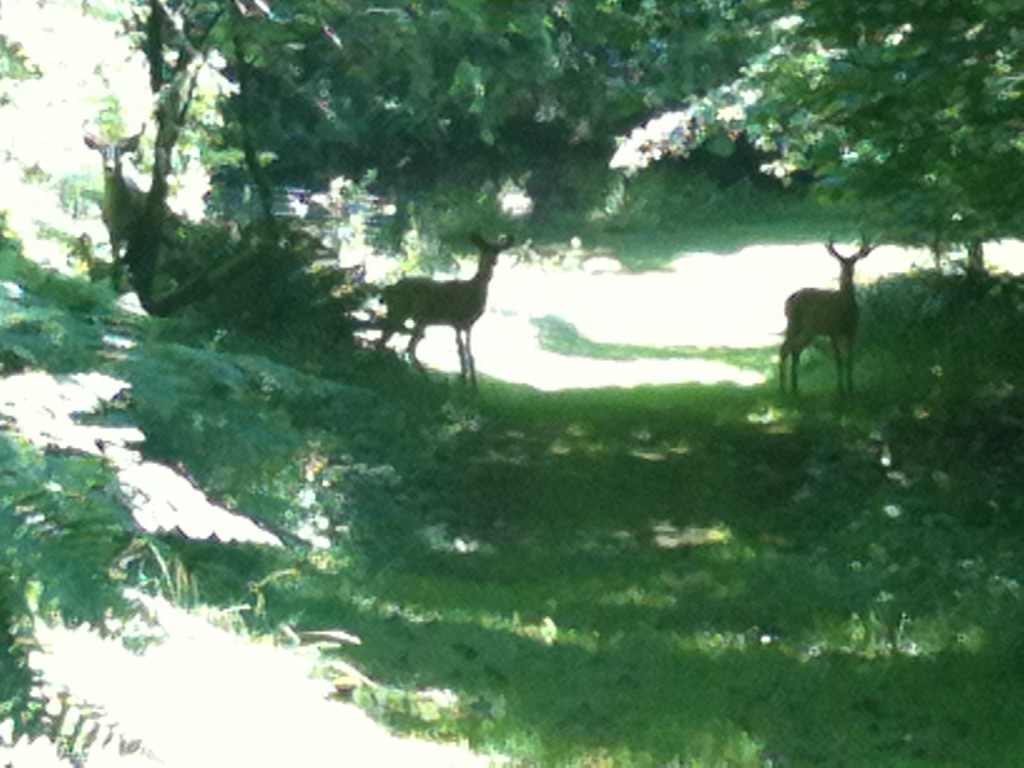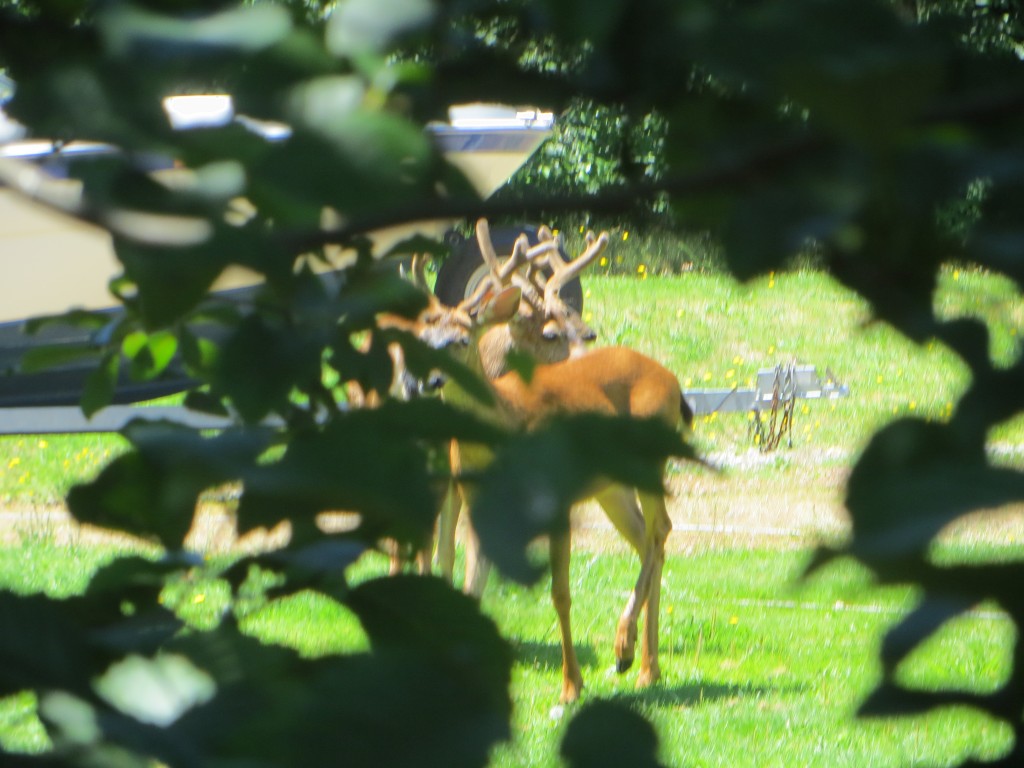 Three bucks in our yard this morning, all traveling together. A three point and two younger ones.
Preserve Mushrooms.  We noticed lots of small white mushrooms in the Preserve the other day and presume someone will help identify them.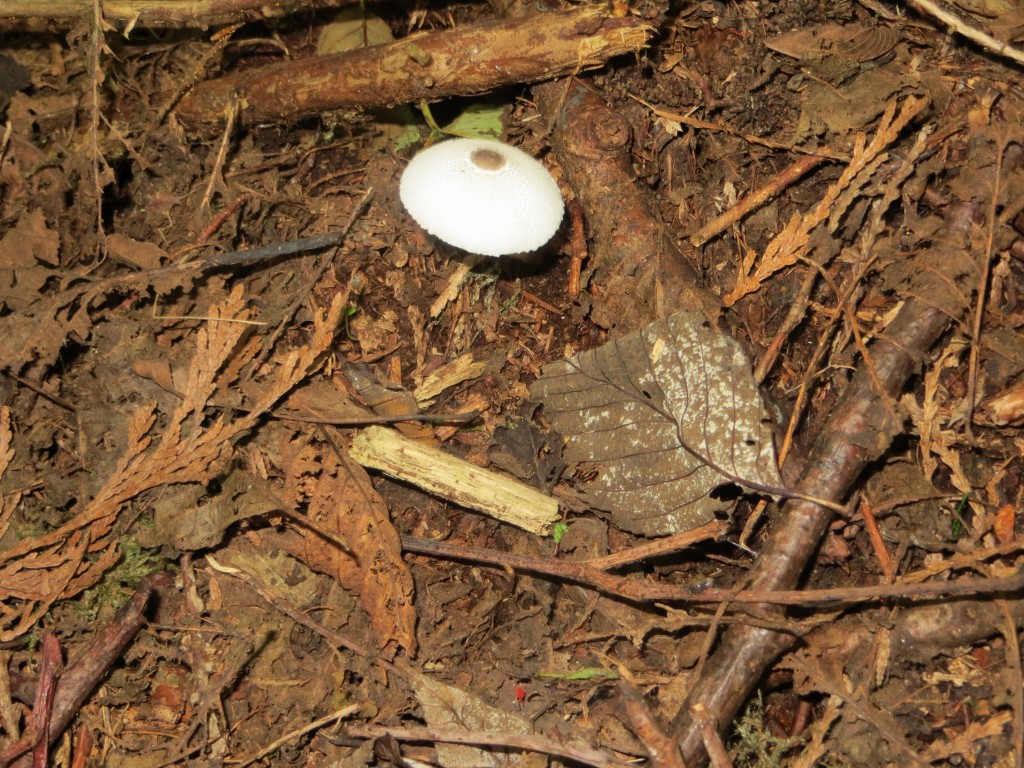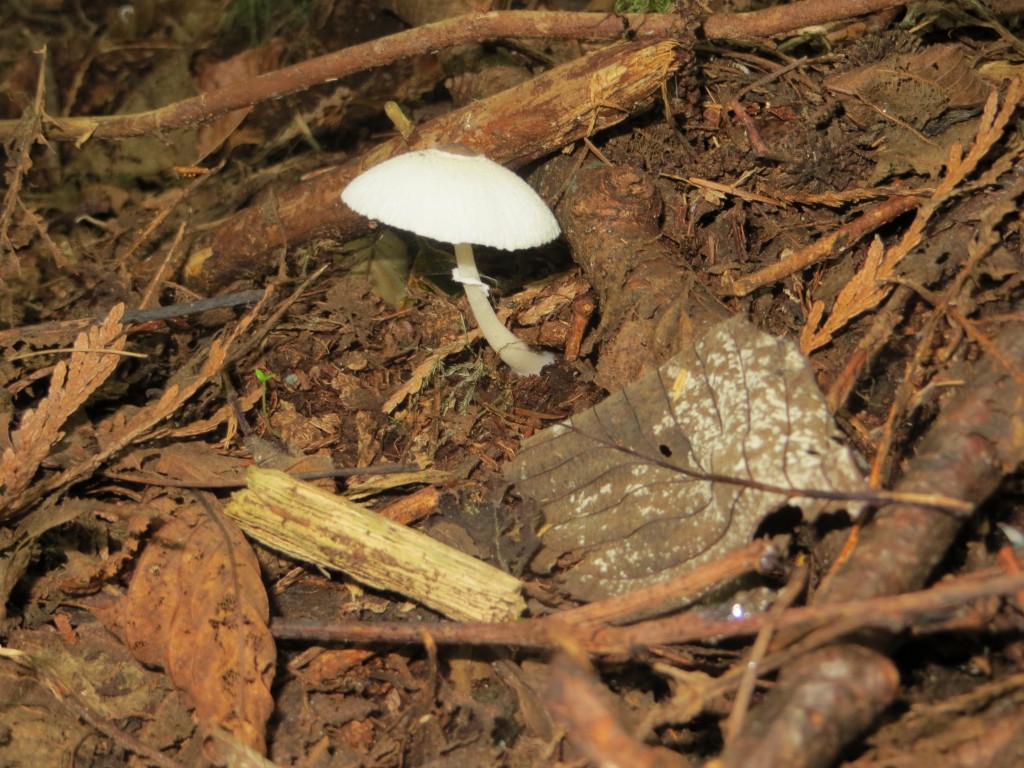 Front Page Photo.  There was another front page article in the Kitsap Sun showing the Illahee Dock on Saturday (7/6/13).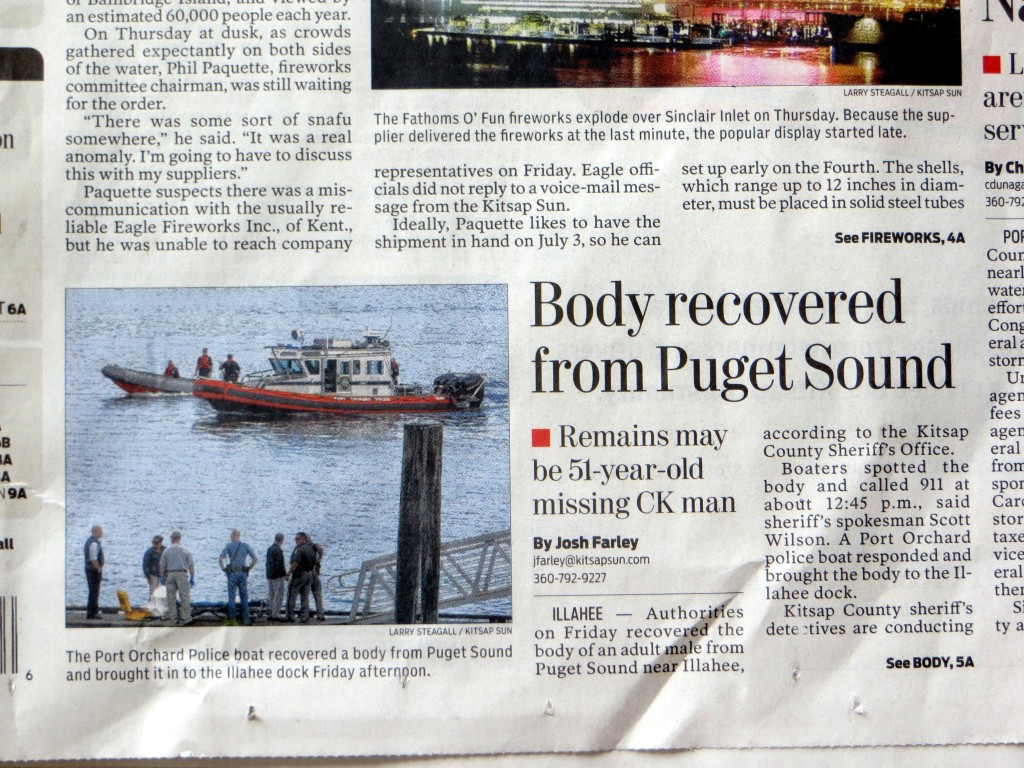 Letter to the Editor.  But the Kitsap Sun item that was of most interest to many in Illahee was the Letter to the Editor last Wednesday (7/3/13) from former Kitsap County Sheriff, Pat Jones.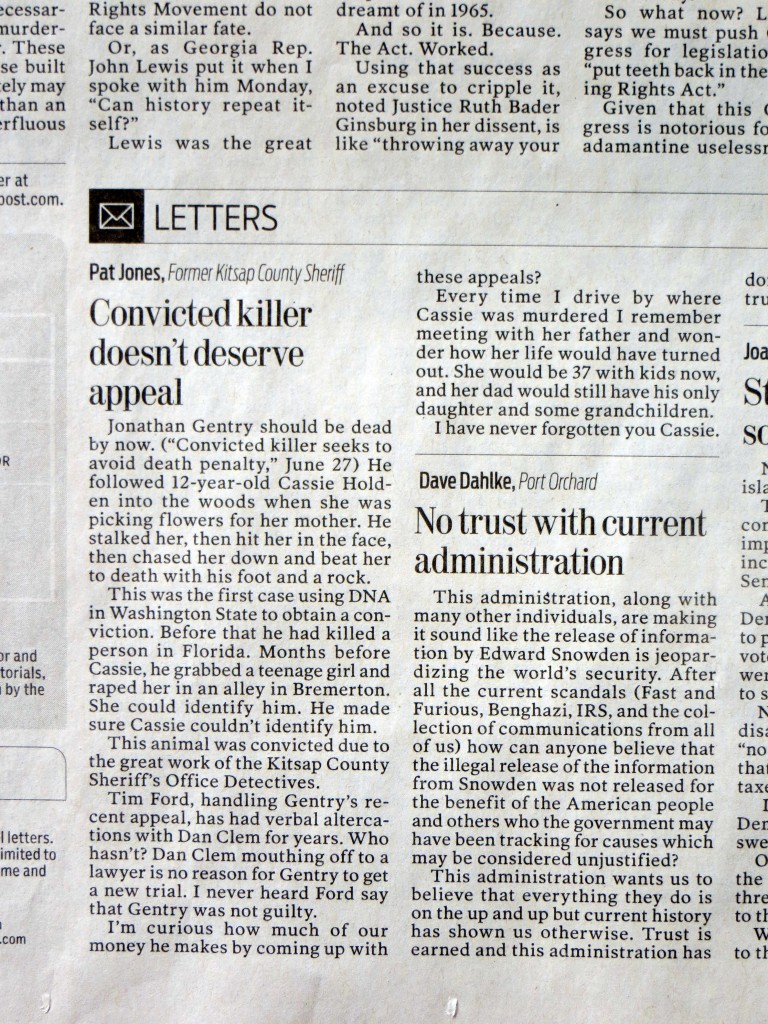 The letter is shown below and also linked at:  LETTER TO THE EDITOR | Convicted killer doesn't deserve appeal
http://www.kitsapsun.com/news/2013/jul/02/letter-to-the-editor-convicted-killer-doesnt/
Cassie Holden Remembered.  Cassie was murdered near the Illahee area and many were hoping for years for a break in the case, which came later after the rape conviction which gave time to process the DNA evidence.  We know of two from Illahee who were on the juries for the two trials of Gentry, one for the earlier rape, and the other for the murder conviction.  It was a sad day for Kitsap County when this happened and the justice brought about through the trials was bittersweet, and it is sad that someone is still trying to profit from the murder.
Butterflies, Owls, Bats & Mosquitoes.  Lots of yellow swallowtail butterflies this year, more than we remember seeing before.  And lots of more aggressive mosquitoes than we remember, which was also noticed by others.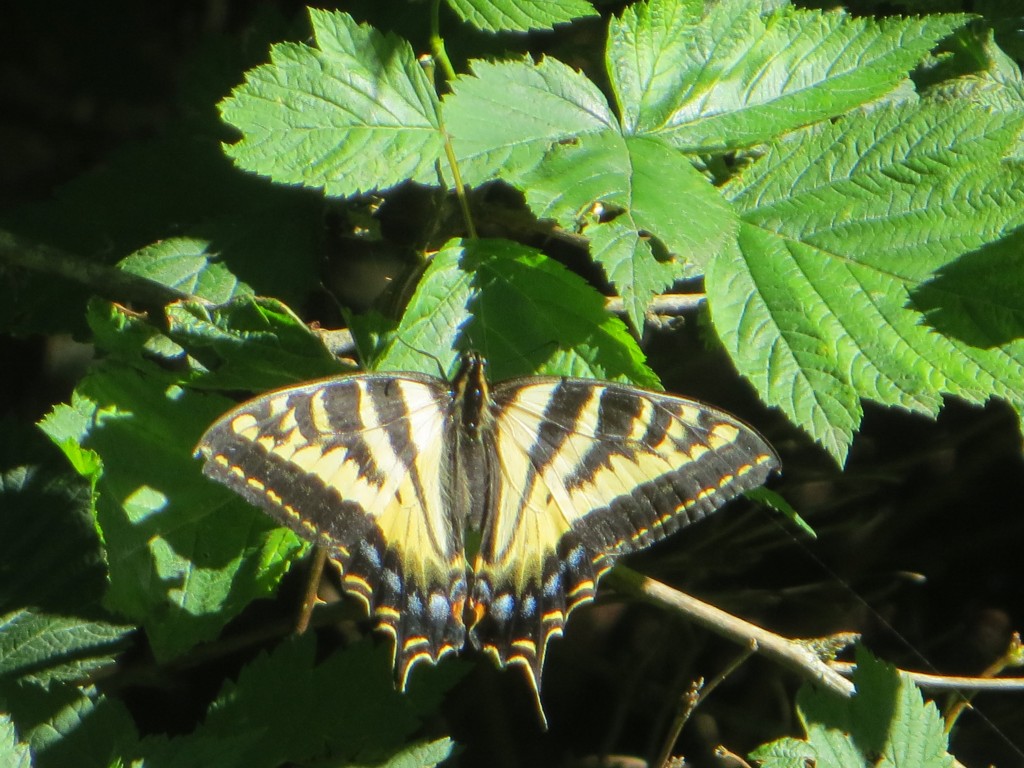 I meant to write and tell you I saw a barred owl about a week ago, at the north end of Viewcrest, right before you get to Illahee Park entrance. I thought she was a spotted until I looked it up, definitely barred. She wasn't scared of me either, i watched her for a few minutes. I'm pretty sure it was a female, because she had a hollow in her breast (looked like she had on fluffy pantaloons!) so I'd say maybe she was nesting. She flew back into the forest eventually. Quite a pretty owl! She was in good shape.

I also saw a bat at dusk on the 4th who seemed very confused about the skyrockets on our street!!!!! kept flying in circles, poor thing.

Is anyone else having a real problem with mosquitoes this year? They seem more vicious than last year. 
Thanks For the Photos and Responses.  We need to thank those sending in photos and responses to the emails, but have heard those trying to respond to the same updates on the website (illaheecommunity.com) have been unable to get a response through.  We will check on the problem.
Jim Aho