Kitsap Sun Article.  What a great article appeared in Tuesday's Kitsap Sun!
MN Response.  We wanted to share this response from Minnesota.
There are plenty of national and regional land conservation orgs out there but this one was grassroots all the way. I love these stories about preserving a little "urban wilderness": political grease, a landowner with a generous heart, committed community and even a donor who "recently inherited a booming oil field" in ND. Job well done. Congratulations!
Jaime A. Pinkham (Nez Perce)
Vice President, Native Nations
Escrow Process Started.  The escrow process has begun at Pacific Northwest Title Company and is scheduled to close on the 25.5 acre parcels on August 5th.
Senate Bond Bill Passes.  We were concerned earlier this week whether there might be a problem getting the $300K state money by the closing date as the Bond Bill had not been passed by the Senate, but it did pass on Thursday (7/9/15).  
Pledge Letter.  A letter will be sent to those who pledged (comprising about 70 percent).  A number of those who have pledged are already sending their pledged amounts to both the Illahee Forest Preserve (IFP) and the Kitsap Community Foundation (KCF).  Either one works, but since the IFP normally isn't involved with acquisitions they are collaborating with KCF on the purchase.  The address for KCF is PO Box 3670, Silverdale, WA 98383.
Phase 2 Plans.  There were several standing in the wings waiting to see if the Phase 1 purchase was going to need some help.  We are hoping they and others will be available to help with Phase 2.  A series of meeting is being planned to make sure Phase 2 completes, and hopefully with more than a week to spare.
New Pledge Form?  The IFP board is looking over the pledge form to see if it should be updated for Phase 2.  
Dock Bracing.  While we have been preoccupied with the Timbers Edge/Lost Continent purchase the Port of Illahee contracted out to have crossbracing installed on some critical pilings.  Thanks to Commissioner Cassie Magill, who is the dock manager, for finding contractor Tim Knapp and his crew.  The dock stability has been a major concern in the event of an earthquake.

Outfall Settlement?  The Prosecutor's Office was contacted about the Outfall Settlement agreement since there was no response from the Department of Community Development (DCD) following the Illahee Community Meeting on May 18, 2015.  At the community meeting it was decided a meeting should be set up with DCD to determine why the terms of the settlement agreement were not followed. The minutes of the meeting stated "Rather than start costly legal action it was suggested that all parties get together and see if they could resolve the issue."  So far the Prosecutor's Office hasn't been successful in setting up a meeting either.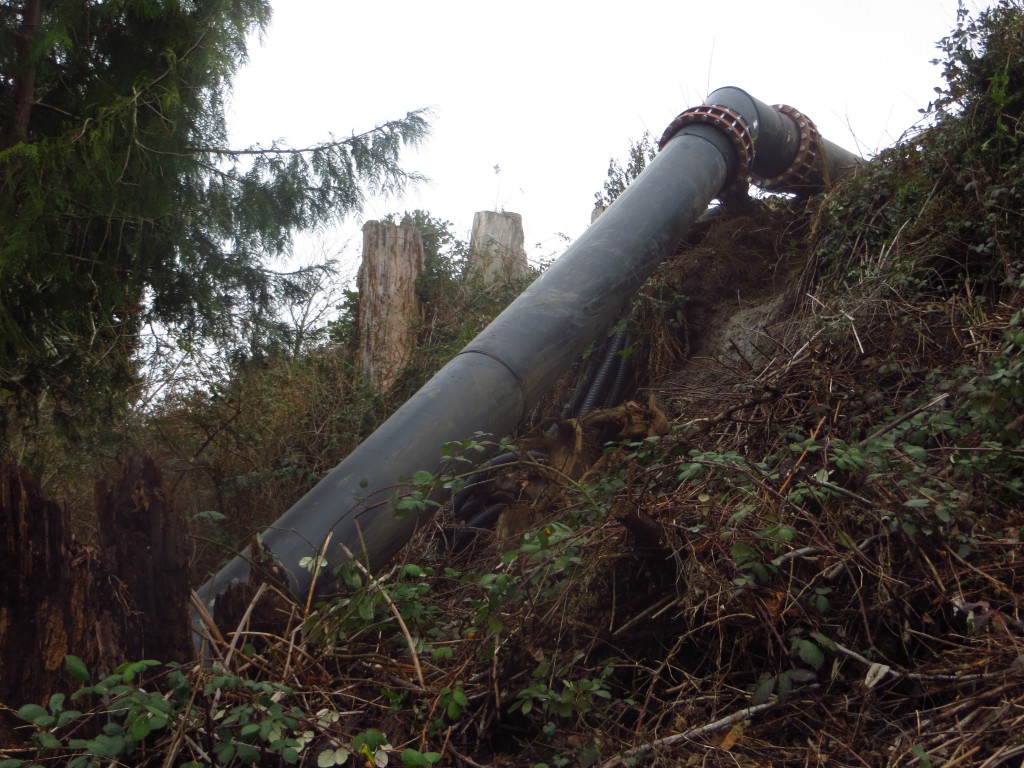 Stennis Departing.  A photo of the John C. Stennis (CVN74) as viewed from Illahee as it passes by Point White.