Photos.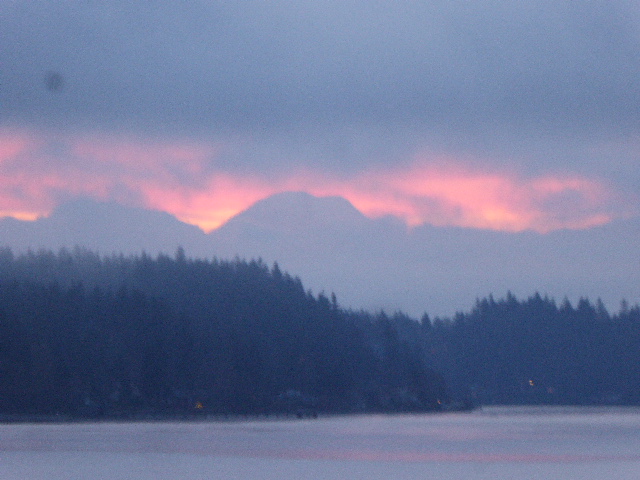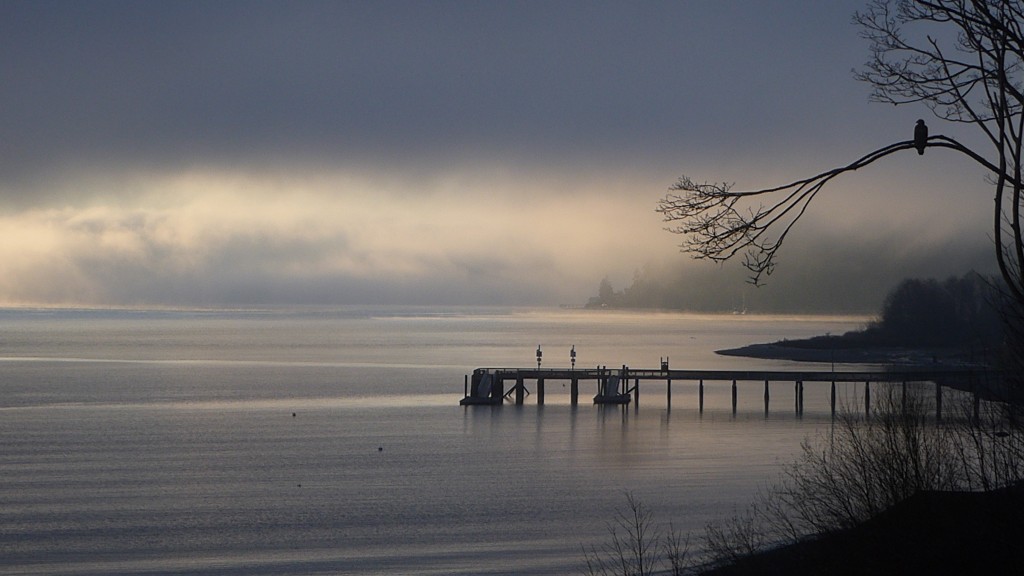 Coyote Report.  "A pack of coyotes has been causing a massive evening opera outside our place for the last five days.  I am very careful not to let my dog outside alone.  You may want to put something in your updates warning pet owners to be on the alert."
Wednesday Port Meeting.  Residents are encouraged to attend the Port of Illahee meetings which are held at the Port of Brownsville's Annex (until the Illahee Store can be acquired).  On the agenda is the Port's lawyer, Ken Bagwell, presenting actions needed to acquire the Illahee Store.  Also on the agenda is the possible changing of the meeting time (currently 5 pm) to allow more workers and commuters to attend."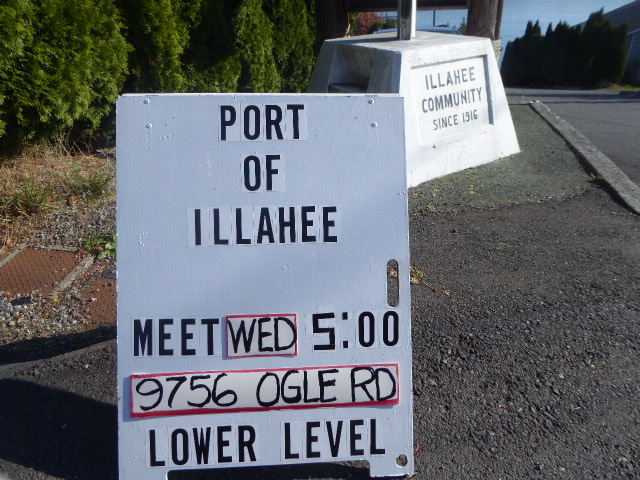 Huckleberries.  We came across someone eating huckleberries while walking their dog in the Illahee Preserve, as there were still berries like these in some areas.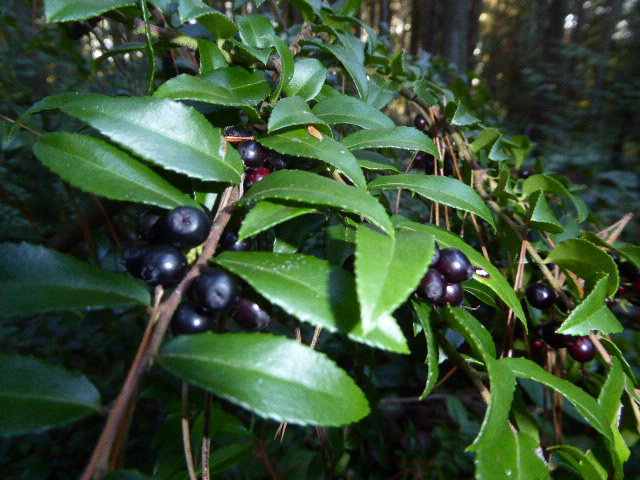 Homeless Camps.  In spite of close monitoring, homeless camps keep showing up in the Preserve.  It doesn't take long for an area to be trashed, requiring volunteers to clean up the garbage.  Five camps were recently found and posted with a notice to vacate, in this case by a deputy and Preserve Stewards.  They are given time to pack up and leave, but nearly always leave a big mess, like these in the photos.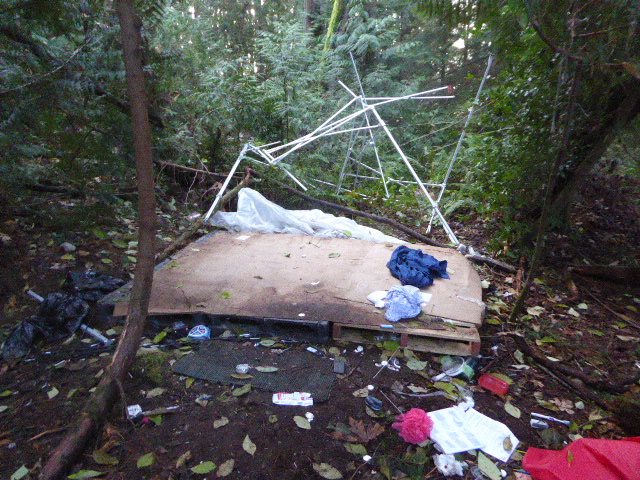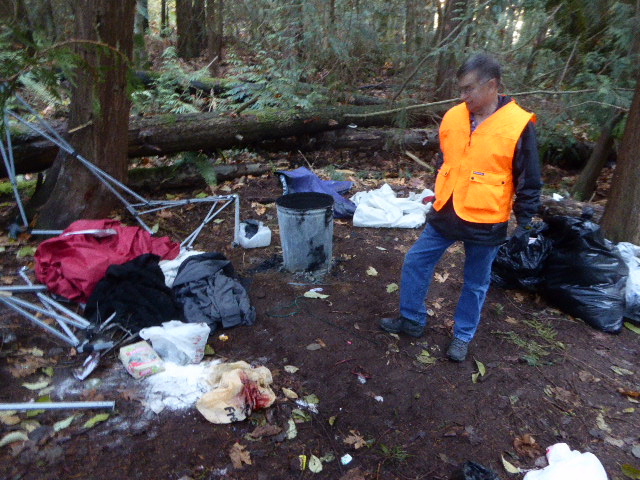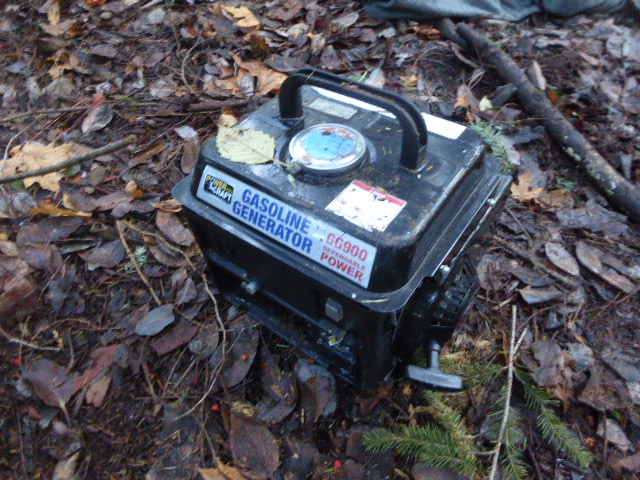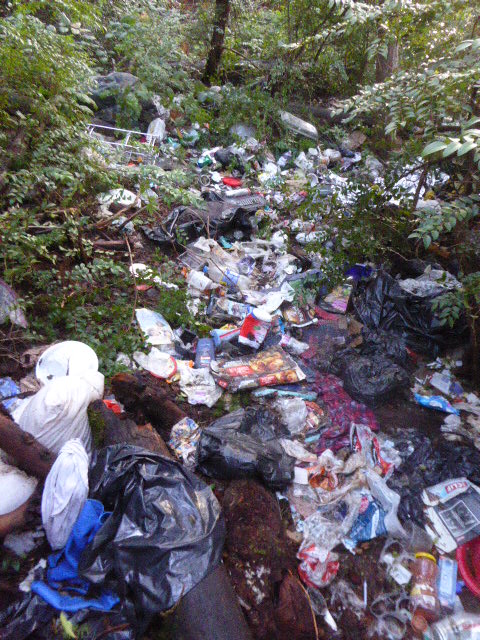 Wetland Map.  In past Updates mention was made of an ongoing 10 year wetland struggle.  The wetland was finally delineated this fall and a preliminary map prepared which shows a much larger wetland complex (over 2 acres) than the small less than half acre wetland that was presented during the first hearing in 2007, which is why the appeal was filed.   More on this in a later Update when the stream data is added.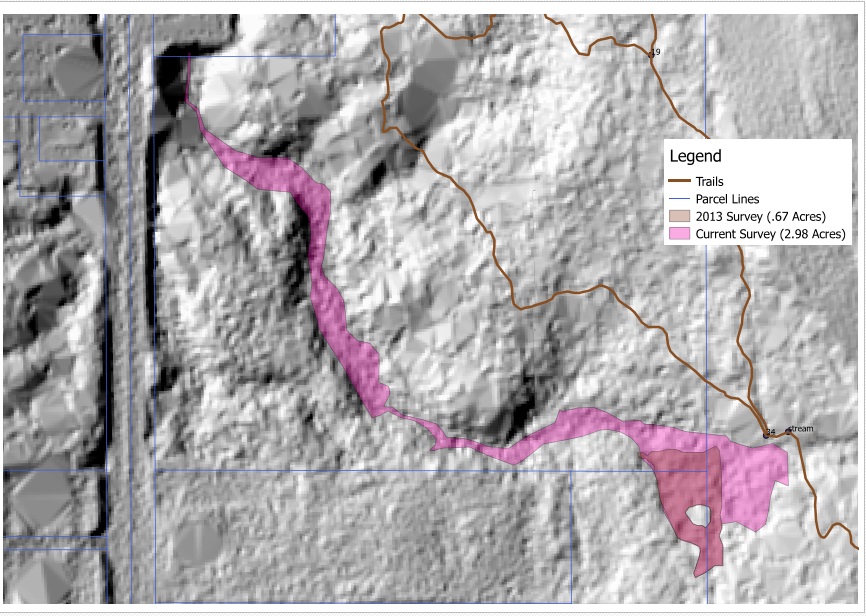 Timbers Edge II.  A month ago emails/letters were requested from residents and Preserve users showing support for acquiring the Timbers Edge II property (the former Avery Homestead) for a southeast entrance to the Illahee Preserve.  Those letters of support appear to be efficacious as discussions are looking positive for a possible purchase.  Approximately $400,000 will still need to be raised with grants being a partial possibility, property trades, and community contributions.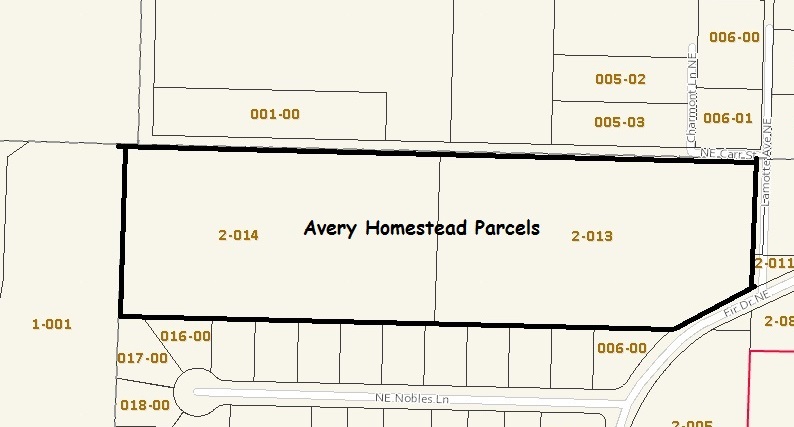 Major Contributions Needed.  Many give gifts this time of year and the Illahee Forest Preserve is a 501.c.3 non-profit established to support the Preserve.  Contributions can be made through the Kitsap Community Foundation to the Lost Continent/Timbers Edge Fund, P.O. Box 3670, Silverdale, WA 98383 or directly to the Illahee Forest Preserve, Jon Buesch, Treasurer, 6253 East Blvd, Bremerton, WA 98311.  
Tax Deductions & RMDs.  Gifts qualify for tax deductions to the amount allowed by law.  Also, for those over 70 who need to take Required Minimum Distributions (RMDs) gifts can be given directly to non-profits so they aren't taxed as income.  
Does the Preserve Need Financial Help?  The answer is YES!  Property purchases are very expensive, as are wetland battles involving lawyers and experts (reported to be nearly $20,000 this year alone).  The initial Timbers Edge purchase was $565,000 and the community contributed $130,000 in 2015.  A few faithful contributors are keeping the non-profit in the black, but more financial support is currently needed.  Acquisition progress is shown on the slide below.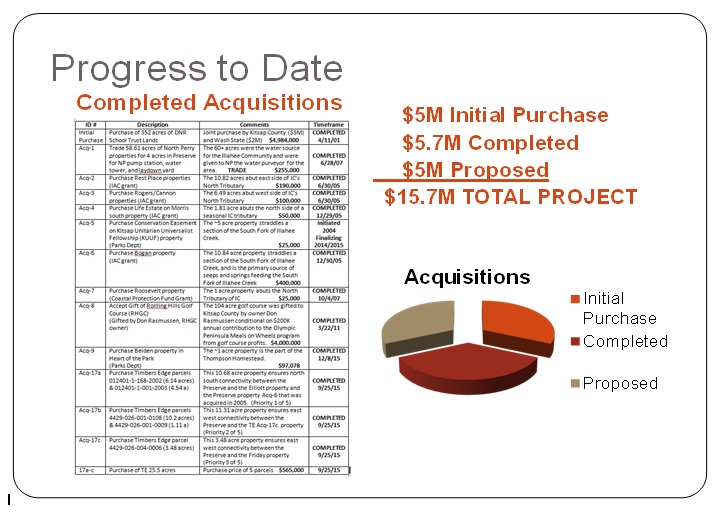 RCO Visit.  A week ago the Preserve was visited by the state Recreation and Conservation Office (RCO) representative for Kitsap County.  The visit involved looking at the various properties around the Preserve that have been identified for a possible purchase.  The grant cycle is every two years with 2018 the next one and the Preserve will be applying for an acquisition grant for this cycle, using the earlier Timbers Edge purchase amount to meet the 50% grant match requirement.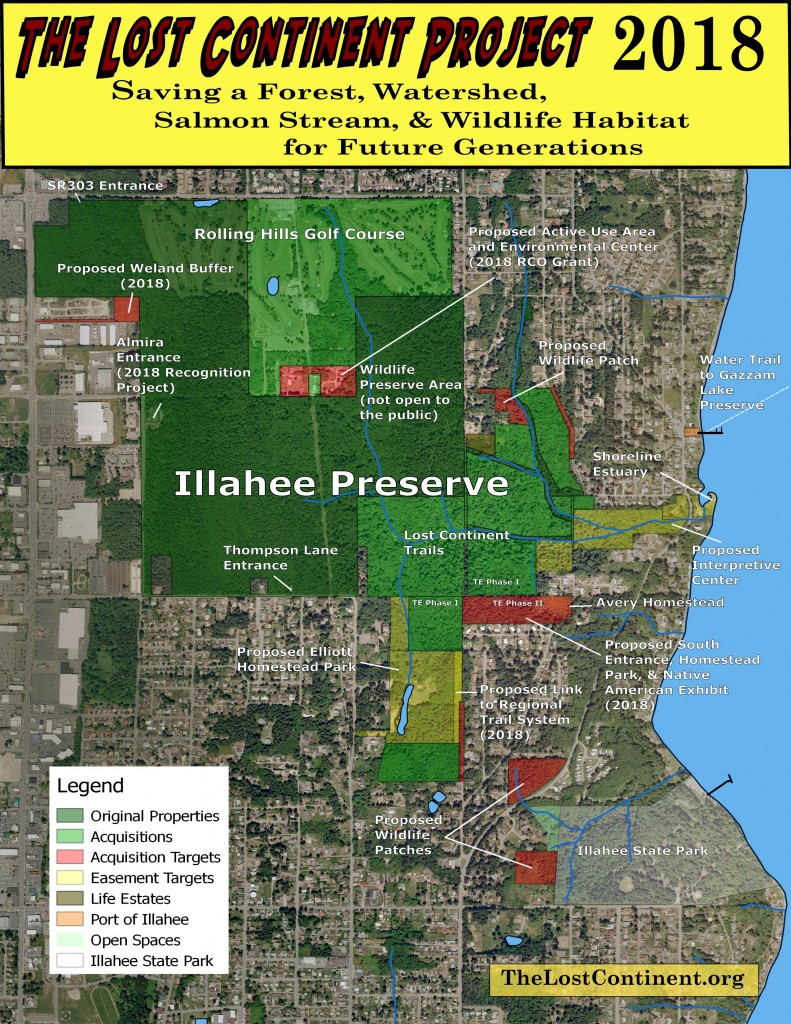 Preserve Meeting.  The Preserve Stewards meet monthly the third Tuesday of the month at 6:30 pm at the Kitsap Pavilion meeting room, which will be December 19th.  Everyone is welcome.  Find out how the Preserve Stewards are taking care of this amazing forested treasure located in our backyard.  If questions, respond to this email.
Jim Aho